We test the Cannondale Supersix EVO SE: a rocket for gravel
A few months ago, Cannondale expanded its gravel catalogue with the Supersix EVO SE, a model focused on speed and that we have been able to test for a few weeks to corroborate it. The Cannondale Supersix EVO SE specializes in a gravel modality that will be very popular in 2022 and this model in particular can be a great protagonist.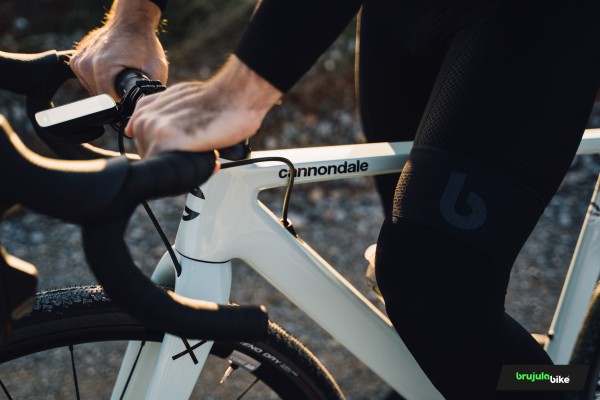 Cannondale Supersix EVO SE: specifications and assembly
The "SE" surname has already been used by Cannondale on previous occasions with mountain bike or road models, and it is basically used when, using the same frame, it expands the features of a model to direct it to other purposes. In this case, the Cannondale Supersix EVO SE changes the set-up with respect to the CX, focused purely on cyclocross, to configure a speed gravel bike.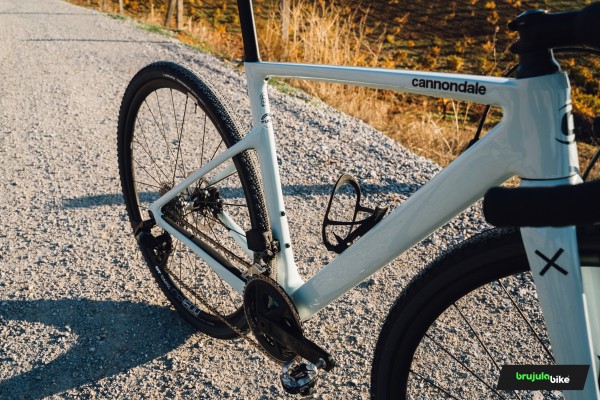 If we continue to explore the name of the model, we find that it shares the "Supersix" of the road models, and its frame, geometry and aesthetics share many similarities. Quite a statement of intent.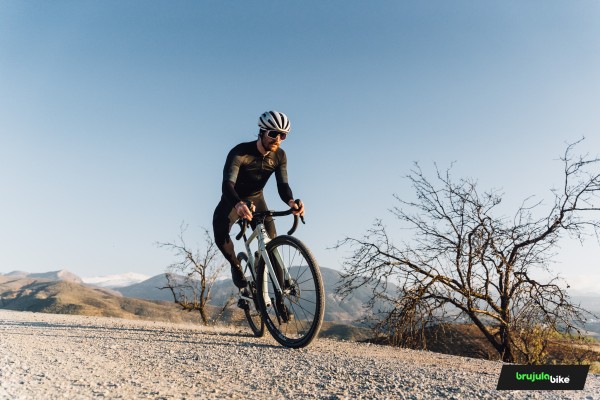 The Cannondale Supersix EVO SE is a carbon bike with 700c wheels that accommodates up to 45mm tyres, aerodynamic profiles and off-road geometry aimed at improving traction and stability at high speeds. A large part of this last feature relies on its stunning, redesigned fork.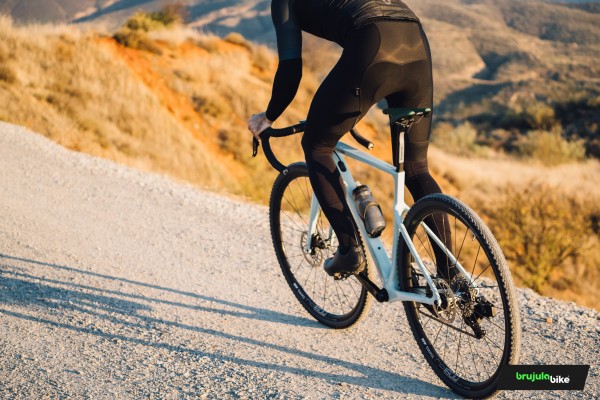 Geometry and frame
The Cannondale Supersix EVO takes the geometry of the road models and adapts it to cyclocross or gravel with a more relaxed 71° steering angle, which combined with a short trail offers agility at slow speeds and stability when going fast. Cannondale has named this OutFront geometry as "power steering".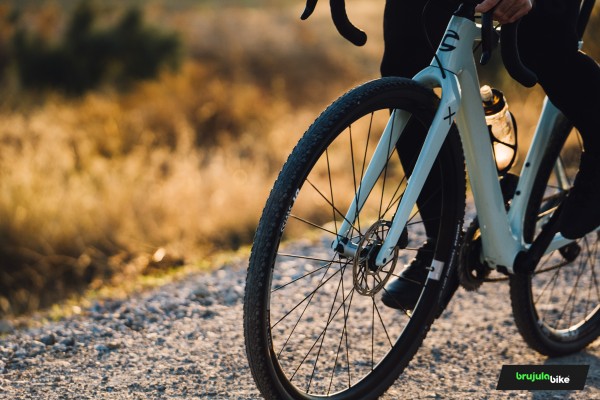 Its geometry also features 422 mm chainstays that improve handling on technical terrain, maximise power transfer and make this gravel bike very responsive and agile.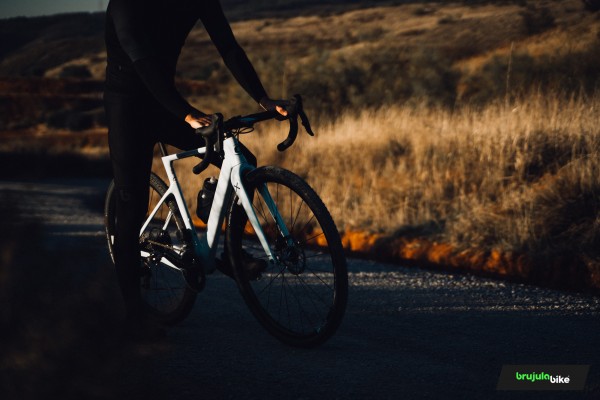 The D-shaped carbon seatpost, with hidden adjustment, and the muscular fork help to absorb a large part of the vibrations and irregularities of the terrain, thus compensating for the stiffness and reactivity of the whole.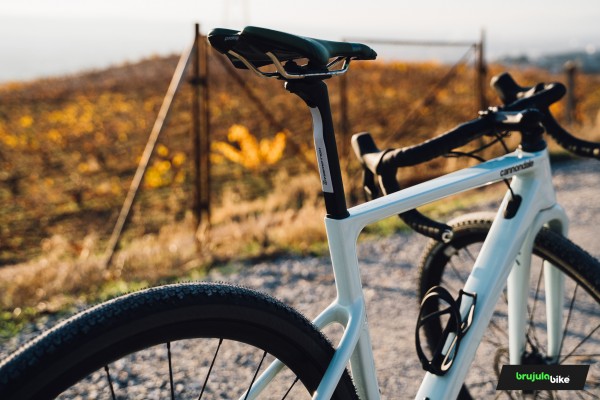 The up to 45mm wheel clearance seems like a very wise choice when you consider that this is almost a road frame and that the CX version for cyclocross is fitted with 33mm tyres. Contributing to the larger wheel arch at the rear is the Ai (Asymmetric Integration) system that Cannondale has been using on its bikes since 2015, which allows it to fit larger tyres and still leave enough room for mud to evacuate.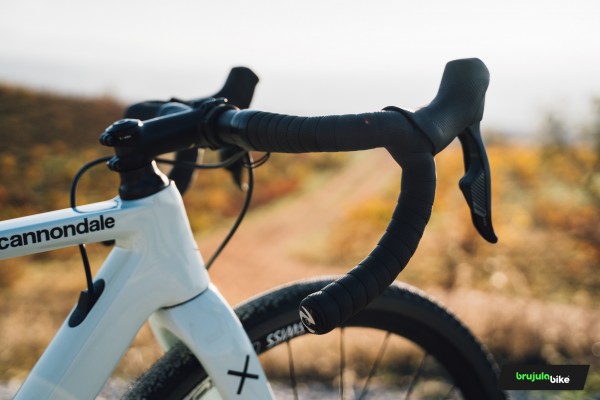 We found the EVO SE's internal cable routing to be very clever and functional. A traditional system has been chosen that enters through the down tube and fork, which together with its wireless drivetrain leaves the bike free of cables while allowing for easy maintenance and allowing you to choose the handlebar and stem set you want, without relying on unique integrated systems.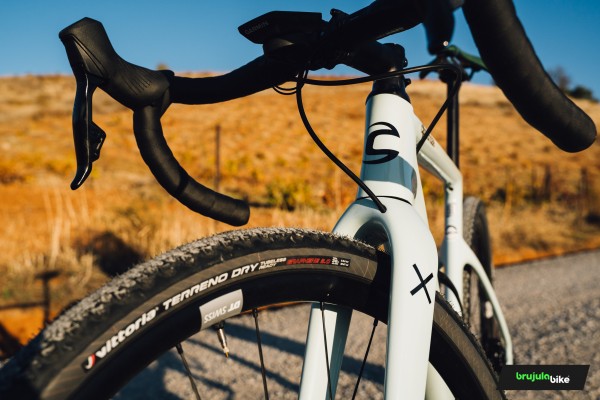 As we have already mentioned, there are no mudguard mounts, extra bottle cages or bikepacking bags on this frame. Which reminds us once again that the brand has not made this bike with this type of rider in mind. Even so, Velcro bags can be mounted for minimalist bikepacking routes.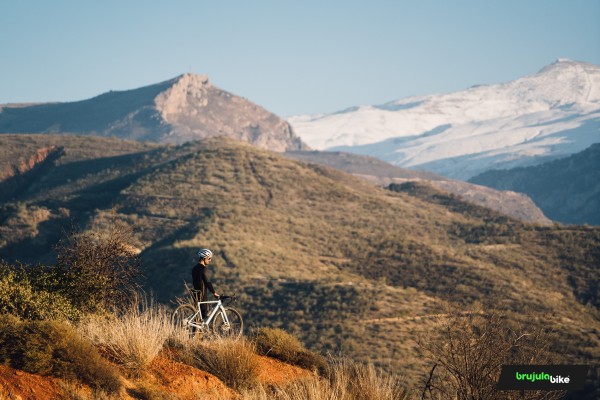 Assembly
It's the component selection that makes this Cannondale Supersix EVO SE a race gravel bike, and we found it to be a well-balanced combination that hardly loses any performance or weight over its CX version, but still offers the comfort needed for long days of riding.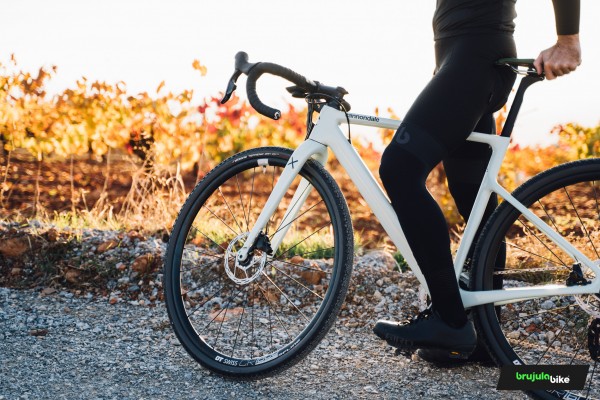 Starting with the wheels, we found DT Swiss CR-1600 SPLINE aluminium wheels with 22 mm internal width and 23 mm height, DT Swiss Aero Comp wide spokes and DT Swiss 350 hubs. And on them the Vittoria Terreno Dry TNT 40 mm tyres. These tyres gave us a great surprise after testing them in very different terrain and weather conditions, undoubtedly a success for its versatility and great grip.
The SRAM Rival eTap AXS 2 x 12v electronic groupset is a precision-engineered safety device. It doesn't let you down, and it feels just right even when you're riding with cold, numb hands. However, you should remember to check the charge of both batteries and charge them from time to time. A 46/33 chainring ratio and 10-36 cassette, a standard gravel combination that allows you to go very fast on flats and steep hills. The cranks are also from SRAM with the Rival DUB X-Range.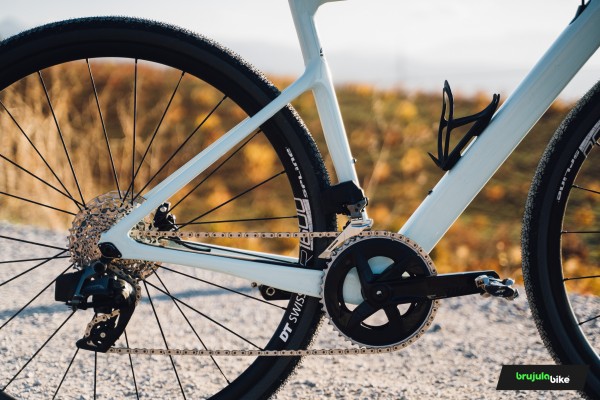 The SRAM Rival hydraulic brakes with 160mm discs front and rear are another good choice, as is Cannondale's own aluminium handlebar and stem assembly. There's no flare on the handlebars and we found them to be very comfortable with the SRAM Rival levers.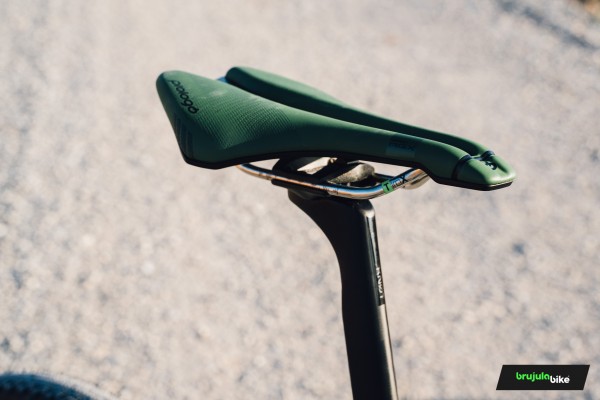 The combination of the Hologram 27 SL KNØT carbon seatpost with D-shaped section and the Prologo Dimension AGX saddle can be seen as part of the Supersix EVO SE's system for multiplying comfort on the bike. The seatpost responds well to vibration and bumpy terrain, and the saddle is comfortable enough to forget about.
Sensations on the Supersix EVO SE
The first impression could not be other than the aesthetics, and in this very subjective aspect, the Cannondale Supersix EVO SE won us over from the first moment. Visually we have the same frame as a road Supersix, but with a more robust fork and some oversized areas, such as the bottom bracket and chainstays. The pastel mint green finish and minimalist graphic details seem to us to be an elegant and racing combination that describes the model well. In addition, the UCI logo on the down tube reminds us that this is one of the bikes that will be one of the candidates for the Gravel World Championships in 2022.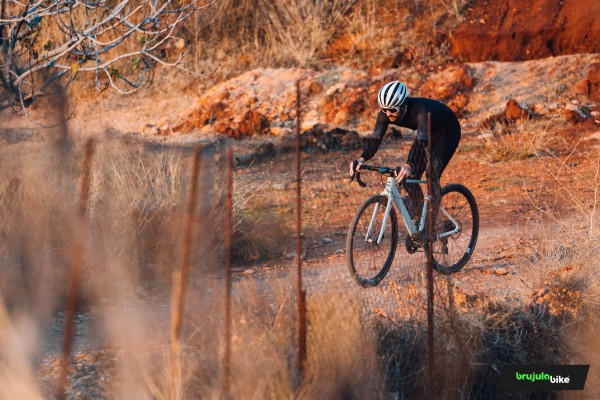 As soon as we did the little assembly required after taking it out of the box, installed the two batteries in the drivetrain and made the first adjustments, we put it on the scales without pedals and the weight of this Cannondale Supersix EVO SE, in size 51, was 8.6 kg. A decent figure that can certainly be improved over time by replacing some of the aluminium components with carbon.
But then it was time to get on the bike, and what we had intuited from reading about it was confirmed within a few kilometres. This Cannondale Supersix EVO SE is a gravel bike, but it reacts like a road bike. The power transfer is immediate and the EVO SE encourages you to ride harder and harder.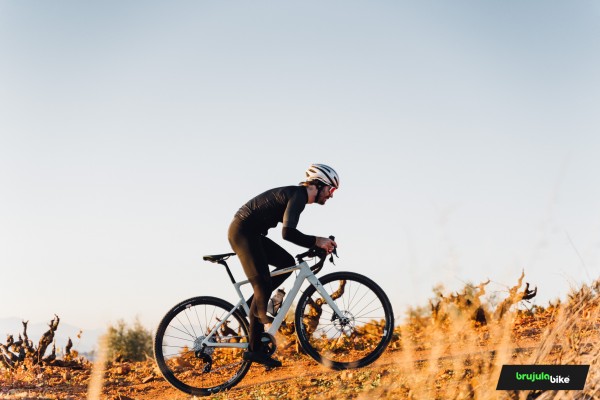 The competition gravel or speed gravel is a modality that draws a new line in the increasingly complicated terrain of off-road with road handlebar bikes. On paper it looks like a collection of nuances that brands have "invented" to bring out new models, but really when you start pedalling with it you can understand that it belongs to a specific modality.
On wide, not too broken tracks, this Supersix EVO SE shines and gives the best average speed and watts. It's easy to ride fast in these conditions and we can say it's where it's most enjoyable. The 45mm tyres prove to be the best combination of damping and performance, and you really appreciate that the geometry and new fork help keep you in control on long, fast descents.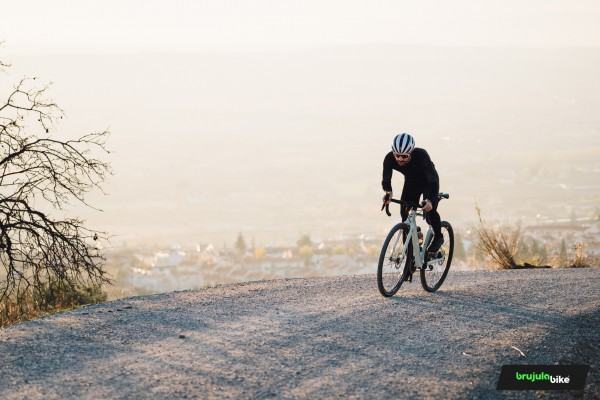 We didn't have any complaints about the rest of the set-up during our test, and while there's always room for lighter components, we think it's a great combination of weight-price-performance. While some may find the Cannondale Supersix EVO SE's €4,699 price tag expensive, it's certainly not when compared to the few alternatives in the segment at the moment.
Conclusion
We've already mentioned that gravel is becoming more and more diverse and if bikepacking or adventure gravel trails are your thing, this is probably not the bike for you. It's not a versatile model to which you can add mudguards, 50mm or larger wheels, luggage racks or bags that don't fit with velcro. For that we'd recommend you take a look at the brand's Topstone range.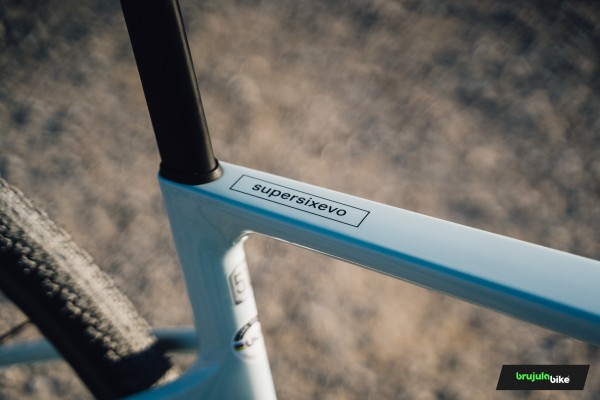 This is a speed gravel bike and that means that the bike responds perfectly when we want to cover long distances, without very technical sections, as fast as possible. Here, the Supersix EVO SE is a rocket.
We will see if this type of gravel, which is already very popular in the USA, will be introduced in Europe in the next few seasons. But if you'll allow us to make a prediction, it wouldn't be a surprise if gravel ends up concentrating on this fast and minimalist modality. 
Cannondale Supersix EVO SE: specifications and price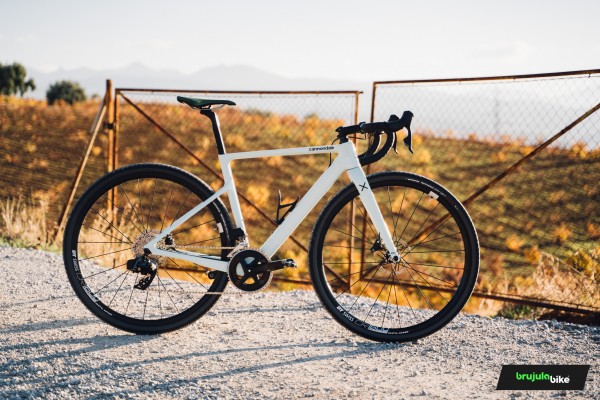 Frame and fork: SuperSix EVO CX Carbon
Drivetrain: SRAM Rival eTap AXS with 46/33 chainrings and Rival XG-1250 10-36 cassette
Brakes: SRAM Rival hydraulic with 160mm discs front and rear
Wheels: DT Swiss CR-1600 SPLINE, 25h, tubeless ready
Hubs: DT Swiss 350
Spokes: DT Swiss Aero Comp straight-pull
Tures: Vittoria Terreno Dry TNT, 700 x 40c, tubeless ready
Handlebar and steam: Aluminium Cannondale 2
Seat post: Carbon HollowGram 27 SL KNØT
Saddle: Prologo Dimension AGX
Weight: 8,6 kg in size 51
Price: 4.699€ 
Supesix EVO 2022