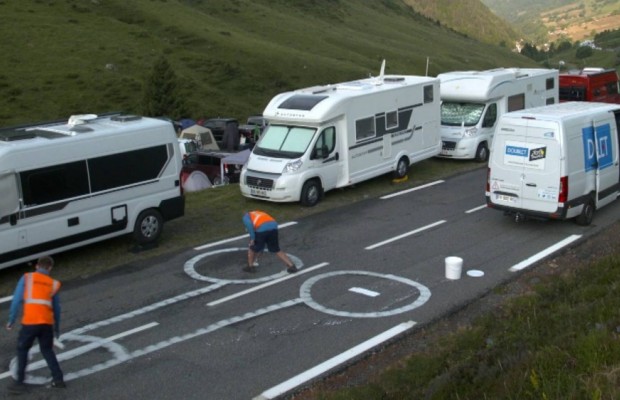 This is how they erase the penises that are drawn on the roads of the Tour de France
Le Tour de France is broadcast in 190 countries around the world and seen by more than 3.5 million people each year. That is why the organization takes great care in the production of its broadcast and tries to show the innumerable treasures of France. But what about the drawings that fans paint on the road? How do they dodge them or delete them?
Hoe verander je een 'Tourpiemel' op het asfalt in een vlinder of een uil?

"Ik maak er ogen van" → https://t.co/9GjYhoROyz pic.twitter.com/4K6nyCxoVV

— NOS Sport (@NOSsport) 20 de julio de 2019
This is how Le Tour de France deals with the drawings on the road that does not want to broadcast on TV
Each day, before the stage begins, the Tour has a 2-people team whose function is to detect and disguise all those rude drawings that they do not want to be seen on television.
The majority of drawings are made by the fans to encourage their favorite cyclists. But there are also those who have other artistic concerns and their drawings have sexual nature. For those cases, The painters' team use ingenuity and brush in had they try to disguise them in the best way they can.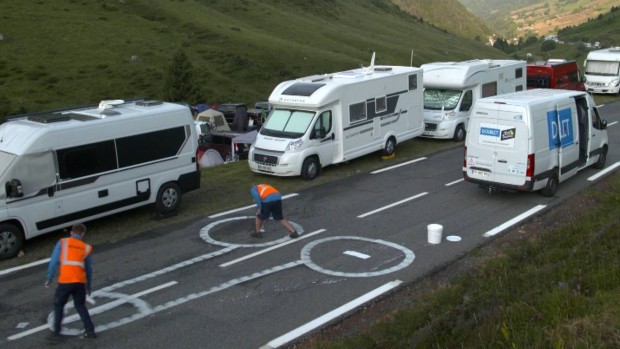 So far this seems the only way that when the race is in the middle of an exciting attack and the camera focuses on one or the other runner, the image will not be dirtied by the gross drawing of a giant penis or similar.