Topstone Carbon Lefty 3, a gravel bike different from all others
For many it is still an unknown world and for others it is almost a way of life. We are talking about gravel. A modality that is on the rise with more and more followers and that, like other modalities, is evolving and suffering changes as a result of the arrival of new technologies and the investment that the big brands are making on their bikes. In this context, the innovative Topstone Carbon Lefty was presented, a gravel bike that is different from all others.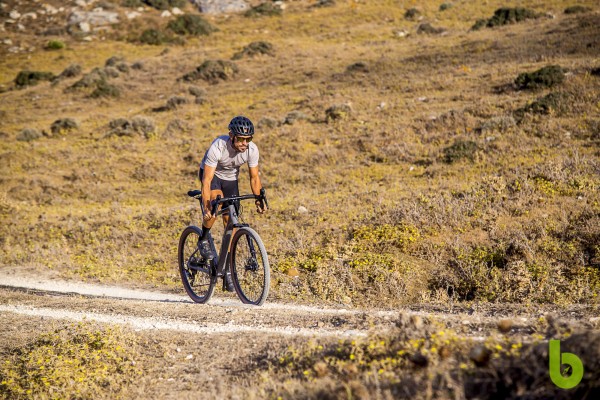 We tested the Cannondale Topstone Carbon Lefty 3
One of the brands that is investing in this modality is Cannondale. The American manufacturer presented a few months ago new models of its gravel bike, the TOPSTONE: the Topstone Carbon Lefty, Topstone Neo Carbon and Topstone Neo Carbon Lefty. Three versions of one of its most successful models for this modality. The first one, a gravel bike with a Lefty fork; the second one with a rigid fork and electric motor and the last one with a Lefty fork and electric motor.
This presentation did not go unnoticed here at Brujulabike and we had the pleasure of testing the Topstone Carbon Lefty 3, a model just below the top of the range Carbon Lefty 1. A fun and versatile bike that reminds us of the Cannondale Slate and which has been improved by incorporating the new Lefty Oliver suspension fork, specifically for gravel, in addition to other improvements that we will explain below.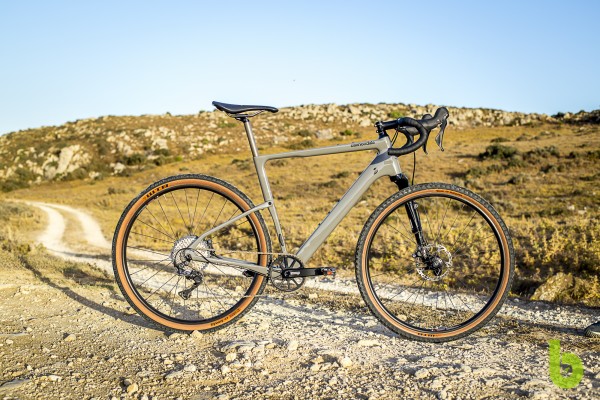 Frame, the soul of the Topstone
The frame is the same as the Topstone Carbon model with rigid fork. A very light carbon frame weighing about 1100 g, with a large diagonal tube, a fairly long head pipe and vertical and horizontal tubes with distinctive shapes that have a sense and reason for being and that we will explain later. The straps come out of the middle of the seat tube and along with the pods form a more refined rear triangle that is capable of accommodating tires up to 700x40C or 650bx48. It consists of a BB30 bottom bracket, tapered steering and 12x142 rear axle, as well as a seatpost lock integrated into the frame, which offers cleaner lines.
It has a sober aesthetic. It comes with the option of choosing between two colors, in gray with the brand emblem in black on the top tube, or in a mantis green with a purple stripe. These aesthetics are very much in line with the gravel philosophy.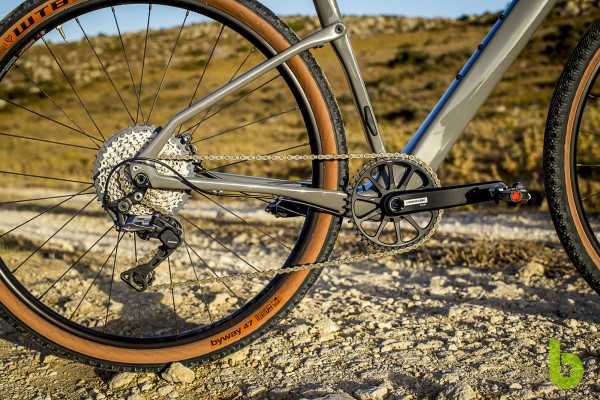 What stands out about this frame is its rear suspension system based on the flexing of the carbon itself. For this purpose, the brand's engineers designed a system called KingPin. A system that has been developed during four years and that is based on a set of modifications made to the frame that leads them to obtain a 30 mm travel.
In order to understand the operation of this system, it is necessary to explain that it is based on the combination of a pivot in the union of the vertical tube with the suspenders, which acts as a pivot point and the bending of the carbon in a localized section of the sheaths, seat tube and back of the horizontal tube. The way of placing the fibers and the sections of these tubes are in charge of that flexion that, joined to the pivot by means of the axis with special bearings called Pivot LockR that, unifies the right and left suspenders avoiding an independent rotation, makes that level of movement possible with a solid and instantaneous response.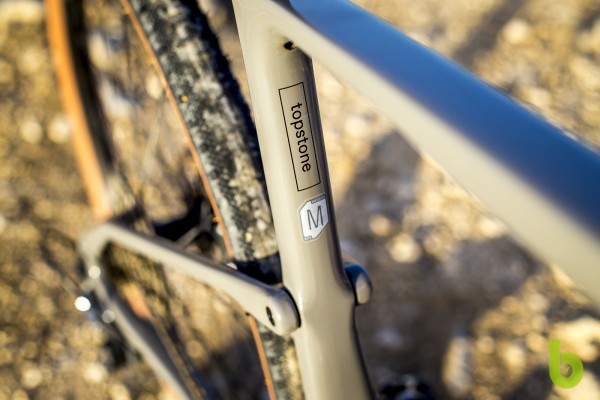 All of this comes together to provide impact absorption of 30 mm of travel that is distributed between about 25% (7.5 mm) in the rear axle and the rest in the saddle, achieving an extra point of comfort and adherence.
It is a system that provides a flexion to achieve such travel and at the same time an adequate rigidity for acceleration, therefore, gives us a proper operation either pedaling in the saddle or standing.
According to the designers, other advantages of the KingPin are its low weight, its simple structure that requires no configuration, and its low maintenance. All this thanks to the fact that no rear shock is required. It has been sought to make it more comfortable, safe and responsive in demanding terrain.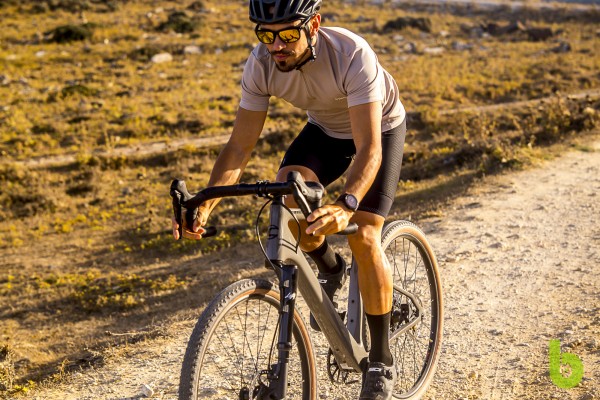 As we have seen in other models of the brand as the new Scalpel and Habit, here also applies the Proportional Response technology, with the idea of providing the same absorption and general feeling on the road. In this case to achieve this, they have worked on the size of the section, the laminate and the arrangement of the carbon in the sections where the bending occurs (which can vary from 16 mm in size S to 28 mm in size XL), so that each size of frame acts proportionally in relation to the dimensions and weight of the biker.
And this does not end here, it also has a series of advances that make it more competitive within its segment. It mounts the Speed Release thru-axle, of its own design, which combines the advantages of rigidity and solid touch of a conventional thru-axle with the speed of wheel disassembly of a traditional quick release.
Thinking about the Bikepacking modality, which is very popular nowadays, several locations have been incorporated in which to place luggage and water bottles. It has anchors in the diagonal tube, both in the upper and lower part near the bottom bracket, in the vertical tube and in the upper part of the horizontal tube, in which you can take everything you need for several days' adventures. In addition, it has other anchorages at the top of the straps to be able to place a fender.
It features the DirectLine internal wiring system which is a series of internal tubes that guide the cables or hoses from the input to the output to facilitate the maintenance work of these. And if you're one of those who likes the telescopic seat post, the frame has the possibility of installing a 27.2 mm with internal cable guidance, to make the bike even more off-road.
Fork, the key
One of the main features and main strength of this bike is the incorporation of a suspension fork. At Cannondale, they've done it again, giving one of their bikes one more twist to push it to the next level.
Building on the base of the Lefty Ocho, they have created a new fork specifically for gravel, the Lefty Oliver. This is the second one to reach the gravel market after the Fox AX.
The Lefty Oliver is a single-arm suspension fork with 30 millimeters of travel designed specifically for gravel. Like the Lefty Ocho, it is characterized by its incredible stiffness and by the use of needle bearings that provide it with a high degree of smoothness of operation and steering precision.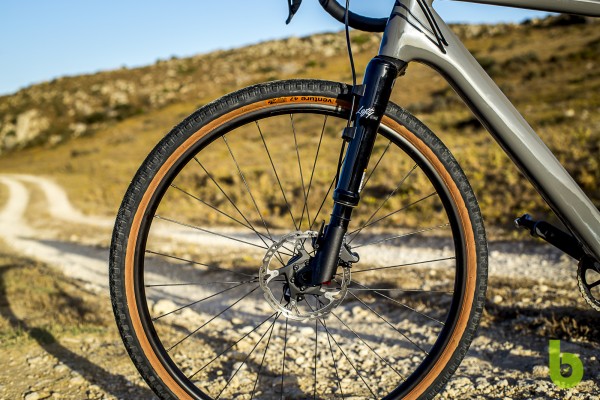 Its hydraulic system is designed to neutralize pedal oscillations and other unwanted compressions, making it behave smoothly and efficiently on both asphalt and loose ground. The rebound adjustment range has also been extended by 60% and offers the possibility of adjusting the size of the air chamber.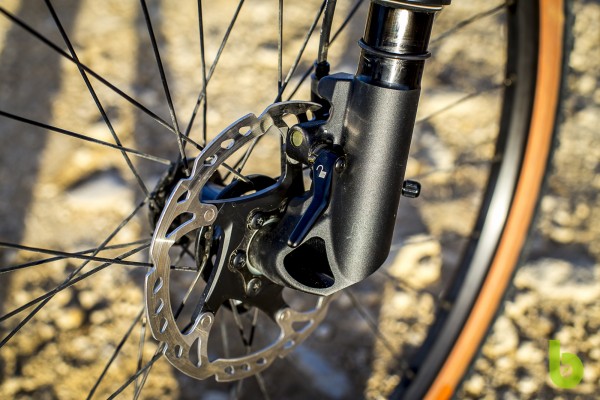 Its new structure is more compact and its travel is progressive enough to get the most out of its 30 mm of travel adapting to almost any terrain.
It incorporates a faster and more intuitive locking system, equipped with a safety threshold that allows it to absorb certain impacts even when blocked, thereby helping to maintain control in the event of unforeseen obstacles. In addition, it has a new StopLock brake support for brake calipers with a Flat Mount system, which does not require tools to remove the front wheel, making the operation easier and faster.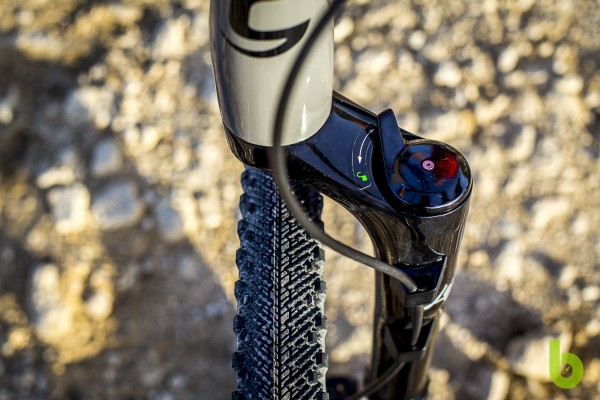 The Lefty Oliver will accept 650B wheels with 47mm width or 700c with 45mm and will be available in carbon or aluminum version, with weights of 1,340 gr and 1,610 gr respectively. It can be purchased separately for those who want to add front suspension to their gravel bike.
This is a very lightweight fork with breaking aesthetics created with the intention of reinventing the gravel including the advantages of the Lefty concept, making you can ride more aggressively and comfortably.
In the case of the tested bike, it is a Lefty aluminum, which uses a Lefty 50 hub mounted on a 650B wheel with a 47mm tire. 
Geometry
The geometry is the same as the Topstone Carbon. For its design, Cannondale engineers were inspired by the Synapse, their big roadbase model in terms of stack and reach. This provides a sitting position that is upright enough for off-road fun and low and forward enough to maintain high speeds on road sections.
Staying tight to its OutFront geometry concept, it has an agile and lightweight steering. Its steering angle is relatively smooth, 71.2º in all sizes except the XS which is 70º. This angle coupled with the 55mm of the Lefty Oliver fork give it a plus of confidence and stability especially on those downhill sections that can get complicated.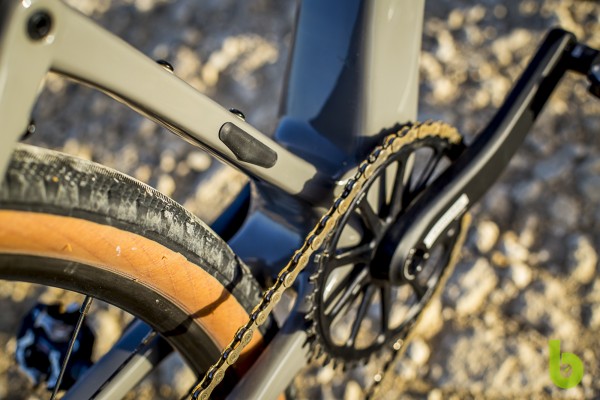 The seat tube angle of 73.1° is designed to allow you to pedal strongly on the most demanding sections. To achieve a more comfortable position, a shorter horizontal tube has been chosen, which also helps us to have a more balanced center of gravity and closer handlebar controls.
In short, with this geometry has been sought balanced reactions, an agile and fun bike, capable of dealing with all types of terrain with the greatest comfort without neglecting the speed.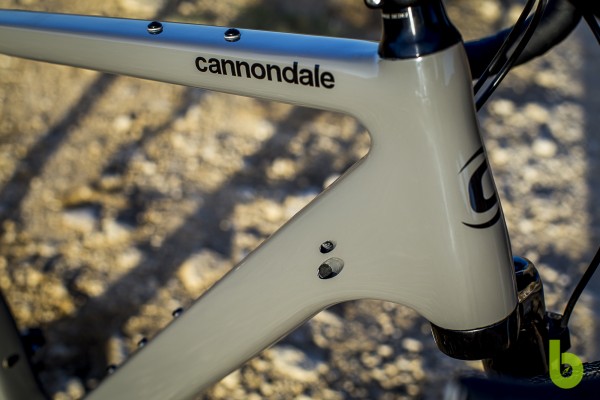 Components of the Cannondale Topstone Carbon Lefty 3
Drivetrain
The Topstone is equipped with a Shimano 1x11 drivetrain, which combines GRX group rear derailleur and shift levers with SLX group rear cogs and chain.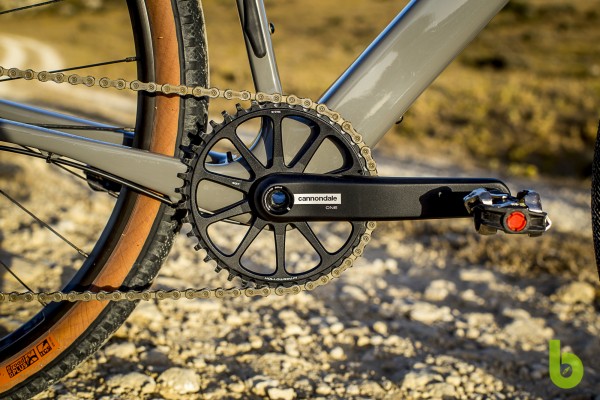 The GRX is a specific group for gravel. The shifters are a GRX 600 in which, being a single plate, we will only use the right handle to change sprockets, but we also have the option of mounting a derailleur if we want to use it with a double plate. The operation of the levers is similar to the Japanese manufacturer's road groupsets.
In terms of grip, the levers have a fairly high head and a non-slip texture, which gives us a secure grip.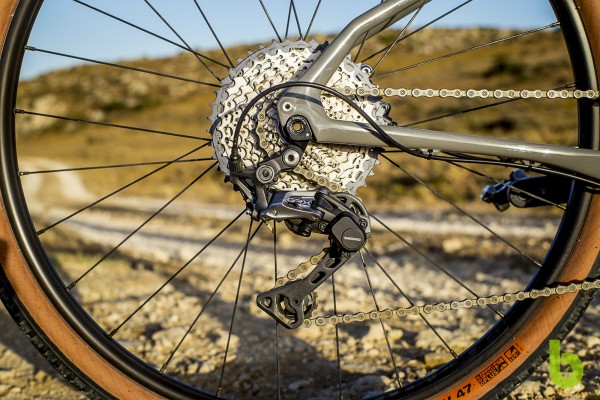 The rear derailleur is a GRX 800, equivalent to a Shimano Ultegra, with good performance and reliability. It works in line with SLX rear cogs with an 11-42T development and a chain also from the same group.
As far as drivetrain is concerned, it has a good ratio between components, according to the cost of the bicycle.
The only component of the drivetrain that is not Shimano are the cranks, which are mounted with the brand's own Cannondale 1 aluminum crankshafts, which come with a 40T SpideRing OPI crankset.
Wheels
The wheels equipped are a mount that combines WTB ST i23 TCS aluminum rings with an internal width of 23 mm that follows the same trend as the MTB, looking for increasing internal widths. They are mounted with a front Lefty 50 hub specific for its fork and a rear Formula cartridge bearing with 12x142mm axle. In both cases they are accompanied by 28 steel spokes. This is not a very light set and is a component that we could invest in if we wanted to improve this bike.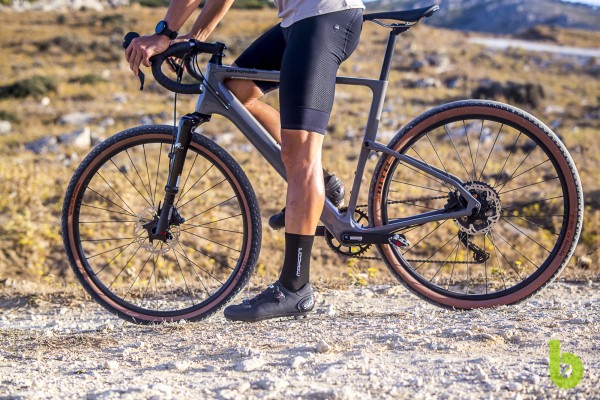 It mounts as standard tubeless ready tires in size 650 x 47c. A WTB Venture TCS Light on the front wheel, with a pronounced tapping seeking to gain more grip on loose terrain and a WTB Byway TCS Light on the rear wheel, which has a smooth central area to achieve a smoother ride on the road and with an area with some tapping on the outside to promote adherence in curves with loose terrain. In addition, being tubeless and with the generous inner width of the rim, it allows us to lower tire pressure for better grip off-road.
Brakes
It mounts GRX group disc brakes, as we mentioned before, they are GRX 600 that drive GRX 400 hydraulic calipers, guaranteed to work and with more than enough braking power to stop this gravel. They are accompanied by Shimano RT76 160 mm discs at the front and rear.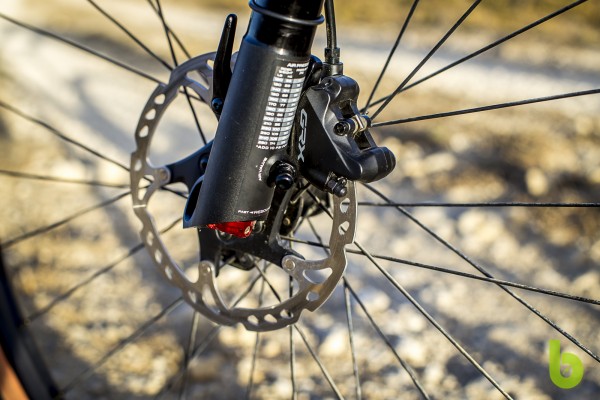 Handlebar and stem
For the handlebars it has been chosen a Cannondale 3 of aluminum with 16º of flare drop. Its section is round throughout, we would have liked to have a flatter section in the upper grip to gain more comfort. It is covered with the brand's own 3.5mm thick handlebar tape that has a soft feel without compromising grip.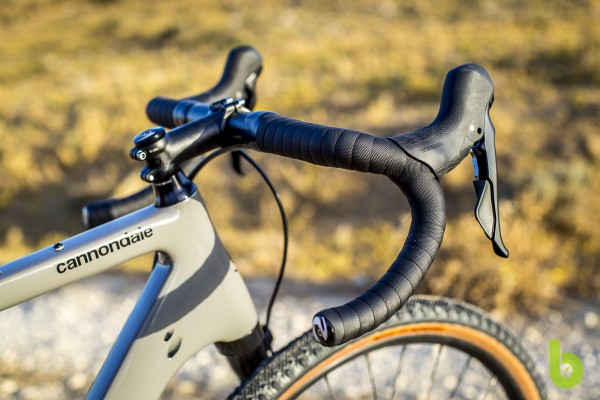 The stem is also own brand, an aluminum Cannondale 2 that varies its length depending on the size of frame chosen, in our case was 80 mm long. It has a 7º angle that offers us a comfortable position on the handlebars.
Saddle and seatpost
On the other hand, we find the Fabric Scoop Shallow Elite saddle with chrome-molybdenum rails. Designed to offer us the necessary comfort either in our daily work or in bikepacking routes of several days. It is attached to the frame with the Cannondale 2 unidirectional carbon seatpost measuring 27.2 x 350 mm.
Accessories
Removable fender bridge
With everything in mind, Cannondale has installed a removable bridge between the suspenders so fenders can be mounted. This bridge can be assembled or disassembled as you need to use them or not, depending on the route chosen and the weather.
Front Wheel Sensor
Cannondale's sensor, developed in collaboration with Garmin, comes standard on the front wheel. Once linked to our Smartphone and through the Cannondale application we will have the ability to obtain accurate speed, time, route and distance information, as well as logging your bike for maintenance reminders, suspension information...
Record up to 30 routes or workouts before they need to be synchronized with the App. No need to press the start button, as it starts recording from the moment you start pedaling
Experience with the Topstone Carbon Lefty 3
The time for action has come. We unpacked the Topstone Carbon Lefty and once we started to mount it we tried its new StopLock system to place or release the front brake caliper. An operation that is done easily and without the help of any tool. A system that is firm and robust.
We placed the handlebar and proceed to the seatpost assembly. This does give us some more work due to the system of its integrated fixation in the frame but once installed it gives a very attractive aesthetic touch. We add pedals, 2 bottle holders and the support for the Garmin.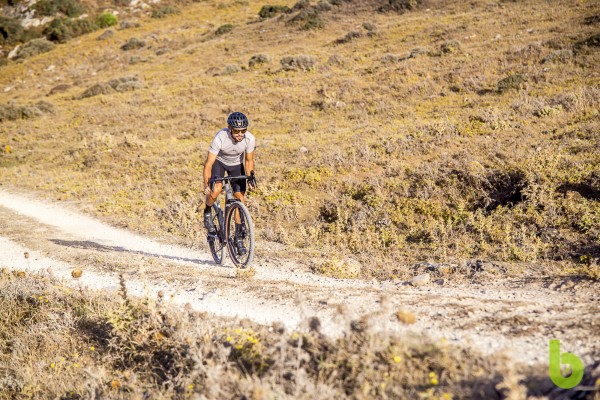 We already have everything we need to go out and test the bike, but as usual at Brujulabike, we pass it on the scale and it throws us a weight of 11.2 kg. A weight that can be considered high for a gravel bike but if you analyze it, you will understand that it is not an exaggeration since we are talking about a gravel-bike with front and rear suspension.
At first sight we observe its sober aesthetics, with a gray color that floods the whole picture and in which we only find the name of the brand in black, in not very big letters in the front of the horizontal tube. To give it a special touch, tires have been mounted with the sides in cream color that give it a very modern aesthetic according to the gravel philosophy.
When we get on it we notice that it is a big frame that, even though it is our size, it is a little bigger than usual. This can be solved by adjusting the height of the handlebars and the back of the saddle. However, some people will try the bike and opt for a smaller size.
We began to ride and in order to adapt to the bike we drove several kilometers on the road, in search of a first feeling with this bike. On the asphalt it is firm, stable with a very successful direction. The stiffness of the bottom bracket and its diagonal tube give the bike that speed of start and reaction. The Kingpin system remains undisturbed, and the solid Pivot LockR axle helps make this happen. On the front end, as is usual with Lefty forks, this one does not show any oscillation, it is rigid, and does not sink if it is not due to an accentuated bump. It has the option of locking it so we don't lose any of the force invested and with the peace of mind that it has the safety system that releases it in case of an impact.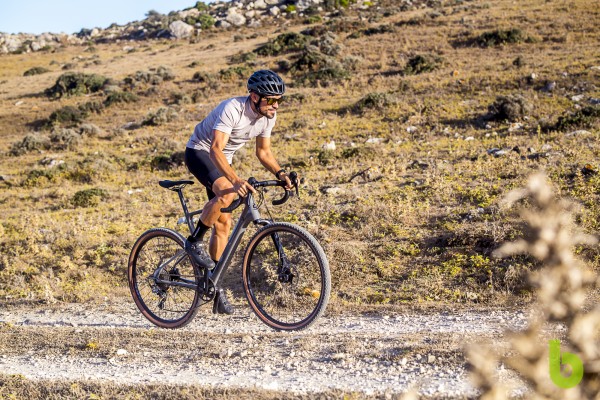 We continue to roll on the road, riding at higher speeds and always enjoying a comfortable driving position. Its development here is balanced, the 40 teeth plate is enough for the speed we are going, not making us force with the cadence. Its wheels of 650b and 47 width are comfortable, but you can notice the difference with a road wheel when rolling many miles with them on asphalt in good condition. For users who come from the world of the road will notice more this difference, although the Topstone gives the possibility to mount a wheel of 700 with a width of 40 mm.
Once we felt comfortable, we began to look for our first off-road incursion, for this we opted for a track without many difficulties, but as is normal, with bumps and imperfections that would already limit us with a road bike. Just by trying this terrain you realize that this is going to be your natural environment. Here already come into play all the benefits of the bike and where you appreciate that each part of the frame meets its purpose for which it has been designed and manufactured.
Every bump that we can't avoid is absorbed by the KingPin system reducing or cancelling out its effect on us. The latest and most revolutionary MTB riders will say that this is not a suspension system, as it has no possibility of adjusting compression and rebound. Well, you can see that, but what is unquestionable is that the system is capable of offering 30 mm of travel in the rear axle, thanks to the flexing of the carbon mostly. This travel is capable of filtering vibrations and many of the imperfections of the terrain, giving us security and a plus of comfort compared to other completely rigid gravel. These two advantages are what make us enjoy this modality even more, allowing us to go faster and inviting us to leave the track to go into more complicated paths.
Said and done, as soon as we had the chance we took a trail that we usually ride with the MTB, looking to see where the limits of this Cannondale are. There are many features that bring it closer to MTB riding, its 47mm wide tires give confidence and good traction and its 650b wheels coupled with light steering make it manageable in corners. But without a doubt, what makes us venture into these incursions is, along with the KingPin system, the incorporation of the Lefty Oliver fork. Its 30 mm of travel and its impeccable operation help to pass certain obstacles and most bumps, but this is not a 100mm XC bike. If the terrain gets too complicated, you can get a few scares if you don't have the right technique.
The handlebar supports give you confidence, whether you're holding on underneath or on the levers. We move along the trails with a happy rhythm, passing through curves quickly, although its position is more relaxed, its handling invites you to go faster on any terrain. 
After rolling on some trails we returned to the track. This is where we enjoyed most, its comfort leads you to spend hours pedaling, wanting to extend your routes to the maximum. When you get to areas with large slopes is where you notice those 11.2 kg and that its rear cog reaches 42 teeth. Less fit users will miss a little more development or a little less weight. As we said we would like more development, but it is true that his rear cog is balanced because with this gravel not only will be on tracks, in other words, when we go on the road we will appreciate this more compact development. Obviously we will not compete with a road bike, but it allows us to go with the group.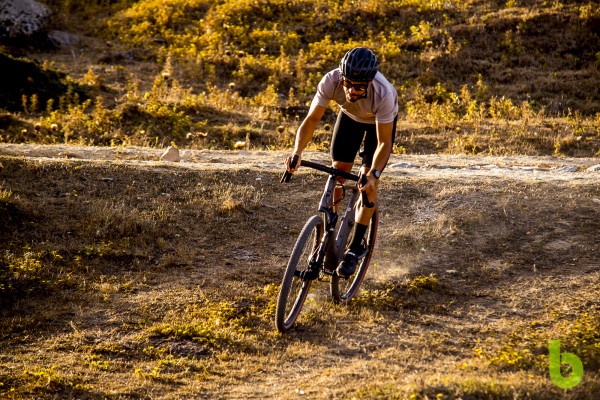 Arriving at the top of the port we look for a winding downhill with some section of trail, and that is what their confidence and comfort asks you, venture to find areas a little more complicated. The GRX 400 brakes have a smooth operation, if you abuse them it lacks some power, but in all other situations its operation is more than enough, since they also rely on the operation of the suspension.
We went back to the road for our return home, we were not at all indifferent to the Topstone. It has pleasantly surprised us in all areas and has left us wanting more and especially wanting to do some bikepacking adventure with it.
In conclusion we can say that the Topstone Carbon Lefty is a gravel that has combined an innovative rear suspension system, a Lefty Oliver fork with 30 mm of travel and 650b wheels with 47mm tires to create a new concept of gravel that provides more comfort, better traction and greater control on all surfaces.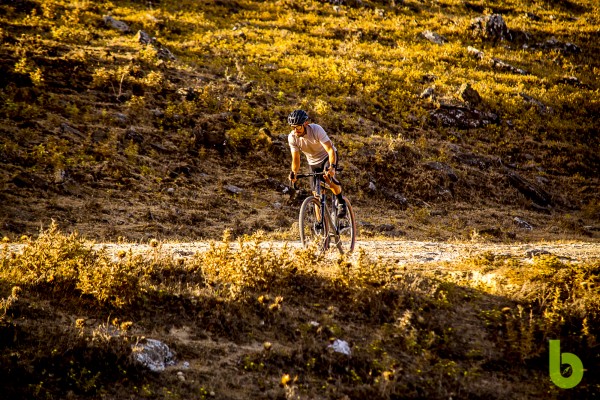 It has a geometry and a position on the bike that invite you to pedal for hours and venture into more difficult terrain, without leaving aside the possibility of explosive starts.
This is an all-terrain bike, which adapts perfectly to almost any surface, but above all it stands out on less complex tracks and paths where its suspensions are better than other stiff gravel. It is also a great option to take into account for bikepacking routes because of its many anchors and comfort.
Cannondale Topstone Carbon Lefty 3
Frame: BallisTec Carbon Frame, Kingpin suspension system, 12x142 Speed Release Thru-axle, dropper post compatible, direct line cable routing
Fork: All-New Lefty Oliver, 30mm travel, Chamber Damper w/ All-Over tune, ISO High-Ride air spring, tapered steerer, 650b, 55mm offset
Wheels: WTB ST i23 TCS, 28h, TR and Stainless Steel spokes 14g
Hubs: Lefty 50 front and Formula cartridge bearing, 12x142mm rear
Tires: WTB Venture TCS Light, 650 x 47c, TR (front) and WTB Byway TCS Light, 650 x 47c, TR (rear).
Drivetrain:

Crank: Cannondale 1, BB30a, OPI SpideRing, 40T
Rear Derailleur: Shimano GRX 800 Wide
Shifters: Shimano GRX 600, 11-speed
Rear Cogs: Shimano SLX, 11-42, 11-speed
Chain: Shimano HG601, 11-speed

Handlebar: Cannondale 3, butted 6061 alloy, 16º  flare drop
Grips: Cannondale Bar Tape, 3.5mm
Stem: Cannondale 2, 6061 Alloy, 31.8, 7°
Brakes: Shimano GRX 400 hydraulic disc, 160/160mm RT76 rotors
Brake levers: Shimano GRX 600 hydraulic disc
Saddle: Fabric Scoop Shallow Elite, cro-mo rails
Seatpost: Cannondale 2, UD Carbon, 27.2 x 350mm
Wheel sensor: Cannondale Wheel Sensor
Extra: Removable fender bridge
Weight:11,2 kg 
Price: 3.799€
Topstone Carbon Lefty 3