The image that has set off all the alarms. Who is responsible?
If in a team of the Tour de France the organization detects two members, no matter if they are cyclists or not, positive by Covid or with serious doubts about it, the whole team will be expelled from the race. With this strict rule, the Tour required the teams to be as involved as possible, but how should the teams control the fans without masks that encourage the cyclists just a few centimeters from their faces?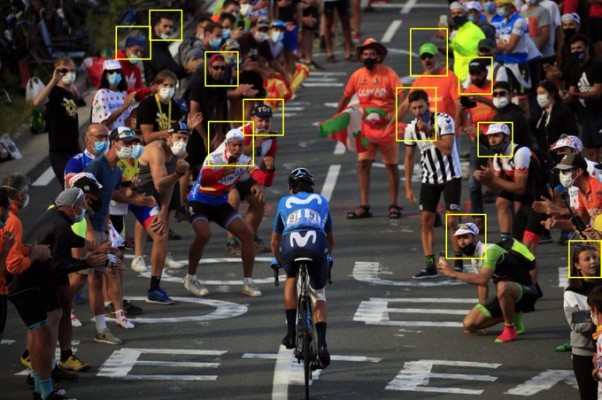 This image has set off all the alarms, some fans encourage the cyclists without masks
The ninth stage of the 2020 Tour de France was the first purely mountain day with the arrival in the Pyrenees, and with it we saw what nobody wanted to see, the Tour depending on a few fans.
The mountain stages are the most appreciated by the fans to encourage their cycling idols in the most demanding climbs, but this is not just an ordinary year and things should not happen as usual, at least in this aspect.
Although the organization has limited the access of fans in certain points, yesterday it was clear that it is very far from getting a safe space for the cyclists, since as it could be seen in video and in this image that has already gone viral there were some without mask or with it badly placed that were dedicated to encourage the cyclists within a few centimeters from them, and although it is true that they were the least, they were enough to make a mess of everything. 
As most of you, we're concerned by the current situation in the world. It's taken so much effort to restart the season - and we all don't want it to end. Please wear a mask, use it correctly, and keep some distance. Do it for us and the rest of the field. #TDF2020 pic.twitter.com/wvnwynuzt3

— Movistar Team (@Movistar_Team) September 5, 2020
We could say that the Tour de France is being an experimental sports event because of the large number of people from all over the world who are involved and the movement they make throughout a country that is in the midst of a surge in cases. But this image has left many doubts about the measures imposed by the organization and is creating some fear in the teams.