We tested the Giant XTC Advanced SL 29, a hardtail with a lot of character
At a time when full suspension mountain bikes seem to have taken over the XCO, Giant has introduced a new version of its XTC, a hardtail with tons of character.This hardtail is a breath of fresh air for those looking for an original sensation, with a focus on lightness, speed and agility. The Giant XTC has been updated to incorporate all the current trends in geometry while maintaining the essence of the XC.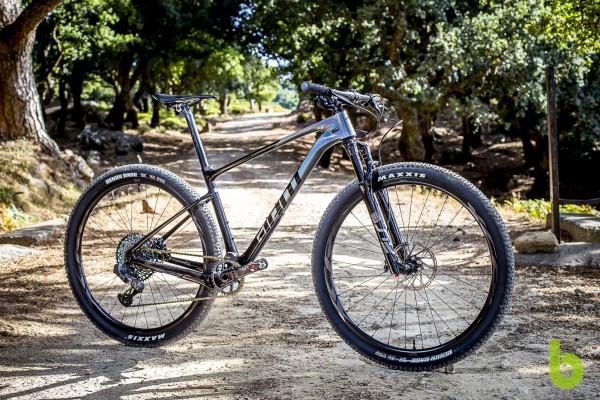 We have tested for a few hundred kilometres the XTC Advanced SL 29, the lightest and best assembly model in the catalogue, and we can assure you that the competition runs through every carbon fibre of this mountain bike.
Giant XTC Advanced SL 29: construction and geometry
As many of you have already imagined, the magic of this Giant XTC emerges from its frame, both its construction and its geometry. Giant has used Continuous Fiber Technology to reduce the number of parts to be joined, saving resin and weight.
Our test model uses Giant's most advanced carbon fibre, the Advanced SL T800, and the rest of the XTC options use carbon T700. The carbon and resin layers are bonded together using the CNT technique, including micro-polymers that reinforce the assembly, making it 14% more resistant to impact. The use of this technique means that each frame is hand-made.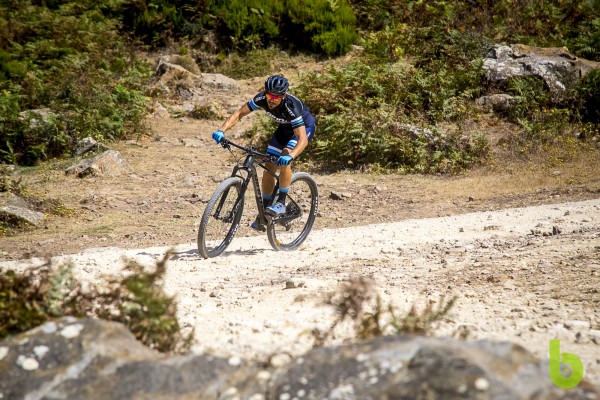 Giant recently introduced one of the best practices among bicycle manufacturers. Adapt the construction and geometry of each size so that the feel is the same for a rider with a Giant XTC Advanced SL 29 in size M as it is for one with size XL. To achieve this, among other things, each size has a specific carbon layer arrangement that ensures the same stiffness and flexure in all sizes. All this results in a frame with a declared weight of 920 g in size M.
Regarding the frame's structure, we will start by saying that it includes an Overdrive steering, Giant's standard, with a 1-1/2" lower bearing and a 1-1/8" upper bearing, thereby maintaining stiffness in the steering pipe and offering precise handling of the front end. The powerful bias tube has a voluminous, almost square profile that connects to the robust 92 mm bottom bracket and gives rise to pods with a cross-section that moves up and down as they approach the rear wheel axle. This assembly offers immediate and almost pollution-free power delivery to the pedal, all the watts are used by the Giant XTC.
In search of comfort, the vertical axis offers a certain amount of flexion because the straps have a thinner section and are connected to the vertical tube several centimetres below the horizontal tube connection and the seat post lock.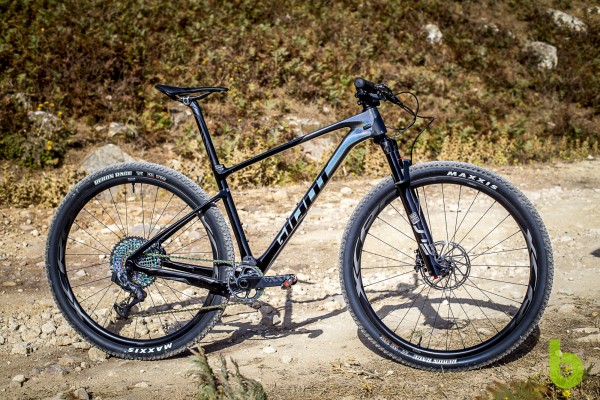 To finish off the construction, the frame is painted with a combination of black and a litmus grey that they have called Rainbow. It includes integrated protections in the parts of the frame that are more sensitive to scratches, something that is to be appreciated, especially in the sheath and lower part of the diagonal tube, which are made of rubber.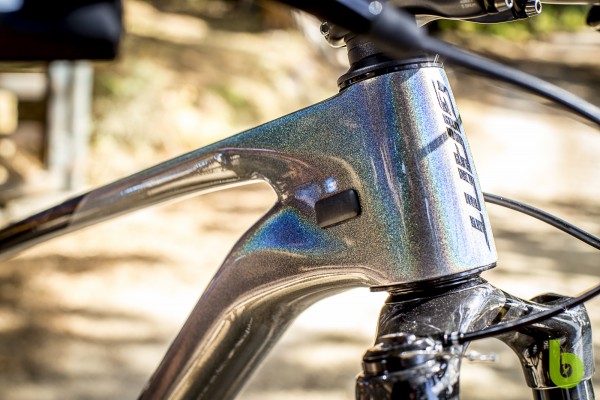 We can say that the great renovation of this Giant XTC is found in its geometry, with which they have implemented the current trends but maintaining the essence of a pure XC hardtail, at least in terms of angles. With a geometry designed for 100 mm forks, where the change is most noticeable is at the front. The steering angle has been relaxed by 0.5°, favouring the angle of attack on obstacles. Fork travel has been reduced from 51 to 43 mm, achieving a greater trail and consequently greater stability in steering at high speeds. The vertical tube has increased its angle to 73.5º seeking a more centred position to improve overall pedalling efficiency. The top tube is now 1 cm longer and the reach has been increased by almost 2.5 cm, which as a final result makes its wheelbase 1,106 mm. The length of the pods is the only measure that has been maintained, 425 mm. With all this the company has sought to increase its pedalling performance and make it more capable on downhills, gaining in safety and stability.
Riding the Giant XTC Advanced SL 29
Once it was taken out of the box and ready to go, we checked its weight and our scale marked 9,100 kg, with the absence of the bottle cage and pedals. This is not a surprising figure in the high-end XC bike sector, but it is a very contained weight without having to do risky experiments.
We started to ride it and even though at first glance and after seeing its geometry it seemed that we might have to deal with an excessively racing position the first surprise was that we did not. The increase of the reach was counteracted by placing a carbon Contact SLR stem, which in our case was 70 mm but varies its length depending on the size chosen, starting from 60 mm in size S to 90 mm in size XL. With this we are sitting quite above the bottom bracket and our position is very centered on the bike.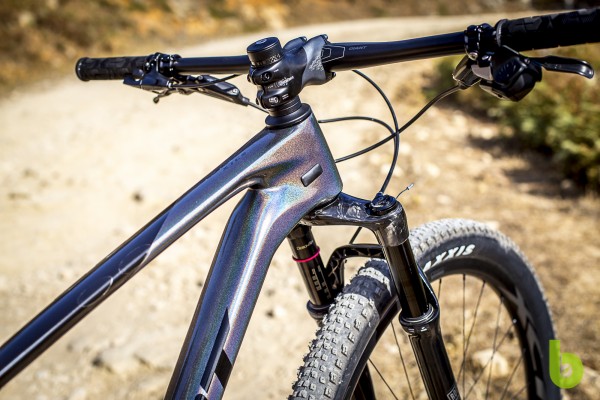 Taking advantage of our first kilometres on asphalt, we tested its stiffness. The bike is firm and our correct position on it allows us to transmit all the power of our legs to the pedals. Only with this we know that we are going to enjoy and that we are going to give our 100% in each outing.
On the first uphill sections of the route we can verify that it moves with agility and feels light. All you have to do is push the cranks a little to make the bike go uphill with good acceleration. This is helped by its own wheels, a Giant XCR-0 29, with carbon rings of 31 mm wide outside and 25 mm inside, following the line and demand of the current XC and XCM wheels. Its hubs are DT Swiss 240 painted with the Giant brand emblems and that have an impeccable performance. The assembly is completed with 28 spokes per wheel of the Sapim Super model. The wheel set is under 1500 gr, a good weight if we count that they come prepared with rim bottom and valve to use them in tubeless mode as soon as they are taken out of the shop, something that should be usual in high-end bikes. The rims are very stiff and complement the Giant XTC's so that you can achieve these amazing accelerations.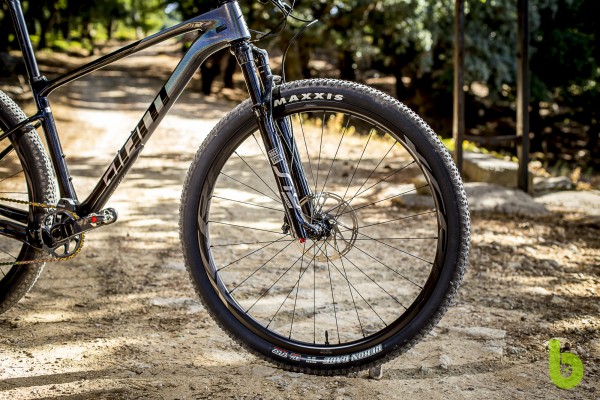 We go into off-road terrain, and here we start to notice how demanding the bike is. It's easy to keep pedalling with energy, even if the terrain becomes bumpy. It is true that we notice the imperfections of the route, especially in the rear, but less than we thought when we were preparing to leave.
Giant has taken into account that more and more complex circuits are being sought and that it is difficult for a hardtail to gain ground on the most current full suspension mountain bikes, but they have managed to make the most of it where the hardtails are superior and on the bumpiest sections they have tried to gain comfort to make them more enjoyable and to lose as little as possible. To do so, they combine a series of elements such as the use of carbon flexion in the straps, a saddle and seatpost of their own brand Contact SLR.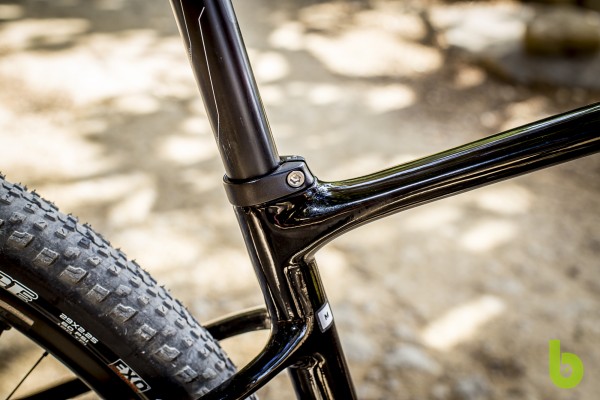 The seat post is made of 30.9 mm carbon looking for some flexion and to reduce vibrations. The fixation of the seat post to the frame is another thing that has changed, it goes from a wedge type lock with a rubber protector, to a normal type lock that is quite integrated and saves a few grams. In addition, another element that promotes comfort in these areas are the tyres, a Maxxis Recon Race 2.25" 120tpi and EXO protection. These tyres have a considerable ball, along with the generous internal width of the rims allow us to lower the pressure of the tyres giving us a plus of comfort and safety in this bike. They are good rollers thanks to their low tread.
We reach every peak wanting more, climbing with this machine becomes pleasant. On the slopes we ride at incredible speeds and on rockier trails it handles well, it is agile and lets you choose the right route without losing traction. You can notice that here the geometry is a decisive factor, the short length of its pods and the centered position on the bottom bracket favor the pedaling.
After several kilometers of uphill riding, it was time for the first downhills. When the downhills are fast and uncomplicated, the Giant XTC remains stable, like riding on rails. In the twisted parts we are quite surprised, despite its stiffness is manageable and easy to guide.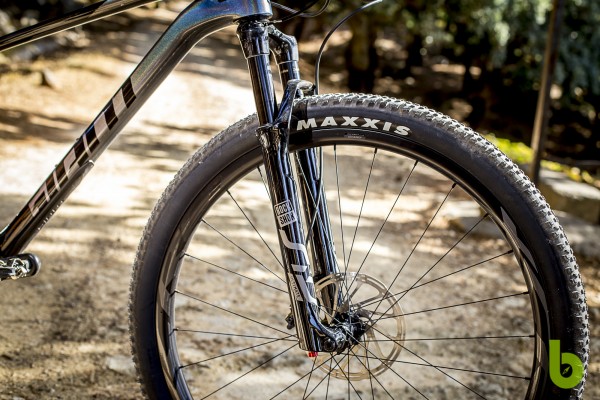 The front axle is well controlled, you can see that the steering angle has been relaxed a bit, and it is equipped with a RockShox SID Ultimate Carbon, which has a carbon steering tube and bridge. From it we can highlight the Debon Air technology in its air chamber that allows us internal adjustments and the Charger 2 RLC cartridge with the possibility of adjusting the rebound and compression, in addition to its remote lock from the handlebar with the Twisloc control. Its operation is great, according to the type of bike we are riding, although we would have liked it to be equipped with the SID SL Ultimate, something that would help bring the weight of the bike closer to its competitors.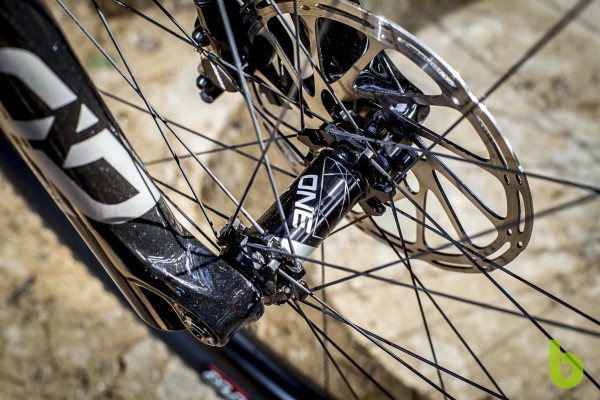 On these downhills we also have the extra safety provided by its SRAM Level Ultimate brakes, the highest range of brakes of the American brand for this segment. With carbon fibre cams, adjustment of the distance from the lever to the handlebars and adjustment of the pads. They are complemented by 180 mm discs at the front and 160 mm at the rear. They have a lot of braking power and a weight according to what we are looking for in this frame, perhaps to save a few grams we would opt for a 160 mm. front disc more focused on the use we will give to our Giant. And on the other side, the flat handlebar model Contact SLR XC, made of carbon with a width of 750 mm, something more frequent and that we are getting used to. It comes with rubber grips of the brand itself that have a good grip but perhaps we would like to opt for some foam or silicone to gain in comfort.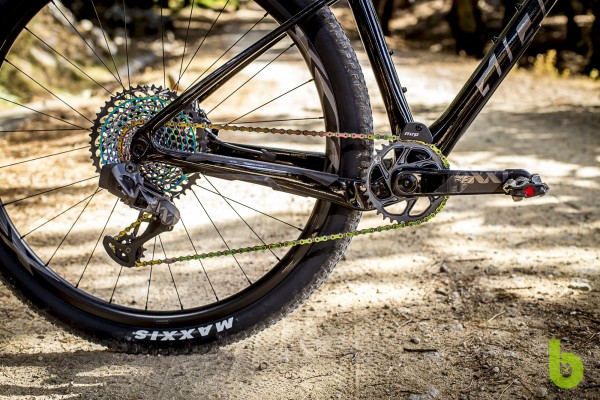 It is true that in the assemblies of the big brands we find more and more often components that they manufacture themselves, in this case all those that come with this frame have performed perfectly and very few faults can be identified.
Finally, as is to be expected with a bicycle of these characteristics, the SRAM XX1 Eagle AXS group has been chosen for the drivetrain. Unlike some brands, Giant has chosen to assemble the entire group of the same brand and model, without making experiments, without sparing any expense, seeking to ensure the proper functioning and compatibility of these.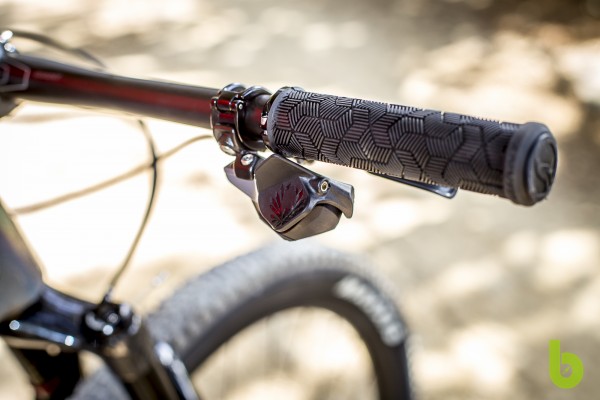 It comes with the SRAM Eagle AXS in rainbow colour which matches perfectly with the paint of the frame. As it is a high performance bike and thinking about competition, it was decided to mount a 34-tooth crankset combined with the 10-50 cassette, remembering that this bike was presented before the launch of the new SRAM 10-52 cassettes. A more than adequate development to move on any terrain with this hardtail. The drivetrain includes an MRP chain guide that helps to avoid chain slippage in the most difficult and bumpy areas.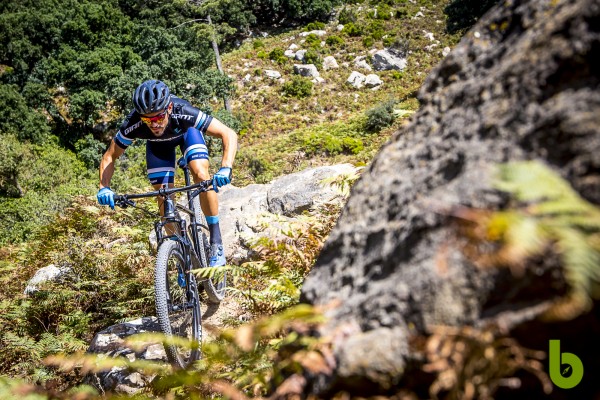 In summary, we find a renewed bicycle after several years without changes, which modifies its geometry to approach the new trends, but without radical actions, in search of a good performance in both uphills and downhills.
Its frame weighs less than 1 kg and has great stiffness. It is equipped with top-of-the-range components that combine with Giant's own equipment and finished off with beautiful paintwork, to achieve a bicycle focused on competition use where high performance is demanded.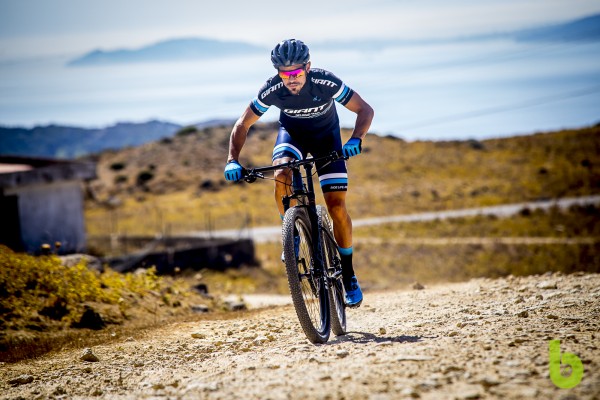 On the other hand, some kind of steering lock is missing to avoid hitting the frame in case of a possible fall, besides equipping it with the RockShox SID SL fork, which is more up-to-date and lighter than the one it features.
In terms of price, this is an 8,499€ bicycle, a high price, but that does not mean that it is not worth it. Quality and performance in combination with standard equipment is well worth that figure.


Giant XTC Advanced SL 29 0 features - 8.499€
Frame: Advanced SL-Grade Composite T-800. SRAM DUB, press fit 

Fork: RockShox SID Ultimate, Debon Air, Carbon OverDrive, 100mm, 15x110 Maxle Stealth

Rims: Giant XCR-0 29 Composite WheelSystem

Hubs: Giant XCR-0 29

Tyres: Maxxis Recon Race 29x2.25, foldable, TLR, , EXO, tubeless

Crankset: SRAM XX1 Eagle AXS DUB, 34t with MRP 1x Carbon

Drivetrain: SRAM XX1 Eagle AXS

Handlebar: Giant Contact SLR XC Flat, composite 750x31.8

Stem Contact SLR, composite

Brakes: SRAM Level Ultimate

Saddle: Giant Contact SLR (forward)

Seatpost: Giant Contact SLR, composite, 30.9

Colours: Gloss Rainbow Black / Black

Sizes: S, M, L, XL

Weight: 8,93 kg

Price: 8.499€