We tested the Scott Centric Plus, Nino Schurter's helmet
The Scott Centric Plus helmet has become the most popular and successful of the brand's extensive catalogue, and who doesn't know Nino Schurter's helmet? It is a model that is only below the top of the Scott range, the Cadence Plus. A road and cross country helmet designed for users who seek safety and comfort without compromising aerodynamics.
Scott Centric Plus, a perfect helmet for mountain biking and road
The Scott brand is a reference in innovation issues, in fact, its bikes are generally ahead of their time in terms of design and technology, which makes its models extend over time without being affected. The same happens to this helmet which, despite being on the market for 4 years, continues to be a reference point.
The Centric Plus is built using an in-mold manufacturing process known as in-mold technology that allows the outer shell to bond with the helmet's shock-absorbing foam liner, resulting in a lighter, smaller package that fits more closely to the head.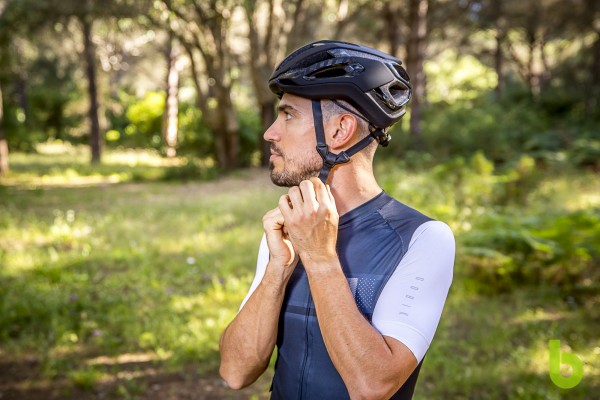 One of its main features is the MIPS system, a safety system that incorporates a polycarbonate sheet inside the helmet to convert the frontal impact into a rotational one. Although the MIPS system slightly increases weight, it also considerably increases safety.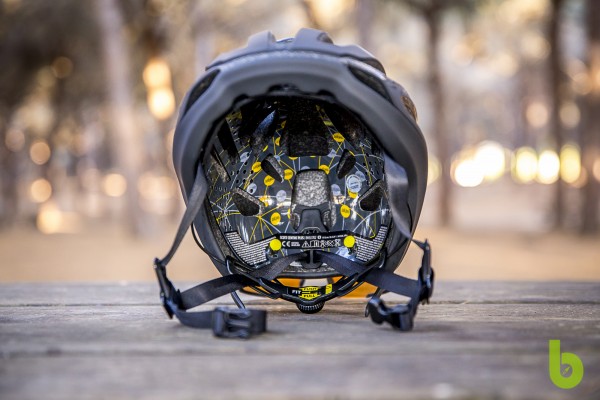 It consists of an optimized ventilation system in which the 11 strategically placed front inputs are connected, through internal cooling channels, to the 6 rear outputs achieving an improved air flow. According to the brand's test, it allows a 2.2% better ventilation than not wearing the helmet.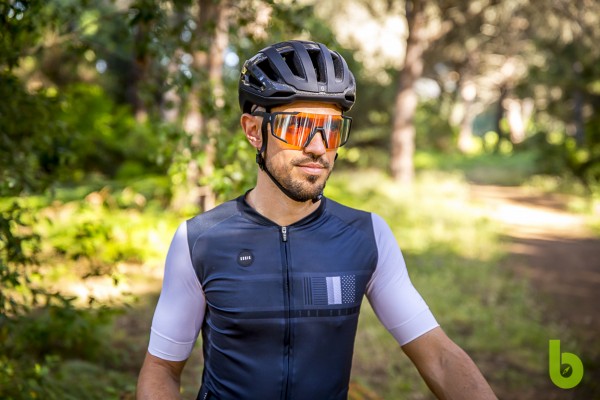 To improve ventilation the engineers included the Scott Air Technology, which is based on a series of perforations in the plastic structure of the MIPS that lighten and promote the passage of air and therefore cooling by up to 16% compared to the standard MIPS system.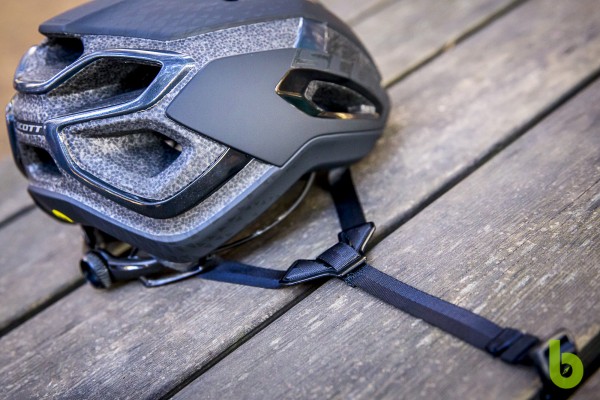 Despite the size of the ventilation apertures it has a very careful aerodynamic shape, without being a completely aero helmet.
Another important part of this helmet is its Halo Fit fastening system that allows us to adjust the height of the fit in the vertical plane in 3 positions, and then make a micro adjustment with the roulette. An easy and intuitive system to fix the helmet to our head.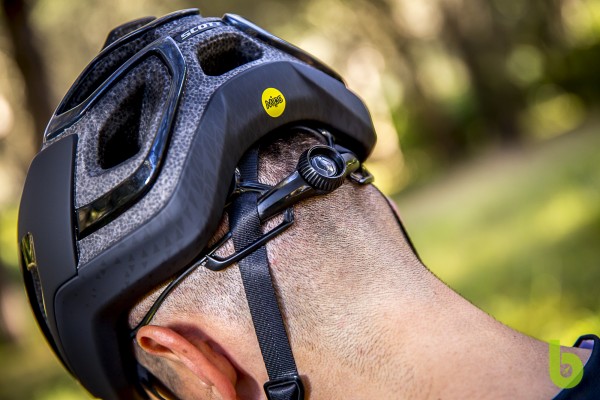 It features X-Static antibacterial padding to prevent unpleasant odors in addition to evacuating sweat and moisture.
The straps are attached to plastic guides on each side of the helmet, where the 3 straps converge to keep them always straight as well as making them easier to adjust.
Experience with the Scott Centric Plus after months of testing
We have tested the Centric Plus for several months in order to be able to accurately reflect how we have felt using it.
At first sight we can say that it has a nice aesthetic, with rounded, current lines and that, despite not having changed since its launch, it remains a current helmet that does not go out of fashion. It has an image of a semi-automatic concept based on its big brother, the Cadence Plus, but with more openings to facilitate cooling.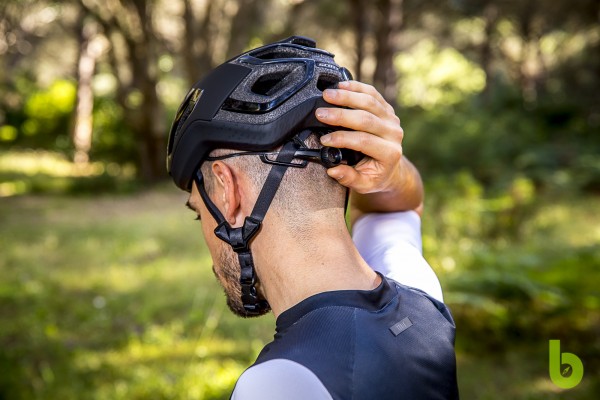 The design features a mix of glossy and matte tones, which are combined in a casing that incorporates polycarbonate and EPS structure, resulting in an elegant look. It consists of a logo and silver reflective details that improve visibility when light is scarce. It is available in 6 colors that will surely match any bike model and even more if you own a Scott bike.
Its weight is surprising, as it only scored 239g in size S on our scale, a very good figure for a helmet with MIPS technology. Once you put it on you can see that it is going to be quite a comfortable helmet. If this is your first time using MIPS technology you might feel a little weird about the way the system fits your head, but you'll get used to it quickly and then you'll hardly notice it.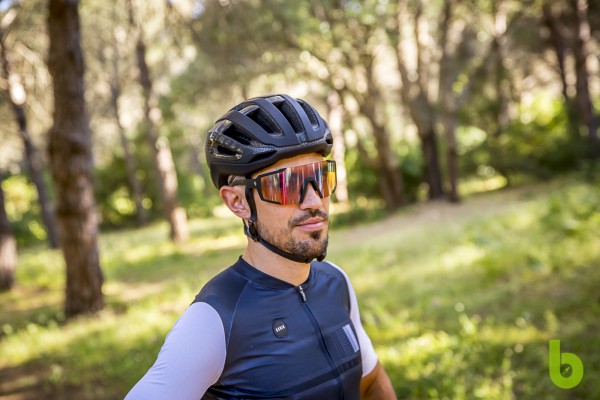 Thanks to its Halo Fit system, the helmet adjusts quickly and easily and its soft-touch straps with plastic guides complement the fit, making it look like a glove and providing good support. As soon as you wear it you can see how integrated it is in your head and that is that we are in front of a quite compact helmet. Something that also helps to be so compact is the possibility of choosing between 3 sizes (S, M, L), when the usual are 2 measures.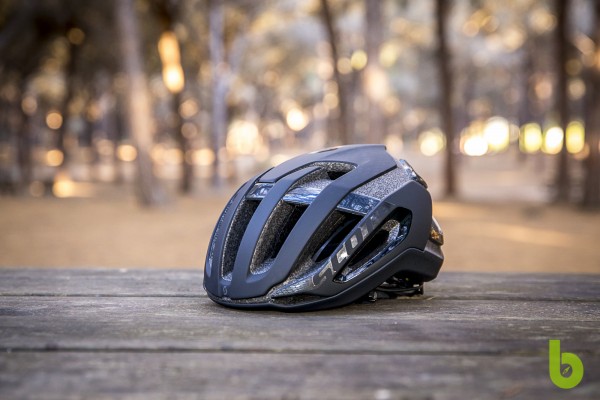 During its use you can notice its comfort and good ventilation in spite of having an aerodynamic design, its 17 openings, channels of union between them and the Scott Air Technology allow to reduce the sensation of heat in our head even in the hottest days in which we have used it. But if you're one of those who sweats at first, don't worry, because the pads with X-Static antibacterial fabric stop that sweat and it will dry out with the help of the ventilation. From our point of view the pads are a bit small, but it is true that we have not noticed any pressure points on the head during the time we have been wearing the helmet.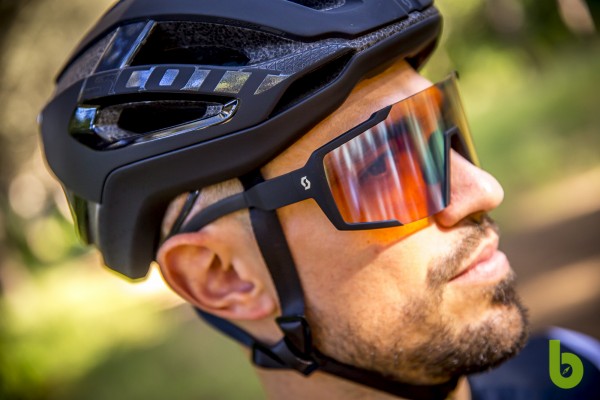 One point we would like to see improved is the shape of the front openings, because if we take off the glasses we cannot find a way to put them on the helmet. This may not happen with all the glasses, but with the ones we have used in our outings we have not been able to leave them attached to the helmet without them falling off.
Its price is 199 euros, in accordance with the technology and qualities we find in it.
As a conclusion we can say that we are looking at a complete and multipurpose helmet, which we can use for both road and XC, with good ventilation and lightweight if we compare it with other helmets with MIPS technology. It has a nice aesthetic and the possibility of finding it in three sizes and 6 different colors.
Scott Centric Plus 2020
Optimized aerodynamic design
MIPS® brain protection system with SCOTT AIR technology
SCOTT AIR Technology
Optimized ventilation
X-Static® antibacterial pad
Available in 6 colors and 3 sizes
Price: 199,9€