We have tested the Xplova X5 EVO, camera and GPS all in one
A few weeks before the confinement began, we received a unit of the Xplova X5 Evo. A high-end cyclocomputer developed by the ACER company that has something that makes it very different from the rest. An integrated action camera with which we can record our bike rides.
Xplova X5 EVO: features and functions
The first thing that catches our attention is a high quality packaging that contains: the GPS device, an advanced support, different rubber gaskets to adapt it to most of the handlebars, a micro-usb cable and a rubber "rope" that we can use to secure the computer-cycle to the handlebars of the bike. With this cord we will avoid the loss of the device in case it comes loose from the bracket.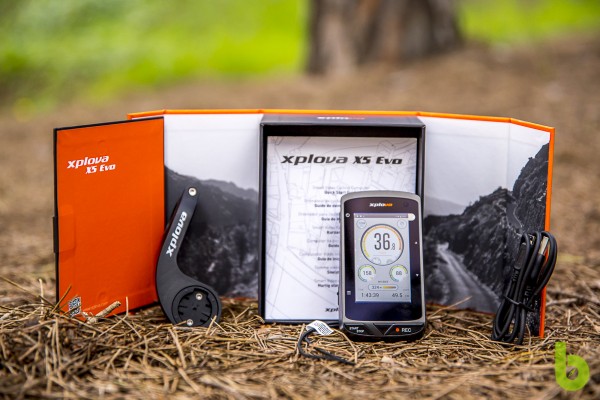 We will start by saying that it is a GPS with dimensions of 110 x 62 x 23 mm and a weight of 120 gr. It is quite light compared to what a GPS with the same characteristics can weigh along with an action camera.
The Xplova X5 EVO has a very sensitive 3" (240x400 px) full colour transflective touch screen, enough to view our route data and see what we are recording with the integrated camera. Navigation on the device is complemented by sealed buttons that allow it to be operated in any situation, even with gloves and only one hand. The protection complies with IPX7 standards in terms of water and dust resistance, more than enough to withstand inclement weather and even an unexpected fall into a puddle.
When we turn on the device for the first time (it turns on quite quickly), we can see how the brightness of the screen is automatically adjusted thanks to the ambient light sensor included, which makes it visible in any light condition.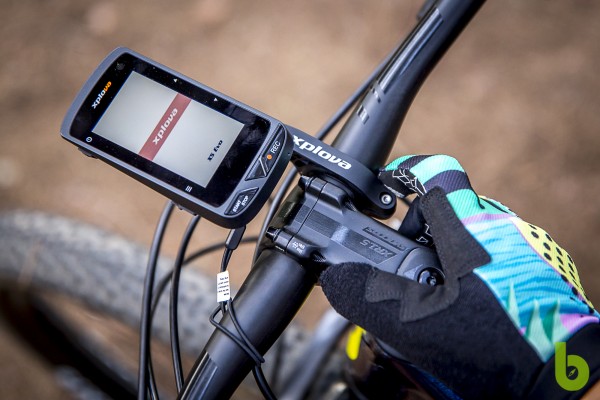 We started connecting our sensors, the Xplova X5 EVO is compatible with ANT+ technology, so we can use practically all speed, cadence, FC and power sensors on the market, regardless of the brand. We will even be able to see on screen the data from Shimano Di2 and Sram AXS. In our case we have tried with bands, speed sensors and potentiometers of different brands and all of them connected without any problem and without any loss of signal during the routes.
We also use the Sram AXS connection with which we can see: the battery level, current development, gearing, etc.
It should be noted that we have used the device with and without gloves. In both cases it works perfectly, although it is true that without gloves it is much more precise.
Xplova X5 EVO screen and sections
The initial screen is very intuitive. It has 4 sections in the upper middle part where we can find the menus for maps, training calendar, activity log and video control. In the lower half we have a rectangle from which we can access the settings, select the type of mode and start our journey. There are 4 predefined activity profiles to choose from (road, downhill, indoor and leisure), as well as a training mode.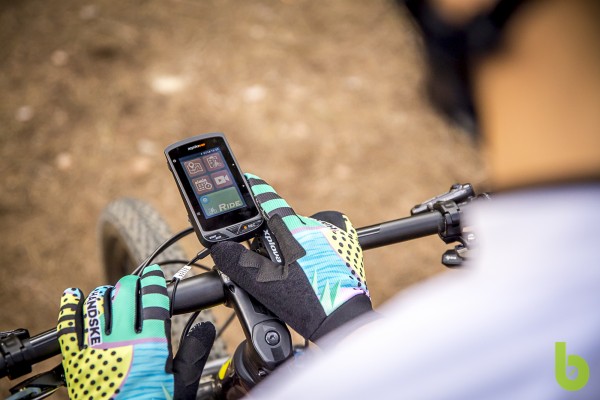 Each mode has up to 9 screens available with its own particular data fields. All of them are configurable and you can easily choose according to the type of training and route you want to perform. We have a screen with data of distance, time, speed, pulse, cadence, altitude, power and slope placed in a schematic way. Then we have four screens that we can configure with the data we want to see, either instant data or average values. We also have another screen with the map, which shows the route we are doing or we are going to do and 3 more screens where we can see graphs of speed, power, etc.
In the configuration menu we have everything we need to set up the device to our needs. 
We can adjust our profile data: height, weight, FCmax, FCmin, etc.
The data of our bike (we can configure up to 5 bikes), as well as the total number of kms from each one (we can use this data to control the maintenance).
Configure each bike mode, which means the screens and the data we want to be displayed on each of them (up to a total of 11 data fields per screen) depending on the mode we are going to perform, cardiac frequency, cadence, power, etc
The device settings: alerts, calibrations and altitude adjustment
Maps: we can see a map from anywhere in the world and even save the one we need to use it offline
Recording settings: here we can choose the type of recording we want to make, pixels, sound, etc.
Sensors: to control and calibrate the sensors to be connected.
Network: to manage wifi connection and route synchronization
System: to set the measurement units, time and language
Routes
In the section "ROUTES", you will find the routes that we have introduced in the device. Adding routes is not complicated as the X5 Evo is integrated with free global OSM maps (OpenStreetMaps) and as it is also compatible with Wifi Direct, you can download clear colour OSM maps easily and quickly from the device itself. Simply select the map for one or more areas by checking the box for the city/town/region/country you wish to download. Thanks to these maps we can follow or plan our routes. It is worth noting that it also has the function of adding SmartSigns along the way, which allows you to customize your cycling trips with route points, turns, terrain changes, refreshment points, places to take a picture and much more. These signs will appear while you have the route navigation activated and will send you a warning with the distance to a marked point of interest, for example the next uphill...
To upload the routes you can do it in different ways, all of them quite simple, which encourages to use this feature of the Xplova X5 Evo. We can download the route from the Xplova website, looking for the area we want and selecting the desired route or we can design it ourselves, either on the same website or in the mobile app Xplova Connect, and then synchronize our device and have it available in the routes section. Something quite simple and that will delight the most demanding users.
An important aspect of this section is that the X5 Evo has a 1500 mAh battery. During our test period we completed routes of up to 6 hours using the map and recording videos and when we got home we still had about 30% of autonomy left. For more focused training use we have come to use it more than 4 outputs without having to charge it (about 12 hours of autonomy).
Training
As far as the training part is concerned, the Xplova X5 Evo provides us with all the necessary data, HR, speed, time, etc. It also has advanced metrics such as normalized power, intensity factor, balance between the power of both legs and fluidity of pedaling. It gives you the possibility of analyzing your training in its Xplova Connect application or linking it with the Strava and TrainingPeaks platforms to monitor your progress, analyze your data or pass it directly to your trainer. Just authorize access on the web or in the application and your training data will be uploaded immediately after your session.
In addition, once you have it connected to TrainingPeaks, the daily planning of your workouts will appear in the "Training" section, so that you can follow your session step by step, forgetting about having to keep track of your training anywhere or having to memorize it. If you use any other application to analyze your workouts, you can connect the computer to extract the ".fit" file generated and export it to the workout application of your choice.
Also noteworthy is that it offers free access to training plans created by professional cycling coaches. These sessions are tailored to specific objectives, giving you the flexibility to adjust them to the time you have available. These plans can be found in the Xplova Connect app, so simply select the one you want to do, download it, and link your device to have it available for you to train on.
Linking with Rotor
As we said at the very beginning, the X5 Evo is compatible with most of the power meters on the market, but thanks to an agreement between ROTOR and Xplova you will be able to see your precise OCP value, a better reading of the Rotor2InPower, INSpider, INPower power meters and count on ROTOR's patented metrics (OCP, OCA and Torque 360º) for the cycle analysis of each pedal stroke with the Q RINGS oval cranksets. This will help ROTOR oval crankset users to adjust crankset placement based on data obtained from our device.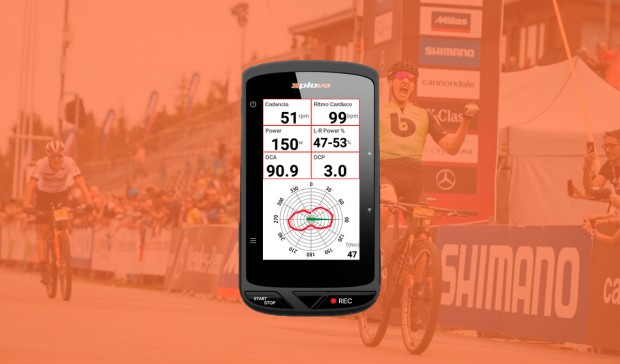 Camcorder
So far we've talked about the device's features in terms of GPS navigation and training, but what really makes this Xplova X5 Evo special is the video camera it comes with. A small action camera that records at 720p (30 fps) quality and at a fairly wide angle (120 degree wide angle). It also allows us to make recordings with sound.
If we go into the camera section it shows us the recording time we have left, more than an hour with the full 8 Gb memory available, enough to record the best moments of any bike ride. In the center we have the image that the camera is capturing and in the lower section a folder where you can see the recorded videos, a button to take a picture and the button to start/stop the recording.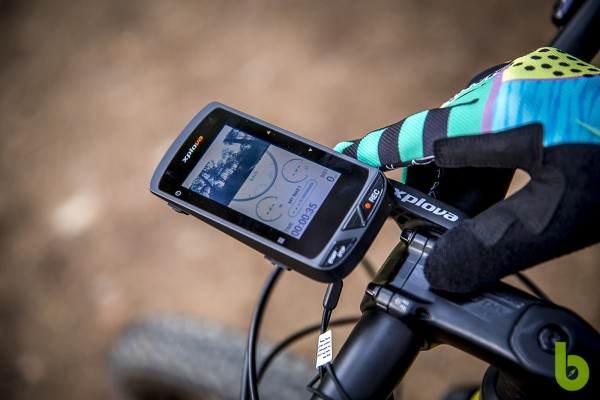 The camera has four recording modes that can be selected. The first one is the simplest of all with a manual mode, it is only necessary to press the "REC" button to start and stop the recording. It's located under the screen, it's big and accessible so we won't have any problem doing it when we're on the move, even if the terrain is rough. But if you don't see yourself able to hit the "REC" button when you're going at high speed, in the middle of a big slope or while you're doing a series with your heart rate up, the X5 Evo has an automatic recording mode, which you can set according to your speed, cadence, power, cardiac frequency, uphills, downhills, start, end or SmartSigns, with recording options of 3/6/9/15/30 seconds.
As if this wasn't enough, it has a second Loop mode, which records 10 x 2 minute clips before recording the first one again, overwriting the previous ones. This mode is very useful in cases where we use the device with the road bike because in case of accident we can consult the recorded images to see what happened. Finally, we have the Time-lapse mode that takes pictures at regular intervals of 2 to 60 seconds, to have immortalized the diversity of areas through which we pass on our route or to add them in our video edition.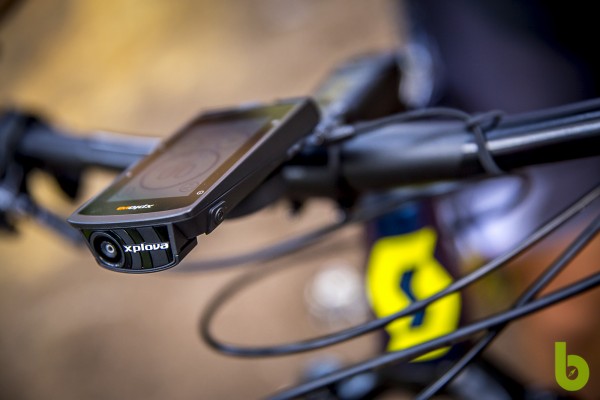 We liked the recording quality of the camera. It captures images in a clear and quite stable way, although it does not record in the quality of some action cameras we have on the market due to its small size, we think it is more than enough to have a video memory of our routes. The more adventurous and fanatical video editing will miss more recording quality, modes such as slow motion or better sound recording. Although the microphone works well, it is a bit weak in certain situations such as fast downhills or when the wind blows. When standing still and at moderate speeds it does record more clearly.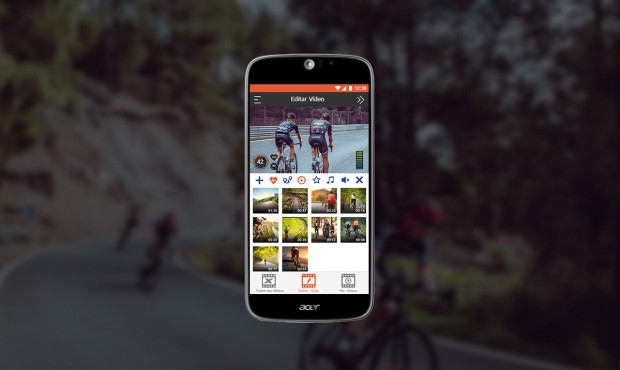 The videos recorded during our routes can be transferred in different ways. We can connect the computer-cycle to the PC or Mac using the USB cable that comes in the box and operate it like any other memory device, by searching for the "XCAMERA" folder. On the other hand, we can download the Xplova video app and transfer it directly to the mobile phone via Wifi. From this app we can edit our videos quickly, giving us the options to cut them, group them or insert them in the same data of the activity such as power, speed, cadence or heart rate that we had when the video was being recorded. And if you're also one of those who like to share your exploits with your friends, once you've edited your videos, you can post them to social networks directly from the app. 
In short, for the more adventurous bikers or those who like to create videos of their routes, in addition to controlling their training, the Xplova X5 Evo is a very worthwhile purchase.
Technical features:
Screen: Transflective, 3" (240x400 px)
Water resistance: IPX7* max. 1m under water for 30 minutes (please ensure that the covers of the Micro USB card are properly closed).
Camcorder/Specifications: 120 degree wide angle HD camera at 720P (30 fps)
Connectivity: Wi-Fi
GPS: High-sensitivity dual GPS/GLONASS system

Memory: 1 Gb RAM /8 Gb flash

Recording modes: Compatible with programmable automatic recording, timelapse, loop and manual recording
Maps: Compatible with OSM maps. Xplova's website provides route planning and download services
Dimensions and weight: 110 x 62 x 23 mm, 120 g
Battery: 1500 mAh rechargeable lithium battery (12 hours on Wi-Fi, with backlight off and GPS fixed in 3D)
Input: Micro-USB 5V
Languages: Chinese (simplified and traditional), Danish, Dutch, English, French, German, Italian, Japanese, Korean, Spanish
Integrated sensors: Temperature, barometric altimeter, ambient light
ANT+ compatibility: HRM chest belt, speed sensor, cadence sensor, combined sensor (speed and cadence), XA-CS2 sensor, power meter, Shimano Di2
Kit: Xplova X5 Evo, extended holder, strap, micro-USB cable, quick start guide, warranty card
Pros and cons of the Xplova X5 Evo
Pros
Very versatile device, with multiple functionalities. Water resistant, even under 1 meter depth according to the manufacturer. It has an integrated action camera with simplicity to create videos. It is suitable for any demanding biker at a very competitive market price.
Cons
Handlebar placement is limited to the focus of the built-in camera. Data transfer cannot be done via bluetooth and must be done via wifi or cable.
You can find more information about this device on its official website: xplova.com