The 8 times Nino Schurter won the World Championship
In 2019 Nino Shurter became the eighth XCO World Champion and the most successful XCO cyclist in the world. This collection of gold medals began in 2009 and to review each of them is to review part of the history of this sport.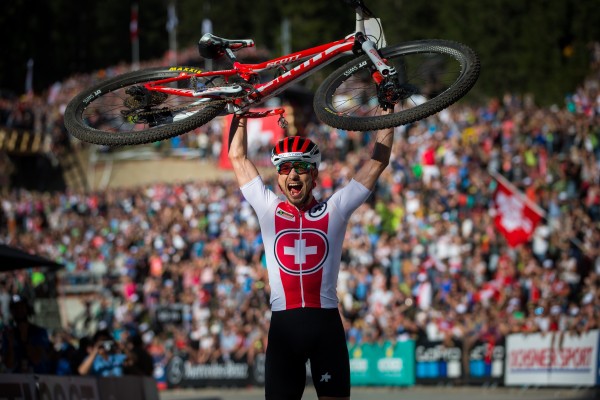 Nino Schurter, 8 World Championships from 2009 to 2019
Nino Schurter won his first World Championship with a hardtailed mountain bike and we saw him go first to the full suspension and finally to the 29". Without a doubt, his 8 World Championships are a reflection of the evolution of the increasingly technical and fast mountain bike XC competition.
2009 UCI MTB World Championships in Canberra, Australia
A very young Nino Schurter made his debut in the elite category in 2009 and did so by winning the World Championship. It is true that he arrived as U-23 world champion but nobody expected this early triumph.
2012 UCI MTB World Championships in Leogang, Austria
Schurter had to wait two years to wear the rainbow jersey again, it was in 2012 in Austria. A World Championship where Switzerland occupied the three podium positions.
After winning that World Championship, Schurter declared "This has been my best season, I'm happy"
2013 UCI MTB World Championships in Pietermaritzburg, South Africa
In 2013, Schurter won his last World Championship on a hardtail, and he did so on a South African circuit where technique was already crucial to winning.
2015 UCI MTB World Championships in Vallnord, Andorra 
2015 was the year in which Schurter began his almost total domination of the professional XCO. In Andorra, he won his first World Championship with Scott Spark and recovered a rainbow jersey that no one has been able to take away from him so far.
2016 UCI MTB World Championships in Nove Mesto, Czech Republic
In 2016 Schurter abandoned the 27.5" wheels with the arrival of a renewed Scott Spark that still sets the trend today. That year he won the World Championship, the overall World Cup and the only title he was still missing, the gold medal at the Olympic Games in Rio de Janeiro.
2017 UCI MTB World Championships in Cairns, Australia
The Swiss domination in 2017 was so overwhelming that he managed to win all the World Cup events, in addition to the World Championship. Nino Schurter had no rivals that year.
2018 UCI MTB World Championships in Lenzerheide, Switzerland
Probably the 2018 World Championship is the most special for Nino. He was competing at home and he even said that running in front of his fans put him under extra pressure which he played against.
2019 UCI MTB World Championships in Mont-Sainte-Anne, Canada
Nino Schurter's latest rainbow jersey came in a difficult season where the arrival of Mathieu Van der Poel ended the Swiss's dominance. After a bad start we saw Schurter suffering in each of the World Cup races he disputed, he finally managed to win with authority a World Championship in Canada in which his main rival, Van der Poel, wasn't present.
After these 8 victories we arrive at 2020, a completely atypical year for the Covid-19 and in which the World Championship has already been postponed without knowing when it will be held. What do you think? Will Nino Schurter maintain his leadership? We read you on our social networks!