2020 MTB World Championships Leogang: schedule and where to watch it online
Following Germany's refusal to host the MTB World Championships, Leogang took a stand and set out to organise a safe and spectacular World Championships.
And it seems that this will finally be the case. The Austrian town is hosting the XCO and DH races but also the new version of e-MTB which will be holding its second historic event.
What we will see at the 2020 Leogang World Championships
However, Leogang will not be open to the public and the organisation will be responsible for preparing the already famous safety bubbles for teams and cyclists. From 5 to 11 October, the national teams will fight for the rainbow, and they will do so on a 3.4 kilometre circuit with 200 metres of vertical drop per lap for XCO; 2.5 kilometres for DH; and 4.3 kilometres in e-MTB.
The Epic Bikepark in Leogang will host the finish line in which we hope the Spanish cyclists who will attend the World Championship will be fighting, a lineup that includes David Valero, Carlos Coloma, Sergio Mantecón and Rocío del Alba. Jofre Cullell will not be in the U-23 after testing positive for Coronavirus.
Timetables of the 2020 Leogang MTB World Championships
We could confuse you a little with all the races of all disciplines and all categories, but we preferred to make your life easier and create this image with the daily schedule. You can download the image to keep it in mind. In green we show you the most important events, the Elite events.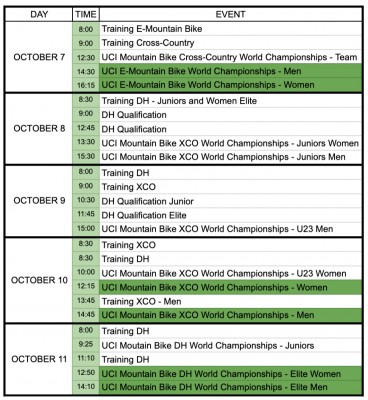 Where to watch the 2020 Leogang World Championships online
You can follow these tests, which are marked in green, live on the online broadcast that will be made by redbull. On their website, at redbull.com, they will broadcast these tests live, as well as summaries of what happened at Leogang 2020.
Don't miss anything and enjoy the best mountain bike, because in the situation we are currently living in (even more so without being able to go and see it live), we still have the consolation of following it online.