Who is Tadej Pogacar?
He is the brand new champion of the 2020 Tour de France and is in vogue for having become one of the youngest winners in the history of the French round. Slovenia's Tadej Pogacar is a world cycling sensation, but what do we know about Pogacar?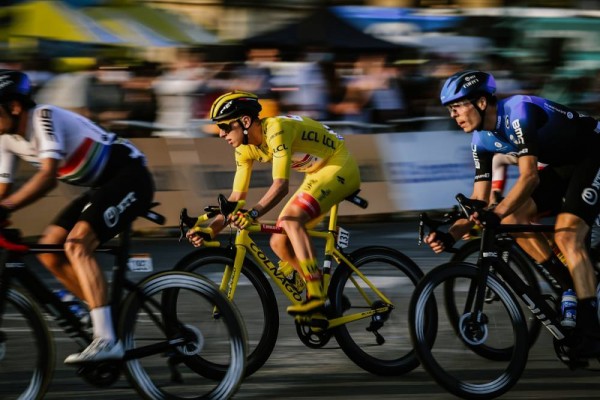 Tadej Pogacar: a fire forged cyclist
Not being on all the favourite lists ended up benefiting him. Just as it happened in the Tour of Spain, where he took the podium, Tadej Pogacar arrived at the 2020 Tour de France with the halo of leader of the UAE Emirates team but with the horizon of fighting for stages and, who knows, being at the top of the general classification. But perhaps not so high.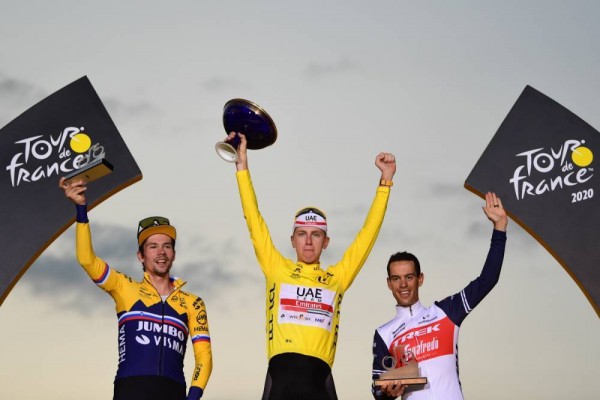 At 21 years old, Tadej Pogacar has his whole life (cycling life as well) ahead of him, but he has already touched glory. His yellow jersey in Paris makes him a premature champion, with a huge class and a more than promising future. That bronze in the Tour of Spain in Roglic's shadow was only a warning.
But it was not always clear to him that he wanted to be a cyclist. In fact, young Pogacar dreamt of a ball as a child. Yes, with a football, because he wanted to be a footballer. With his insistence and stubbornness he would surely have succeeded, but luckily he decided to get on a bike and give us those afternoons of glory in this strange September. But yes, in primary school you could only see him with a ball at his feet, and he was not bad at all, so they say.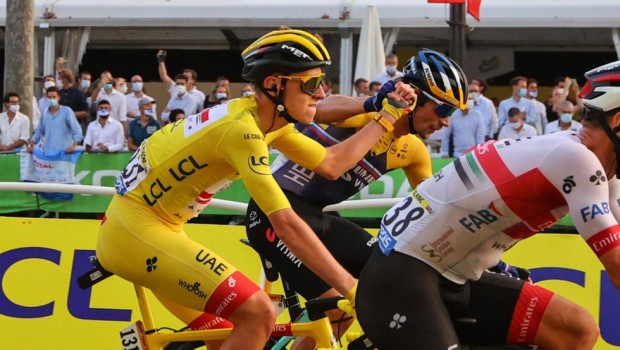 He was born in 1998 in Komenda, a city north of Ljubljana, the Slovenian capital. And it was in one of the capital's cycling clubs, in ROG Ljubljana, that Pogacar began to pedal. But not Tadej, but his brother, Tilen. That's right, it was his brother who started to get into semi-professional cycling and, of course, younger brothers tend to want to imitate their older brothers.
There was no bicycle for Tadej Pogacar back then. At the age of 9 he still couldn't find the time to make his debut. He did it with 10, in the first race he remembers. He lost, of course.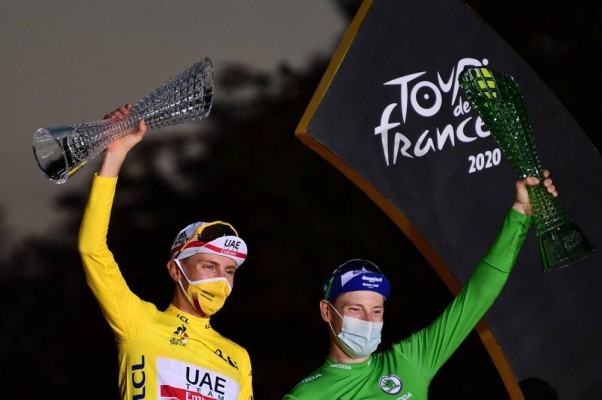 10 years later, a scout took him to the UAE Team Emirates in the summer, in a summer that was complicated for a young man who had always been a member of the same cycling club, with the same people, in the same environment. Making the leap to professional was totally overwhelming, but Tadej Pogacar did not crumple.
Maturity and love of Tadej Pogacar
At UAE Team Emirates he matured as a cyclist, and he speaks highly of the group he found and the welcome he received. Otherwise, it might have been much harder, but they made it easy for him.
But he also matured in his relationships, because he fell in love with Urska Zigart, and what did she do? Cycling, of course, because by then Pogacar was only thinking about cycling, even when it came to life as a couple.
Urska Zigart is a professional cyclist who races at the Alé BTC Ljubljana, which, although it is by that name, is based in Italy. A UCI Women's World Tour team.
In this professional and emotional balance, Tadej Pogacar began to achieve success and to increase his Linkedin. He won the Tour de l'Avenir U23, which has always been a great future cyclist (Bernal, Nairo, Chaves and Superman Lopez are proof of this), and in his jump to the Pro Tour he took the Vuelta al Algarve and the Tour of California. From there, to the podium in Spain; and from there to the Champs Elysées in yellow.
His profile, complete and absolutely battling, is not well known if it depends on his courage or his daring for youth. But if he keeps his character in race, ready to attack as many times as it is necessary to try his fortune, Tadej Pogacar's show is assured.
After winning his first stage in the Tour, he defined it better than anyone else: "If you don't attack, you can't win". And Pogacar does not stop attacking.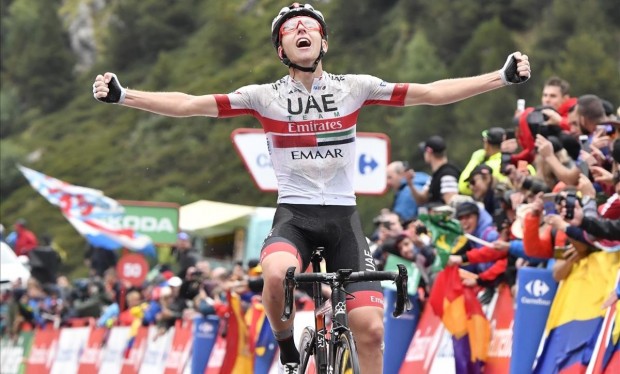 And that is included in a spectacular generation, among which the figures of Remco Evenepoel, Pavel Sivakov or Enric Mas, all millennials of the 90s, stand out.
Alberto Contador, one of his referents according to his words, taught him that attacking is the best way to victory. With a style all his own, today Tadej Pogacar is no longer that helpless child without a bicycle but a monster with a couple of missiles on a Colnago. And Pogacar's party has only just begun.