Testing the Damoff Waterproof Case
A few weeks ago, the Spanish manufacturer Damoff presented a waterproof case to carry all personal belongings safely when cycling. With this case, Damoff opens its catalogue to cycling equipment in addition to its wide range of products for bike maintenance, and we have been able to test it for a few weeks.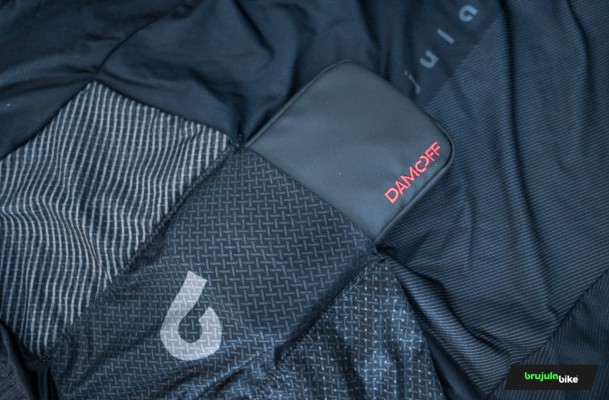 We test Damoff's waterproof case
This type of case has become a basic item for any cyclist, and if you don't have one yet, you will certainly want to try it out because its function is as simple as it is necessary. There are two general problems that we encounter when we go out cycling with jerseys, the first is that as we go out with the minimum, the smartphone, keys, money and documentation are left loose in a pocket of the jersey that usually has no zip, with the consequent risk of losing something. And the second is sweat. It is normal to end up with the jersey so full of sweat that it gets your phone, money, etc. wet.
Although there are homemade solutions of all kinds, the plastic zip bag is a classic, the truth is that these types of bags end up generating condensation inside and the objects end up wet anyway. Some bike bags also have this problem of condensation but we can already say that this does not happen with the DAMOFF bag. It is very complete and raises the level of detail quite a bit.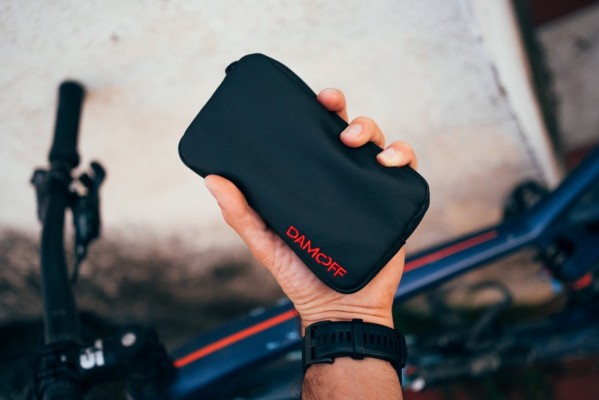 Damoff calls it the Rainproof Essential Case and it is only available in black with the brand logo in red. The presentation in which we received the product is simple, a plastic bag, and as soon as we had it in our hands the first thing that strikes us is its pleasant semi rubbery feel.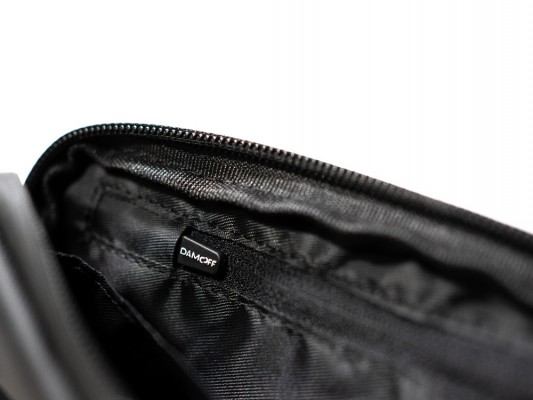 The outer material looks very durable and although we've only had it for a month, we think it will stand the test of time and especially sweat, which we all know how corrosive it can be. On the outside, we find a generous zip that goes from side to side and is completely covered by a rubber that prevents moisture from entering. In addition, the zipper pull is long enough to be easily grasped with gloves on.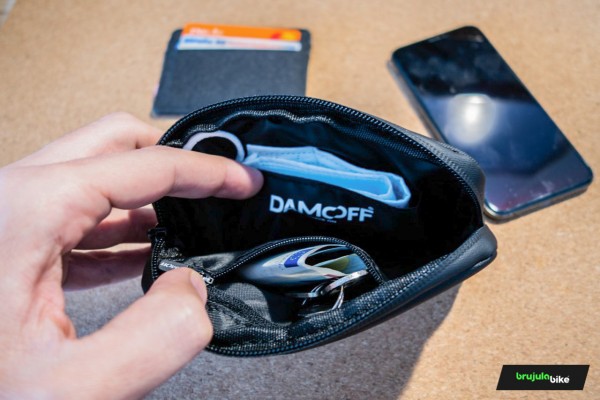 On the outside, we found the product to be very successful, and in its compact size we were able to fit everything we usually carry on any route and there is even enough space to store the GPS, for example. In that case it's a bit bulky, but it's a great solution for making stops and carrying it in your hand.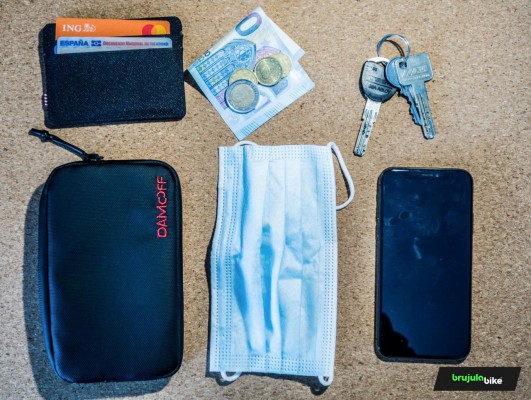 The interior is very well organised and in addition to the main pocket there is a smaller one perfect for carrying money and keys, and the zip puller, where the brand logo appears, is also rubberised to avoid damaging the smartphone. The central pocket is reserved for the phone, although it has a separate compartment where you can carry your documents or in our case we have reserved it to keep the mask without it coming into contact with the rest of the objects.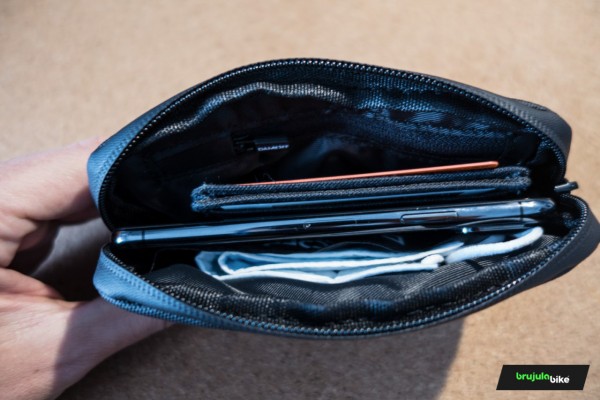 In our test we used a phone of about 6", but the brand claims to support phones up to 7" and the truth is that there is plenty of space as the measures of the case are 16 cm long by 9 cm wide and 2 cm thick. As it is made of flexible material, we have already told you that the thickness of the case is much more than 2 cm and we carried all the objects in the images plus a Garmin 1030 GPS, no problem.
 

 

 

Ver esta publicación en Instagram
With these dimensions, this case fits in the pocket of any jersey you have, and the outer material makes it very easy to put it away and take it out even with gloves on and the case wet with sweat.
An essential
All in all, we really liked this case and it has become a must-have every time we go out cycling. It is so practical that it has become an essential accessory even in our everyday life outside the bike. Its price is 24,95€ on the DAMOFF website.