Van der Poel: "It was the sprint of my life"
Mathieu Van der Poel's work is often inexplicable. At the last Tour de Flanders, which he ended up winning in an impressive sprint against Wout Van Aert, he made it clear that not everything in cycling is either standardizable or quantitative.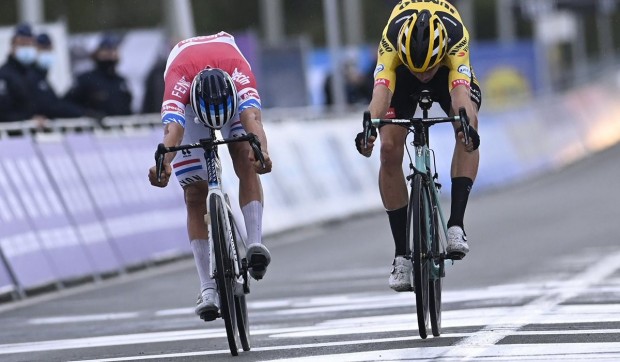 Van der Poel's historic sprint in the 2020 Tour of Flanders
When Wout Van Aert and Mathieu Van der Poel entered the last kilometre of the 2020 Tour of Flanders with almost a minute's lead, we all knew that it was going to be a head-to-head sprint between two legendary rivals. And, on paper, the Belgian was the favourite against Van der Poel.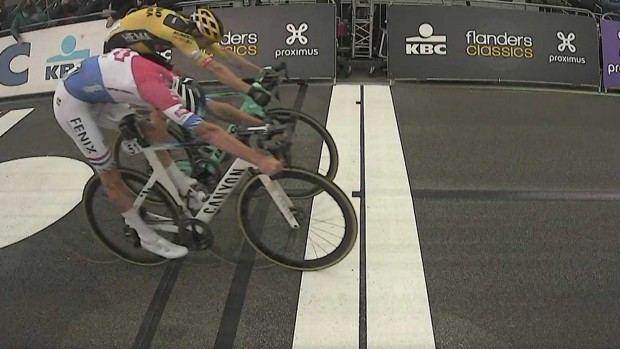 Why? For many reasons, but mainly because Van Aert made the definitive move to road cycling some time ago and has become a specialist. Under the umbrella of a team like the Jumbo-Visma, Van Aert has improved his sprint a lot, becoming a real rooster in the peloton when it comes to tight finals.
Van Aert has beaten real sprinters like Bennett and Sagan several times this season. Van Aert has proven to be a more complete cyclist, being the best squire of a Roglic who threw the 2020 Tour de France in the individual time trial on the penultimate day. In fact, he took two stages in the French round, winning in the final metres.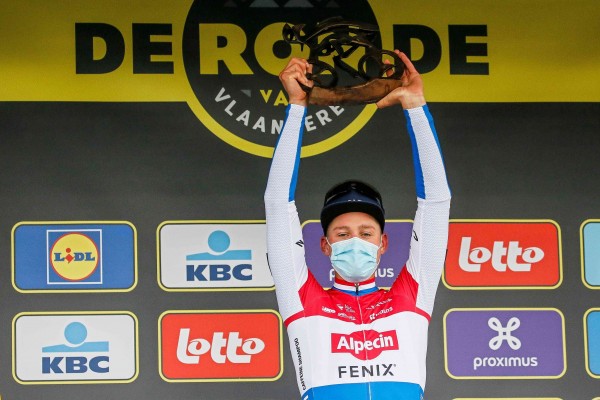 Van der Poel, on the other hand, often wins on the road by imposing a hellish pace on the leg-breaking slopes or, as in last year's Amstel Gold Race, by a huge power on the flat, watts that have no relation to a real sprinter technique.
However, the stage finish of the 2020 Tour of Flanders left the surprise halfway through Van der Poel's victory in a huge but rustic sprint. Halfway because with this young man there are no longer adjectives, he never ceases to amaze locals and strangers alike. Enjoy this minute and a half of cycling history.
Van der Poel's sprinting technique
Sprinting is one of the most complicated facets of cycling, because not only is it trained, but it often requires characteristics and abilities that are quite related to physical conditions. Van der Poel may not lack these characteristics, but neither is he a muscular and vast cyclist who imposes his body in battle with elbows.
In a sprint there are several factors to consider, and in the sprint of the 2020 Tour of Flanders Van der Poel had none in his favour and did not technically do the textbook sprint.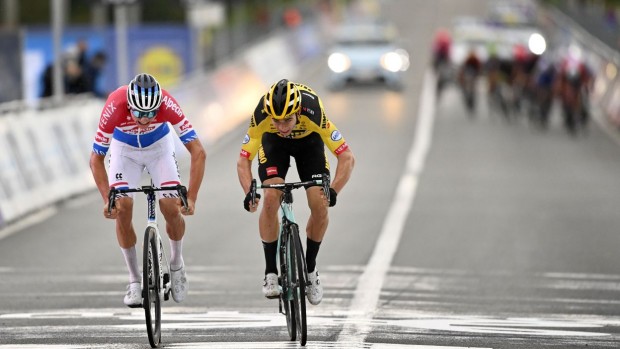 Let's say there are only two modes of sprinting, the traditional model or the one being imposed by small sprinters like Cadel Ewan, more lying, more aerodynamic but much more uncomfortable. Yesterday, both Van Aert and Van der Poel did it the traditional way.
There were two aspects that Van der Poel did very well and that show that he was working on a more than possible finish at the sprint. They were positioning and distance, which are the first two factors of a good sprint (ignoring the team's work, which did not occur because they arrived alone). He placed himself in the lead knowing that Van Aert was better at the sprint, and closed off the whole right side, forcing him to exit from the left. All the while he was watching him, controlling the distance. With 200 metres to go, Van der Poel knew that he had done the first part very well: a longer sprint would have hurt him. Van Aert couldn't hold out any longer and jumped.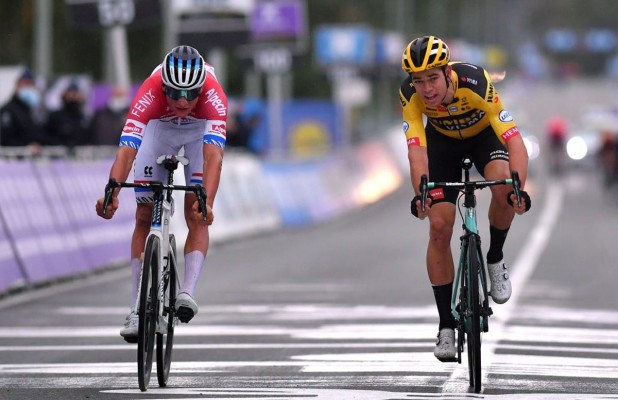 But in the transcendental part of the sprint, Van der Poel demonstrated that his technique is rudimentary compared to the super-purified styles of professional sprinters. If we look at the parallel comparison of Van Aert and Van der Poel, we can see how his swaying, is more exaggerated than it seems, while his head moves up and down. Van Aert, more refined, did technically very well: moving the bike as little as possible, and trying to maintain the vertical position, especially avoiding lateral movements of the head, to improve aerodynamics.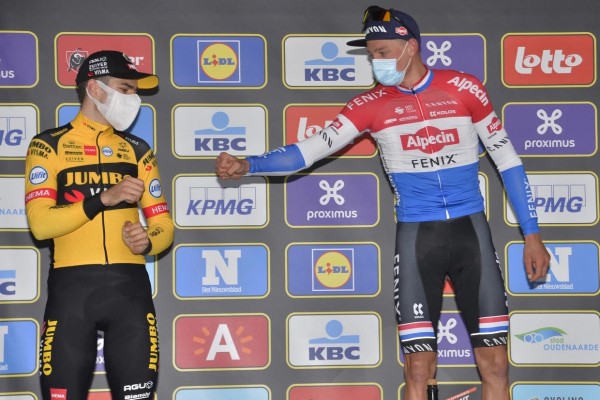 If Van der Poel won a sprint with that technique, it was because this last part is pure acceleration and speed. Pure power. And we don't want to imagine how many watts Van der Poel put in and for how long he stopped, despite his dancing on the bike, winning the 2020 Tour of Flanders. What is clear is that if his technique had been better, who knows what difference he would have made. That's called class: for lack of technique, power and commitment.
At the end, Wout Van Aert surrendered to Van der Poel's talent and thanked him for his competitiveness. "Thank you Mathieu for pushing me to the limit all these years. Yesterday's was our tightest fight. It will continue," Van Aert shared on social networks.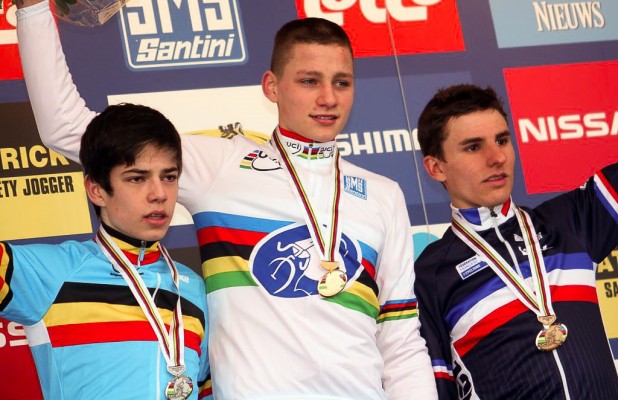 Van der Poel, for his part, was emphatic: "It was the sprint of my life", he said.