Loana Lecomte wins Nove Mesto's first World Cup at 21 years old
After the Short Track two days ago, the best XCO cyclists in the world returned to the starting line for the first World Cup in 2020. A very intense and technical race in which Loana Lecomte has gone from promise to brilliantly won at the age of 21.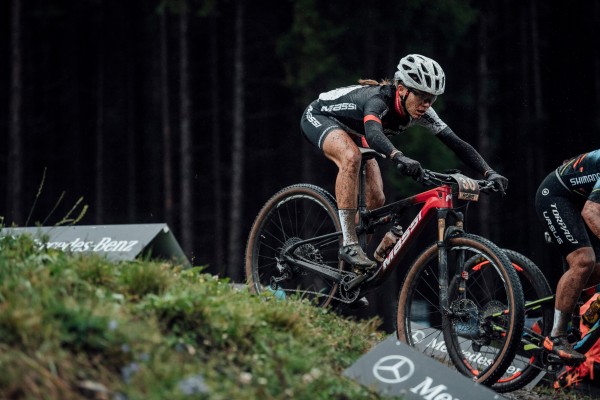 Loana Lecomte reveals herself and wins the Nove Mesto 2020 World Cup 1
Britain's Evie Richards was in first position after her demonstration of power on the Short Track. The start was fast and numerous which increased the nervousness that a wet circuit already transmitted in the technical areas of rocks and roots.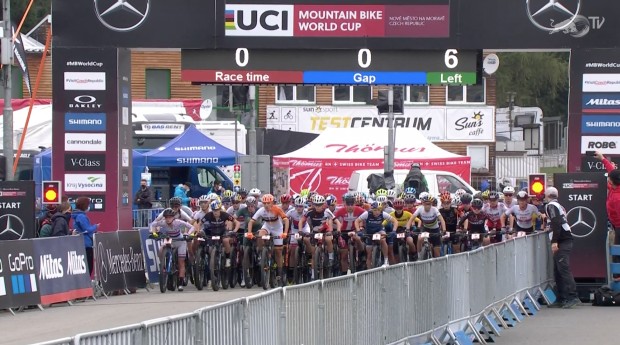 During the initial lap, the pace seemed comfortable for most of the group, but Frenchwoman Pauline Ferrand-Prevot led the way and stretched the group on the first uphill.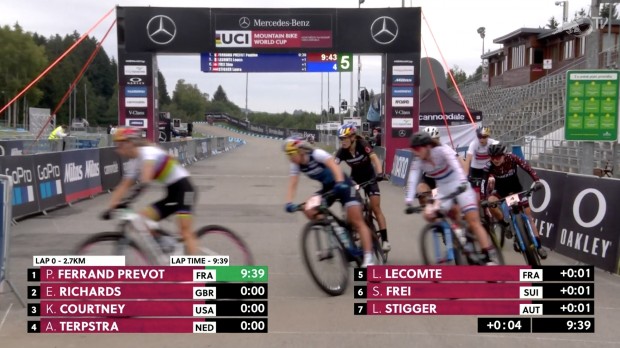 At the beginning of the first lap the race was already divided into a group of 7 cyclists where important names like Jolanda Neff or Jenny Rissveds were already missing.
The World Champion looked very comfortable leading and managed to go all alone easily, the only one trying to close the gap was her teammate, Loana Lecomte, who already knew what it was like to beat her after the last French Championship.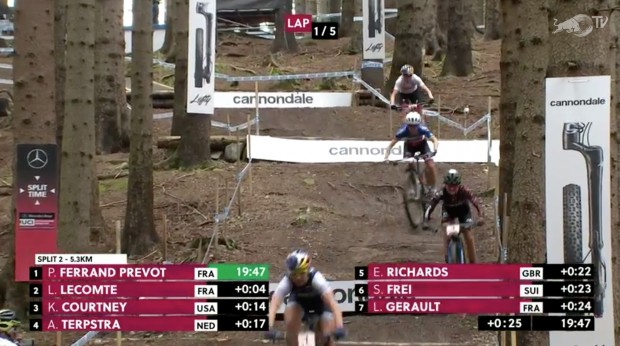 After 20 minutes of racing, the differences began to be noticeable. Ferrand-Prevot was in the lead, Lecomte was chasing her at 4 seconds away, and Courtney was already down to 14 seconds. Jolanda Neff was running far behind near position 20.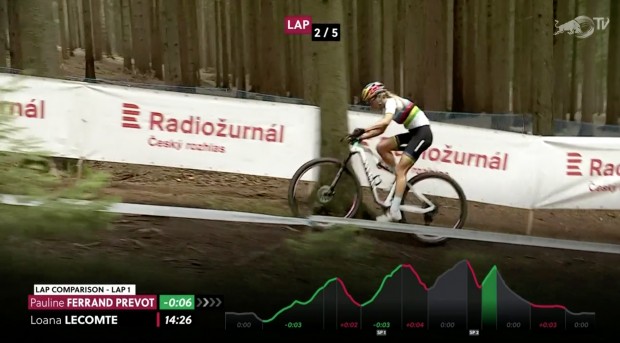 Lap 2 of 5 and the head positions were beginning to stabilize. Pauline was still very firm in the lead, Lecomte was not able to close a gap of 7 seconds and was holding second place in front of Anne Terpstra who was marching at a good pace at 12 seconds. As she passed the finish line in fourth position, we saw Kate Courtney leading a small group 26 seconds behind Pauline.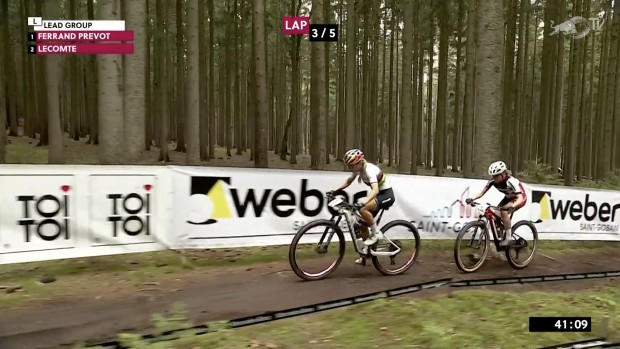 Pauline Ferrand-Prevot was giving a real recital by riding very hard without looking back, but before the end of lap 2 Lecomte managed to catch up and the race was again gaining in interest. France was claiming to be the first female power in the XCO world.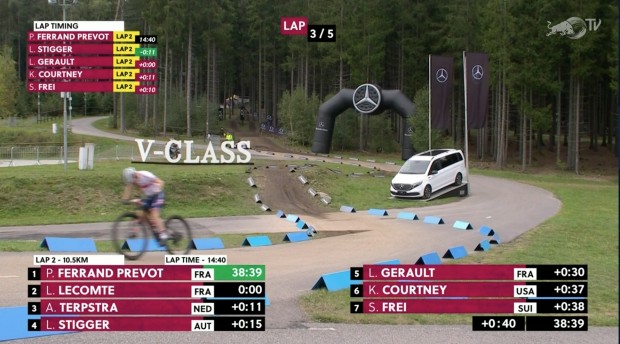 Just behind, at the start of lap 3, things were also heating up and the gap was closing with Anne Terpstra and Laura Stigger, fourth and fifth, at 11 and 14 seconds away respectively. While Courtney dropped to sixth position with more than half a minute to go to the head of the race.
The race turned around on a technical uphill section of lap 3 when Lecomte overtook Ferrand Prevot and managed to win first position and go solo.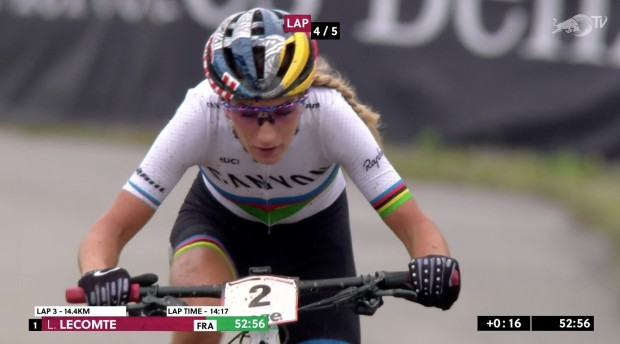 We still didn't know if Pauline Ferrand Prevot was taking a break or really starting to feel the strain of the start but lap 4 started with Lecomte first and Ferrand Prevot second at 18 seconds away.
Fatigue began to show in the more technical uphills where Lecomte flew upwards without getting off his bike while Pauline had to put her foot down.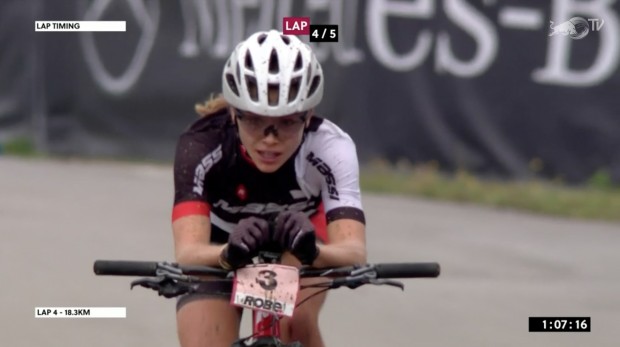 The final lap began with Loana Lecomte heading firmly for victory while Pauline Ferran Prevot was still losing time with more than half a minute to go and Anne Terpstra taking third place. Courtney, Frei or Richards were far from the head of the race and were losing more than 1 minute and a half from the leader.
Far from falling apart, Loana Lecomte did not stop increasing the pace in the last lap and showed that at 21 years old she is already a real leader. Meanwhile Pauline Ferrand Prevot and Anne Terpstra were now fighting to maintain and win second place respectively.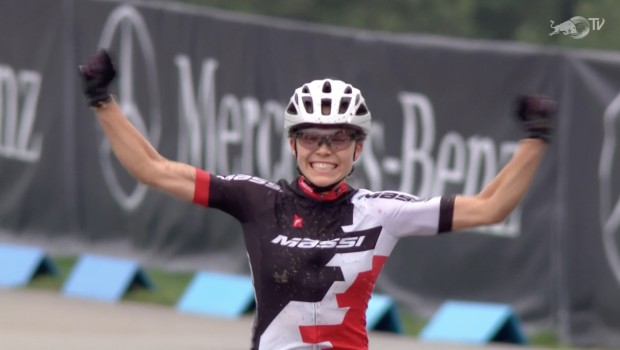 Loana Lecomte brilliantly won the first Nove Mesto 2020 World Cup and entered the finish line with a time of 1:22:06. Anne Terpstra was second 0:31seconds away and Pauline Ferrand Prevot was finally third at 0:37sec.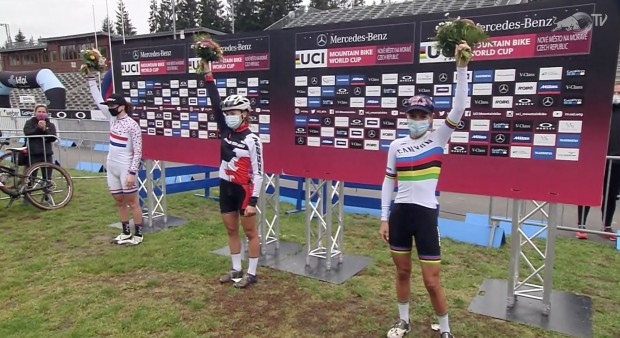 Results Women XCO World Cup 1 of Nove Mesto 2020  
Loana Lecomte 1:22:06
Anne Terpstra 0:31
Pauline Ferrand Prevot 0:37
Lena Gerault 1:15
Laura Stigger 1:21