Pauline Ferrand Prevot, World Champion XCO 2020 after a performance full of power and technique
Pauline Ferrand Prevot has just become XCO 2020 World Champion. In a season full of questions where the Leogang circuit only helped to add more doubts among the favourites, the Frenchwoman has proved to be well above the rest giving a real recital of power and technique.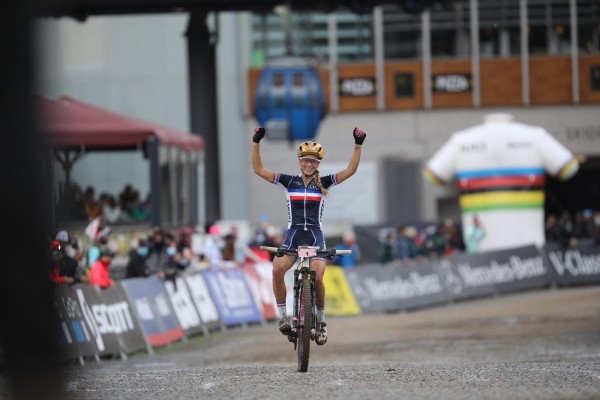 Pauline Ferrand Prevot becomes 2020 World Champion
With the results of the last World Cup and without the participation of the Frenchwoman Loana Lecomte, who won the Under 23 World Championships a few hours before, it was only clear that Pauline Ferrand Prevot was going to be the top favourite to defend the title but there were many doubts to be resolved about the status of other favourites, such as Jolanda Neff or Kate Courtney.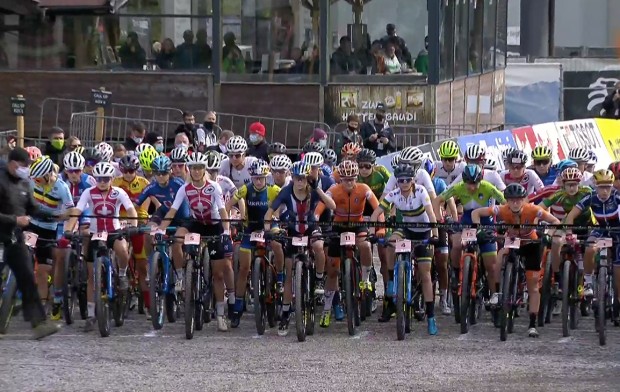 Ferrand Prevot imposed his pace from the start and without looking back. She opened an important gap that none of them could manage to close. Behind her, the British Evie Richards and the Australian Rebecca Macconnell were the only ones fighting for a place on the podium.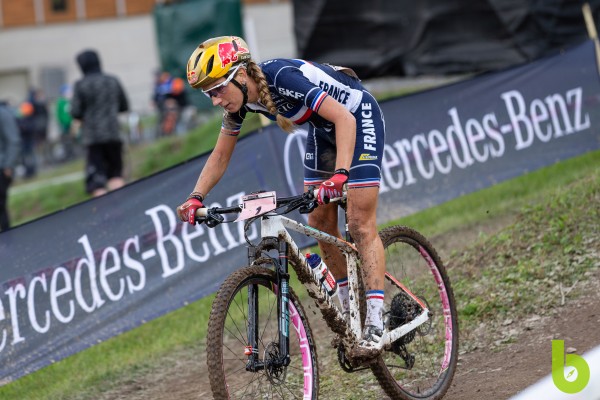 On a muddy circuit that forced a change in the track on each lap, the positions could dance at any time due to a fall or mechanical failure, but Ferrand Prevot's dominance was absolute. Until now, it seemed that only a failure of the Frenchwoman could have changed her first position. From behind, Richards was sinking to fifth place while McConnell looked solid in second position and the Ukrainian Yana Belomoina managed to enter the podium places.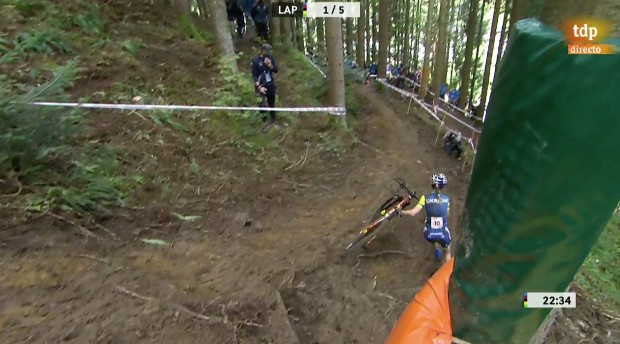 On each lap the downhill sections became more complicated and while some chose to put their feet directly on the ground to avoid falling, others took risks and used technique to shorten time.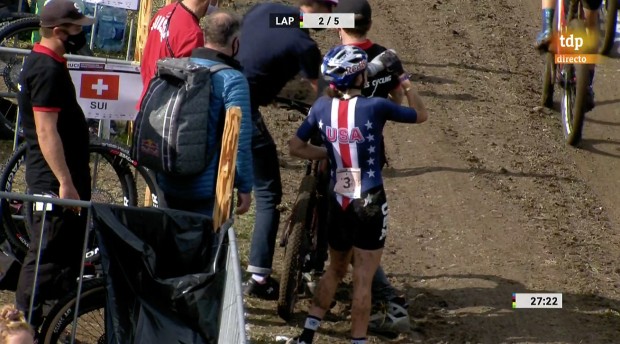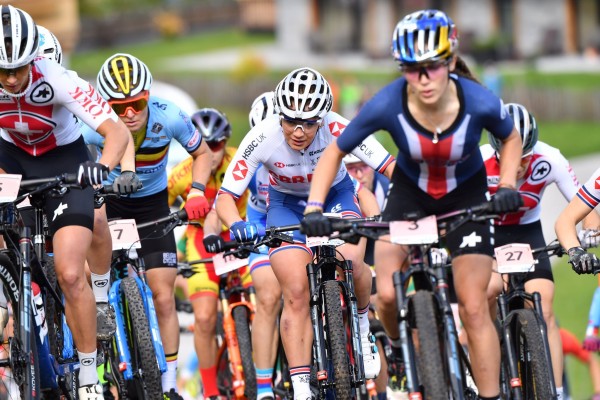 Both Kate Courtney and Jolanda Neff, World Champions in 2018 and 2017 respectively, continued to find no sensations and, as in the World Cup, they were running far behind, outside the Top 10.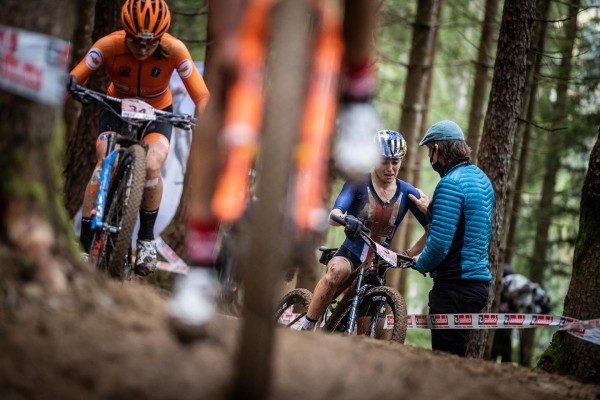 In addition, a mechanical problem after a fall forced Courtney to stop, who, completely unmotivated, ended up abandoning the race a few laps later.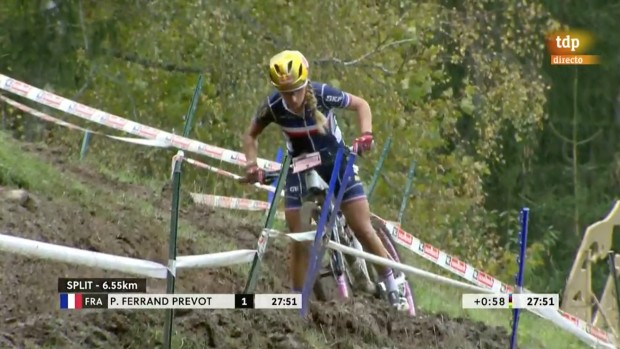 During lap 2 and with more than 1 minute of advantage over the rest, Pauline Ferrand Prevot suffered a fall without consequences, but who warned her about what could happen.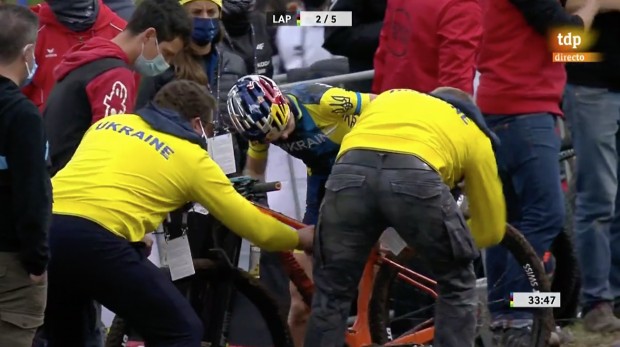 The mechanics left Belomoina out of the race when a failure in his telescopic seatpost blocked the saddle from going up again, this forced her to stop and the third position was left pending a fight that started between the Swiss Sina Frei, who was riding with full suspension, and the Italian champion Eva Lechner, with a stiff. In second position Bec McConnell was still very solid.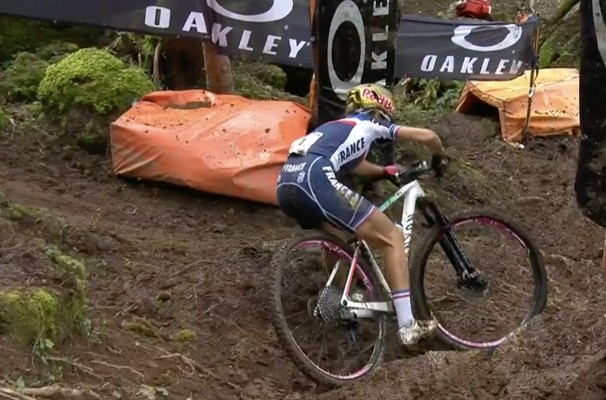 With two laps to go, Ferrand Prevot was still in first place with more than a minute and a half to go, but at some point we saw her fall which reminded us that this difference could vanish in the event of mechanical problems. The Australian Bec McConnell was holding on in second position but things started to get complicated when Lechner and Frei, who until now had been fighting for third place, started to get behind her. The silver and bronze medals were completely up in the air.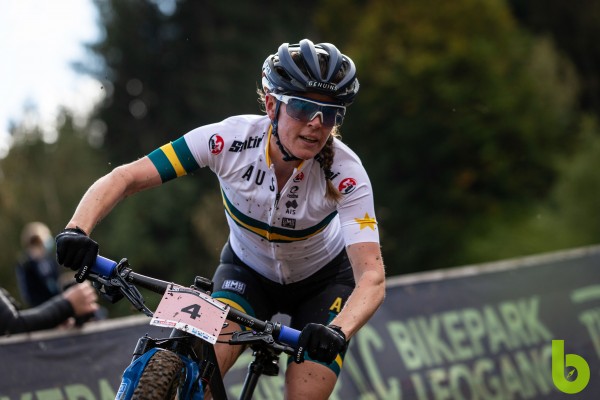 One of the best surprises we saw was Jolanda Neff, when with one and a half laps to go she was with a completely renewed energy and fighting to get into the Top 5, now her pedalling reminded us of the best version of the Swiss.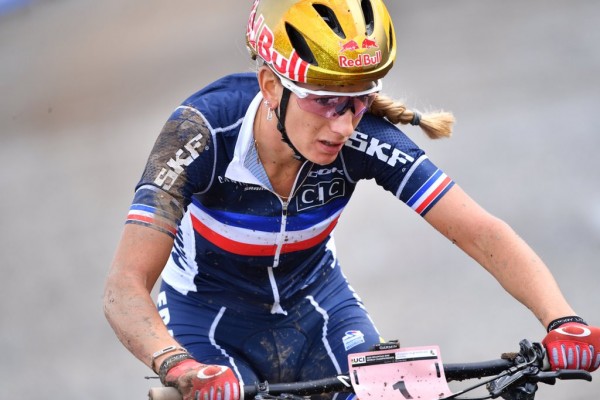 The last lap began calmly for Pauline with the more than 2 and a half minutes lead she had over the rest, but now the battle was on for the silver medal. The Italian Eva Lechner was getting closer and closer to Bec McConnell but the forces were already very tight for all of them and overtaking her didn't seem to be an easy mission to achieve.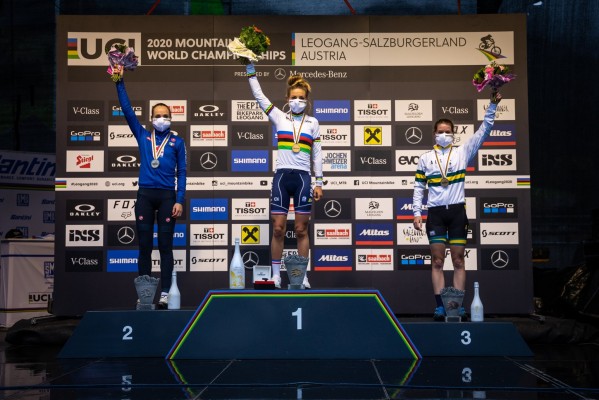 In the end, Pauline Ferrand Prevot managed to defend her title by becoming the 2020 XCO World Champion after a real show of strength that made it clear that her level is well above the rest this season. The silver medal has been for Eva Lechner who after a hard fight with Bec Macconnell everything was decided in the sprint.
Results: XCO 2020 World Championships - Elite Women
Pauline Ferrand Prevot FRA 1:27:33
Eva Lechner IT +3:01
Rebeca McConnell AUS +3:01
Sina Frei SUI +3:46
Isla Short GB +4:17
The Spanish Rocío del Alba García finally finished in position 22.