Pogacar clears all doubts, Teuns wins stage 8
This Tour could turn into a military ride. Pogacar put things in place and cleared all the doubts, those of yesterday and those of the whole week. He is the strongest and a real catastrophe has to happen for him not to repeat his victory in this Tour de France 2021. Now, moreover, he is in yellow. The stage was won by a great Dylan Teuns. The Bahrain rider read the end of the stage very well and measured perfectly the distance posed by the threat that came from behind, and that was Tadej Pogacar, who gave an exhibition.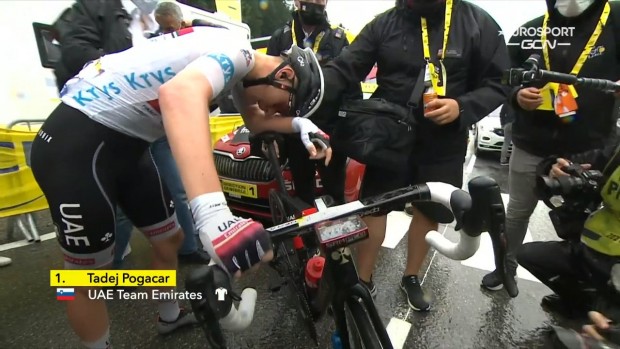 Today the day started with a different body. A broken race yesterday gave rise to another Tour de France 2021 totally different. And on top of that, with rain.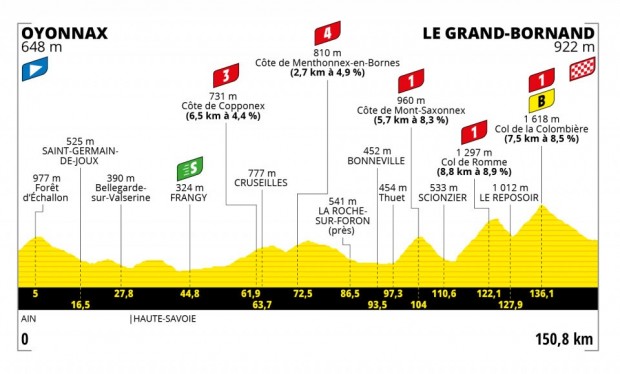 The first mountain stage had all the ingredients: competitiveness, a day of bad weather and the first serious mountain passes ahead. An exciting stage and a desire to see how the tone changed when the road went uphill.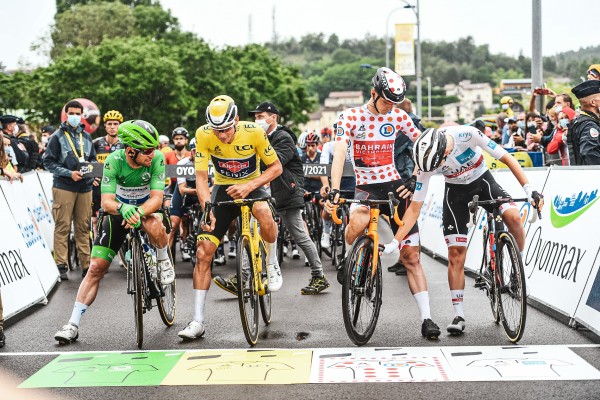 And it was going uphill at the very start. In the first five kilometers it was already up to 6.6%, so Mohoric, who had just won yesterday and wore the polka dot jersey, attacked to take the points. This tug-of-war again showed UAE's weaknesses: two riders from Pogacar's team broke away from the peloton. The king was once again naked and it seems that this is what we have left from now until the end.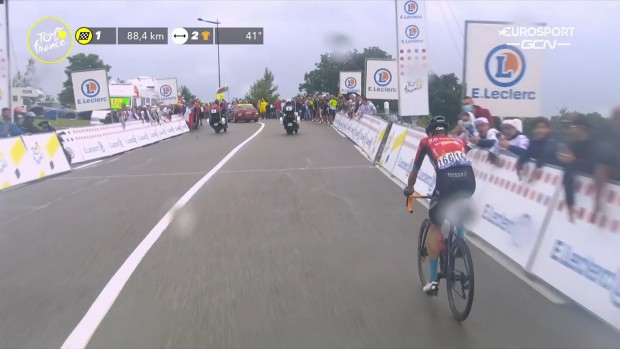 The hardness of the day made us confirm that some of the, a priori, favorites, are totally out of being able to compete to make an important role in this Tour de France 2021. The first to fall was Geraint Thomas, so Carapaz becomes his best card and there are no more doubts even in the most British spectator. And something similar happened with Roglic. Although we will never know if the hard crash he suffered has more or less to do with all this, Roglic is neither here nor expected. There are fewer and fewer favorites left from the initial list, so other names are starting to appear.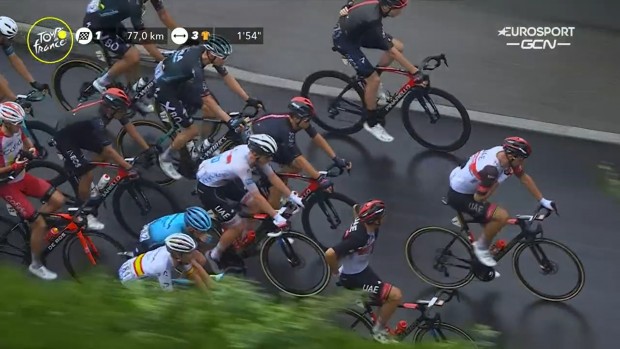 Ahead, a small group was trying to make a breakthrough. Among them, Nairo, Valverde, Yates and Poels. The latter tried to go solo with very little time left. Courage with little reward.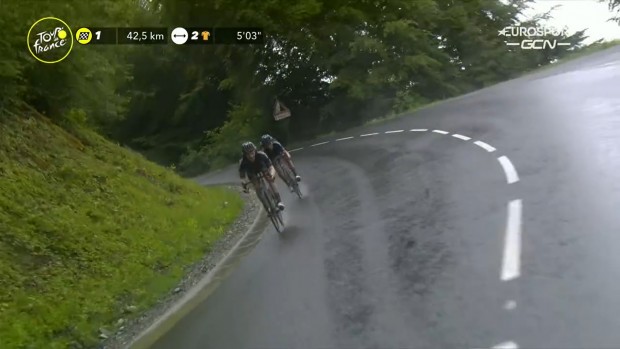 Pogacar says enough is enough
From 40 kilometers to the finish was when everything important started. The riders were dropping gradually. Pogacar was not alone today: a real companion was what he found in Formolo, who did the whole first pass at a tremendous pace. Great role of the Italian and we saw how little by little names were falling, one after another. The first was Van der Poel. He paid very soon for yesterday's effort and 33 kilometers to go, he dropped. We all looked to Van Aert, but the Belgian was also going down. Richie Porte was next and it looked like a carnage. Great stage 8.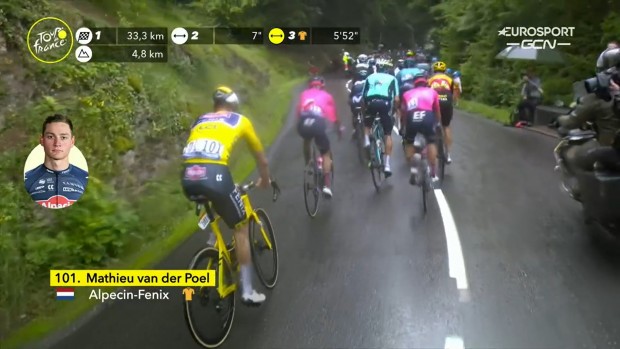 Meanwhile, Pogacar was looking like he was going for a walk, a contrast to Formolo's face, who was gritting his teeth to give it his all. He owes his teammate a good dinner.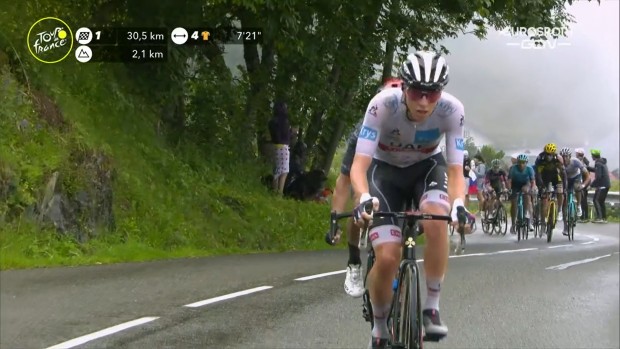 And with 30 kilometers to go, Pogacar said it was enough. Only Carapaz was able to follow him, and he launched himself with a long way to go. That's what it means to be strong and to want to respond to everything that happened yesterday. But it was not enough for the Slovenian. Just one kilometer later he put in another sprocket and also broke Carapaz on the 14% ramps of the Col de la Romme. It was clear that today everything was going to go back to normal.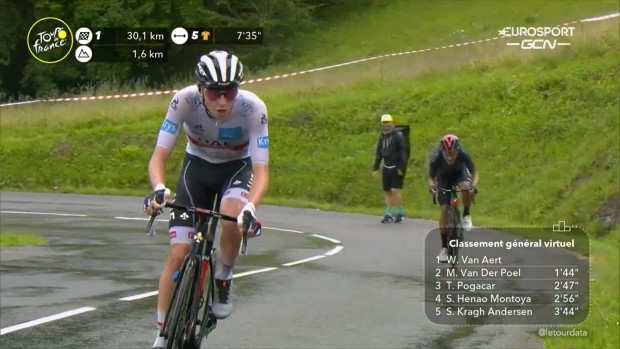 Pogacar was on a motorcycle and, as he passed by, the people who had been left behind in the escape looked at him with incredulous eyes. What a cadence. It seemed obvious that he was not satisfied with the yellow jersey, which was obviously already his, he wanted the stage. But ahead of him was Woods, who mixed experience and faith. Also to applaud the role of the Canadian, a name always present and synonymous of good level.
But what Pogacar did was to write one of those pages that will always be remembered. Brutal ascent, brutal exhibition. If there was any doubt, he has cleared it. For him to lose this Tour de France 2021, he would have to be literally tied to a tree. He's very, very good. Today he climbed the Col de la Colombiére solo and without a chain. Yes, he has no team, but he doesn't need one.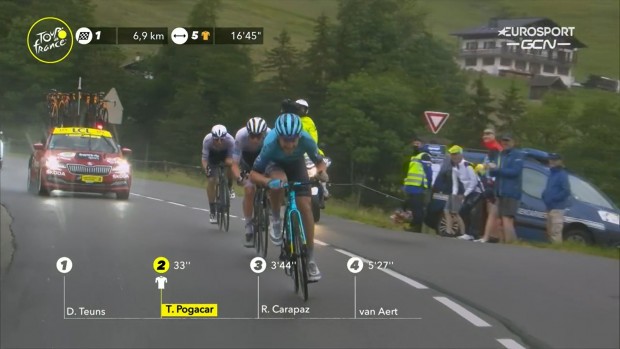 On the final climb, Teuns tried to ride solo. He knew that if he could get to the top without Pogacar seeing him, he could win. And indeed, the guy got seconds on Pogacar because the Slovenian didn't have to risk it. And he won the hand.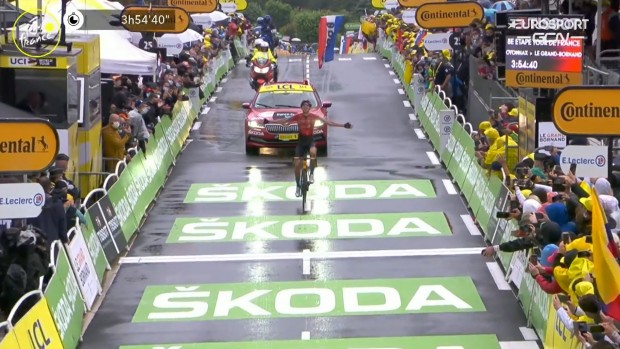 Ion Izagirre, who goes down like a devil, caught Pogacar and the Slovenian took advantage of his wheel for a long time. But Ion is a veteran, he smells the prize and there was no prize there, there was only risk, so Teuns got a candy for everything. He went solo and celebrated Bahrain's second consecutive victory. About 50 seconds behind, Izagirre, Woods and Pogacar came in. Pogacar is now the leader, he has the yellow jersey and no one doubts that he will keep it until the Champs Elysees unless a catastrophe happens.
STAGE 8
Teuns, D. - Bahrain | 3:54:41
Izagirre, I. - Astana | + 44"
Woods, M. - Israel Start Up | +47"
Pogacar, T. - UAE Team Emirates | +49"
GENERAL RANKING
Pogacar, T. - UAE Team Emirates | 29:38:25
Van Aert, W. - Jumbo Visma | +1:48
Lutsenko, A. - Astana | +4:38
Uran, R. - Education First | +4:46