Mohoric wins and the 2021 Tour de France breaks down
Impressive stage: Van der Poel and Van Aert gained minutes on Pogacar and Carapaz presented his candidature. This is a brief summary of all the things that happened today in the Tour de France 2021. 
Spectacular Stage 7 of the 2021 Tour de France
On paper, just another stage. A flat stage, a predictable sprint finish. But none of that happened today, but something very strange: the peloton allowed a breakaway that included a good number of favorites, important riders.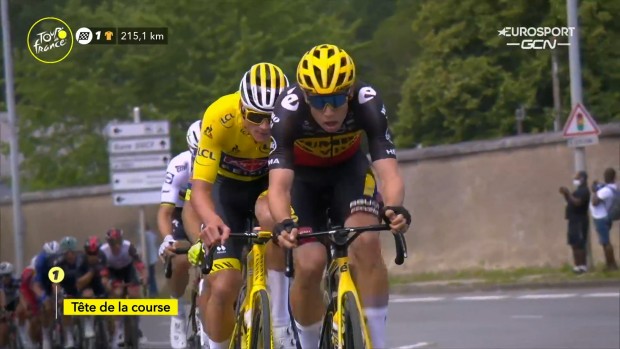 Let's say, to summarize, that the ideal riders who should be pulling the peloton to catch a breakaway, were precisely the riders who were in the breakaway. And of course, the bread and butter came together, because in addition to that list in the lead with more than 6 minutes of advantage to the peloton, the absence of themselves in the peloton was added and left all the hot potato to UAE.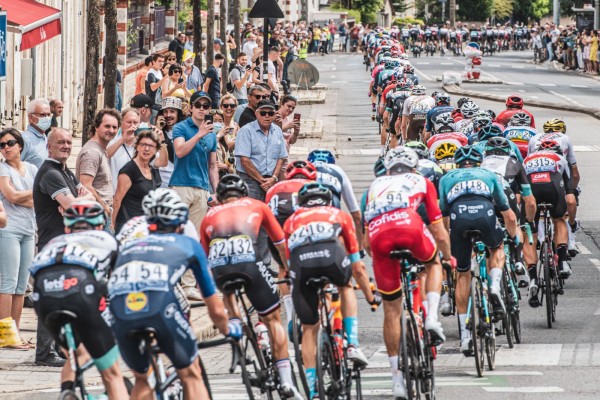 On this, we also have an important analysis. Because the UAE of the top favorite did not manage to cut the breakaway at all. The breakaway was in charge and dictated how the race went. And, as we say, we don't really know how to explain it: either UAE is not that much of a team and Pogacar is a bit naked; or they simply trust Tadej so much that they don't care about the 6 minutes that the Slovenian will recover in the first two uphills they face.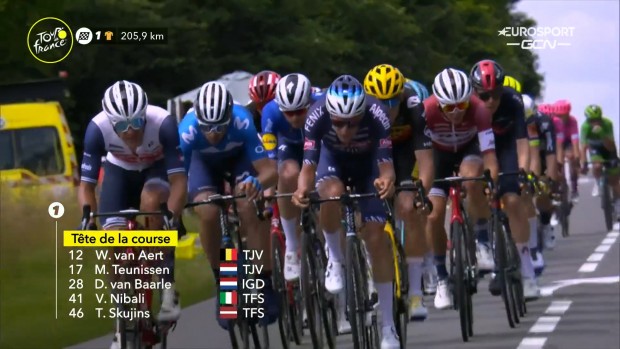 Anyway, let's take it one step at a time: a great breakaway, 29 riders, almost all of them of undisputed reputation. Read well: Van Aert, Teunissen, Van Baarle, Nibali, Skujins, Asgreen, Cavendish, Garcia Cortina, Konrad, Laporte, Van der Poel, Meurisse, Guerreiro, Cort, Godon, Schär, Andersen, Gilbert, Sweeny, Van Moer, Mohoric, Yates, Houle, Campenaerts, Bakelants, Van Poppel and Bonnamour. That's nothing. And, of course, with that, when they had only ridden 75 kilometers of stage, they already gained 3 minutes on the peloton, at 50 kilometers per hour the first two hours. Bad UAE, good for the show.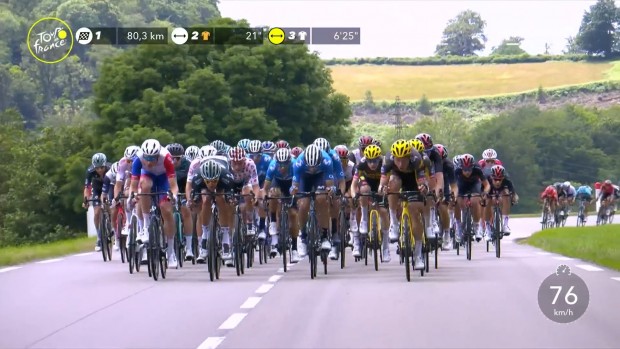 The breakaway succeeds and there is Tour de France 2021
The difference did not stop increasing. It reached over 7 minutes. That's a very long time in the Tour de France 2021. The pace was such that little by little some of the riders dropped off. But behind, the peloton was still totally incapable. No matter how much pace they imposed, they were unable to cut much of a gap.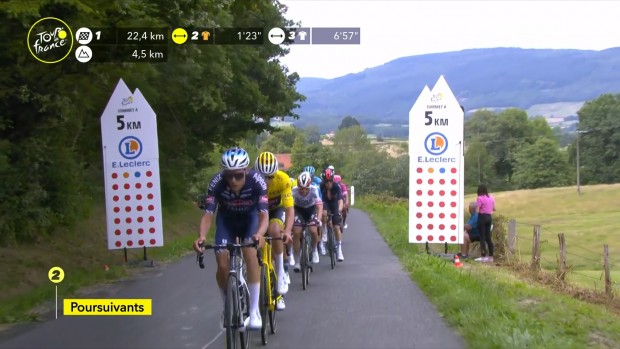 From that group, four brave riders escaped again: Van Moer, Mohoric, Stuyven and Campenaerts. Konrad was pulling Van der Poel and making half the race with another small group of four riders. The gap between the two groups was more than a minute.
With 20 kilometers to go, the race was very strange, very broken, and everything was still to be seen. The peloton took for granted the difference, as if accepting the facts, assuming that it was impossible to recover in a while what they had lost during the longest stage of this Tour de France 2021. Ineos controlled this peloton, but these are other times: it is not enough for the Ineos Grenadiers to control a race for which it has no serious chance of victory. The only serious rider of this Ineos is Carapaz. Very good reaction of the Ecuadorian, a reaction of honor and power. He left the peloton in search of some glory, and Pogacar did not even try to follow his wheel. Let's remember that he is 1:36 behind Pogacar, watch out.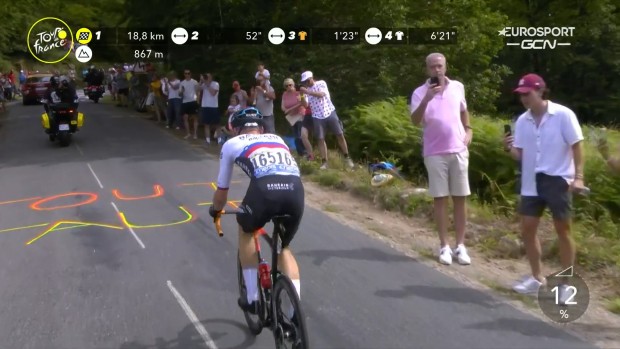 Roglic dropped off with 15 kilometers to go and fought not to lose contact with the peloton on the 15% ramps. This opened two clear ideas: first, that Van Aert could become the favorite of Jumbo Visma; second, that Pogacar smelled blood and tried to pull more to put more time on what he considers one of his main rivals in this Tour de France 2021.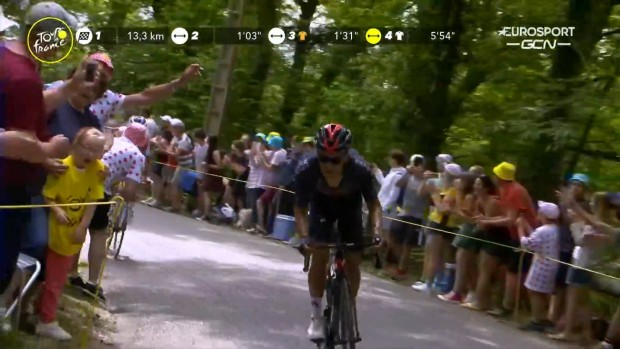 Suddenly, a stage that could have been much calmer, left us with a mythical day. No doubt the spectator will be applauding this happening.
With Carapaz's attack, Van Aert was activated. His rivalry with Van der Poel was put aside, he pulled and took it to the wheel fleeing from Carapaz and the promise of a future yellow seeing his leader, Primoz Roglic, collapse. The mountain arrives and speculation comes into play.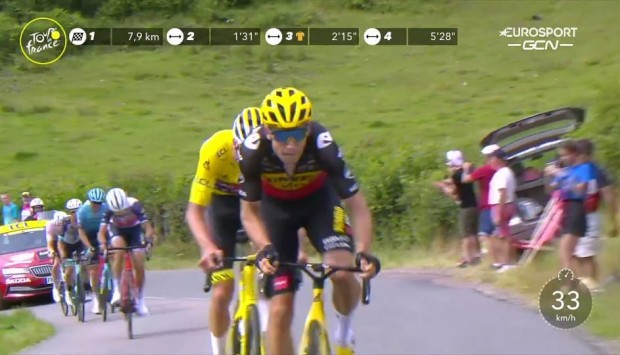 Honestly, we don't remember another Tour de France like this, with a clear favorite in the first week and a broken race the next day.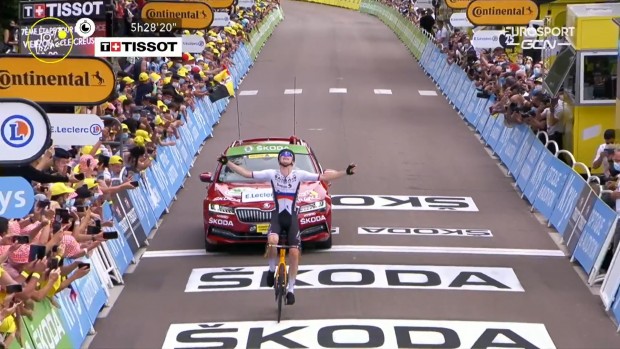 Let's not get lost, because the stage was won by Mohoric. A great day for him, a great stage, visibly moved, the guy rode a simply spectacular day. 250 kilometers of a crazy stage that he knew how to read and a great victory for him and for Bahrain. He came in crying. Great rider since he was a junior, he deserves it without a doubt.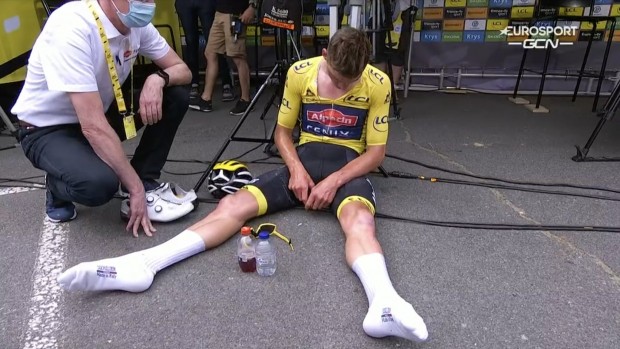 Behind came Van der Poel and Van Aert. They had just taken the 2021 Tour de France by the hand. Carapaz could not get much time out of the peloton, but showed that he is strong and eager. There is Tour.
STAGE 7
Mohoric, M. - Bahrain | 5:25:20
Stuyven, J. - Trek Segafredo | +1:20
Nielsen, M.C. - Education First | +1:40
Van der Poel, M. - Alpecin | +1:40
Asgreen, K. - Deceuninck Quick Step | +1:40
Bonnamour, F. - B&B | +1:40
Konrad, P. - Bora Hansgrohe | +1:40
Van Aert, W. - Jumbo Visma | +1:40
GENERAL RANKING
Van der Poel, M. - Alpecin | 25:39:17
Van Aert, W. - Jumbo Visma | +30
Asgreen, K. - Deceuninck Quick Step | 1:49
Mohoric, M. - Bahrain | 3:01
Pogacar, T. - UAE | 3:43