Pogacar proves he's the strongest, but Van der Poel keeps the Maillot Jaune
First time trial of the 2021 Tour de France and several questions: the condition of favorites like Roglic after the crashes; the expectation of whether Van der Poel could keep the yellow jersey; and the state of form of the big favorite, Tadej Pogacar. The Slovenian did not disappoint: he won the stage, got more than a minute to the favorites, but could not wear yellow: a great Van der Poel fought it and kept it by 8 seconds.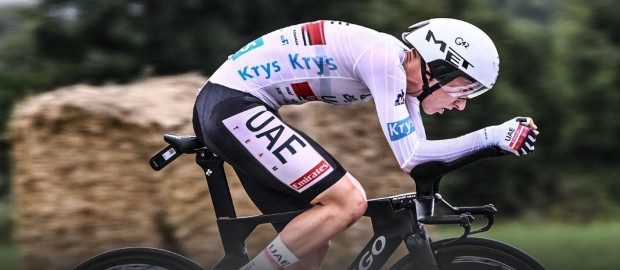 Part One: from Bjerg to Küng
This time trial thing is very biblical: the last are first. That's why Amund Grondahl Jansen took the start in first place at about 12:15. The Norwegian took off down the ramp and started a long-awaited time trial, especially because the riders could concentrate on pedaling, and not on maintaining their physical integrity among so many falls and so many incidents. A day of solitude and concentration on oneself. And a day to measure forces in a real way.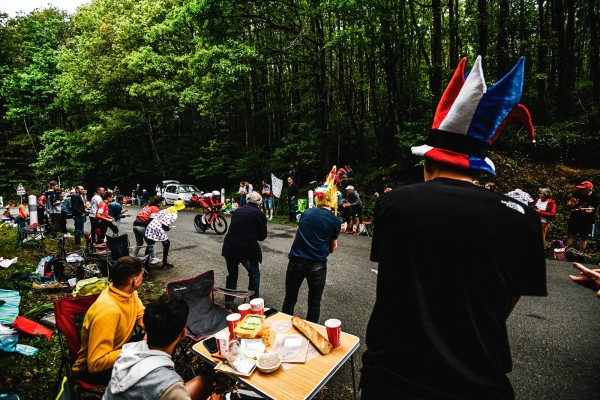 Van der Poel started in yellow but it looked like he would lose it today. He is neither a specialist nor even a purist cyclist in terms of pedaling. In fact, it is often said that he has the class to win, even when pedaling clumsily. Pure talent.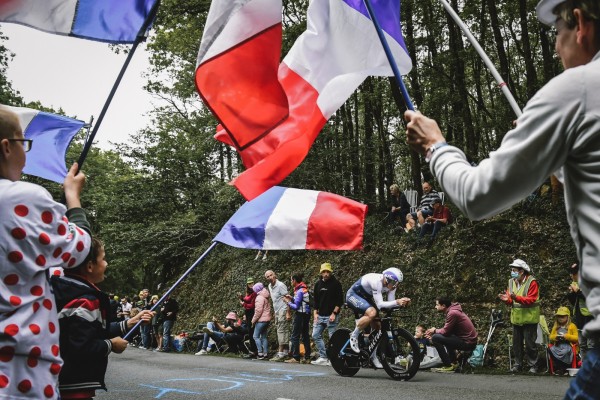 Among the first group of non-favorites for the final victory, but who will fight for the stage today, several came out: Tony Martin was the first. Four times World Champion against the time trial, far from the lead, his options are based on this type of day, win a stage and go home. That's why he was the fastest for a long time.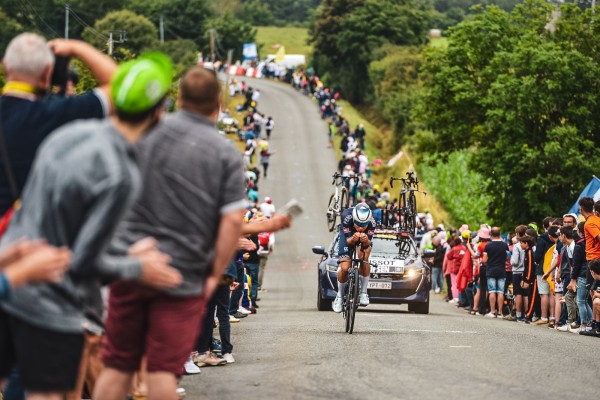 Chris Froome, now completely out of contention for a leading role, was another early starter. Tony Martin was only overshadowed by Mikkel Bjerg in the first sector, with almost a minute over the latter. He was already setting an important peak.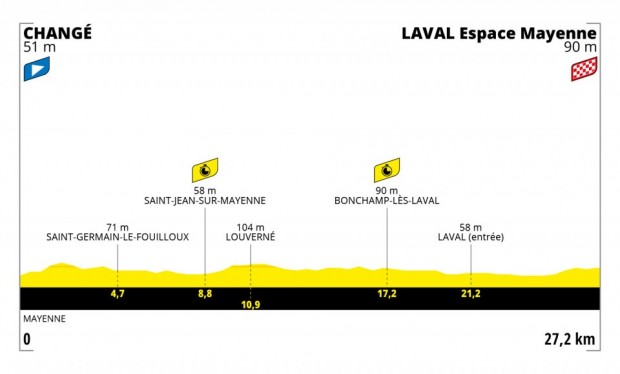 The presence of specialists was noticeable. And there was a scare: light rain and the fear that it would affect the result of those who were going out at this time. But none of that happened, although the ghost of the rain factor was constantly present. At the start the weather remained dry, but half of the time was spent under water. In fact, Bjerg himself commented at the finish line: "I don't know if I will win, but if it keeps raining I have my chances".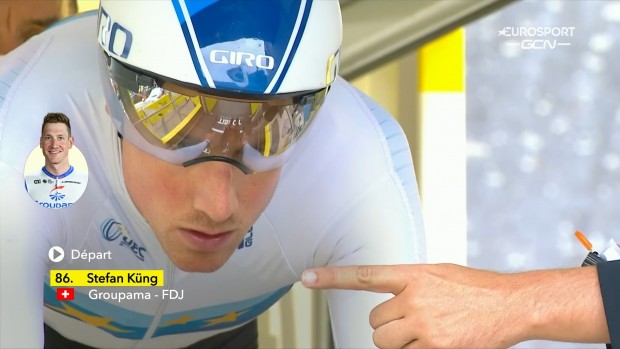 Among the favorites, one name emerged: Tadej Pogacar
His chances were killed by Stefan Küng in first place. He dropped to 32'19" and put Groupama in front of the possibility of winning its first stage of the 2021 Tour de France.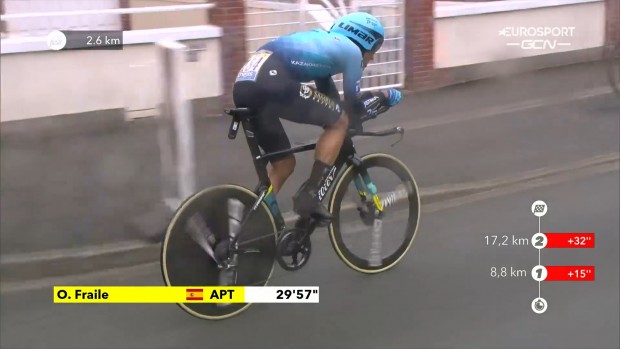 The riders were coming out in little by little and also the first final times were arriving. Omar Fraile, who set the 4th best time at the finish, was very good. But all eyes were on the final group, which is first overall. Especially on riders like Roglic: it remained to be seen the physical condition of the Slovenian after the hard crash he suffered and given his clear character of sprinter. Although last year he missed the Tour precisely in the last time trial, his potential as a sprinter is well known. Roglic did not start well, he set the fourth fastest time at the first checkpoint. Küng dominated, Vingegaard almost made it but was 8 seconds behind, and Asgreen was 18 seconds behind. Roglic came in fourth, 25 seconds behind Küng. Good time under the circumstances, and to rest and recover from the pain.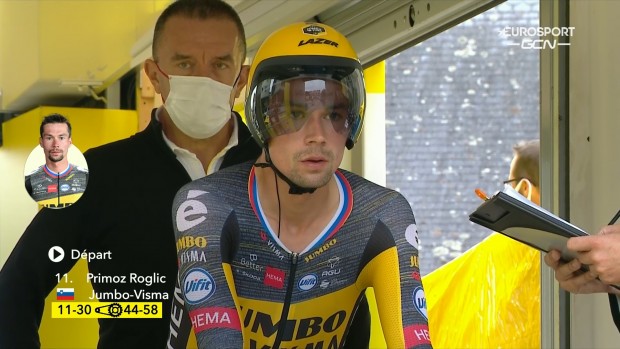 It was the turn of the favorites. Among them, one name emerged: Tadej Pogacar. The current winner of the Tour de France came out like a real shot. He was more than 20 seconds down on the best times, and he was visibly presenting himself in this Tour to prove that last year was not a stroke of luck or a mirage.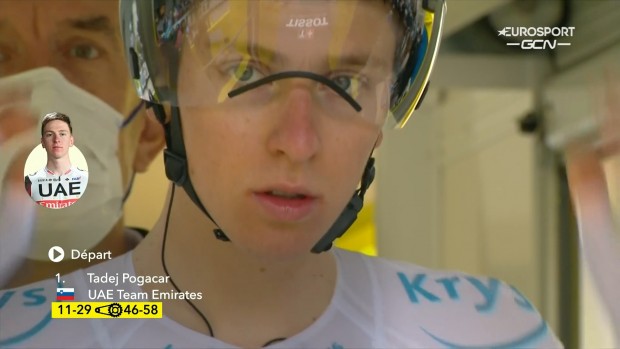 Competition came from Van Aert, 7 seconds behind him at the first checkpoint. Van der Poel went out at 16:50 sharp, French time. The Dutchman knew the area well and it was shaping up to be an argument in his favor in his fierce defense to keep the yellow. He had it really difficult. In the first point he lost time, but only 6 seconds, so he was in the fight. In the second, 22 seconds. It was all very fair. Nothing surprises us anymore about Mathieu Van der Poel.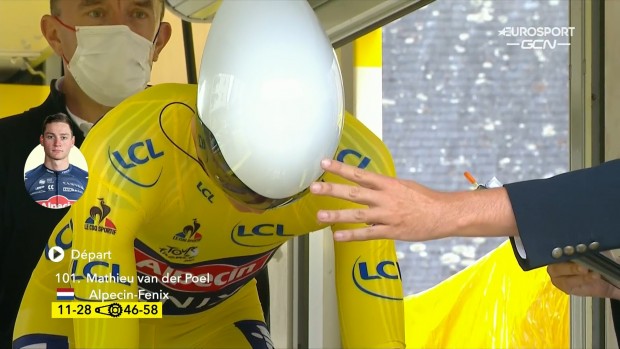 But the key role was taken by Pogacar. He lowered Küng's time by 18 seconds and took the lead in anticipation of what was to come from behind. What came behind was Van Aert, who lost 30 seconds and gave a sense of the magnitude of Tadej Pogacar's time. Behind him, Carapaz, who lost a lot, 1:43; Alaphilippe, who looked very, very uncomfortable and lost 1:10.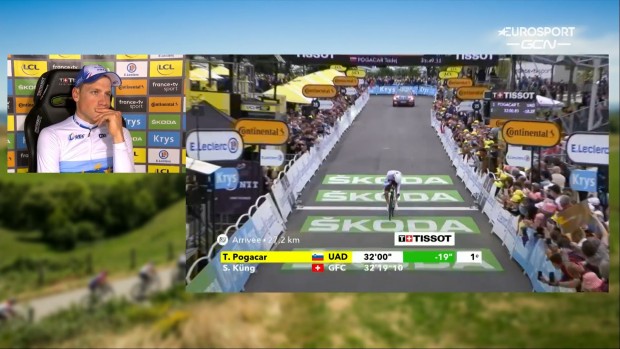 The only thing left to decide was whether Van der Poel would save the yellow jersey or not. Did anyone doubt it? He did, and he had 8 seconds to spare. One more day of glory for Van der Poel in this Tour de France 2021 and a punch on the table for Tadej Pogacar to revalidate his title in Paris.
STAGE 5
Pogacar, T. - UAE Emirates | 32:00
Küng, S. - Groupama | +19"
Vingegaard, J. -  Jumbo Visma | +27"
Van Aert, W. - Jumbo Visma | +30"
Van der Poel, M. - Alpecin | +31"
GENERAL RANKING
Van der Poel, M. - Alpecin | 16:51:41
Pogacar, T. - UAE Emirates | +8"
Van Aert, W. - Jumbo Visma | +30"
Alaphilippe, J. - Deceuninck Quick Step | +48"
Lutsenko, A. - Astana | +1´21"