We tested the Cannondale F-Si Hi-MOD Ultimate, a very unique hardtail
The Cannondale F-Si Hi-MOD Ultimate is one of those mountain bikes with its own identity, born by and for competition, not in vain it has been developed largely by the Cannondale Factory Racing team, one of the most recognized and powerful in the World Cup. Here is our impression about it after spending some weeks trying it out on all kinds of terrains.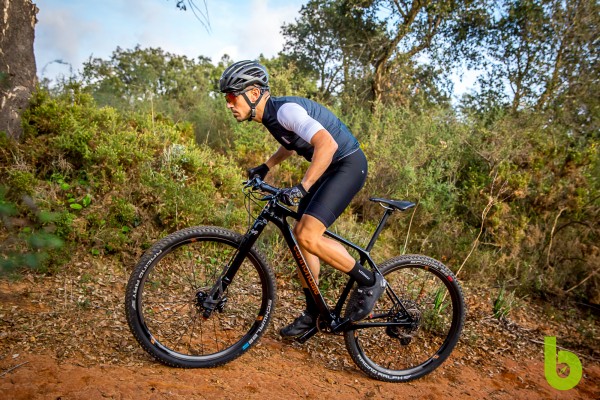 Cannondale F-Si Hi-MOD Ultimate: elegance and performance
The F-Si model was first launched 5 years ago and was renewed in 2018 with the Lefty Ocho fork, reflecting the entire technological development of the American brand.
The Cannondales brand is known for having its own path in innovation and development of its products, and with the F-Si the objective was to achieve a rigid frame with which to climb agile, descend quickly and be comfortable on any terrain. To achieve this, four aspects were worked on: weight, traction, comfort and handling.
The frame is made of BallisTec Hi-MOD carbon, hence the name. This carbon has high values of resistance and stiffness. It combines different types of fibres to achieve a durable and reactive frame weighing only 900 grams, 80 grams less than its previous version.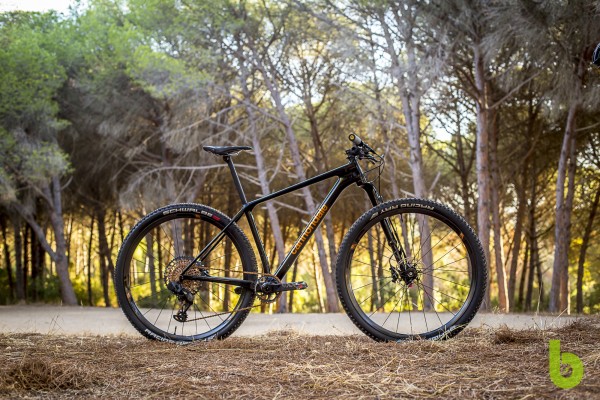 The rear triangle is where most of Cannondale's own technology applications are found. To begin with, we can talk about SAVE micro-suspension technology. Because not everything is stiffness in hardtail bikes, they have experimented with the unidirectional carbon laminate in the pods and in the thin straps to achieve vertical bending zones, which together with the 27.2mm seatpost allow them to absorb impacts and thus gain in traction and comfort. The seatpost closure also helps, a hidden guillotine type anchorage that besides offering a very clean aesthetic lowers the seatpost fixing point allowing it to flex a little more. With this Cannondale ensures that it is 8% more comfortable than the previous version. In short, greater comfort means less fatigue during riding and more control of the bike.
As expected, Cannondale's Asymmetric Integration (AI) concept is maintained, a system that shifts the chain line by 6 mm to give the spokes on the cassette side of the rear wheel a greater angle to the rim. This results in a more balanced spoke tension between the two sides of the wheel and significantly increases lateral stiffness, as well as making the wheel more compact.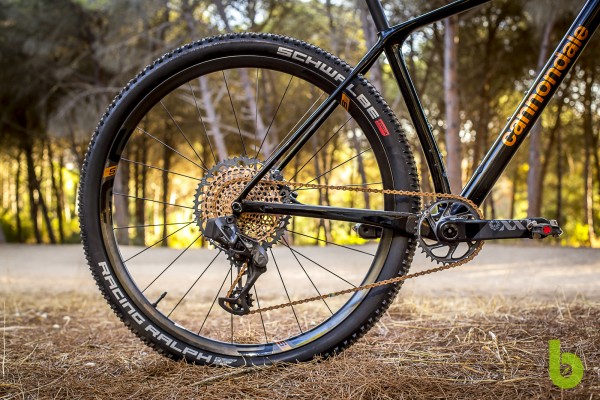 This also makes it possible to manufacture shorter pods, in this case of 427 mm, and to maintain an adequate wheelbase, so important in today's assemblies where wider tyres are sought, in this case with the possibility of accommodating up to 2.35".
The negative side is that it requires specially sized components for Cannondale drivetrains, but this is a common practice for Cannondale and component manufacturers are increasingly considering it when designing their products.
It features the Speed Release rear thru axle, which has been designed in-house but is compatible with standard Boost hubs and combines the advantages of the stiffness of a conventional thru axle with the speed of being able to remove the wheel without removing the axle, just like a traditional quick release. On a day-to-day basis this may not seem so important, but in the middle of an XCO competition those seconds gained in changing wheels can be decisive.
The only thing missing from the frame is some kind of locking system or steering stop, which prevents the brake levers or the shift button from hitting the top tube in the event of a fall. In size S it is incorporated, but we think it should be extended to the rest of sizes.
Lefty Ocho and geometry
Just as important as the frame is the role played by the Lefty Ocho Carbon fork. It was also presented in 2018 with the F-Si frame. Its manufacture and design were changed to use a single plate maintaining the structural rigidity and a standard conical tube with which conventional stems are used, opening the range of configurations of angles and lengths to adapt the bike to the rider.
Its bold single-arm design and its lightness, with only 1446 g for this carbon version, are signs of its identity, but it is in its inner mechanism that the goodness of the Lefty Ocho lies. Here, a new hydraulic cartridge was chosen and the system was changed to a Delta Cage bearing cage in a triangular arrangement (three cages with 12 needle bearings in each) offering a smoother slide with less friction.
It offers a wide range of settings, with 6 low-speed compression settings and 23 click bounce settings that allow us to obtain smooth operation with great sensitivity and driving precision.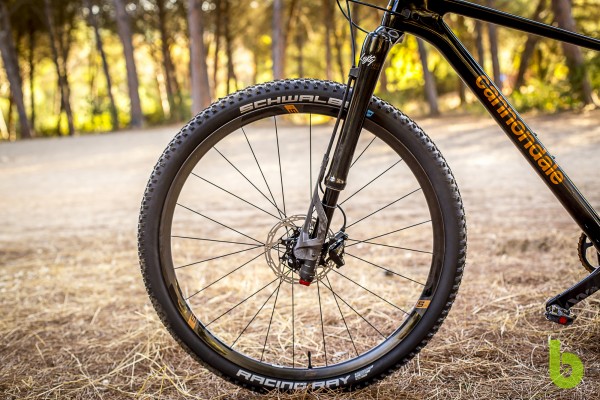 Recently it has received the improvement of the brake caliper removal system for wheel disassembly. A simple system that consists of a manual lever that is turned allowing the uncoupling of the caliper, lightweight and without having to use any tools.
Another modification was the change in the way of locking the fork by switching to push to lock, which was quite demanded by riders as it is a more natural gesture and saves the fright of the fork being locked in full downhill by the involuntary touch of the FOX lock button.
It has the advantage of being able to repair flat tyres without having to dismantle the wheel and the obvious larger wheel arch, but it is necessary to fit specific hubs for this fork, which limits to some extent the options available. Although it is true that more and more manufacturers have them in their catalogue.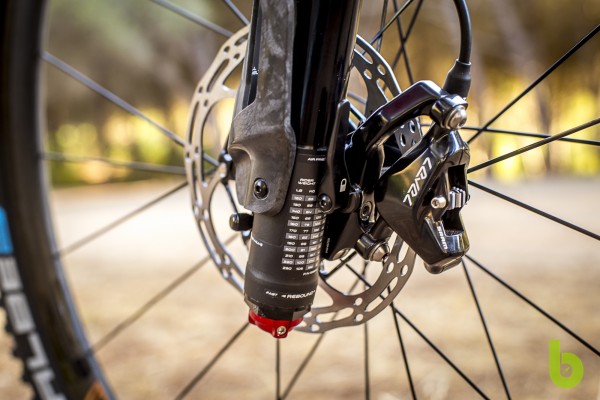 As usual, when a bicycle is renewed, so is its geometry. The Cannondale F-Si Hi-MOD has also undergone a revision in this respect. The brand is basing some of these changes on its OutFront Steering Geometry concept, in which it groups together a number of changes.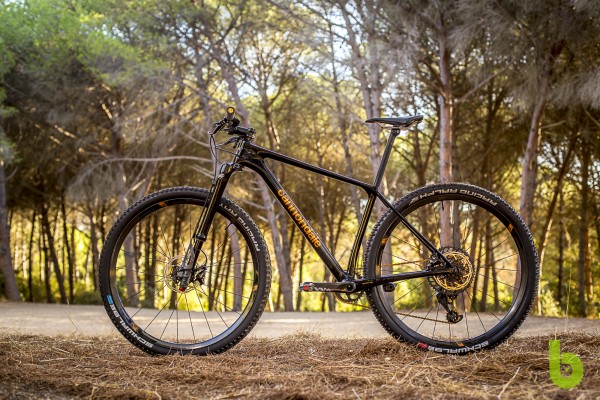 The Reach increases to 420 mm in the size M we have tested, aiming to gain stability and ease of handling. The steering angle is now more relaxed at 69º, helping it to cope with technical downhills. To this must be added the offset of the Lefty Ocho which is 55 mm, longer than usual for this type of bike. This increases the wheelbase, also helping to increase stability. On the other hand, this offset helps to counteract the slow reactions in slow areas caused by the very relaxed steering angle, as a more contained trail measurement is achieved.
Consequently, in order not to make their wheelbase too long and taking advantage of AI technology, the length of the pods has been reduced to 427 mm to achieve more agile reactions and greater traction.
The seat tube has an angle of 73.1°, although it is not as vertical as on other hardtail bikes, it offers us a good position for correct transmission of force when pedalling.


Riding the Cannondale F-Si Hi-MOD Ultimate
The first thing that catches your eye when you take it out of the box is its glossy black colour which matches the letters of the brand placed on the diagonal tube in the same colour as the SRAM XX1 Eagle AXS group in which it is fully equipped. It incorporates as a new feature the cassette with 10-52 rollout that SRAM presented in the middle of this year. It is completed with a 34-tooth plate, ideal for the development of the cassette and in accordance with the use we hope to give this bike.
As expected and having in our hands a bike of this magnitude, we proceeded to check the weight. With a figure of 8.7 kg it gives a feeling of lightness and shows the intentions of this mountain bike.
As soon as you start pedalling you can appreciate the stiffness of the set, when you put the Lefty Ocho fork in a locked position it stays firm, nothing sinks and you can appreciate its structural stiffness if you stand up and rock the bike. We are pedalling on asphalt giving the impression of doing so with a road bike, our position on it tends to be aggressive without punishing the back excessively, in part this is what is expected when you ride this type of hardtail MTB.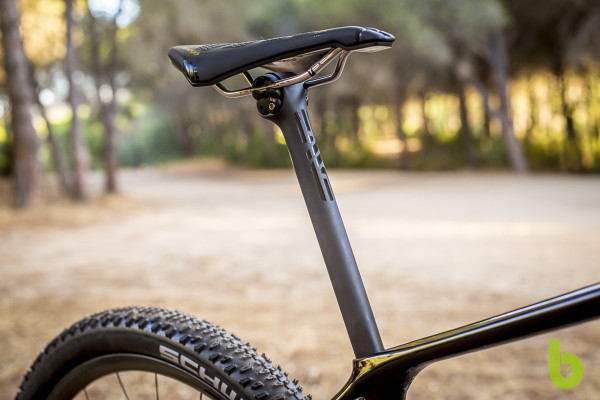 We leave the asphalt and enter a track, a terrain usually not very bumpy. The SAVE technology and the ENVE Carbon 27.2 mm seatpost come into play, together they act as a vibration absorption system to transmit the comfort we need. It is not a rear suspension obviously, but the simple fact of filtering part of the irregularities of the terrain is enough to not tire us so much when driving. In this terrain we unlock the fork. The Lefty Ocho is really soft and sensitive, and absorbs every little bump in the road.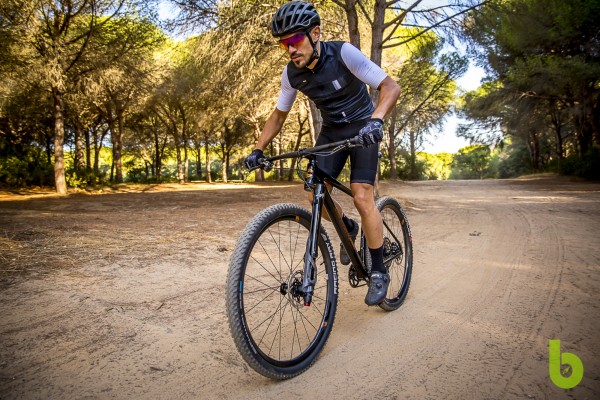 When the route goes uphill it is where it stands out the most. Its contained weight is clearly a factor, and the stiffness of its bottom bracket means that you get the most out of each pedal stroke and the bike responds. It makes you demand more when you see how you gain more and more speed. The ENVE M525 Carbon wheels with an internal width of 25 mm, with a Lefty 60 front hub and DT-Swiss rear hub also come into play here, creating a lightweight set, with an aesthetic that matches that of the bicycle and the added bonus of being tubeless from the factory.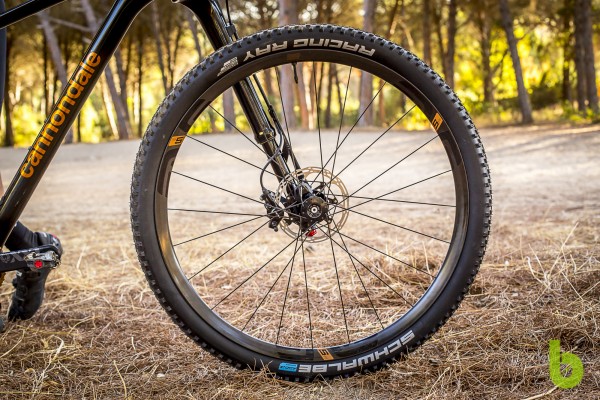 When we enter areas of trails it is agile and light in its reactions, with this bike the changes of direction are easy. When exiting a curve, it allows us to make strong accelerations and increase speed to face the slopes. In the uphill trials it maintains good traction thanks to its short pods and it does not show slow reactions in spite of its 69º steering angle. Its rear tyre Schwalbe Racing Ralph in 2.25" is quite rolling, but maintained traction at all times.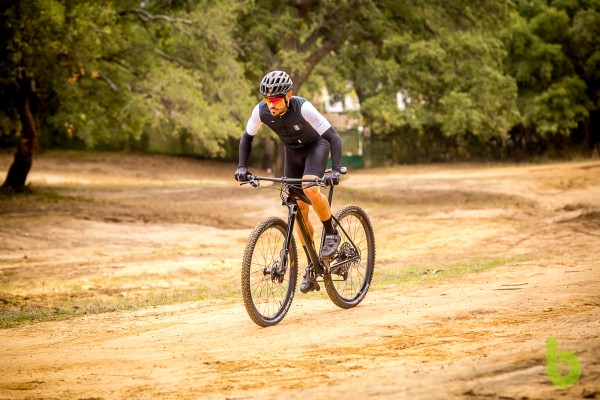 We then started the downhill sections, this is where we thought the F-Si Hi-MOD Ultimate would be most penalised, as it is a hardtail bike. It is true that we are not going to say that it is close to the behaviour of a full mountain bike, but whoever is looking for a MTB of this type already knows it, even so it not only defends itself, but also surprises how agile and stable it is on the downhills. On the faster ones it gives a sense of security. When you enter slower areas and technical zones you enjoy it quite a lot, its low weight and compact rear triangle allow you to move it between turns with fluidity. The handlebar ENVE M5 Carbon 760 mm helps to make those changes of direction, in which there are no problems in making strong supports as in them the Lefty Ocho shows its confidence, with a predictable behavior transmitting that sensitivity that characterizes it and the front tyre Schwalbe Racing Ray in 2.25" provides sufficient grip.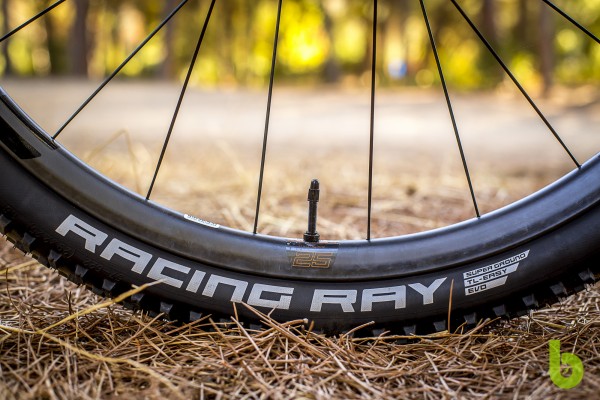 When the downhills are complicated you have to trust and let the absorption capacity of the Lefty come out, it shows a linear behaviour and you notice how you take advantage of all its travel in these areas. If we decide to correct a line it is not a problem, its lightness allows you to give that handlebar stroke and take it to the spot and if you need to stop it has the SRAM Level Ultimate brakes with which you will not lack braking power.
We finished the trip with the Cannondale F-Si Hi-MOD Ultimate with the feeling of having enjoyed it, with that mixture of satisfaction and tiredness for having squeezed us to the maximum.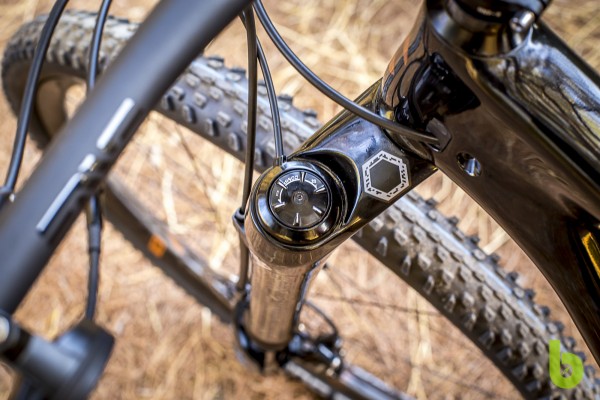 A common feature of Cannondale's upper-mid range, and one that is also present here, is the addition of the front wheel sensor, developed in collaboration with Garmin, which allows us to link it to our Smartphone for accurate speed, time, route and distance information, something that for some may be enough to keep them off the computer. In addition, we have the option of registering our bike to obtain maintenance reminders, suspension information... It allows us to record up to 30 routes or workouts before it is necessary to synchronise it with the App.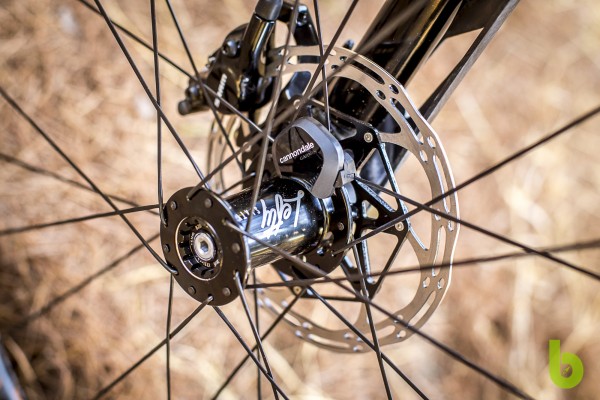 On the other hand, we would have liked a superior model of saddle, the Prologo Dimension NDR was comfortable for us but we do not see it according to the price of the bike.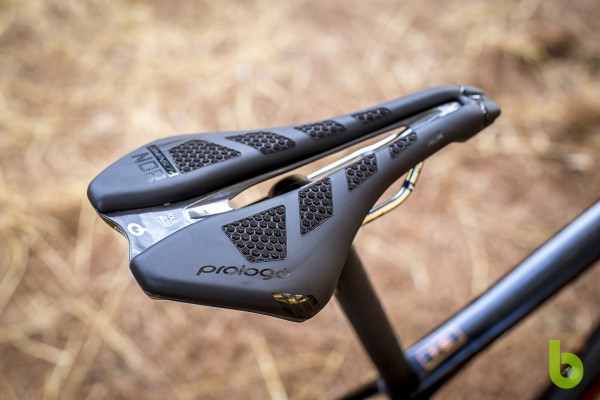 In conclusion we can say that the Cannondale F-Si Hi-MOD Ultimate is a top of the range bike, which has sought the highest possible performance without neglecting comfort, with the idea of riding faster for longer. It will require you to do your best. It is lightweight, stable at any speed, allowing you to make explosive accelerations and easy to ride on all types of terrain thanks to its agility.
Its geometry is up to date and all the technology applied to its frame matches perfectly with the good performance of the Lefty Ocho fork.
All of its components are up to the task, making it the ideal bike for bikers looking for a weapon for XC and XCM racing, with no expense spared.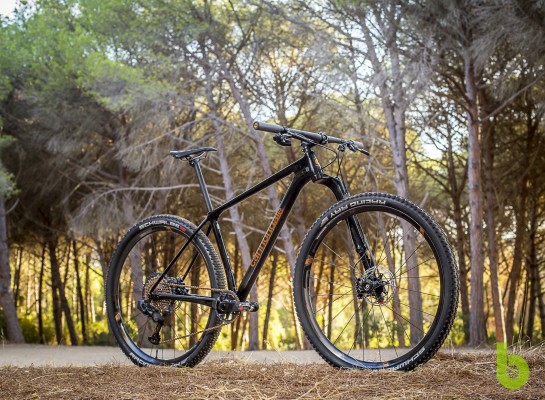 Cannondale FS-i Hi-Mod Ultimate - 10.999€
Frame: All-New, 100mm travel, BallisTec Hi-Mod Carbon, Proportional Response Tuned, FlexPivot Chainstay, PF30-83, Tapered Headtube,Speed Release 12mm thru axle, Ai Offset, Stash compatible
Fork: Lefty Ocho Carbon, 100mm, Chamber Damper with remote lockout, OppO Spring System, tapered steerer, 55mm offset
Hubs: (F) Lefty 60 / (R) Custom DT Swiss, 36t Star Ratchet, 12x148mm thru-axle
Rims: ENVE M525 Carbon, 24h, tubeless ready
Spokes: DT Swiss Aerolite, straight pull
Tires: (F) Schwalbe Racing Ray EVO, 29 x 2.25", SnakeSkin, Addix Speedgrip, TR. (R) Schwalbe Racing Ralph EVO, 29 x 2.25", SnakeSkin, Addix Speed, TR
Bottom bracket: SRAM DUB PF30 MTB83
Crank: SRAM XX1 Eagle DUB, 34T, Ai offset
Rear cogs: SRAM XG-1299, XX1 Eagle, Copper, 10-52, 12-speed
Rear Derailleur: SRAM XX1 Eagle AXS
Shifters: SRAM Eagle AXS, 12-speed
Chain: SRAM XX1 Eagle, Copper, 12-speed
Handlebar: ENVE M5, Carbon, 31.8mm, 5mm rise, 9° sweep, 760mm
Stem: Cannondale 1, 7075 Alloy, 1-1/8", 31.8, 7°
Grips: ESI Chunky Silicone, 32mm
Brakes: SRAM Level Ultimate hydraulic disc, CenterLine X 160/160mm
Saddle: PROLOGO Dimension NDR CPC Tirox Saddle
Seatpost: ENVE Carbon, 27.2 x 400mm, 0mm offset
Wheel Sensor: Cannondale Wheel Sensor
Weight: 8,7 kg
Sizes: XS, S, M, L y XL
Price: 10.999€