Pidcock was back in competition with its mysterious prototype suspension
British rider Tom Pidcock returned to mountain biking at the Les Gets World Cup after his collarbone injury and subsequent surgery, but a crash in the Short Track on Friday and a big blockage caused by a collision at the start on Sunday prevented him from having a good race and in fact he ended up retiring. Even so, he gave us time to take another close look at his bike, which we can assure you is no easy task, with the suspension prototype he is testing.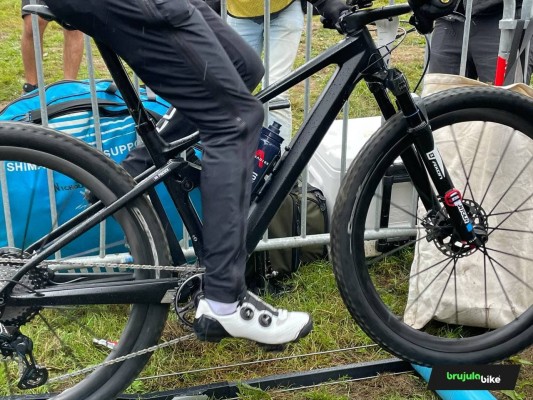 New images of the suspension prototype used by Tom Pidcock in the World Cup
For those who don't know what this is all about and to give some context to this story we remind you that Tom Pidcock is competing in the XCO World Cup with a BMC Fourstroke without any logo because his current team, the Ineos Grenadier, has an agreement with Pinarello but this brand does not currently have MTB bikes. And the only logos that can be seen on Pidcock's bike are the SR Suntour logos on the fork.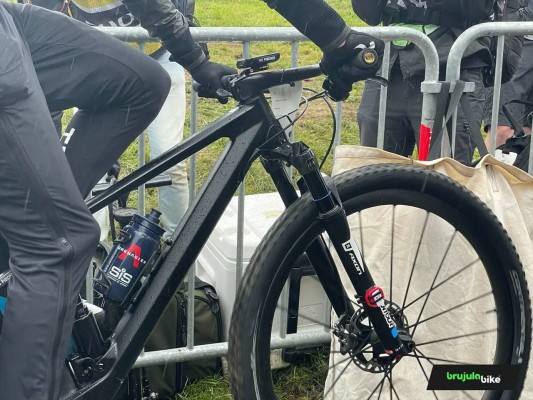 But in Nove Mesto we saw something very striking on Pidcock's bike that set off all the alarms, his handlebars were clean of controls to lock both the fork and the shock, and instead a cable came out of the fork leg that went directly into the frame. Something we just checked again and in more detail at the Les Gets World Cup.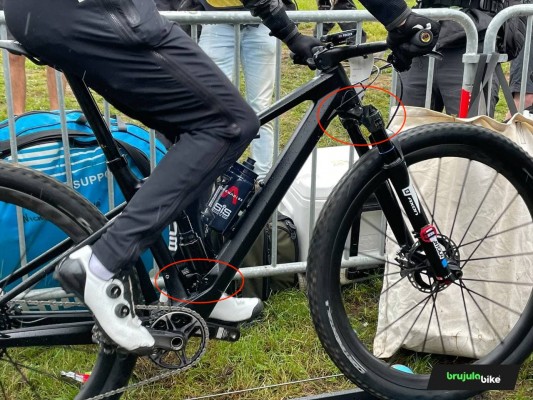 Indeed, one cable comes out of the fork into the frame and another comes out of the bottom bracket area to a kind of switchboard located just behind the shock absorber. By the way, a shock absorber that does not have any logo and is clearly oversized.
 

 

 

Ver esta publicación en Instagram
With these images everything points to a new electronic and intelligent suspension system similar to the current Fox Live VALVE capable of reading the terrain and open or close the suspensions with a speed and accuracy far superior to the reaction of any cyclist. Here you can read more about this system.
But the question now is who is behind this system: Suntour, BMC or Pinarello? In the first article we wrote on this subject we already pointed out that Pinarello. We remember that the main material partner of Ineos, had already developed together with another technology partner an intelligent suspension system for a road model, the eDSS 2.0. So it could be that the Italian brand is developing a new MTB model that includes this system. Or it could be that Suntour would like to catch up with Fox with such a system.
In any case we will follow Pidcock MTB in the next races to see if we can extract some more information.