We test the EVOC Trail Pro 26 backpack, protection above everything else
EVOC recently introduced its latest Trail Pro backpack collection with the new Liteshield Plus. An innovative shell that has been optimised to protect the rider's back to the maximum in case of an accident. In addition, the details of this model make it one of the best options for those looking for a backpack for MTB, Trail, Enduro, etc. with protection and large volume. We have tested the larger version of the new EVOC Trail Pro and here you can find our sensations with it.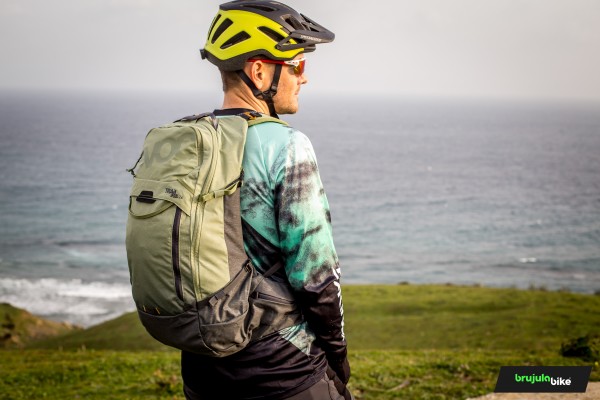 We test the EVOC Trail Pro 26: protection, quality and very functional
At first glance the EVOC Trail Pro 26 litre backpack does not mislead. This is a large volume backpack perfect for long days of MTB, races / trips of several stages or if we need to carry a large number of clothes, protections, etc.. But we have to say that once on, its fit and comfort invite you to wear it even on single day rides where we want to have the excellent Liteshield Plus protection that we'll discuss later.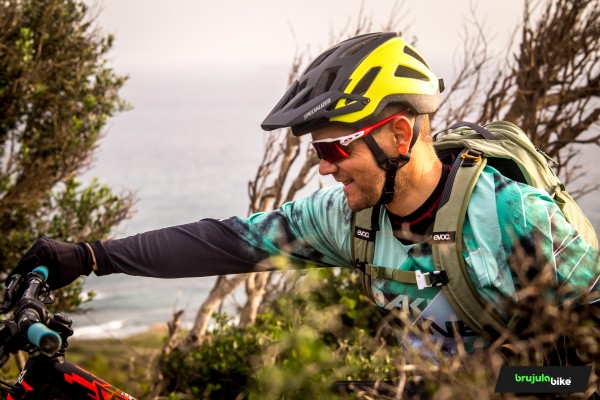 As we already mentioned in its presentation, the EVOC Trail Pro is available in three sizes of 10, 16 and 26 litres and their respective weights are 900 g, 1000 g and 1070 g for size S/M. In our opinion a minimal weight difference considering the load capacity between the small and the large.
Liteshield Plus, an accident insurance on your back
The German company TÜV has externally evaluated the degree of protection of the EVOC Trail Pro, and concluded that the new LITESHIELD PLUS back protector offers level 2 impact protection and absorbs 95% of the impact energy in an accident.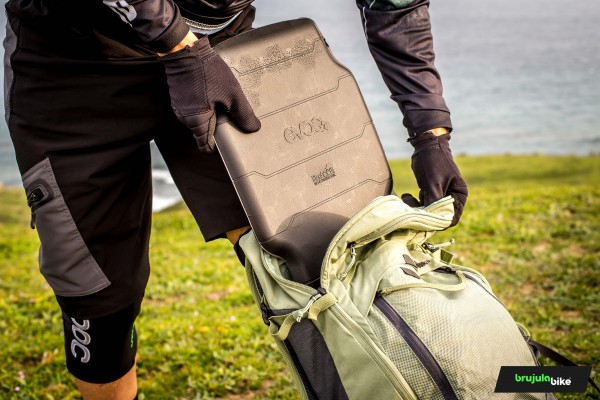 This protection is found on the inside, in a special compartment fitted to the closest area between the backpack and your back. It is a plate made of a material similar to the inside of helmets. While one side is smooth, the other side has been designed with a pattern that allows it to adapt to any movement you make while wearing it. It doesn't feel at all as if we were wearing a rigid protector that prevents or discomforts certain movements.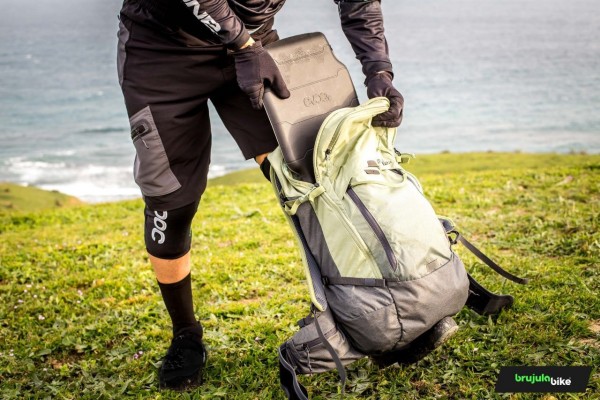 It is worth remembering that the origin of the EVOC brand lies in a skiing accident suffered by one of the founders which resulted in a back injury that could have been avoided if he had been wearing proper protection in his backpack. EVOC's commitment to safety and product quality is such that if the Trail Pro protector is damaged in a serious accident, the brand will replace it free of charge.
The LITESHIELD PLUS is easy to take off and put on, but you have to be careful when putting it on as it has a small bracket at the bottom which is easy to slip off. If you don't put it in there, the protection won't fit properly on top. It's just a matter of knowing it and taking it into account.
Lucky enough not to have had to test its performance in a fall, we can say that it is a truly amazing element in terms of its lightness, flexibility and the high degree of protection it offers.
EVOC Trail Pro 26: perfect fit
The load distribution, even when we're pedalling with it, is so balanced that it doesn't feel like we're wearing a backpack with so much volume. This is thanks to the combination of several systems, some of them new to the brand.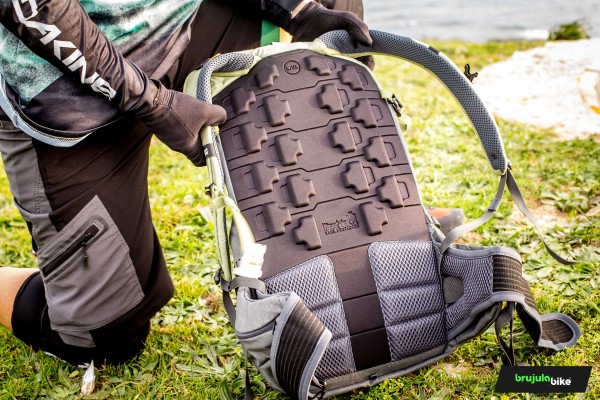 In the area of contact with the back we find a mesh of very pronounced 3D pads that perfectly fulfill the function of promoting ventilation and in turn saves weight and is very comfortable, even with a full backpack. This is the first time EVOC has used this system in a backpack and we wouldn't be surprised if it becomes a standard in their catalogue. The fabric covering it is a kind of light and very resistant neoprene.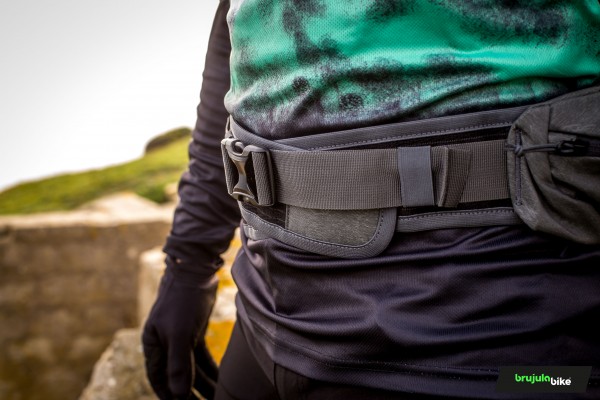 The 3D mesh padding is only used on the upper back, as the lower back is covered by a wide belt, which EVOC calls AIRO-FLEX. This belt hugs us from the lumbar region with generous padding to the front of the belt where the fabric is as breathable as possible. The adjustment here is done by Velcro and click closure and is undoubtedly one of the keys, along with the design of the backpack itself, of its good weight distribution and excellent comfort.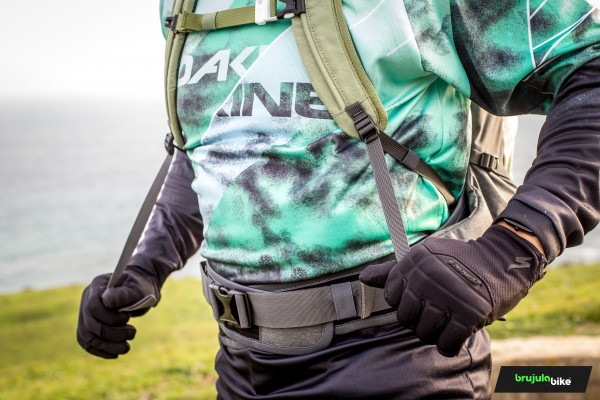 The backpack will fit you perfectly thanks to the adjustment of the shoulder straps, which is carried out from the lower part, as EVOC has avoided seams and moving parts in the area where it joins the back to avoid possible chafing.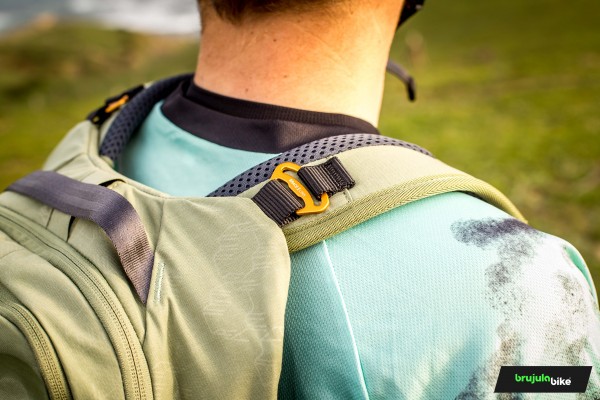 With the chest strap we can tighten or loosen the backpack when we go up or down. In addition, this chest strap can be adjusted in height and includes an emergency whistle in the attachment area and on the opposite side it incorporates a small attachment for the hydration system.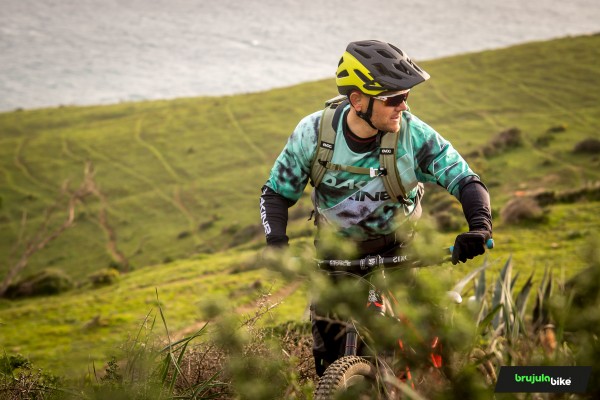 Functionality in every detail
The EVOC Trail Pro 26 is one of those backpacks designed to be enjoyed on countless rides over the years. You can tell it's been developed by cyclists who have thought about every last detail, and that it's built to handle it without worrying about its durability. We found the outer fabric to be very unique as at first glance it looks soft and fragile but when you touch it you can feel a tough fabric capable of withstanding rubbing and snagging.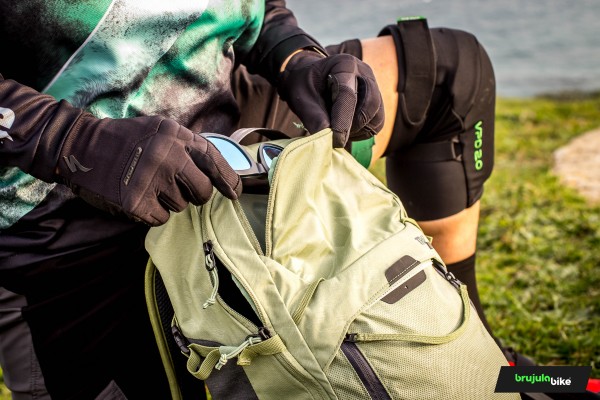 In terms of layout, the Trail Pro 26 has a "small" top front pocket lined with a very soft fabric. This compartment is designed for storing delicate items such as glasses or devices with screens where we want to avoid scratches.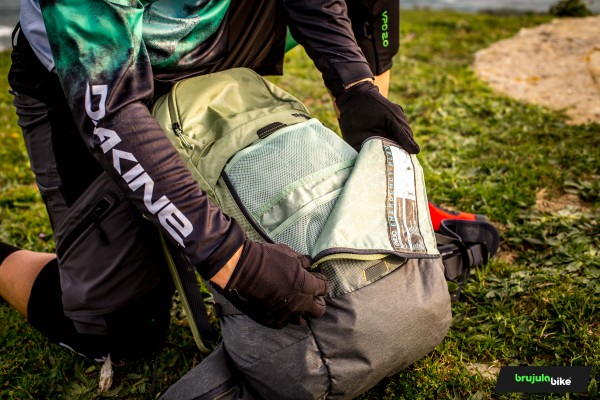 The front part immediately below is occupied by a quick-access pocket that can be opened and closed with one hand, even when wearing gloves, and is designed for carrying tools and spare parts. A helmet rack can be mounted above these two pockets.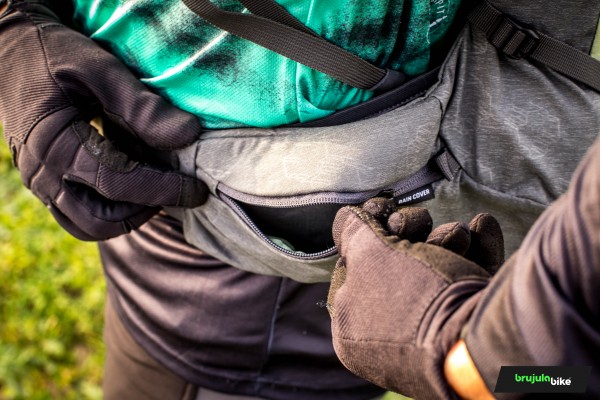 The largest capacity pocket gives access to the inside of the backpack through a double zip, and here we found a small inner pocket for keys, and the back protection attachment system, which shares some space with the area reserved for carrying the hydration system (up to 3L). This space looks really big and we were able to fit some warm clothes, protections and food in it without completing it.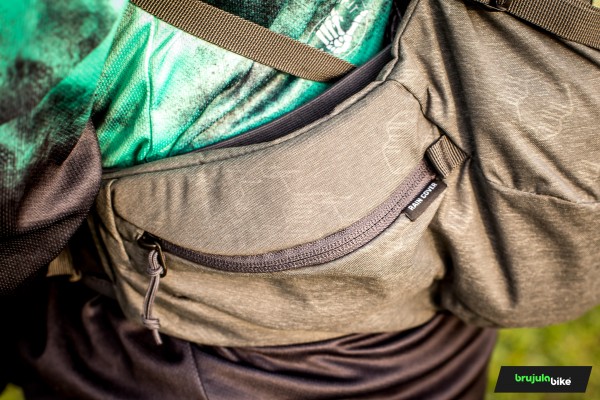 But perhaps the pockets that you will use most of this backpack, at least we did, are the ones on the sides of the belt. They are two zippered pockets also very wide in which we managed to put the smartphone, bars, gels, tissues and some neck tubular without filling them to the maximum. The left pocket of these compartments includes the backpack's waterproof protector, which completely covers the EVOC Trail Pro 26 with the belt pockets.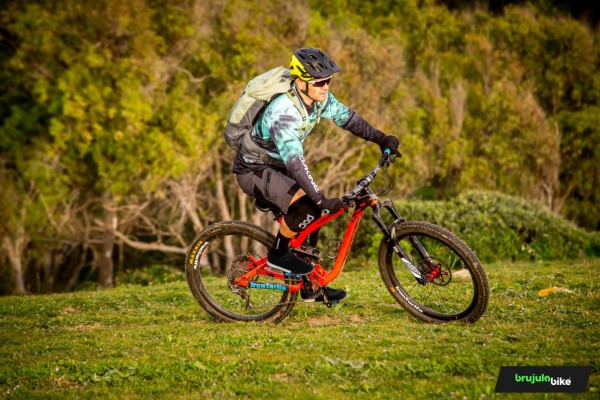 Conclusion on the EVOC Trail Pro 26
As we said, the first impression is that this EVOC Trail Pro 26 is a big and heavy backpack for MTB, but after several days of trail riding with it on your back and after seeing and touching the formidable LITESHIELD PLUS protection we have to say that it is unfair to call it heavy. In fact, in the segment of backpacks with protection it is among the lightest.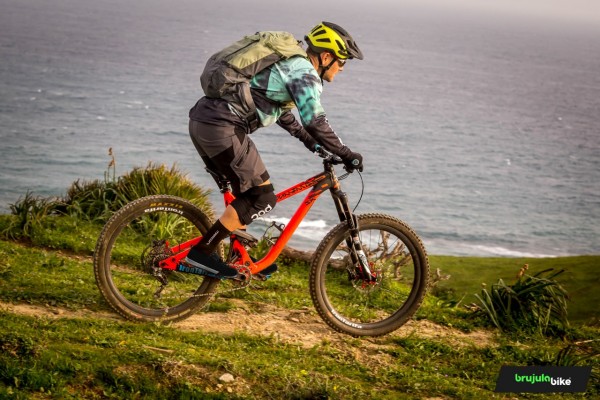 Although we haven't mentioned it throughout the test, many of you may see this backpack as perfect for e-MTB use as it offers the carrying capacity, fit and protection needed to carry an extra battery. Here we can only tell you that although it seems to meet all the requirements, this backpack is not developed for this purpose and the lack of a specific internal fit to house the battery could cause serious damage in the event of an accident. EVOC has a specific model for e-MTB that leaves the battery perfectly fixed and centred in the backpack.
The EVOC Trail Pro 26 backpack is available in 2 colours and 2 sizes for a price of 230€.