SRAM patents a new double chainring system without derailleur
Recently, SRAM introduced its new 12 gearbox 10-52T cassette: the Eagle 520%. With the crog of 52, SRAM is at the forefront of 1x12 drivetrains and has once again overtaken Shimano, who until now had the bigger range with a 10-51 cassette. The fact that this nonsense race is being won by just one tooth difference made us suspect that the 1x12 is reaching its limit. A suspicion that is confirmed after knowing about this SRAM patent in which we see a new double chainring system without a conventional derailleur.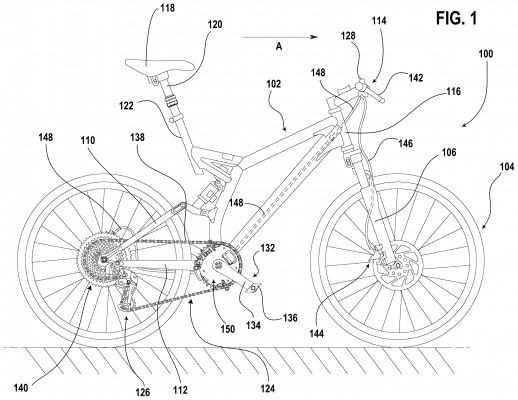 SRAM is developing a new wireless double chainring drivetrain according to this patent
A few years ago, the arrival of the single chainring drivetrain was a real revolution, with the manufacturer SRAM as its leading exponent. By eliminating the front derailleur, lightness and mechanical simplicity were gained, and thanks to the progressive increase in rear derailleurs, currently 12 speed and 13 speed (Rotor), a range of gears has been achieved that has a similar reach to drivetrains with 2 or 3 chainrings. But we already know that the cycling industry never stops and this new patent reveals that SRAM is working on new systems that could bring the two chainrings back on our bikes.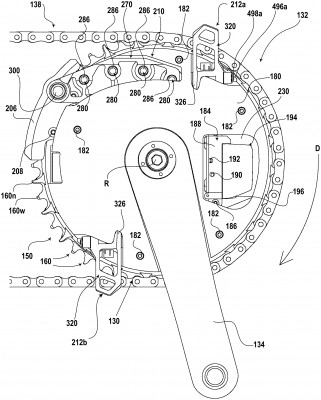 The patent was published last May and has come to light thanks to the Cyclingtips website. The whole system is wireless. Shifting would be done by two levers that move the chain to the smallest chainring. To switch back to the big chainring, there is a lever in between the chainrings. By turning the cranks, the chain is moved from the large to the small chainring and vice versa.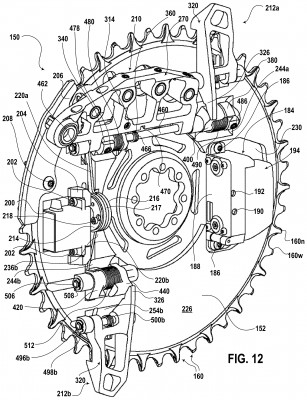 Obviously the system is much more complex as it includes several sensors to activate the shift and stop it when the chain is in the desired position, among hundreds of other details. The full patent can be seen here, and we can already tell you that with more than 30,000 words and 78 explanatory drawings it is too long, even for a patent to talk about.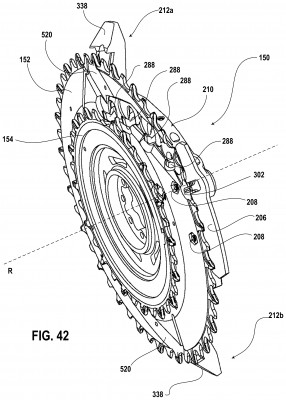 We already know that there are thousands of patents that never see the light of day and this might be one of them. But it's interesting to see that when most people think that SRAM should move to a 1x13 drivetrain, the brand is exploring other alternatives.