Specialized hides its star signing and a new Epic 2023?
A few days ago Specialized Factory Racing reported that it would announce new signings before the end of the year and now shares a publication in which under a time trial helmet hides one of the new additions. But there is much more. You only have to take a look at the bike to know that there are quite a few new features on it.
Specialized Factory Racing hides Martin Vidaurre in its latest release and what could be a new Specialized Epic 2023
It was already an open secret that the Chilean Martin Vidaurre will surely be Specialized's big signing for the next few years and this new publication confirms it. The cyclist poses with a time trial helmet that hides his face, but it is not difficult to recognise him.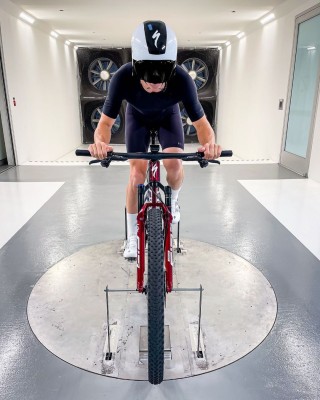 But apart from the star signing, in the image we may be looking at the new Specialized Epic 2023. We can only see the handlebars and the headset, but it looks like enough information to reveal a lot of new features.
The first thing that stands out is an integrated handlebar of which we have not yet seen anything in MTB by Specialized, we also find the new controllers that will be part of the next SRAM groupset, as well as the new SRAM Level brakes, we assume that they will keep the name, which have not been presented either.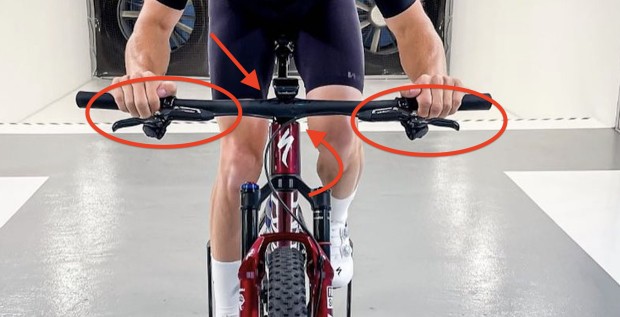 But the most important aspect is its cabling, which now enters directly through the head tube. A system that the current Epic does not yet have in the catalogue and which chooses to lead the rear brake hose through the left side of the frame. It also seems that the steering is not conical as in the current version, so we could be looking at a new Specialized Epic 2023 about to be launched on the market.
It is strange that a brand like Specialized leaks so many details in an unintentional way, so we can only think that the manufacturer's strategy of creating expectation is still working and this image has only been part of it.