Under-23 rider Riley Amos joins Trek Factory Racing
In 2021, American cyclist Riley Amos has had an exceptional season, winning two U23 World Cups at the age of 19 in his first year in the category. Now he has just announced that he will be part of Trek Factory Racing for next year.
Riley Amos signs for Trek Factory Racing
This young XCO talent has made a strong debut in the under-23 category despite the fact that his expectations at the beginning of the season were to get into the top 10 of every race. After finishing fifth and second in the first two rounds of the 2021 World Cup, he won the Leogang event to become the first American to win an Under-23 XCO World Cup. The next one, in Les Gets, he also won. After that he has had some irregular results due to mechanical and physical problems, but he still finished sixth overall. Here you can see all of Riley's results throughout this and previous seasons.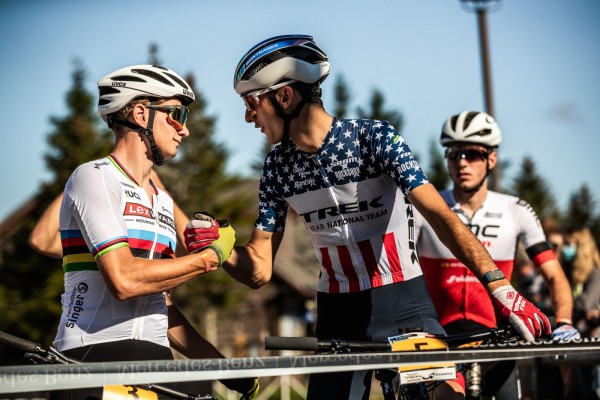 Although Riley has already been racing with Trek since 2019, as part of the Bear national team, with this debut and his projection it was no surprise that the factory's first team had already set its sights on him. Now the rider himself and the team have announced that Amos will be part of Trek Factory Racing in 2022.
"If you would have told me 3 years ago when I won my first National Championships riding for none other than Durango Devo that in 3 years i'd be teammates with the Olympic and World champion I would have NEVER believed you. I still don't. What an incredible opportunity made possible by so many people's love and belief, thank you all who have been a part of this journey. Looking forward to focusing on this sport full time, but also using this position to be more involved with the sport, the next generation, and make the world a better place. See you on the trails".
In 2022 Riley will continue to wear the stars and stripes jersey that recognises him as national under-23 champion and will be partnered by Jolanda Neff, world champion Evie Richards and New Zealand champion Anton Cooper. We found it strange that the team itself did not also mention Frenchman Stephane Tempier as a team-mate, which makes us think that it is a mistake or that there may still be time for some more moves at Trek Factory Racing for next season.