O'Connor wins a brutal stage and Pogacar once again sets everyone off the pace
Today is one of those days when calm returns. After a spectacular week of the Tour de France, everything seemed to return to its place, the waters to its course. The riders who have been giving spectacle during the first stages, retired and many of the favorites too. That's why there was a feeling of the end of a part of this Tour de France 2021 that has been a spectacle. But that did not prevent a very hard day because of the profile and the weather. O'Connor won and Pogacar will win.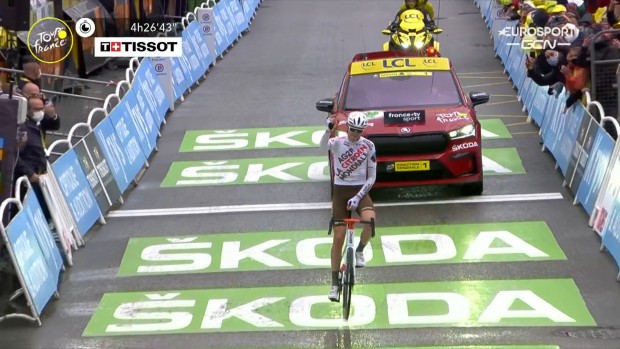 Attacks and spectacle in the 9th stage of the Tour de France 2021
It doesn't mean that there is nothing left to tell. Not at all. In fact, another mountain stage was coming up and it remained to be seen if Pogacar was still a motorcycle or if he was going to feel yesterday's effort. When it came to the finish line he didn't push, and let Izagirre and Woods get in front of him, giving up even the bonuses. He was obviously exhausted and obviously the effort was tremendous, but whether or not he was going to pay for it was one of the doubts.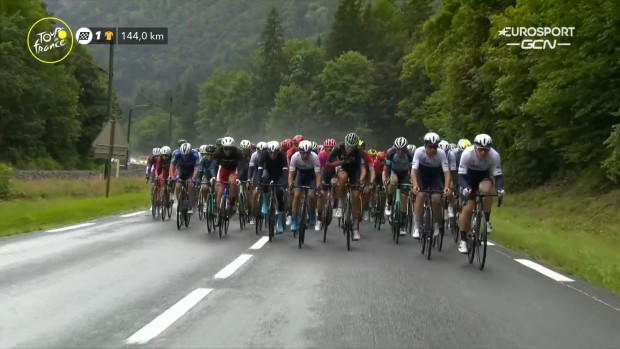 There was no doubt about yesterday's sifting: several withdrawals for various reasons. The most notable were Van der Poel, who came to do what he has done and is leaving for the Olympic Games after losing the yellow jersey yesterday; and Primoz Roglic, who was not well and a hard fall ended up ending his participation in this Tour. They were joined by others such as Tim Merlier, who took his stage win, Jasper de Buyst and Nans Peters.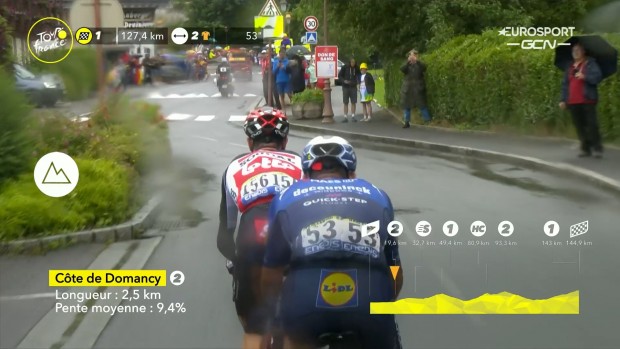 The first breakaways were made by Sweeny and Ballerini and the first attack attempts were high, like yesterday: Alaphilippe tried but did not succeed, at least at the first attempt. A couple of hatchets that cyclists like Richie Porte or Geraint Thomas noticed again. There will be some revenge riders who after the absolutism of Sky and Ineos for years understand that they deserve it, but the reality is that without Ineos it is very difficult for a single team to exercise control of the peloton. Israel tried, but not even close.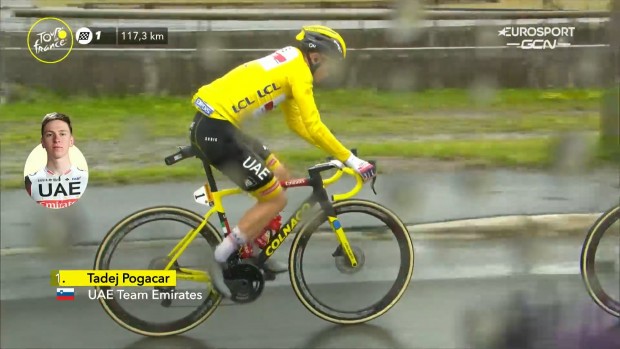 Between so many attacks, a small group of about 20 riders was formed with Poels, Teuns, Matthews or Alaphilippe; and in the meantime, the presence of rain and more crashes. The hardest was suffered by Enric Mas. Quickly the teammates acted, Valverde gave him the bike and he was able to continue. Good work by Movistar in a commendable reaction. Ahead, there were only 6 of those 20, with Kung, Jensen, Matthews, Alaphilippe, Teuns (amazing after yesterday) and Colbrelli. Just 20 seconds ahead, but a good try. With a good job they grabbed more than 1:30.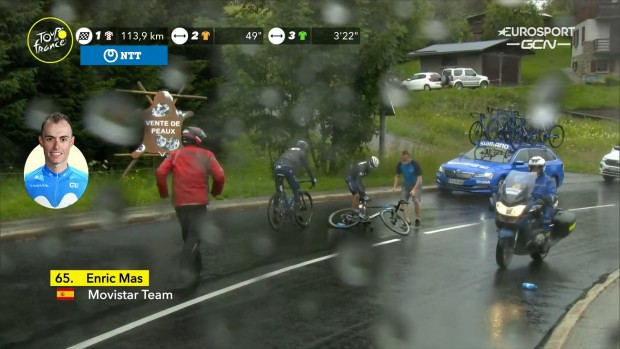 Great O'Connor and spectacular Pogacar
A second breakaway came into contact and formed a very considerable group of about 40 riders, including Nairo Quintana, who began to establish an important pace. Well done to the Colombian. But ahead, everything was crazy: Poels went alone in the lead, a second group with Nairo and Omar Fraile also pressed the pace and distanced themselves and went to catch Wout Poels. The Bahrain rider did not look back, and better, because Nairo arrived with enough solvency, caught him and took the lead of the race alone. Nobody could follow him, but the Colombian couldn't distance himself too much either. The suspicions we had were confirmed: in the end, if you don't open up a gap, you end up converging. And that's what happened, everyone, including Poels and Nairo, ended up rejoining the previous group. In fact, the effort took its toll on Poels, who dropped back with Woods. Yesterday's effort, as we said, was claiming its first victims.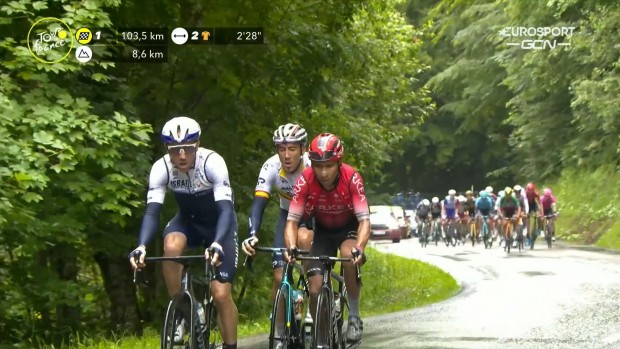 Even so, the forces were so measured and the pace so constant, that both were constantly reengaging and disengaging.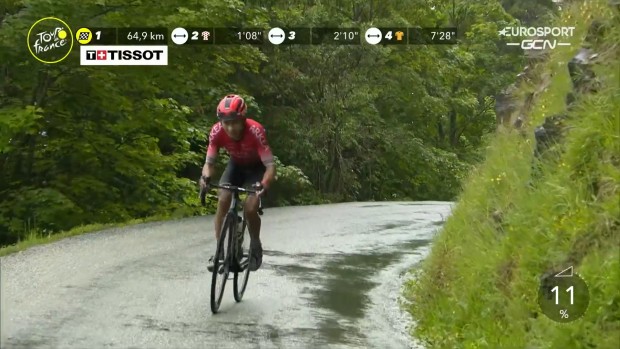 Behind, Van Aert, who yesterday slackened but went from more to less, also lost momentum and disconnected from the peloton. More arguments for Pogacar that the important thing is not to suffer a catastrophe because he has everything to win his second Tour de France.
Ahead, again, Nairo attacked. He looked the strongest in today's day, with a dreadful weather. Only his compatriot Sergio Higuita managed to get on his wheel, although Ben O'Connor also came in but was quickly dropped. The Australian Ag2r rider was the virtual leader at that moment, but he looked extremely insecure on the downhill and lost ground, in fact he even dropped off the Colombian duo.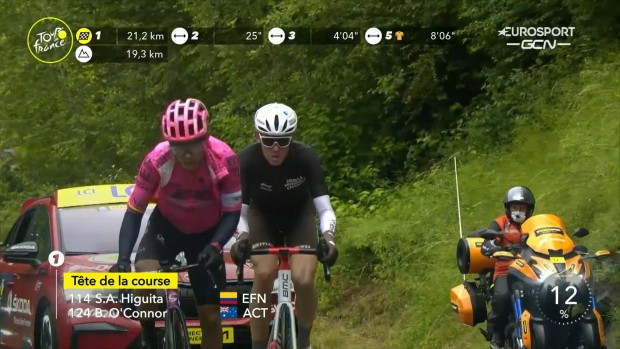 Nairo, meanwhile, cannibalized the points of the mountain: it is already the Arkea Samsic's polka dot jersey. But he paid for yesterday's and today's effort and dropped 22 kilometers from the finish line. In the last 6 kilometers there were still almost 5 kilometers of mountain passes to go, so O'Connor took his place in the fight for the yellow jersey for the last part of the stage, at the gates of Tignes. A stage for him and for AG2R and he is now in the fight for a good position in the general ranking. The Tour de France 2021 is not to be won because there is a clear favorite, but it is to make a podium in the absence of candidates, so any rider in form these two weeks can touch part of the glory in Paris. In the favorites group, Ineos pulled with Castroviejo and Thomas preparing a predictable attack by Carapaz. It looked like they wanted to test Pogacar's strength.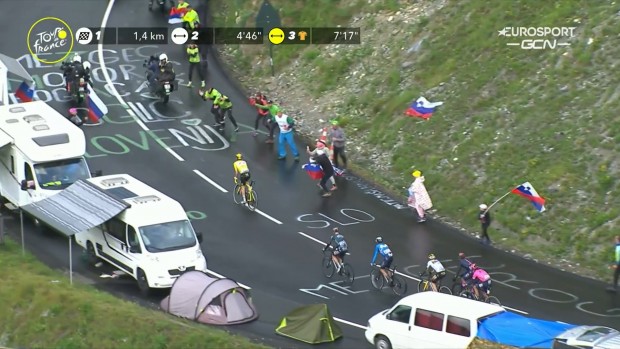 And yes, Carapaz attacked but Pogacar stuck to his wheel, no need for more. And of course, if you attack me, I'll attack you back: Pogacar attacked and went away without any problems. He is at another level, so the fight will be for the podium as we say, and whoever manages to stick to Tadej Pogacar's wheel has a lot done. And that's the summary: others win, today it was O'Connor, but only one wins: Tadej Pogacar. This looks like even fear of attacking the Slovenian. Great stage and we confirm the place of Pogacar in the current world cycling: he is the best, no doubt.
STAGE 9
O´Connor, B. - AG2R | 4:26:43
Cattaneo, M. - Deceuninck Quick Step | +5:07
Colbrelli, S. - Bahrain | +5:34
Martin, G. - Cofidis | +5:36
Bonnamour, F. - B&B | 6:02
Pogacar, T. - UAE | 6:02
Carapaz, R. - Ineos | 6:34
GENERAL RANKING
Pogacar, T. - UAE | 34:11:10
O´Connor, B. - AG2R | +2:01
Uran, R. - Education First | +5:18