Pidcock wins and Van der Poel suffers a hard crash in the Superprestige CX in Boom
The Boom 2022 CX Superprestige was going to be a new duel, before the Antwerp World Cup, between Van der Poel and Pidcock, but a hard crash of the Dutch rider in the hard part of the circuit has deprived us of seeing them both competing for the victory. In the end Pidcock won with authority, while Van der Poel managed to finish despite the doubts caused by the crash.
Pidcock wins with authority after a hard crash for Van der Poel
 

 

 

Ver esta publicación en Instagram
From the start of the race it was clear that victory would be between the two stars of the day. British Tom Pidcock and Mathieu van der Poel made sure to take the lead despite their difficult grid position, and the pair soon opened up a gap over the rest of the riders. 
But it was when the pair were riding alone in the lead that Van der Poel suffered a hard crash on the cobbles in a corner. Pidcock could do nothing to avoid him and also fell, but while Van der Poel was left sore on the ground and taking account of the damage, Pidcock was able to continue the race.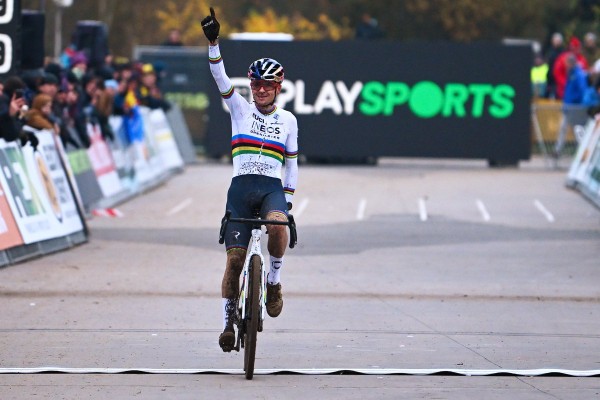 Pidcock's advantage over the rest was soon back to 8 seconds and his superiority was maintained until the finish line, which allowed him to take his second victory of the season. For his part, Van der Poel managed to finish in thirteenth position, although he had to start a new race riding from the penultimate position after the crash.
After the race, Van der Poel confirmed that he hurt his shoulder and knee badly.
"I did hurt myself, especially on my shoulder and knee." "That surprised me a bit. I was just riding to finish so I wouldn't get too stiff and to get some cross rhythm."
"Especialmente en las dos primeras vueltas tuve dolor en el hombro y la rodilla, pero al final las cosas mejoraron un poco".

"Those first two laps my shoulder and knee hurt, but in the end it went well. You don't have to, but it's often best to keep going after a crash. In the beginning it really didn't work, later it started to run a bit better. Although it's not like I've really found my rhythm again. But I will be at the start tomorrow."
Despite the incident, all signs point to the Dutch rider being recovered for the next round of the Cyclo-cross World Cup.
Results CX Boom Superprestige 2022
Tom Pidcock in 59'42"
Lars van der Haar 10"
Eli Iserbyt 13"
Michael Vanthourenhout 43"
Laurens Sweeck 1'10"
Ryan Kamp 1'17"
Jens Adams 1'21"
Kevin Kuhn 1'28"
Jente Michels 1'32"
Niels Vandeputte 1'46"