Scott Foil RC Ultimate 2023, we test in depth the new model of the brand
We have been able to squeeze the most out of one of the first units of the new Scott Foil RC Ultimate, the 4th generation of the model that revolutionised the aerodynamics of road bikes, setting a line to follow that many continue to emulate in their fastest models.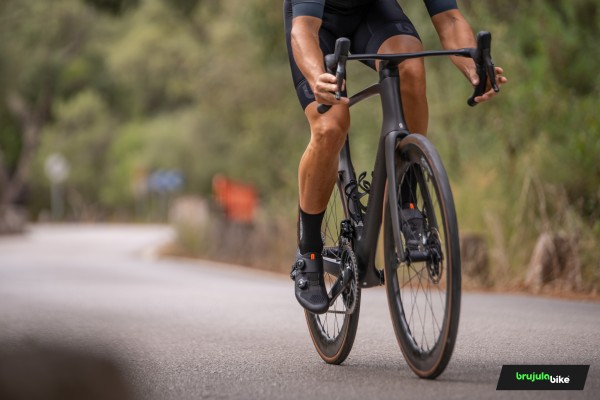 Flying with the new Scott Foil RC Ultimate 2023
It' s not often that you can boast of having known a bike since the appearance of a certain model and having been able to enjoy all of them since Scott introduced its first Foil in mid-2011. A model that found a way to incorporate the most functional aerodynamics to road bikes without sacrificing lateral stiffness, comfort and weight.
Until then, only Cervélo had dared to use aerodynamics as a way to improve the performance of racing bikes, but in a classic way with deep and sharp profiles.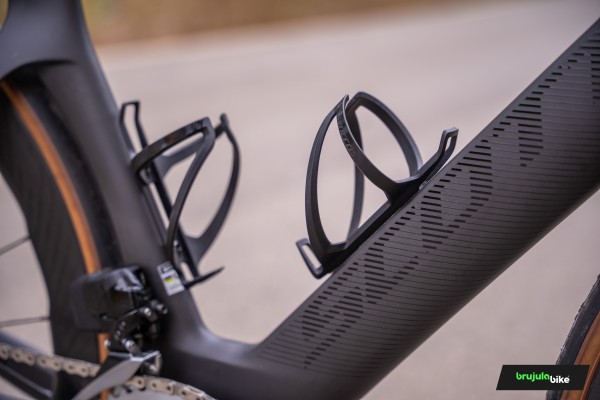 However, Scott developed the F01 concept for the Foil, which opted to shorten the tail of the airfoils after CFD simulations and wind tunnel tests showed that the truncated airfoil behaved much the same way as a full airfoil in guiding the airflow.
These more compact tubes allowed the construction of the bikes to be improved, lightening the weight by eliminating the material that would correspond to the tail of the profiles and improving lateral stiffness and absorption by having more lateral section and not so much in the longitudinal plane.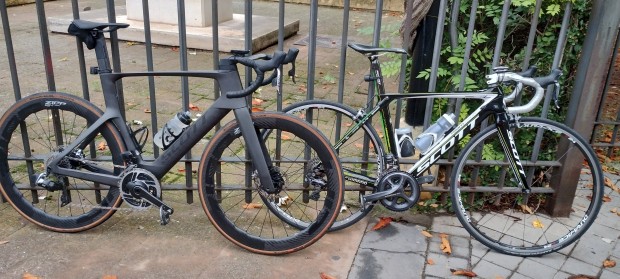 The Scott Foil found a practical way to apply aerodynamics, creating a paradigm that has led to practically all bikes on the market incorporating aerodynamic profiles to a greater or lesser extent.
The next evolution would move the rear brake to a location under the chainstays, a popular solution at the time. It also opted for lower stays that made the rear end more compact and a stem with integrated steering lines. Disc brakes arrived in the 3rd generation, with similar lines, deeper profiles and small flaps to reduce interference from the front brake caliper.
The new SCOTT Foil reaches the ultimate tech innovations
This Scott Foil RC Ultimate that arrives in shops in 2023 includes the latest technological innovations that have emerged since its previous version but without losing the essence of a purely aerodynamic model as opposed to the step backwards of many brands that have been reversing their fastest models towards a more versatile concept.
The 4th generation Scott Foil RC Ultimate has been designed based on the new UCI standards that affect the aerodynamic profile dimensions, which are much more permissive and have allowed the use of deeper and wider sections, something that is evident in the depth of the head tube, the tremendous horizontal tube or the generous seat tube that in its lower part follows the contour of the wheel as a fairing. Also important in reducing drag is the lower section at the junction between the seat tube and down tube which, while providing aerodynamic advantages, makes the bottom bracket area stiffer.
La 4ª generación de Scott Foil RC Ultimate se ha diseñado en base a las nuevas normas UCI que afectan a las cotas de los perfiles aerodinámicos, mucho más permisivas y que han permitido usar secciones más profundas y anchas, algo que queda patente en la profundidad de la pipa de dirección, el tremendo tubo horizontal o el generoso tubo de sillín que en su parte baja sigue el contorno de la rueda a modo de carenado. También importante a la hora de reducir la resistencia es el tramo inferior en la unión entre tubo de sillín y diagonal que, a la vez que aporta ventajas aerodinámicas, logra hacer más rígida la zona del pedalier.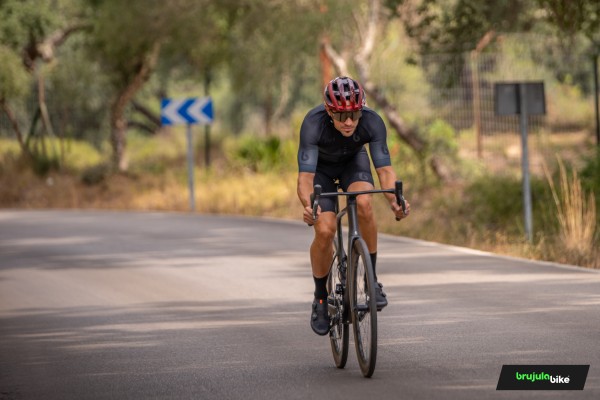 During the rides we have been able to do on our usual roads during the days we have been able to enjoy this new Scott Foil RC Ultimate is precisely the stiffness provided by its frame made of HMX SL carbon, the highest quality fibres available in the Scott catalogue, the most remarkable aspect of this bike.
A structural solidity that is very evident not only when accelerating the bike or maintaining high speeds by pushing hard, but also in the riding precision and tremendous speed of reaction that is reinforced by the sporty dimensions of its geometry.
It is extremely easy to ride in a group at full speed with this Foil RC Ultimate and it is also easy, as long as the strength is there, to accelerate by simply dropping a gear and perceiving that we are starting to move up in the group with impressive ease.
Impressive integration
Being the top of the range model, Scott has not skimped when it comes to equipping this Foil RC Ultimate, leaving it in the hands of its components firm Syncros to create an integrated handlebar and stem set specifically for this bike. It has comfortable dimensions and is stiff and light. And, as is a must on any modern bike, it guides the brake hoses completely internally to their destination via the eccentric steerer that it mounts.
However, in comparison with the tremendous solidity of the rest of the frame, it would perhaps be desirable that the handlebars were also a little stiffer than they already are, so that the behaviour between the two elements would not be so pronounced, as there is a certain amount of flex when standing up, not to mention when sprinting.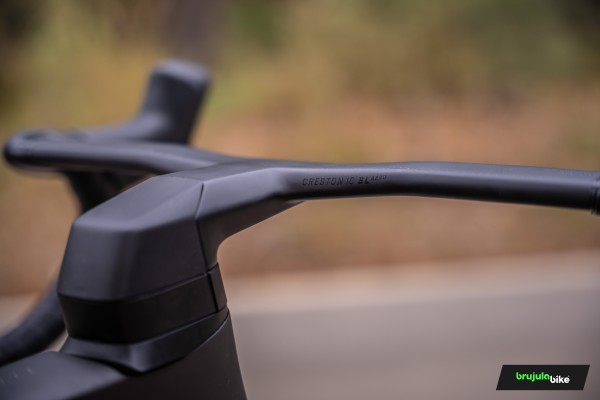 We would also have liked it to be narrower, at least at the top, to maximise the bike's aerodynamic qualities. In the size 56 we tested, the standard width is 42cm. Perhaps it's just that we've got used to the narrow handlebars that are in fashion these days and now this size seems wide to us, when not so long ago it was the other way around.
Following by the components that Syncros contributes to this bike, it deserves a special mention its Duncan SL Aero CFT seatpost. A design of seatpost divided in two parts, capable of sliding between them and with a front area of tiny section to allow a remarkable flex that absorbs the impacts and sweeten the tremendous stiffness of the Foil RC frame.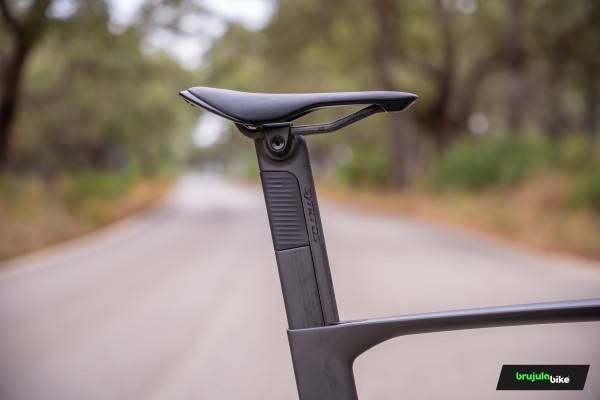 We have done rides of more than 3 hours, with some stretches of crushed asphalt and we have to applaud the good performance of it because at no time have we felt discomfort or that fatigue that ends up burdening our back when we have spent many hours dealing with the beating that rises from the asphalt.
It is also true that the 28 mm tyres fitted as standard have a lot to say in terms of comfort. A tyre size for which the aerodynamics of the bike have been optimised and which is becoming increasingly common on new models.
If they are also tubeless like these and are mounted on wide groove rims like the 23 mm of the Zipp 454 NSW, the result is that we can lower the pressure to very low levels - 3.1 bar at the front and 3.7 bar at the rear we use for the more than 80 kg we've been carrying lately, following the indications of the Zipp application - which gives us a tremendous level of comfort as well as a feeling of almost infinite cornering grip with no sensation of flutter or inaccuracy.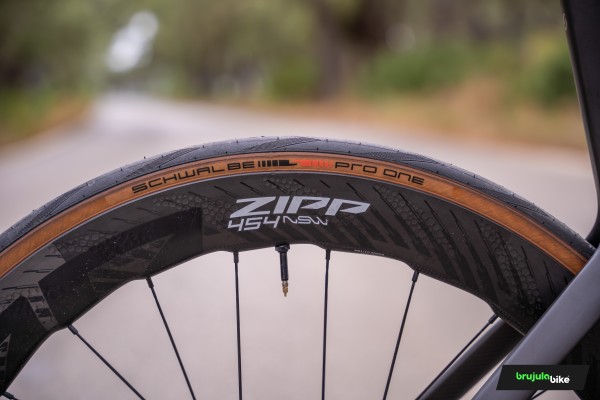 In fact, we loved the feeling of poise on several fast descents, at more than 70 km/h, on good roads and long curves of those where you lie down at full speed and your head asks you to brake, which with the Foil RC Ultimate we were able to do in an aerodynamic position while enjoying a full sense of control.
An infallible combination
A pleasure to meet again with the SRAM Red eTap AXS groupset on this Scott Foil RC Ultimate. A groupset that, personally, we have been in love with since its first versions due to its shifting system by shifting up with the left hand and shifting down with the right. We must admit that we have even configured Shimano groupsets with this operation.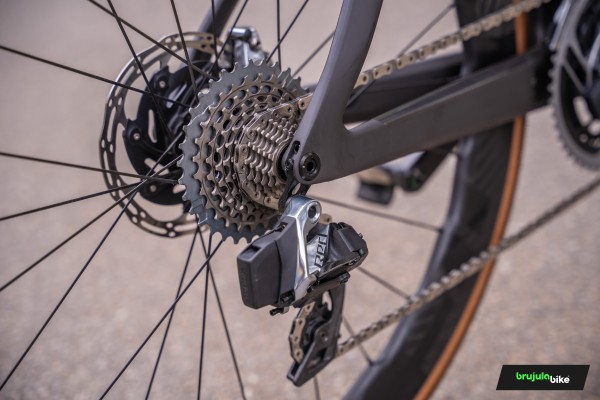 But beyond its peculiar way of choosing a gear ratio, it is a groupset that shows neat and forceful shifting, although there are those who still accuse it of a certain sluggishness, thanks to how well the Orbit stabilisation system of the pulley box and its derailleur works. Beyond performance, for sporty touring use, the 48/35 chainrings with the 10-33 cassette allow you to tackle a wide variety of terrain with plenty of range at both ends and very progressive jumps between ratios, except for the one from sprocket 11 to 10, which is always noticeable and which we have used on few occasions.
We also like to highlight the excellent braking performance of the SRAM Red eTap AXS. Powerful and very progressive. In addition to this, we have to add how well resolved is the adjustment of the contact point with which we can customize in detail the feel of the lever to achieve the one we feel most comfortable with. Who already remembers the problems suffered by those first HRD brakes with which SRAM was presented as a pioneer in the implementation of disc brakes?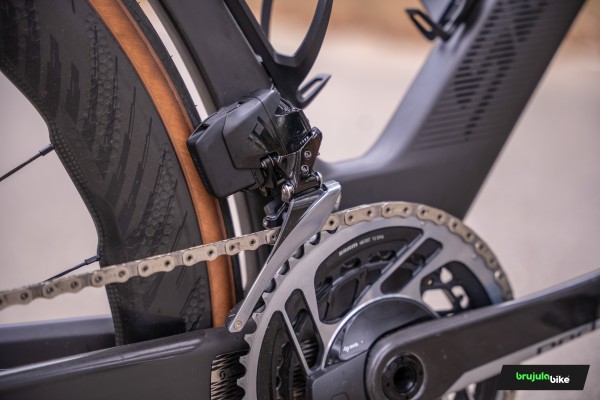 We mentioned before the Zipp 454 NSW, undoubtedly the ideal complement to the SRAM groupset. A real delight worthy of a top-of-the-range bike like this Scott Foil RC Ultimate. Very light wheels that help to contain the extra weight of the groupset, and at the same time very solid in lateral supports and stable in side wind conditions despite its tremendous 58 mm profile.
Enjoying the Scott Foil RC Ultimate
It's nothing new to say that a purely aerodynamic bike like the Scott Foil RC Ultimate is best enjoyed if you ride in areas without too much gradient. That's not to say that you have to stick to the flat to enjoy it. The easy change of pace makes it very enjoyable on broken, classic type terrain.
Obviously, mountain passes are not its thing. Not because of the weight, which is not excessive considering the frame and wheel profiles, but because it's lazier when it comes to alternating between standing and sitting. In fact, with this Foil RC Ultimate we feel much more comfortable staying as long as possible on the saddle and opting to raise the gears and raise the cadence, even on short climbs.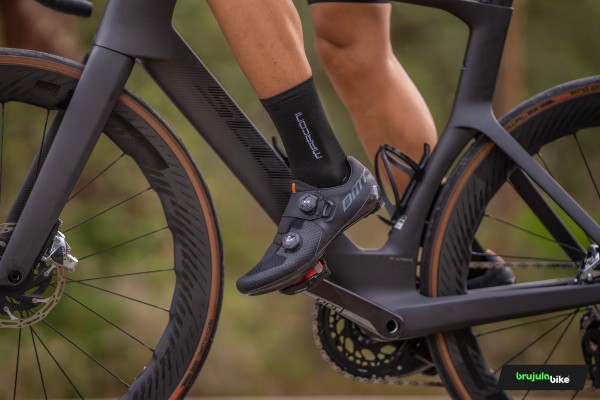 In any case, it has plenty of gears to tackle any type of terrain and, when facing mountain passes, its ability to transfer power effectively is very usable if you're a rider who's more into watts than kilos in the famous power-to-weight ratio. A type of cyclist who, when the flat or downhills arrive, will be able to do some real damage with this Foil RC Ultimate, which, when the speed increases, comes to life in a simply magical way.
Having pushed it to the limit, the conclusion is that the Foil line is still a very valid concept, even though the head might suggest that a more versatile bike like the Addict RC model would make more sense. Especially, as we mentioned earlier, for those riders who live in areas where flat terrain predominates and where a bike like this Foil RC is a definite bonus when the speed picks up.
Scott Foil RC Ultimate: set-up and weight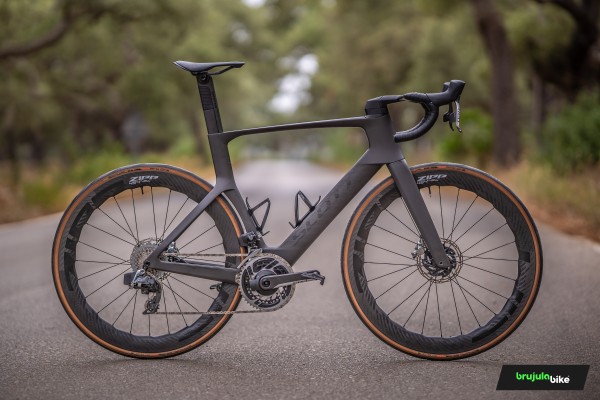 Frame: Foil RC Disc HMX SL
Fork: Foil RC Disc HMX SL
Groupset: SRAM Red eTap AXS. Crankset with Quarq power meter. 48/35 chainring, 10-33 cassette.
Handlebar/Stem: Syncros Creston iC SL Aero
Seatpost: Syncros Duncan SL Aero CFT
Saddle: Syncros Belcarra V-Concept 1.0
Wheels: Zipp 454 NSW
Tyres: Schawalbe Pro One, 700x28c
Portabidones: Syncros Coupe SL
Weight: 7,22 kg (size 56, without pedals, 2 bottle cages included)
Price: Still no price from the brand.