Pauline Ferrand-Prevot suffers from a hip injury that is causing her to underperform and threatens the CX World Championships
After an impressive 2022 season, Pauline Ferrand-Prevot has failed to shine in her return, after two years of absence, to cyclocross in a campaign in which she had set her sights on the rainbow jersey of the specialty. A persistent injury in her hip has deprived us of seeing her at full strength and even makes her reconsider the remainder of the mud season.

Pauline Ferrand-Prevot is doubtful for the World Cyclocross Championship in Hoogerheide
Two seventh places, without ever getting close to the lead, is Pauline Ferrand-Prevot's best result in the seven races she has raced this cyclocross season since her debut at the iconic Koppenbergcross at the beginning of November, where she finished twelfth.
It has not been the dream start of the season for the French rider in her new stage wearing the colors of the all-powerful INEOS Grenadiers in which she had set as her first goal to win the World Cyclocross Championship that will take place next February 4th in the Dutch town of Hoogerheide.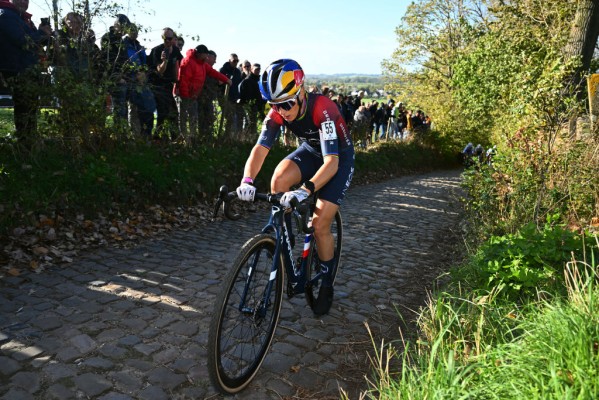 All alarms went off when Ferrand-Prevot finished almost 6 minutes behind Shirin van Anrooij in the Gavere World Cup. There, Pauline Ferrand-Prevot could only finish in a discreet 27th place.
Speaking after the race, Pauline Ferrand-Prevot confessed "I have a slight injury that we don't know what it is. We have changed several things on the bike, actually we have changed everything. I notice that after a few meters a pain appears in my hip and I can't push".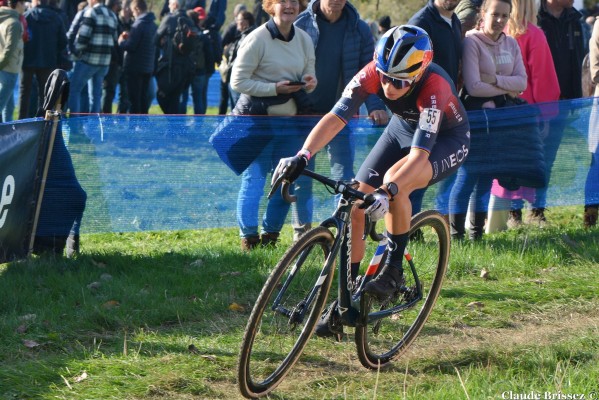 Some persistent problems that make her consider her participation in the World Cyclocross Championships. "We'll have to talk about it with the team", Pauline said after her participation in Gavere, although she specified that nothing has been decided yet.
This injury has prevented Pauline Ferrand-Prevot from maintaining the dynamics of the 2022 season, one of the best in the prolific career of the French cyclist, with the achievement of no less than 4 World Championships in the specialties of Short Track, XCO, Marathon and in the first edition of the Gravel World Championship. Adding the Cyclocross rainbow, a title that she has not achieved since 2015, had become the next goal in a record that, in any case, is very enviable.