We tested Gobik's KAMIK BLACK overshoes and give them an "A" for cold or rain
The feet and hands are the areas that suffer most on rainy and cold days on the bike. They are very exposed to the wind and are difficult to warm up even when we are doing intense exercise, so it is best to try and protect them with a good insulating layer. For those who don't want or don't have a pair of winter shoes, overshoes are an excellent option and these KAMIK BLACK by Gobik are one of the best we have ever tried.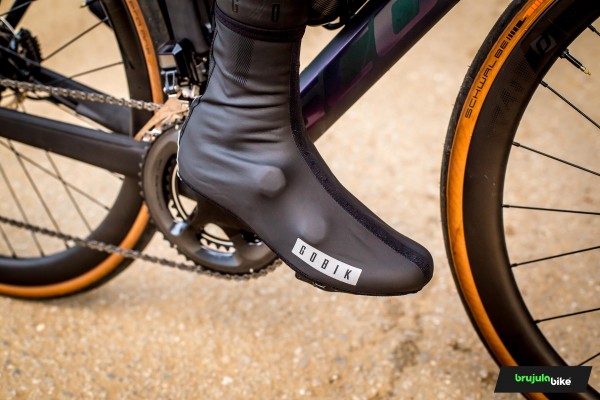 Gobik's KAMIK BLACK overshoes, the best partner against cold and rain
The feeling of comfort on the bike changes completely if we manage to keep our feet and hands warm, and on cold or rainy days not being well equipped can be a very unpleasant situation. I'm sure all those who have experienced it remember well the sharp pain caused by the cold and the helplessness of not having enough control even to stop or change gear. These are the moments when you promise to invest in the necessary equipment so that it doesn't happen again.
Specific winter cycling shoes are a good option to combat adverse weather, but the biggest problem is that they are expensive and in latitudes like Spain they are used only a few days a year. That's why the overshoes are a great alternative to extend the use of our regular cycling shoes even on days when we are out riding in sub-zero temperatures.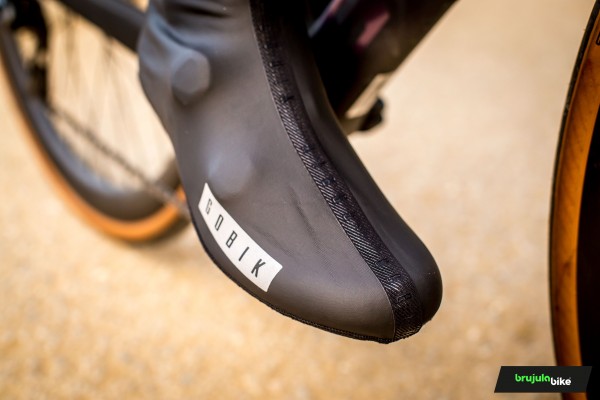 The Kamik Black overshoes from the Gobik brand are a robust accessory that flees from those minimalist garments to be worn in the jersey pocket. In return they offer outstanding thermal and waterproof protection, without any buts. We've tried them on several outings taking advantage of the current cold and rain wave, and we have nothing but praise for them.
The first thing to note is that this is a complement for cycling road shoes and the manufacturer himself specifies that its use in mountain bike could cause irreparable damage to the garment. But we will see this later in detail because we have already told you that we, at our own risk, have also decided to take them on the road in the mountains.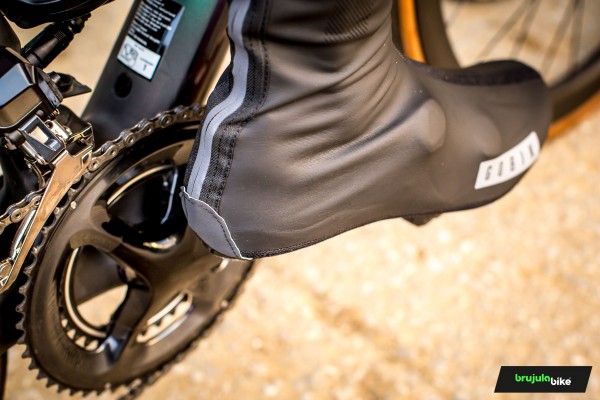 The Gobik Kamik Black is made of a highly elastic polyurethane compound in the upper exterior, which makes it fit perfectly into the shoe and offers an improved aerodynamics. The interior is lined with a comfortable mircrofleece fabric for thermal comfort, and the sole, with two generous holes for the cleat and heel, is made of SuperTex, a highly abrasion-resistant and highly durable material. At the back we find a comfortable and well reinforced zip that prevents the entrance of water and wind, it also finished with a high velcro closure that prevents the zip from opening with movement.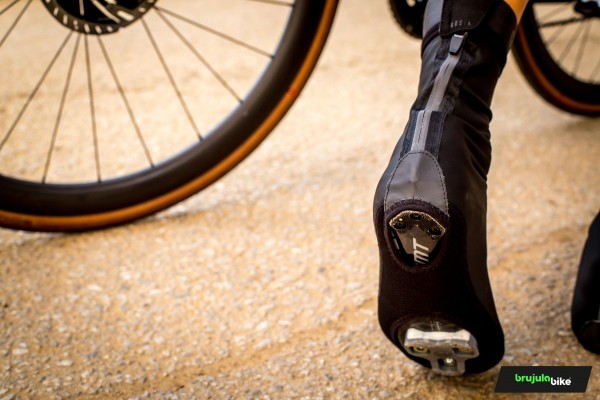 Wearing these overshoes is a simple task, but it requires a couple of minutes of quiet sitting to get them on. This is not a garment designed to be put on and taken off several times during the same outing. And once they are on, we can only say that they do not reduce the mobility of the ankle, they are really very comfortable.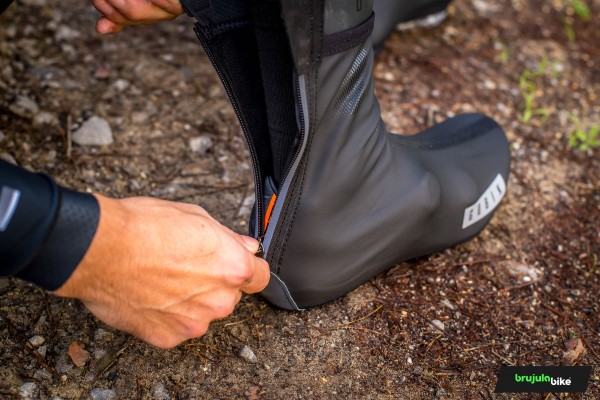 Riding with the Gobik KAMIK BLACK
As we have already said, we have had the opportunity to try them out on several outings, with and without rain, always in temperatures below 8º, and in all of them we have been happy to wear the Gobik Kamik Black on our feet. The ideal temperature range for their use suggested by the manufacturer is between -2º and 10º.
In those temperatures, normal cycling shoes and no rain in any case we had the feeling of suffocation, but we did feel warm and well protected. But it was during the most demanding test that we decided to give them an A. After a long climb in which we were accompanied by rain for just over an hour and a half, we finished the pass at over 1500m with some sleet. Up to this point our feet were hot and dry in spite of the rain and cold, but it was the turn of the downhill and now we were going to check if the wind, the water and the low temperatures were able to get through them. When we arrived home with numb hands and face, our feet were still warm and when we took off our Gobik Kamik Black, the cycling shoes were still as dry as they were at the beginning.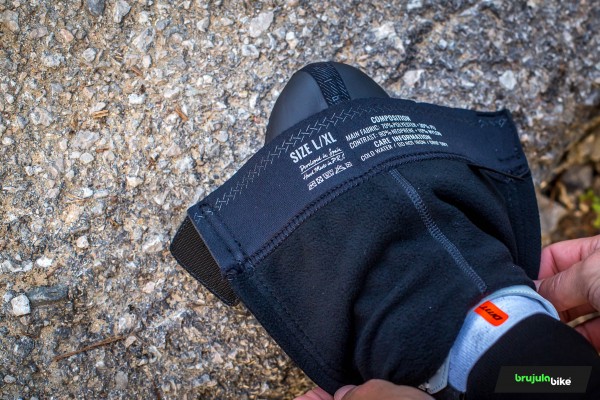 Can they be used on mountain bikes? 
Despite the brand's warnings that these overshoes should not be used for mountain biking, their good results in the cold encouraged us to try them out on a chilly morning riding on various mountain tracks. Obviously, when pedalling there is no problem and they protect just as well as on the road, but the problem comes when you have to put your foot down and the whole sole of the overshoe comes into contact with the stones and the mountain terrain. In our case we only stopped a couple of times during the route and at no time did we have to walk with them on, but if we had to do so the fabric of the sole, although very resistant, could be damaged very quickly and become practically useless, hence Gobik specifies that they are for exclusive use for road cycling shoes.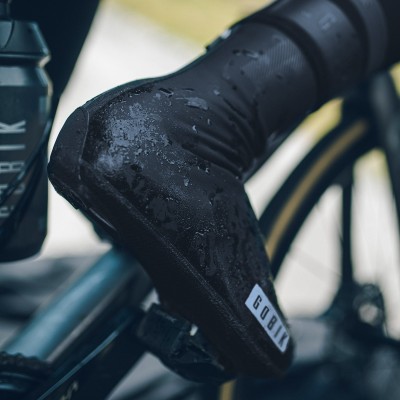 In short, the Gobik Kamik Black overshoes are a highly recommended product for those who, for just under 50 euros, want to ride comfortably in winter without having to change their road cycling shoes.
Gobik Kamik Black overshoes: specifications and price
Thermal and waterproof protection
Range of Use: -2ºC to 10ºC
Reflective elements on TOE, zipper and heel.
Manufactured with the combination of three fabrics (upper, inner and sole)
Available in sizes S-M (39-42) and L-XL (43-46)
Available in black colour
Exclusive use for road cycling shoes
Price 49€
Further information and purchase on the official Gobik website