The INEOS Grenadier will compete with BMC in 2021
The signing of Tom Pidcock by the Ineos Grenadier team has been one of the most talked about of the year. The young British talent has joined one of the best road cycling teams in history and both are sure to benefit. But with this union we have also detected a small problem. Ineos Grenadier has been linked to Italian bike manufacturer Pinarello for 11 years, with no MTB models in its catalogue, and Pidcock needs one for his MTB season - so on which bike will he compete?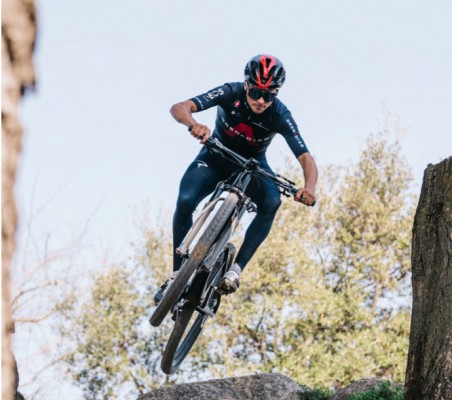 Tom Pidcock premieres MTB in 2021
Englishman Tom Pidcock is the current under-23 XCO and e-MTB World Champion, one of the trendiest "supercyclists" alongside Van der Poel and Van Aert. But his constant change of disciplines during the year means that he needs bikes of all kinds and very different models. Last year this issue was solved with Specialized, but in 2021 Pidcock needs at least one competitive mountain bike, which Pinarello, Ineos' main partner, does not have.
In this last video where we see Pidcock in Banyoles making a first concentration to tune up his mountain bike, the first thing that caught our attention is the great team of people around him, typical of a superteam like Ineos but difficult to see in this discipline and even less so alone for a cyclist. And secondly, the mountain bike on which he rides.
Both the team and the editor of the video took care to make sure that Pidcock's MTB would go unnoticed, so we see a completely black bike with no logos on it, and you have to look very closely to guess which model it is. But from these same images we have been able to discover that Tom Pidcock's new 2021 MTB will be the elegant BMC Fourstroke with SR Suntour suspension and Shimano components.
It will be an almost identical mountain bike to the one Jordan Sarrou rode last year to win the world championship.
This may be a minor issue but it is interesting to see how INEOS Grenadier, one of the biggest budget cycling teams in the world with huge sponsorship contracts, has to turn to an external brand because they have no material for a discipline they were not planning to participate in.