The 3 most exclusive turbo trainers
These turbo trainers are available to very few people. Very, very few. We have selected the 3 most exclusive and sophisticated turbo trainers in the market. Hold on tight, because you will most likely never see any of them live. Their technical characteristics and, above all, their prohibitive price make these 3 turbo trainers models unique objects. The sensations, however, must be very realistic. But you have to pay for such quality.
The 3 most exclusive turbo trainers in the world
As if they were collector's items, these three models have exceptional qualities, far from the whole common range of turbo trainers on the market.
OREKA TRAINING
The exclusivity of this made in Spain turbo trainer is based on a totally unique and innovative concept. It is impossible to create anything more realistic. The Oreka Training is aesthetically very similar to a treadmill, except for a rear attachment that adheres to our hub. From there, it will be like pedaling on this treadmill we were talking about.
The idea seems simple, but it only seems that way because the Spanish manufacturer has managed to create a minimalist but innovative turbo trainer. Why hasn't the system been copied? Because it's patented. The simulation is total, the cyclist's freedom is absolute. You can stand up, lean to one side or the other, tilt the bike to sprint or climb. Honestly, it's a blast.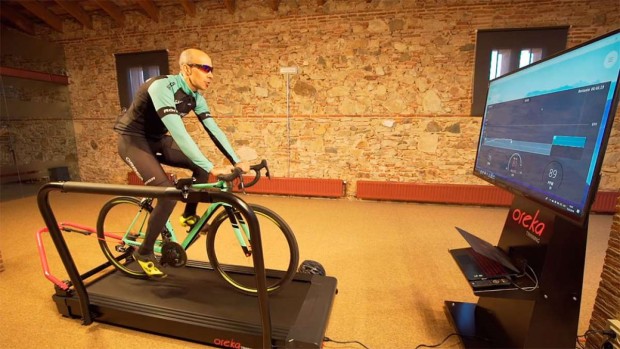 The Oreka Training automatically hardens or loosens the resistance, based on your pedaling, that is on your power, and on the information of the simulator you use. This is not easy, as it might give you a feeling of insecurity. But not at all: the turbo trainer is full of sensors that adjust all the parameters imperceptibly but precisely. In fact, if you want to stop pedalling, you just have to do it exactly like on the road: you brake and it stops. It's like magic. A rear-mounted sensor reports all this constantly.
The Oreka Training is priced at approximately 3600 euros. It is certainly a higher price than any other conventional turbo trainer but the sensations it offers are not comparable either.
BITELLI LUX
We already advanced it to you: the Bitelli Lux is not sold online, so the final price will depend on the distributor of your country.
The Bitelli Lux is a turbo trainer that, although it has been on the market for some time, is the summum of these products. Based on a system of pneumatic connections, a roller is built based on these connections, which are the ones that work wonders: these cushions incline the whole roller depending on the slope, both to ascend and to descend. In fact, in both cases, they can reach slopes that are close to a 20% gradient, which is amazing.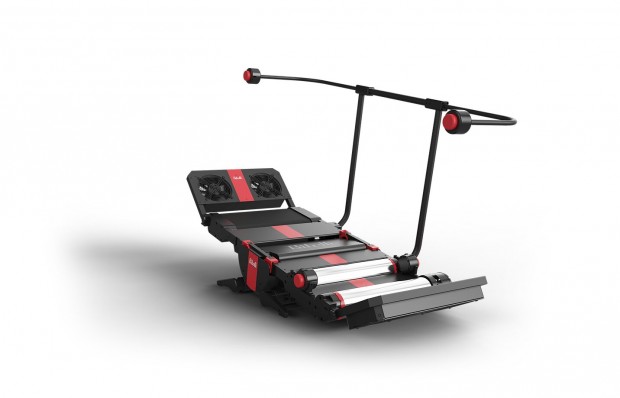 The Bitelli Lux incorporates a set of strategically placed fans to cool the rolling road but also to give an even more realistic feeling by simulating the wind. From there on, seeing images of its operation is astonishing, especially when it comes to the slopes.
It looks like a huge structure, but they've also done geometry here and the turbo trainer is foldable, taking up much less space.
TACX MAGNUM
It's a pity that this turbo trainer from one of the big brands in the industry is no longer produced. The truth is that there are still some on sale, and they can be found on the net for the not very accessible price of 8499€.
The Tacx Magnum Smart Trainer T9000 is a kind of mixture between the two previous models: a clearer similarity to a treadmill, but a regulation of the slopes very similar to that of the Bitelli Lux. In fact, it is intended to be used as a treadmill as well.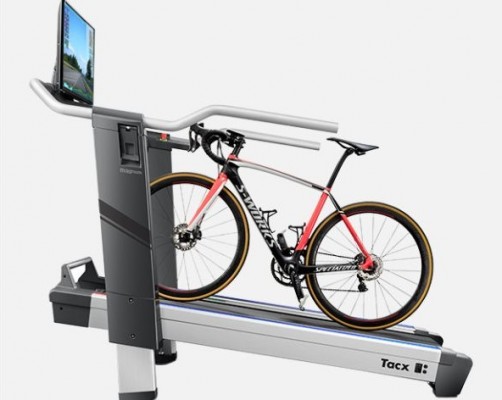 A series of infrared sensors will measure the position of your front wheel, to adapt the treadmill's path to your current pace, so getting off the treadmill is easy indeed, just by braking. The Martian aspect of this turbo trainer lies in its side bars, because they embed some stems that go out or in to simulate the slope. It is a real work of engineering at the same price as Sagan's bike, so it is accessible only to those who have never thought about its price. In fact, it was presented by Peter Sagan himself.
The turbo trainer: the best partner during confinement
Turbo trainers sales have skyrocketed above 500% during this confinement due to the coronavirus pandemic afflicting the planet. Cyclists, since they had to assume that they would remain confined, have chosen to purchase turbo trainers or treadmills and exercise at home while it lasts.
For most, the price range averages about 300 euros. A far cry from these three luxury models. But then again, dreaming is free, isn't it?