The traditional Christmas greeting made in Strava has arrived
Since 2017 the London cyclist Anthony Hoyte has been used to starting Christmas with an original greeting made only with his bicycle and using Strava as a canvas. Although 2020 is being a year full of changes and cancellations, at least here we have again the most cyclist Christmas greeting.

More than 9 hours on a bike to wish you a Merry Christmas 2020
As anyone can imagine, and Hoyte himself has stated on some occasions, his drawings on Strava require a great amount of pre-planning apart from the subsequent route.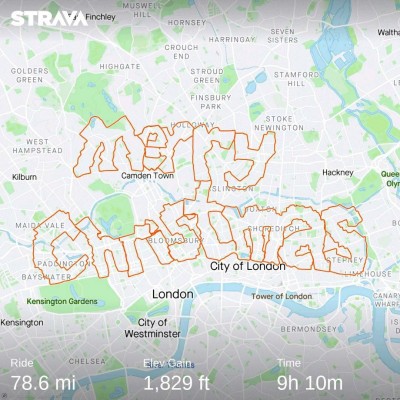 If we already found his previous drawings complicated, a snowman or Santa Claus, this one seems practically impossible at first sight, and Anthony Hoyte has explained that even after hours of planning, he had to solve on the spot some setbacks caused by park or street closures.
In total 126 km he rode in just over 9 hours to write Merry Christmas on the map of London.