Lachlan Morton will finish the year in "the toughest MTB race in the world"
In a conversation with him during the last Cape Epic, Lachlan Morton told us that he still had some adventure left to do before the end of 2021. Now he has announced that he will start The Munga on the 1st of December. A South African MTB race of 1,000 km in a single stage.
Lachlan Morton will finish the year at The Munga: 1,000 km of MTB in a single stage
The organisers of The Munga call it "the toughest mountain bike race on the planet" and although this is very subjective, it is an extraordinary challenge. Education First rider Lachlan Morton will finish a year that has seen him complete his Alt Tour and make his debut at the Cape Epic a few weeks ago.
 "To be honest, I don't know a huge amount about the specifics of the race apart from the fact that it's really long and very remote but I'm looking forward to discovering it as it goes."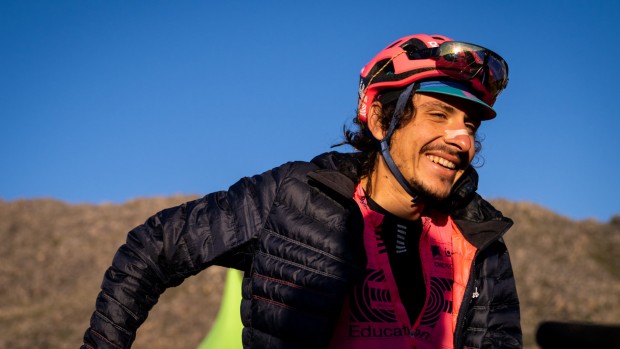 The Munga is a semi-self-sufficiency event that takes in some of the most arid areas of South Africa. Starting in the town of Bloemfontein and finishing at the Doolhof Vineyards in Wellington, participants must cover 1,100 km guided only by their GPS and navigation skills. In addition, there are only 10 hydration points and 5 villages, which are mandatory to pass through, where they will be able to get some food and help. 
"For this race, water is a big issue. It needs to be a priority, so I'm working out how much fluid to carry. And lighting is important of course because you're going to be doing some night riding so that's a main consideration."
The race accumulates about 6500 metres of positive elevation gain and participants have a maximum of 100 hours to finish the race.
There is nothing set in stone about stopping for the night and each cyclist can decide when and how to do it, but this is confusing for Lachlan: "The race is right on that limit of you need to sleep somewhere but you don't need to sleep a lot, so that's often difficult to work out. I could have this idea that I'm going to sleep at kilometer 500 for four hours and then get there and feel fine, but then get halfway through the next day and realize I'm really tired. My approach is generally if I feel tired and I want to stop, then I stop. If I feel fine and I'm not tired, I just keep going. When I need to sleep, I'll just aim for one of those race village checkpoints and get some rest. When I feel up to it, I'll just go again."
"The Munga is going to be very difficult, but I'm looking forward to having that one, singular challenge for a few days."
Neither the rider nor his team has yet made a statement on the bike he will use, but with 50% of the course on track, it seems the perfect scenario for the new Scalpel HT to achieve its first victory.