Interview with Milan Vader, the current number 3 in the UCI XCO ranking: "I haven't had a TV for 6 years"
The Dutchman Milan Vader has been one of the great successes of this season. In 2019 he made his debut in the elite category and in 2020, the KMC Orbea cyclist has been one of the most consistent in the World Cup, where he got two podiums, won the Dutch national title and was seen leading the World Championship until several falls left him out of the game.
His compatriot Hans Becking has had the opportunity to talk to him for Brujulabike and this is what he told us about his season and future plans.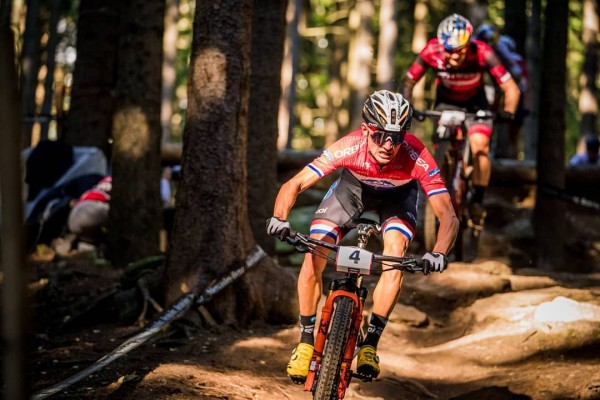 Interview with Milan Vader, a cyclist without limits
How are you? We suspect that you are resting now.
The Copa Catalana in Barcelona was my last race. Now it is indeed time for some rest, although that concept is relative. Normally I plan my off-season full of other things I don't have time for during the season. Besides mountain biking, I am a big fan of Moto GP and Formula 1. I always follow everything! Even if my races are on the same day, I look back at it in the evening. Inspired by Aleix Espargaro (also an Orbea rider), I've now started taking motorcycling lessons.
2020 was a strange year. Was the year mentally or physically heavier?
It certainly was a strange year, but for me it wasn't heavier than usual. I love cycling a lot and I've been able to do just that! I do look forward to another season full of races. There haven't been many this year.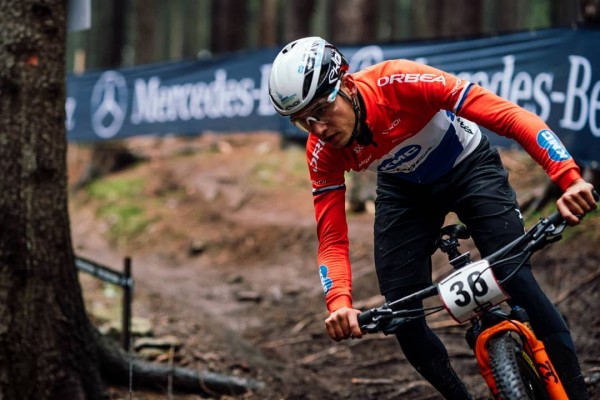 As a spectator I know that you are mentally very strong, is this a reason that you rode extra well this year?
My goal was to take advantage of this. I set all expectations aside and let everything come to me. That way you won't have any surprises and I could enjoy every moment on the bike. Both between the ribbons and outside!
Did you do things differently during the unexpected rest period or did you always follow the 'big' plan?
First I took it easy for 2 weeks to reset the body. After that I built up a good general condition, so when we got the green light I needed about 2 to 3 weeks to really get in shape. In addition, I used the time to try out new forms of training and paid a lot of attention to technique. As a Dutchman that is a bit more difficult, because we don't have a perfect mountain bike environment here. So now I had a good time to look for that environment. In addition, I shifted my usual altitude training in Livigno a bit to later in the year.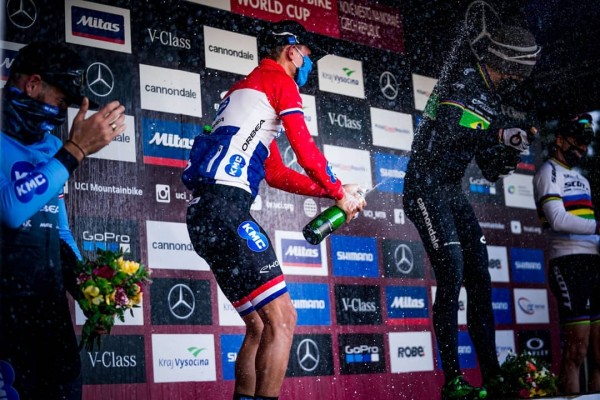 At an early age, you already dedicated your life to mountain biking. Can you summarize what were the most important choices for you to reach the MTB summit?
I left home when I was 17 and followed a full-time program towards the 2020 Olympics. The first years were all about development. I tried a lot of things and discovered what was the right approach for me. The fact that this investment (in the original Olympic year) is paying off is a very nice confirmation of the right approach.
Meanwhile you are 3rd on the UCI ranking. Did you ever dare to dream that? 
Haha, for sure! I believe that if you really want something, anything is possible. One condition is that you make a good plan and NEVER give up! But of course I will not settle for a 3rd place. I hope to climb the ranking a bit in the coming years.
Your multi-year plan is paying off. Who do you work with the most and help you the most?
I still work with the most of the people from the training program, but also my current team KMC ORBEA has helped me tremendously with the last step. They take away the worries around the races and give me a lot of confidence. We undoubtedly have one of the nicest teams. I get along well with all the riders and we have a nice mix of qualities. So everyone can learn something from each other.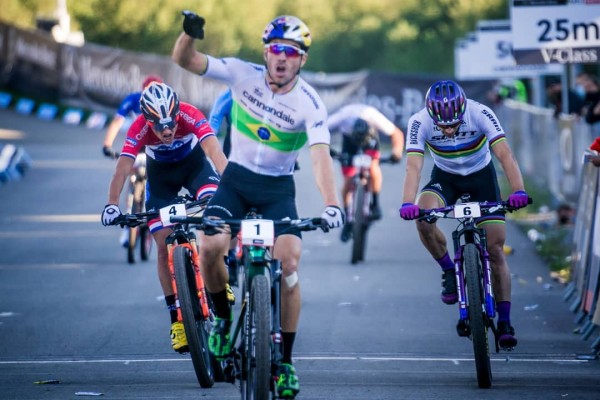 Nove Mesto were real thrillers. Did you often look back at the races?
To be honest, on the morning of the 2nd XCO race, I looked back at the first race, but not all. I stopped 2 laps before the end because I couldn't watch it anymore.
Are there things you would have done differently afterwards?
I think my learning process during World Cup week has been very good. I took points from each race to the next race. Looking back at the first race, I really saw the ''junior version'' of myself. Being in the lead for the big prizes is something special. There is a lot more to it than you think. That was uncomfortable for a while, but I think I can pick it up quickly. For example, I didn't do much wrong in the 2nd XCO race. I tried to get away on the final climb, but I wasn't strong enough. My motto remains: ''never shot is always wrong''.
What are you going to do next year to take that very small final step to win?
There are still plenty of points to improve, but that's in the details. That's how I learn new things about myself every day. Your body is like a machine and you have to try to adjust it as good as possible. That goes very far. Besides that I keep on increasing the training load capacity, of course. I have no doubt that I can be even better next year.  
The World Championship started super, you got a clear path, but what went wrong?
There are 1001 factors that affect performance, but if I have to highlight something I think I left a little too hard. I lost some concentration and crashed a couple of times. The week before the World Cup was also a new situation. Because we had so many races and the time was a bit short to rest and finish a good training. Maybe I wasn't very good that day either. I put this experience in my backpack and take it with me to the future.
Do you speak french fluently in the meantime?
Haha! Non. Even though they were impressed by my French mails at the team. Florian Vogel tipped me last year to use Deepl.com to translate texts. Apparently that works very well!
You are on the road a lot with your teammates and you know them through and through. Can you share a funny fact about your teammates that nobody knows?
Haha! I can write a complete book. We have a lot of fun together and are a close team. Malene often stays at the track after her race to encourage the guys without taking a shower after the race. That is not her favorite activity. And Thomas' parents had a restaurant. No wonder Thomas is a very good chef. Only before the competition he always makes very special recipes... Sometimes he tries rice with cornflakes and oatmeal mixed together, hahaha. 
Do you like to ride on Spanish soil?
Yes, I love to! It's great to see how mountainbiking lives in Spain. There are always a lot of spectators at the races and that gives a high. I also just love the Spanish culture. Within the Dutch federation I am also called a half-Spaniard. I met a good Spanish friend 2 years ago where I regularly stay in the winter. He lives near Alicante. A super nice area to train.
How did you like the Mediterranean Epic?
I'm an endurance rider, so a stage race suits me well. I always have the feeling that I don't get tired as fast as the rest. I battled all the stages for the victory and became 2nd in the final classification. Good memories and also for 2021 the Mediteranean Epic is marked on my list.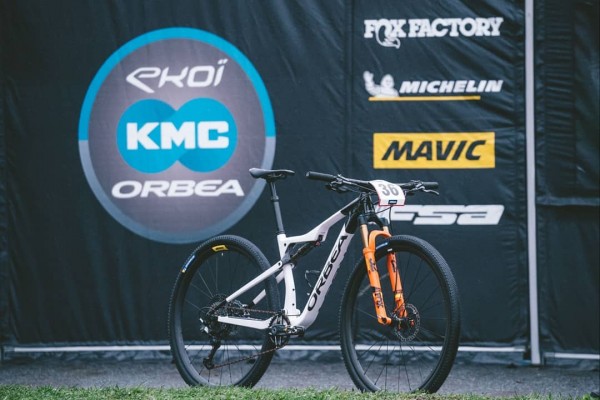 Next year the important Olympic season, if everything continues. Will this season be all about that one Olympic race? How do you handle it?
I have high hopes that it will happen. This year we've seen plenty of examples of how to organize a race safely. Of course, I want to be strong at the world cups and championships, but my focus is definitely on the Olympics. That's a dream I've been working towards for years!
Finally, I'd like to ask you for a few dilemmas, I'm sure you can explain your answer.
Training in the morning or afternoon?
In the morning. But a little later in the morning. When it's a bit warmer.
Low rolling resistance or a lot of grip?
Low rolling resistance!
Churros or patatas bravas? 
Certainly the patatas bravas. I have a preference for savory. Although at New Year I can replace the 'oliebollen' (typical Dutch round treats) for churros I just remembered.
Nove Mesto or Andorra? 
Nove Mesto. Because I now have my first and last World Cup podium here (Juniors 2014 - Elite 2020). But I also like the magical atmosphere in Andorra.
Fully or hardtail?
Fully. I am in love with the Orbea Oiz, haha! Without a doubt the best fully.
Co2 catridge or manual pump on training?
Hand pump.
Raincoat and fenders or indoor trainer?
Indoor trainer. Although I prefer to go to Spain to train in the sun.
Spanish or French wine?
Spanish wine. During a training camp in hotel Cap Negret this year we got a bottle of Carlos Coloma. That was super good! He promised me some more bottles.
Facebook or Instagram?
Instagram.
TV or book?
Book. I don't read many books, but I haven't had a TV for at least 6 years! If I read a book I should be able to learn something from it. Economics, world politics and sports are my favorite subjects.
Swiss Epic or Andalucia Bike Race?
I've never ridden both. Wouldn't know it! I believe both are a duo race, so I leave the choice up to Victor.
Espresso or cappuccino?
Espresso. I always drink espresso. From African bean to be precise.  Milk in the coffee I find dirty.
World champion plus World Cup everywhere or Olympic champion? 
That's very difficult. I go for both!