Interview with Maxime Marotte
Frenchman Maxime Marotte is one of the safe bets on the grid, no matter how the season goes because sooner or later Marotte will be fighting for the top places in any World Cup. At 34 years of age, he has twice been French Champion, has more than 20 World Cup podiums, is currently number 6 in the ranking and has just become a father for the first time. We were able to talk to him about the start of the season, the change of team and his goals for 2021 and this is what he told us.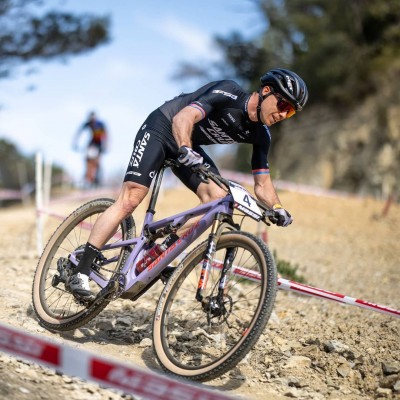 Interview with Maxime Marotte
Hi Maxime, how are you? First of all, congratulations on the birth of the baby.
I'm fine thanks! Yes, big moment on the personal life!
Have you gotten used to being a father? Does it influence your life as an athlete?
After the transition we finally found our pace. Our life is definitely different but in a good way! Yes, there is a different organisation and my days are a bit more busy but with a baby you finally find an extra energy. It helps to switch off and be focus on something else after your training which is very good for the mental balance.
You started the season in Banyoles. How did it go?
Very good, I was happy with the result and the way I raced. I know this track doesn't suit to me and the winter was tough at home also. Considering this, that was a good start.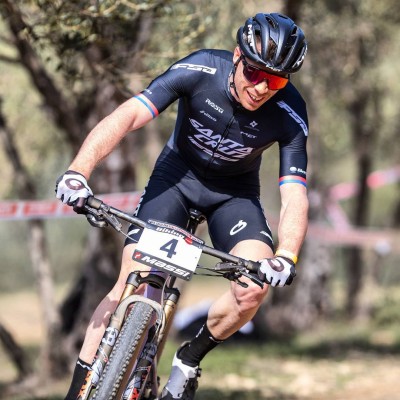 A week later you raced again in Italy. This was harder after a tough training block?
The week after I just got hit by the fatigue from the birth… Emotionally it was very big as you know and in the middle of a hard training block. At the same time with the covid nothing was easy to see my wife and Louis in the hospital, so I expected a tough race. But in the end it was better than I thought, again I was in the front early on, I just collapsed in the 2 last laps and I had to stop in the tech zone too.
How do you like racing in Spain?
Spain is generally a country of bikes, always a pleasure to come and race, good atmosphere, good level. I was also in Girona this winter for 10 days. People are respectful for cyclists and we can feel the passion for that all the time.
Are there any races planned in 2021 for you in Spain?
With the pandemic nothing can be planned too much but till the World Cup opening, I will not race in Spain. Let's see later in the year.
What is your favorite course in Spain?
Circuito Ricardo Tormo in Valencia on my motorbike (laughs).
Chelva last year was really cool to ride, very nice track and lovely people around.
We see you less often in stage races. Why is that?
I was doing more back in the days but since 4 5 years I was more on XCO but I was always doing Tankwa Trek in South Africa in February. To be fair a few years ago, I wasn't attracted by the races we had and some were not in a good place in the calendar like Cape Epic. Now the big stage races are more attractive. The XCC appeared also and I wanted to perform on it as well, I worked hard for that, I couldn't work on long efforts at the same time. But you will see me more on stage races in the next years because I can absorb now the load of racing XCO and Stage races.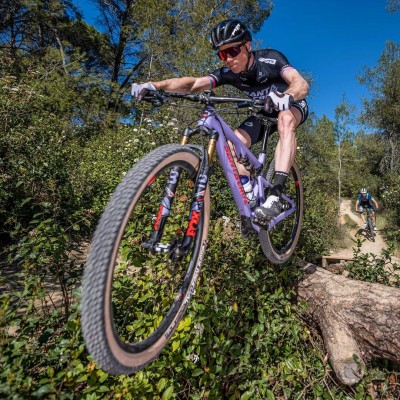 All the seasons that we follow you, we always find you at the front. You are particularly constant. Do you have an explanation for that?

Yes I am proud of that, a decade on World Cup podiums… we are just a very small amount that made this in history. With my coach we always had a career plan instead of a season plan. Since the beginning he thought about that, he doesn't like to cook athletes, he wants them fast as long as possible. So, I think I was never overtrained, we always found the balance. He knows me very well and I know myself also, I feel what I need to perform, I feel where I need to invest to progress and when the energy is too important for nothing I know how to step back. We all have an amount of energy to get at our best, the most important is to spend this energy very well and not throw it away for useless things… I don't have the biggest engine, but this capability is probably one of my biggest strength. We all have our own way to perform but finding the best one to yourself is a big challenge.
Mentally wise, I also managed to stay at this level because bicycle wasn't my only thing. I was a student till 2013, I have an engineer diploma in sustainable development in industry. That helped me to stay connected to the real world, to have social interactions outside the bike world. I also have a circle of friends not in cycling, very good to switch off. I think it is very important to stay long in business to go out of the MTB bubble, you keep the flame burning by doing this. If you stay connected 24/7 it is challenging for your brain.
Of course we are very curious about your goals for the 2021 season. Can you tell us which races have your priority in the upcoming season?
If you want to go to Tokyo for France, you must be on top at Albstadt and Nove Mesto! From that point, all in for the games!
We'd also like to know more about the change in your team. At Cannondale it looks like a good group of friends. Are you still as good friends after the break up?
Yes we are still in touch and having jokes together. The decision came from above the team… I just didn't understand why. I consider I did a very good job and brought back the brand on podiums and lifting all the team with. But you know when it's done you just move on a new chapter and get the best out of it. Everybody told me they couldn't believe… I had 4 nice years, a lot of memories, good friends, good times, can't complain.
Your new team looks very good and the Santa Cruz is beautiful. Are there any big differences between the 2 teams?
Yes it is different, Santa Cruz is Italian oriented it is a different culture. But the passion is the same and they want to perform. They are listening what we need to do it, this is very grateful to come in this group. The atmosphere is very good and on my side I know how to gather people to the same goal. We will have a strong season because we have the good base; we love to race bikes as a team. I found in this team the surrounding I always had in the others teams…. when I pack my bag I have a big smile, I know I will enjoy to be with them for a race, a camp, a photoshoot, whatever… just kids loving to ride bikes!
And we are very curious how your transition went from the Cannondale to the Santa Cruz. What stood out to you the most?
You know Santa Cruz for what they do on the way down… crazy fast, stiff and precise. But you might be surprised on how he can climb. On my side the geometry was better, it  fits me well with a lower cockpit..
Also, you change from Lefty to Fox. Did it take you a long time to find the right setup?
Not really, both forks are on the top of the list in XC. After a few testings Andreani brought me a good setup, feeling confident and comfy on it.
We saw you riding with Julbo glasses last year. Also this year you are riding with Julbo glasses. Nice French brand. Can you tell us more about it?
Julbo is a very high quality french brand, they exist for more than a century! They are more popular on Ski, Biathlon, Trail running and outdoor sports in general. They are on Enduro for a while but since 2 years they want to grow on XC and road. They are always innovating, working with athletes in development and the products are very good. This is not a random pair of glass, this is fully engineered and designed by them. I like the image they give, still a family company with passion in the blood. I hope you enjoyed my web serie The Hidden Path.
In the middle of the lockdown, there was a very good message from you about how much people started cycling in the lockdown. Very sensible! It was getting crazier and crazier. Why did you want to share this message with your followers?
When you can't have social interactions you just discover that there are some possibilities to stay happy. You take a pair of shoes or a bike, you climb the hill behind your town and just a view with the sun makes you shining. A lot of people just forgot this feeling, that in life you don't always need a bigger car, a new smartphone to find inner peace. More people enjoyed nature and I can still see this in my home, way more busy in the woods. That's good to see. When you are facing a wall there is always a way to get around.
Speaking of the lockdown. When you look back on the "lost" year. Did you learn a lot about yourself and has your outlook on competitive sports changed?
For bike industry it wasn't a lost year! On the sport side it was just strange but in general I just realised that some riders are addict to the competition and are lost when not racing and the other part just enjoy all the process that brings you to competition, I am part of the 2nd one and if the competition are delayed I am not bored because I like to train.
I really enjoyed the compact season and I hope it showed that we need more dates in the WC calendar to not loose spectators. Big sports have competitions week in week out. Makes no sense to have sometimes 1 month and half between 2 world cups… too hard to follow. Will be better to have more races and if not to have all the world cups in 2 or max 3 months… Could be also compatible with a stage race calendar like being able to race hard on both disciplines!
Thank you so much for your time Maxime and we wish you the best of luck in 2021!