Interview with Jordan Sarrou: "For sure my opponents will have a eye on me, but my jersey give me some extra power"
Frenchman Jordan Sarrou became the 2020 XCO World Champion after an impressive race at the Leogang circuit in Austria. At the end of the year he announced his move to a renovated Specialized Factory Racing where he will be the leader this season. After the first races of 2021 we had the opportunity to talk to him and this is what he told us.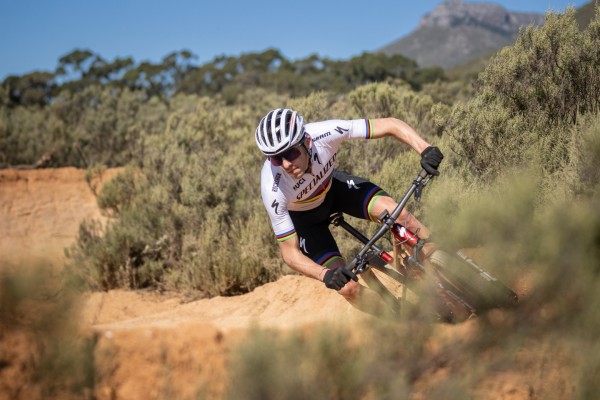 Interview with Jordan Sarrou, the current XCO World Champion
You started the season right away with a victory in Italy. You where nervous about your first race for Specialized?
I was motivated to start the season and put a number in the back again. I wasn't nervous, but i wanted to know more about my winter preparation.
How did the race go?
This was a nice first race with some fast sections, some technical parts and it was a lot tactical.
Nice first one, to get back with my race routines.
We are very curious how you find the transition to the Specialized team. Can you tell us something about that?
I got my bikes early, so I was able to train on them and feel comfortable with. We had with the team two training camps to work on the base and to be as best as possible on the race bikes and the organization on the team. We worked on suspension settings, did some shootings, some meetings to build the season.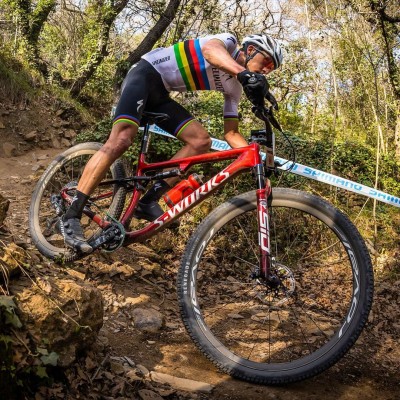 Your beautiful world champion jersey on the black bibs shorts in combination with the red Specialized is dazzling. How much more motivation do you get from this jersey? Or do you see it as a burden?

For sure my opponents will have a eye on me, but my jersey give me some extra power when it's hard in the training sessions and in the races. I really want to enjoy to race with the rainbow stripes.
The switch from BMC to Specialized. Is it a big difference? What did you notice most about the bikes?
In term of geometry, it's quite similar. I was not lost when I got it from the first time. It's really playful in tight corners, stiff and light. I really enjoy this epic bike.
If you could only have one bike for the rest of your life, which Specialized would you choose?
Maybe the Epic Evo with more travel in the suspensions to send more in technical parts.
And what about the team? A teacher like Absalon is of course great, but at Specialized you can learn from Florian Vogel. Have you learned a lot from Flo?
Yes, it's great to have Flo in the team, he knows what it is to be high level athlete, he is the team manager performance so, he gives me a lot of good informations about the bike, the trainings and recon during races.
The Corona year was difficult for everyone, but you were the best at the world championships. How were you able to keep yourself motivated in uncertain times?
I'm someone who adapts easily to the situations, so I keep motivated anytime, I love my job and I enjoy full time being pro athlete.
Did you only focus for the World Championship all year?
My first goal last season was the french national championship, I really wanted to win it, because I never been elite french champion before. After that, yes I was focus on the World Championships.
Do you have a tip for being able to push just a little bit more at a championship?
(Laughs) Not really. It's a one day race, everything can happen. So I was really focus on what I wanted to do.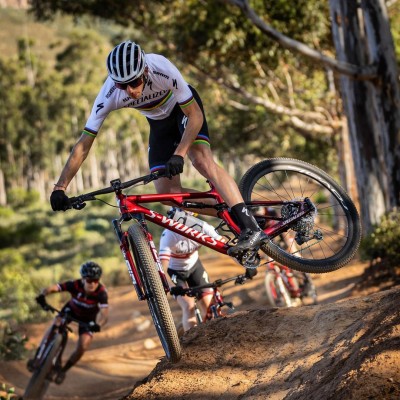 Do you like to race in Spain?
Yes, for sure. The crowd in Spain is often cheering for us. The Spanish people like cycling and MTB. I like to race in Spain also because the atmosphere is good.
Are we going to see you race in Spain this year?
I don't know yet. It depends on the schedule if some races will take place or not.
Can you speak a little Spanish?
Lo siento, no hablo español…
You along with Gerhard Kerschbaumer would be a great duo for the Cape Epic. What do you think?
Yes, why not. Let's see… I already had the experience to race Cape Epic, and it's just an incredible race. A lot different from a XCO race. But i loved it.
There are always races that don't fit into the ideal race schedule. Do you have a bucket list of races or adventures you want to do someday?
Yes, definitely. I would like to go to the BC bike race one time, the Swiss Epic, and Alp Epic, landscapes are beautiful.