Waterproof cycling jackets: what to consider and which ones are best
Although we all try to avoid it, there is always a day when we have to ride in heavy rain. We're not talking about that unexpected summer thunderstorm, but those days when we ride for hours in constant rain. Undoubtedly, the most demanding situation that technical cycling clothing can face. Fortunately, the evolution of membranes has reached extremes where we are offered almost total waterproofing with a sufficient level of breathability.

Keep pedaling even if the sky is falling on your head
Unless we are competition cyclists, where we will have no choice but to go out, and not even them with the evolution of turbo trainers and virtual cycling platforms, we all tend to avoid rainy days. Those days where the rain is a constant non-stop. However, sooner or later we have some day where we have no choice but to go out in those conditions. Either because we are on a stage trip in the middle of the Alps or Pyrenees or because, simply, the weather changes suddenly, something also typical of mountain areas.
These are conditions for which there is no choice but to resort to the long-suffering raincoat, a garment that has a historically bad reputation since traditionally it was nothing more than a piece of plastic with sleeves and a zipper that, although it kept us out of the rain, meant that we ended up equally warm because of our own sweat, so we ended up with the cold completely inside our bodies.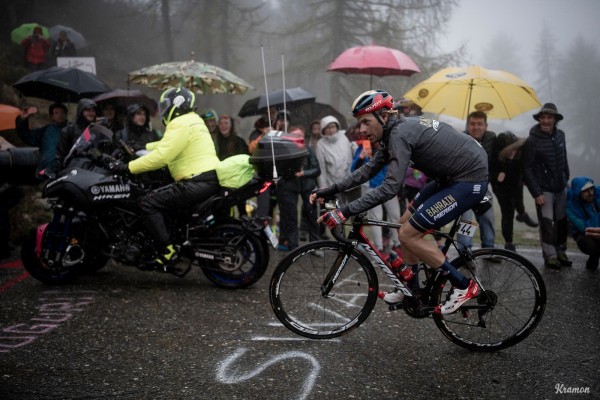 We must not confuse these waterproof jackets, intended exclusively for rainy conditions, with the winter jackets we were talking about a few days ago, whose main function is to achieve good insulation and thermal comfort and, although they can withstand a certain amount of rain, which allows us to save the occasional rainfall, they have nothing to do in those moments when the rain becomes intense and constant.
As in all other garments designed for an active sport such as cycling, fabrics and designs have evolved to achieve performance unimaginable just a few years ago.
6 waterproof jackets to keep you totally dry
Gorewear C5 Gore-Tex Shakedry 1985 VIZ
It is impossible to talk about waterproof garments without talking about Gore-Tex, the membrane that revolutionized the creation of technical garments, first in the world of mountaineering and then extending to other areas such as cycling. The creator of this membrane itself counts on the Gorewear brand to create its own line of clothing, with what is perhaps the best rain jacket on the market. We have used this C5 for hours in heavy rain without the feeling of having found the limit to its performance. The patterning and the elasticity of its Gore-Tex Shakedry membrane make it no problem to pedal with it thanks to its great fit, besides being able to be easily folded in the jersey pocket when not in use.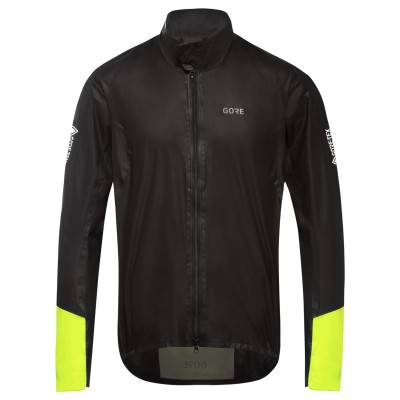 Price: 299.95 €
Weight: 139 g
Fabric: Gore-Tex Shakedry
Sizes: S to XXL
Assos Equipe RS Rain Jacket Targa
As with their winter jackets, Assos decided to develop their own waterproof membrane in order to adjust the performance to exactly what they are looking for. In their case, they call it Schloss-Tex and in its development, a three-layer laminate, they seek above all lightness and good elasticity. Surprisingly, as thin as it is, it has so much capacity to withstand the rain. A feature that makes it much easier to carry in your pocket when not in use. A construction in which simplicity is a priority but that, despite this, does not renounce details such as the silicone waistband that keeps it in place or the double carriage zipper that incidentally has improved its operation since in the first versions it was very complicated to raise and lower because of the silicone protections that covered it.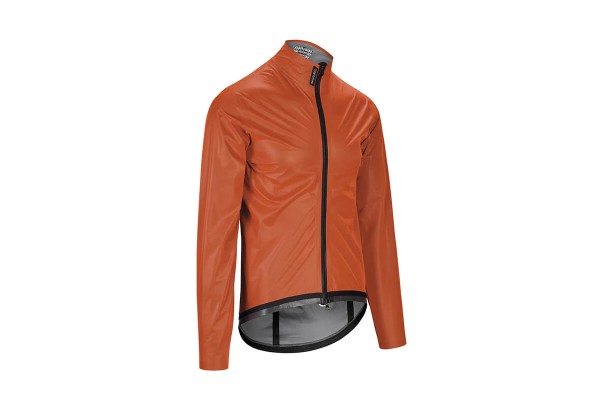 Price: 345 €
Weight: 170 g
Fabric: Schloss-Tex
Sizes: XS to TIR
Sportful Aqua Pro Jacket
The Italian brand also relies on the Gore-Tex membrane to make the waterproof jacket to protect Bora-Hansgrohe cyclists who use their garments. It stands out in the design of this Aqua how Sportful pays special attention to the areas most likely to accumulate more water and, therefore, where the liquid can overcome before the resistance of the membrane. That is why shoulders, elbows or neck are covered by a second layer of Gore-Tex. The small zippers on the sleeves are also a welcome detail which, in the case of a waterproof jacket intended to be used in competition, greatly facilitates the task of putting it on and taking it off when we are on the bike, with long gloves and in a peloton, a real fight with the tight designs of most current models.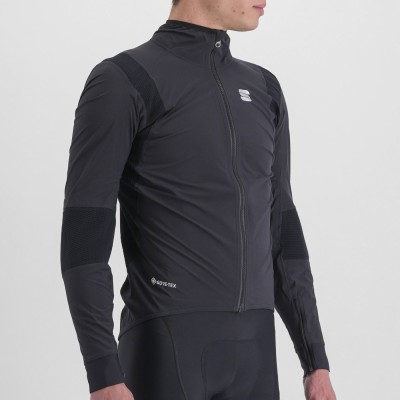 Price: 399.90 €
Weight: 208 g
Fabric: Gore-Tex
Sizes: S to 3XL
Gobik Pluvia
In its rain jacket the Murcian brand seeks a different approach offering a garment that seeks above all the lightness, achieved through its Lightshell fabric. A material that does not have a waterproof capacity as high as the specific anti-rain membranes but that makes up for it with the hydrophobic characteristics of the same to try to keep the rain away as far as possible. In exchange, much greater breathability is achieved, which makes this Pluvia suitable when pedaling at very high intensity. However, it does not forgo details such as heat-sealed seams and zipper or oversized cuffs to improve interaction with the gloves.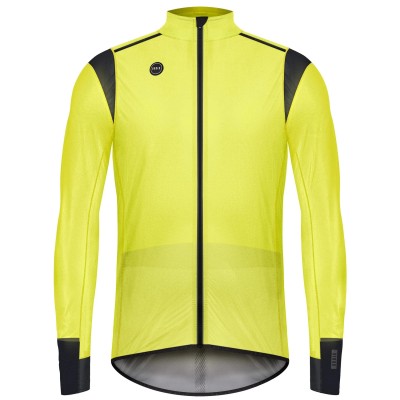 Price: 75 €
Weight: 90 g
Fabric: Lightshell
Sizes: 2XS to 2XL
Rapha Pro Team Gore-Tex Rain Jacket
Rapha does not live by style and design alone. The well-known clothing brand also has technical garments of remarkable performance as this Rain Jacket which, as its name suggests, is able to protect us from the worst weather conditions thanks to the use of the Gore-Tex Active membrane. Rapha opts for this membrane instead of the newer Shakedry version alluding to the greater durability of this one. Of course, Rapha maintains its characteristic sober and elegant design that characterizes its garments and that, in the case of this Rain Jacket, is combined with a tight pattern oriented to a sporty use. Something that is also evident in the particularly generous length of the back to provide maximum coverage even when we go on a sports bike adopting an aerodynamic position.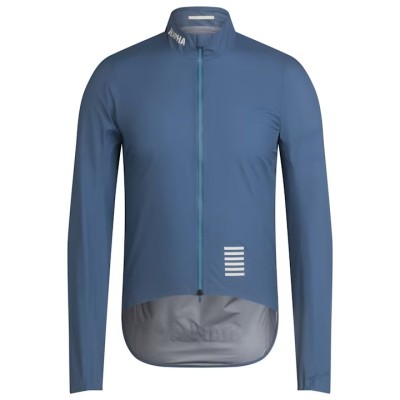 Price: 270 €
Weight: 148 g
Fabric: Gore-Tex Active
Sizes: XS to XXL
Endura Pro-SL
The Scottish firm, probably due to the harsh climate of its land of origin, has always had in its catalog with numerous protection options for cyclists. From authentic sets to cover the whole body of those who get lost in the mountains to look for the narrowest trails to this Pro-SL intended for those who make a more sporty use of the bike for its simpler design and ergonomic cut. Endura is one of the brands that decided to use its own waterproof membrane called ExoShell60SL, a 3-layer fabric that is created with ecological awareness by being free, unlike most membranes on the market, of PFC. It highlights the ease of operation of its zipper and the good design of the slots that allow access to the pockets of the jersey with it on, one of the usual headaches when designing this type of jacket and that is not always solved in an ideal way, even many directly dispense with this feature.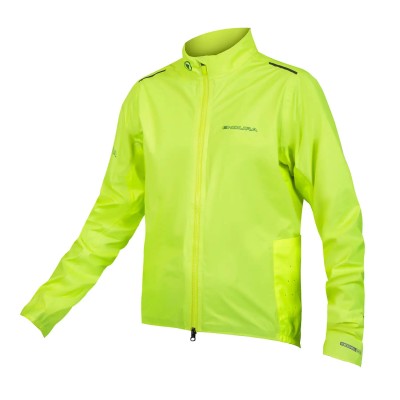 Price: 239.99 €
Weight: 161 g
Fabric: ExoShell60SL
Sizes: XS to XXL
What to consider when choosing a waterproof jacket
As with winter jackets, Gore, with the different versions of its Gore-Tex membrane, the Teflon-based fabric that revolutionized technical garments, is leading the way.
This predominant situation makes this brand the one that sets the pace of the market and the demand makes their prices are high. A price that, on the other hand, has been well earned since the performance offered by its membranes is still practically unbeatable despite the fact that alternative options have managed to reach a very high level.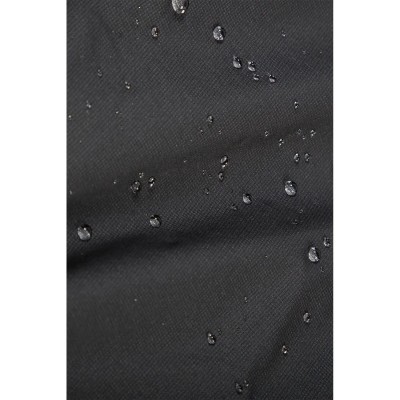 Speaking of price, this is precisely what puts many cyclists away. Spending more than 200 or 300 euros on something that is nothing more than a rain jacket, even if it is advanced, can be painful, especially because it is designed for weather conditions that we try to avoid whenever we can. However, for those who live in areas where rain is common, it becomes an essential garment for their cycling activity and it is they who most often value the investment in a good waterproof jacket over conventional raincoats that either offer little protection or cause us to end up drenched in sweat.
Precisely, the great contribution of these waterproof jackets is to offer an almost endless water resistance while allowing us to continue pedaling at moderate intensities. Obviously, the breathability of the membranes has a limit and when the time comes to tighten it is easy to exceed it and end up accumulating too much moisture inside.
However, they are perfect for those long-distance training days when you have to put in the miles at a steady pace. We have pedaled with some of the models that we recommend for more than 6 hours, arriving home completely dry despite the rain at any time of the route.

When choosing a jacket, in addition to the water resistance and breathability figures usually offered by the brands, the pattern and design make the difference. In the first case, it is always preferable to opt for close-fitting models that avoid offering too much resistance to the wind. This is another point where the latest generation of Gore-Tex membranes stand out from other more conventional membranes as they have been able to achieve an incredible level of elasticity compared to the traditional stiffness associated with it.
An elasticity that also allows us a better folding capacity when storing the raincoat in the pocket. In any case, we have to take into account that this type of jacket takes up more space than a simple windbreaker or vest, although if we opt for models with greater folding capacity we are probably giving up protection.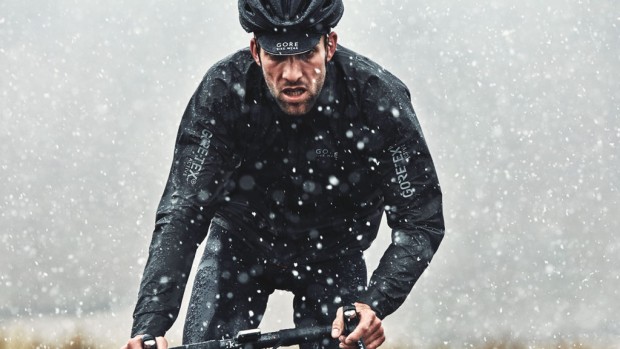 Design is another vital aspect of these garments. The simpler they are generally, the better they work. Although all brands protect the seams by using heat sealing, these are always the weak point of the garment and where water will first gain access over time. The fewer the seams or the fewer superfluous details such as external pockets, the greater the durability of the garment. Something to take into account with the cost involved.
Finally, we must also check the fit of the sleeves and collar as these are points where water can easily penetrate and ruin the insulation of the rest of the garment. The collar must be tight enough to prevent water from entering, but without being uncomfortable. It is preferable to choose models that are close-fitting at the cuffs and allow the gloves to be placed over them to prevent water from entering at that point. It is also important to check the waistband, which should have a method to keep it snug without riding up. Elastics and silicone or rubber inserts are usually the most common solutions.
Despite being expensive garments and for very specific situations, just one of those terrible days in which clothing makes the difference between remembering it as an epic adventure or as a total misery, it is worth the outlay. Just look at the news that appear in the media when a famous march such as the Quebrantahuesos has to deal with a day of high mountains with participants abandoning massively even having to go to be picked up at any lost point of the route.