The nightmare returns for Van der Poel: "It's super frustrating"
A week ago, at the X2O in Koksijde, we saw Van der Poel again complaining about back problems in the middle of the competition, but he was quick to explain that they were not the same ones that made him stop a year ago. Now, after losing again to Van Aert, due to the same pain, during the World Cup in Zonhoven, the Dutchman has declared that he is frustrated.
Van der Poel's back injury has returned
Since 2021, Mathieu van der Poel has been carrying a back injury that first made him abandon the 2021-22 cyclocross season, then forced him to stop for a month and finally made him rethink his career as a multi-discipline cyclist and end up giving up mountain biking for at least a couple of seasons. Van der Poel's injury at the time, which could be the source of the new problems, was chronic back pain caused by retrolisthesis.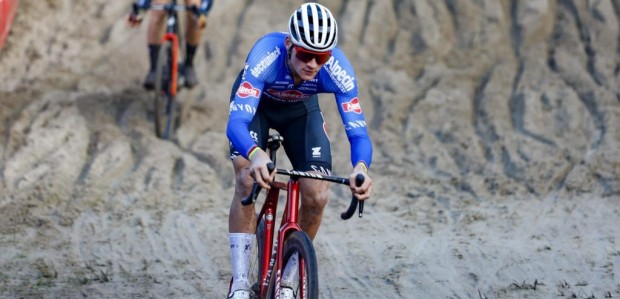 This is how Van der Poel explained what happened to his back after the Zonhoven race.
I think I can be very short. It's not going how I like it. My back is hurting again. I can maybe ride half a lap at the pace that I want but then I have to hold back because of the pain. It's super frustrating.
High intensity, continuous power, accelerating after every turn: that causes pain to my back. It's very present and because of that I don't perform at my level.
I then need to reset myself and if that pressure is off for a moment, I can continue for half a lap, but then it starts all over again.
I trust the fact that things have been going well in the last few races. I don't understand where it came from all of a sudden. It was pretty much under control. Hopefully this won't happen again after 10 days in Spain.
After the CX World Cup in Zonhoven, Mathieu van der Poel will start a two-week training camp in Spain with the rest of the Alpecin-Deceuninck team. It will be a period of road training before the Benidorm World Cup on January 22nd and he hopes that these days of rest, without cyclocross, will help him to recover.