Great victory for Van Aert at the CX World Cup in Zonhoven
Van Aert won the Zonhoven CX World Cup with a great performance that combined flawless technique with a pace that no one could keep up with. Van der Poel finished 1'23" behind after a day in which he crashed twice. Sweek took third place after battling with Vanthourenhout and could be champion in Benidorm.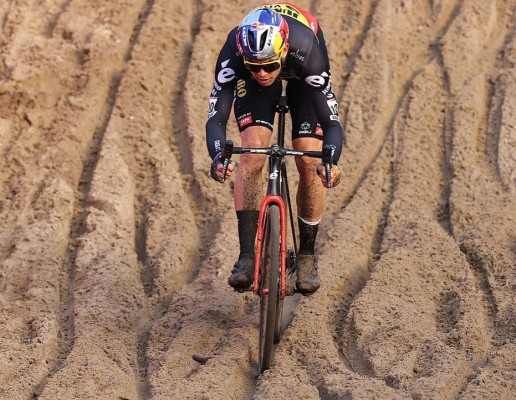 Van Aert takes sensational victory at the CX World Cup in Zonhoven
The race began with Sweek taking the lead at the start. Behind him, Van der Poel, Van der Haar and Vanthourenhout, while Van Aert was seventh. A start in which bad luck visited the Czech Riman, who broke the chain before reaching the first corner.
Shortly after Van der Poel took the lead and Van Aert moved up to the second place. In one of the sandy sections, Van der Poel went to the ground after his front wheel got stuck in the sand. He was able to rejoin in third position without losing much time.
At that point, Van Aert pushed and opened up a gap. Even so, the early change of pace was answered by Van der Poel, who got behind his wheel.
So the two cyclocross stars closed the first lap at the same time with Vanthourenhout as a guest of honor next to them. Van der Poel took over the lead, while behind Sweek was closing the gap until he finally joined them.
Van Aert changed the pace again and left the Orange Beast behind, who lost about six seconds. The Alpecin-Deceuninck rider managed to close the gap to the Belgian shortly after the start of the third lap. Sweek and Vanthourenhout, who were still in contention for the bronze, approached them at the start of the lap.
Van der Poel and Van Aert pushed again, but this time both were able to hold on without losing time. Until the Dutchman suffered his second crash of the day. Van Aert broke away and Vanthourenhout and Sweek caught his wheel.
16 seconds difference with Van Aert at the finish line. Once again the Belgian showed a great level of riding and made the race very difficult for his main rival.
The race continued without major changes. Van Aert, unbeatable and alone, dominated without showing signs of weakness. For his part, Van der Poel did not let go of Sweek and Vanthourenhout while losing time with the leader.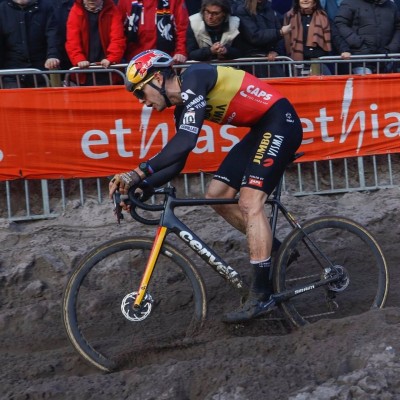 The fifth lap began with the chasing group 36 seconds behind. At this point, the forecasts already marked Van Aert as the clear favorite for the victory on a day in which, except for a small mistake on that lap that forced him to dismount, he was showing a great superiority.
Van der Poel resigned himself to follow in the trail of Sweek, who was then in charge of leading the group of three chasing Van Aert and who was already losing 1'04".
The Dutchman's attack came on the sixth lap. He managed to distance himself from Sweek and Vanthourenhout. But Van Aert was 1'01" away. The comeback was a mission out of reach for Van der Poel, who continued to lose time against the brilliant performance of the Jumbo-Visma rider.
A distance that increased until the end. Van der Poel crossed the finish line 1'23" after Van Aert who found no rival in Zonhoven. Sweek won the battle against Vanthourenhout and can proclaim himself CX World Cup champion in Benidorm.
Zonhoven Cyclocross World Cup - Men Elite 
Wout Van Aert (Jumbo-Visma) 58'49''
Mathieu Van der Poel (Alpecin-Deceuninck) +1'23"
Laurens Sweeck (Crelan-Fristads) +1'31''
Michael Vanthourenhout (Pauwels Sauzen-Bingoal) +2'02"
Quinten Hermans (Alpecin-Deceuninck) +2'08"
Lars Van der Haar (Baloise Trek Lions) +2'17"
Niels Vandepute (Alpecin-Deceuninck) +2'37"
Jens Adams +2'49"
Kevin Kuhn (Tormans Cyclo Cross Team) +3'01"
Corné Van Kessel (Deschacht-Hens-Maes)
Van Anrooij wins in an eventful race in which Van Empel and Pieterse went to the ground
Zonhoven has given us an eventful start of the race in which fortunately we had no casualties. It all started with a Van Empel who started better than anyone else and was placed in first position.
A position she occupied until the first big sand downhill, undoubtedly one of the great challenges of this circuit. The Dutch rider suffered a nasty crash that put her down to eleventh place, 15 seconds behind her main rival, Pieterse.
The Alpecin-Deceuninck rider took the lead and began to push with the intention of opening a gap. However, on the second big sandy downhill it would be her who would get a scare, although she managed to save the crash and finish the downhill on foot. Behind, Van Empel crashed again in the sand.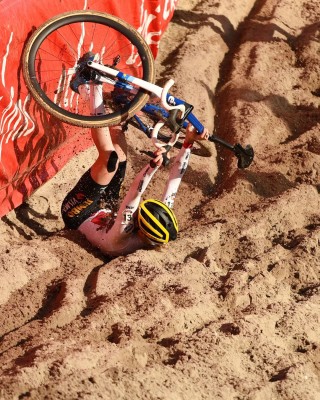 The first lap ended with Van Anrooij and Pieterse in the lead, 23 seconds ahead of third placed Brand. Van Empel was seventh, 35 seconds behind.
The second lap went more smoothly until Pieterse crashed. Again with sand under the wheels. Until that moment, she had gained a few meters on Van Anrooij, who after the fall was the one who was leading the race and who managed to get a few seconds ahead of Pieterse.
At the end of the second lap, the leader already had a 15-second cushion, while Van Empel came in sixth, 48 seconds behind.
Calm took over the race on the third lap. Van Anrooij progressed at a pace that no one could reach and Van Empel recovered some positions, although she lost time with the leader.
The next passing of the finish line left Pieterse 23 seconds behind Van Anrooij. Van Empel, about a minute behind, was a few seconds behind Van der Heijden, who was in third place.
Van Anrooij's lead was extended to 29 seconds at the start of the fifth lap. Van Empel was 1'04" behind in no one's land. In the absence of a surprise, the first three places were already decided.
Last lap. Pieterse was 38 seconds behind. Van Anrooij did not allow herself to ruin her great ride with any mistakes. Behind, Van Empel at one minute.
The race in Zonhoven ended with no surprises and Van Anrooij took a well-deserved victory, the third of this season in the CX World Cup, after Beekse Bergen and Gavere.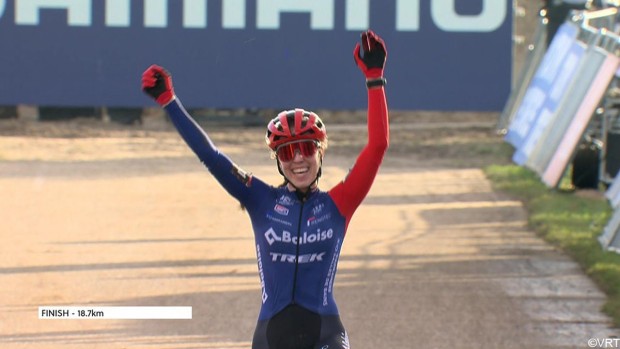 Pieterse finished second, 37 seconds behind and reduced Van Empel's overall lead by five points. The gap is 35 points with two races (80 points) still to go.
Van Empel finished 54 seconds behind after a great performance in which she had to use all her courage to come back and not fall apart. The race went uphill for her very early, but she managed to get to third place.
Behind, Brand (fourth) won her particular duel with Alvarado (fifth).
Zonhoven Cyclocross World Cup - Women Elite
Shirin Van Anrooij (Baloise Trek Lions) 51'44"
Puck Pieterse (Alpecin-Deceuninck) +37"
Fem Van Empel (Jumbo-Visma) +54"
Lucinda Brand (Baloise Trek Lions) +1'46"
Ceylin del Carmen Alvarado (Alpecin-Deceuninck) +2'10"
Inge Van de Heijden (777) +2'27"
Annemarie Worst (777) +2'41"
Blanka Kata Vas +2'59"
Line Burquier +3'35"
Laura Verdonschot +3'41"