New Vamoots CRD, made from titanium and fully integrated
Moots, the American firm specialising in building titanium bikes, is expanding its catalogue with the Vamoots CRD, which combines the romanticism of a classic material such as titanium with features worthy of the best current models, incorporating the latest solutions such as fully integrated cable routing and the T47 threaded bottom bracket.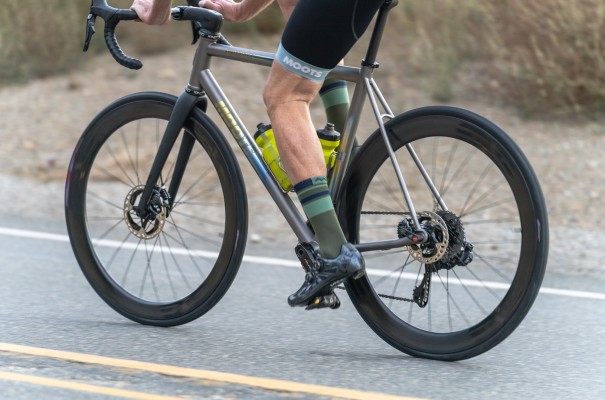 Integration also comes to titanium bikes
When people talk about titanium bikes, they tend to associate this material with a machine designed for top performance and the latest technology. Prejudices that Moots has managed to eliminate with the launch of its Vamoots CRD, its latest model for the road in which they do not hesitate to use an integrated design in which the cables run from one end to the other completely out of sight.
Beyond the integration of cables, this Vamoots CRD includes a good dose of solutions to achieve a truly dream bike, starting with its 3/2.5 titanium tubes, that is, a so-called grade 9 alloy containing 3% aluminium and 2.5% vanadium, which are manufactured by Reynolds by cold forging so as not to alter the properties of the material, which allows minimum wall thicknesses that vary along the tube with its double tapering that allows reducing material where it is not necessary.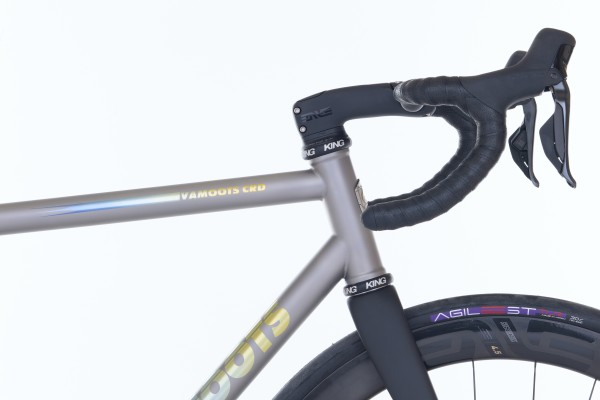 Also noteworthy in its construction are the frame dropouts, manufactured using 3D titanium printing, which saves weight, adds lateral stiffness to the rear and guarantees perfect alignment of the disc brake anchorage, which in the long run means no friction and noises.
Another striking feature is the diameter of the seat stays, which are completely minimalist in order to achieve sufficient absorption capacity. The seat stays, like the top tube, are welded not directly to the seat tube but to a collar that adds strength to this critical area thanks to its greater thickness.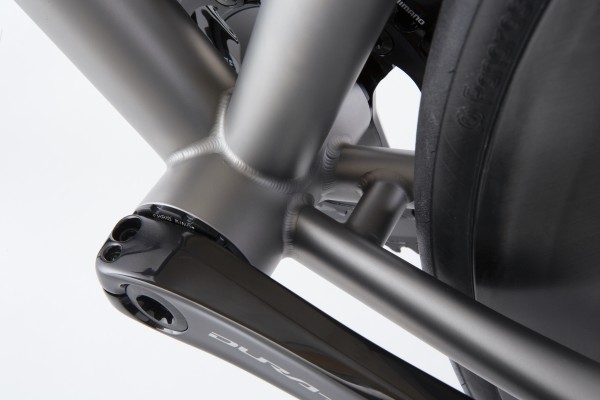 Cabling integration is left to Enve, who provide their AR handlebars and aero integrated stem with internal hose routing capability, which crosses the head tube area via a Chris King Aero 3 steerer. The fork is also supplied by Enve.
Structurally, it's a bike capable of delivering a huge dose of performance, but as with most handcrafted titanium-based builds, we can fully customise our Vamoots CRD even down to a fully made-to-measure frame with the geometry of our choice.
Moots Vamoots CRD: Set-ups and prices
In addition to the option of custom set-up and custom fabrication, Moots offers standard geometries in 9 sizes, from 48 to 62, and three full set-up options starting at $13,086.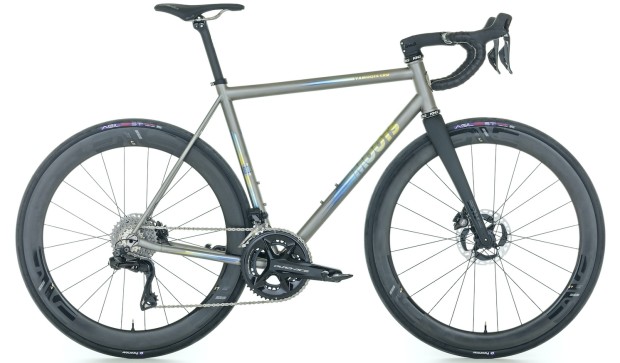 Frame: Titanium grade 9 double butted
Fork: Enve Integrated Road
Steering: Chris King Aero 3
Grupo: Shimano Ultegra Di2 / Shimano Dura-Ace Dio / SRAM Red eTap AXS
Groupset: Chris King T47
Handlebar: Enve AR
Handlebar Tape: Lizard Skins 2.5 DSP
Saddle: Selle Italia SlR Boost
Wheels: Enve Foundation 45 / Enve SES 3.4 / Enve SES 3.4
Tyres: Panaracer Agilest 700x30c
Prices: 13.086 $ / 15.927 $ / 15.840 $