We test the new Orbea Oiz 2023
A few weeks ago we attended the presentation of the new Oiz at Orbea's headquarters and there we tested it during two intense days of pure mountain biking. There is no doubt that the Orbea Oiz 2023 will be one of the mountain bikes of the coming years.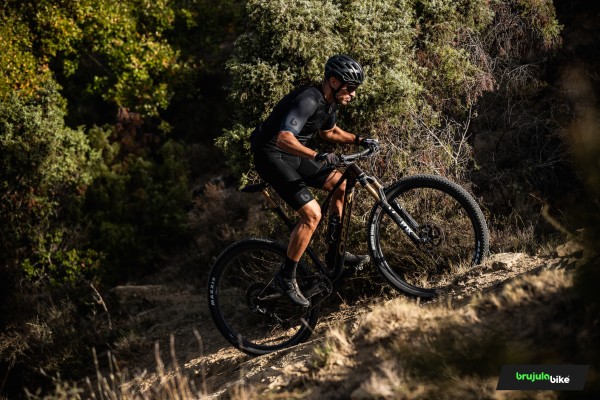 Riding the new Orbea Oiz 2023
Orbea's headquarters in the Basque Country was the place chosen to unveil the new Oiz, a completely revamped mountain bike that now comes with 120 mm as the only available option. Without losing its style, changes have been introduced to make it more capable, more efficient and to polish small details that make it more reliable. Here you can read all the new features of the bike.
In our first test, the bike we had the pleasure of riding was the Oiz M-Team, with OMX carbon frame and full Shimano XTR drivetrain.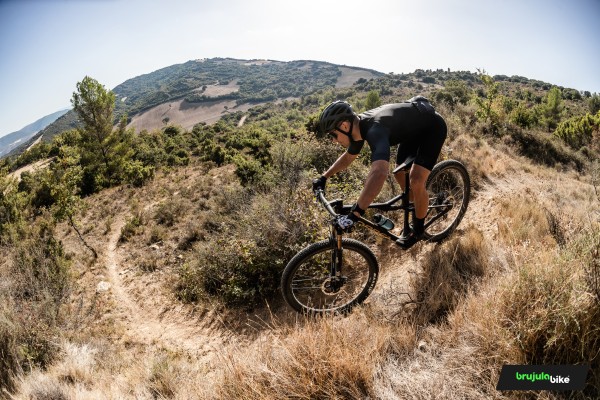 Suspensions were by Fox, with a DPS Factory Evol shock and a Float SC Factory fork with FIT4 cartridge and 34mm bars, both with Kashima finish. Its three lockout, intermediate and open positions are controlled perfectly with the Squid-lock knob, which maintains push-to-unblock operation, which also has a lever to activate the dropper seatpost, a Fox Transfer SL Factory.
But if there is something we have to highlight in the set-up of this new Oiz, those are the wheels. The Mallabia brand premiered wheels just a few weeks ago and these could not be missing on their new flagship. In the case of our test bike it came equipped with OQUO MP 30 TEAM, but it is possible to choose from other models of the brand through the MyO platform. These wheels come with a DT-Swiss 350 hub and a carbon rim with an internal width of 30 mm, ideal for fitting 2.4" tires like the Maxxis Recon Race that came on our test unit.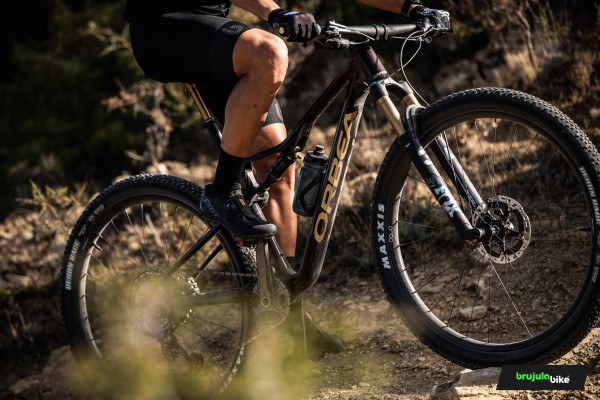 As we said, the complete drivetrain is provided by Shimano in its XTR version, with a 34T chainring and 10-51T cassette. The brakes are also made by the Japanese brand, which is undoubtedly a guarantee of good performance and reliability.
For handlebars and stem, the company opted to use its own brand of OC components, which highlights the aluminum stem with only 2 bolts, with -10º of inclination and configurable length in MyO as well as the carbon handlebars. The stem has specific rings that help to place it in a centered way and thus facilitate the assembly.
A minimalist chain guide and an adhesive chainstay protector made in Spain are included. There is the option of a bike computer mount on the stem cover and a vinyl downtube protector, a detail rarely found on a standard bike.
With this set-up the total weight of the Oiz M-Team is a little over 10 kg.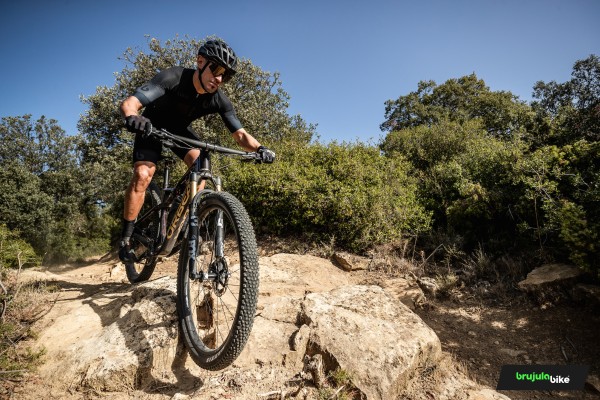 Riding the new Orbea Oiz
In the days reserved for the test they prepared two very varied routes for us. The first of them was a route of almost 40 kms with explosive uphills and vertiginous slopes, combined with downhills with a lot of flow.
In this first contact we were surprised how well positioned we were on the Oiz. No forced postures, with a centered position and in which everything is in place from the first moment.
After adjusting pressures and some other small details, we went out for the first pedal strokes. Already here we began to notice the changes compared to its predecessor. Now when riding on the flat it allows you to do so with the lock at its midpoint, the suspension in this position has become firmer, especially noticeable in the first part of the route. It has lost that little sway, which before could make us doubt whether to leave it in that position or completely lock the suspension.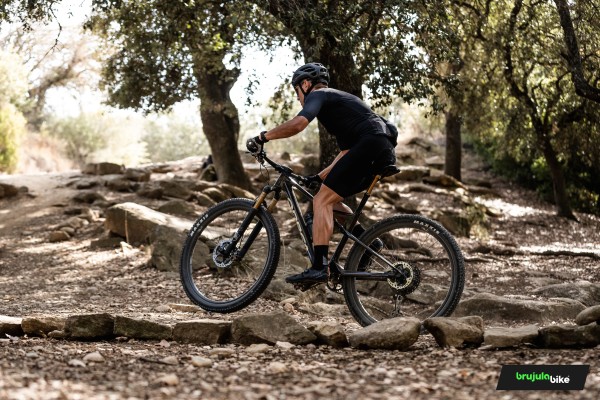 Part of this firmness is also due to the increased stiffness of the new rear triangle, which is particularly noticeable on corner exits on trails, when pedaling hard to exit at speed. Here every pedal stroke is transferred to the rear wheel without losing any watts.
After a few kilometers of pedaling on the flat we turned off to completely change the terrain. A route dominated by steep climbs, with explosive ramps, one after the other leading to pure flow downhills, where we let the bike run looking for maximum fun.
As we said before, something we liked was the position on the bike, it is centered and feels less racing than the previous Oiz, but with enough inclination to leave the front wheel stuck to the ground on the most demanding slopes.
Some of the front end nerve of the more conservative Cross Country MTBs has been lost, instead it is much more docile, while still being quick to steer, but easier to handle on climbs with tight turns. In these areas, the firmer intermediate lockout position makes the increased suspension travel go unnoticed, even pedaling in this situation feels more effective, not damping as much with the imperfections of the terrain. Keeping the chainstays short still gives it that agility and reactivity so characteristic of OIZ.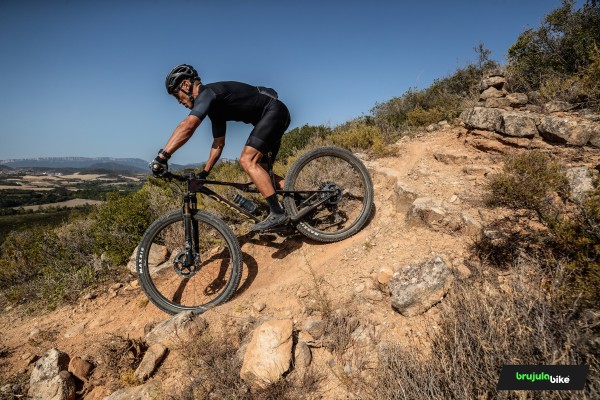 The type of downhills we rode on the first day allowed us to let the bike run. Without having too much difficulty, we were able to gain confidence with the Oiz and see that it is not necessary a very broken terrain to take advantage of all its suspension travel with ease. At high speeds it remains stable, allowing itself to be guided. The cornering brakes are accurate and allow you to throw yourself into them with complete confidence.
For the next day we would find a route of 60 kms, a terrain more similar to what we can find in an XCM, with long climbs that accumulated almost 1800 m of elevation gain. This time the downhills were more technical where we could push the new Oiz to the limit.
As on the first day, we started pedaling on easy terrain, and in a few minutes we started a first 9 km pass, where we tested the climbing skills of this Orbea. The little more than 10 kg of our version of Oiz feel light in this type of climbs. On this occasion, taking advantage of the fact that the road surface allowed it in some parts, we did use the full suspension lockout, benefiting from the stiffness of the frame to transmit all our power to the rear wheel.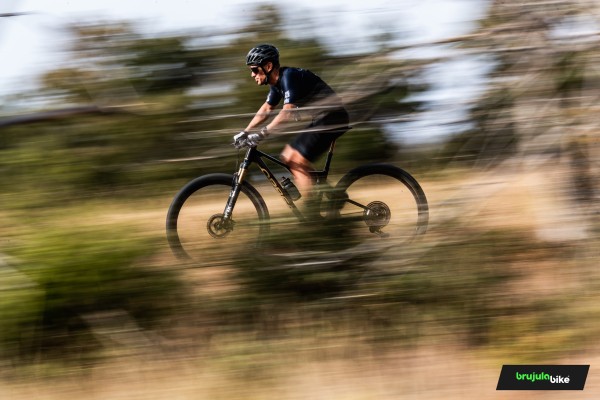 On this second day, the downhills were quite complicated, with more technical areas that forced to put all five senses on the ground. This is where the Oiz has taken a big leap in quality. It is now easier to handle, allowing it to move from side to side with little effort. The rear wheel follows the trajectory at all times, making it easier to draw the correct line in every turn. Of course the extra 20 mm of travel is a plus in these situations, as it allows you to be more aggressive when going through any difficult terrain.
One thing that is appreciated is the absence of noises from inside the frame in the passage through bumpy areas. The new cable routing with its respective foam coverings do their job perfectly. Something similar happens with the chainstay protector, we would like it to be a little bigger to cover a larger area, however, it does its job.
The trails with continuous ups and downs that we were finding was another of the terrains in which this Oiz surprised us. With each pedal stroke it launches you forward with a sensation that is unbecoming of a full suspension bike with 120 mm of travel. The bottom bracket, although now lower, does not limit when passing obstacles, we would even dare to say that it has a greater ability to overcome them. In fact, we only touched the crank on the ground on one occasion.
First conclusions
The new Orbea Oiz has undergone a series of modifications that have been really great for it. The geometry changes and the extra 20 mm make it more capable and safer in tricky situations. Increased rear stiffness and a more usable intermediate position make it faster on all terrains.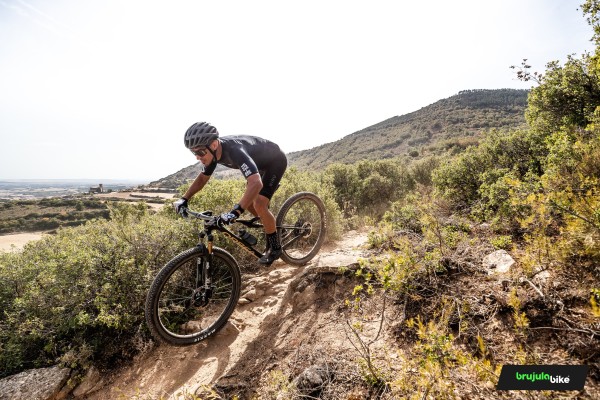 In short, a weapon created to conquer the podiums of the best races, which will launch you at full speed on trails and trials without compromising your safety. A great quality/price ratio will probably continue to be a best seller among enthusiasts looking to push themselves to their limits.
Set-up, weight and price of the Orbea Oiz M-Team 2023
Frame: Orbea Oiz Carbon OMX.
Shock: Fox DPS Factory 120mm Evol Kashima.
Fork: Fox 34 Float SC Factory 120 FIT4.
Remote lockout: OC Squidlock MP20.
Cranks: Shimano XTR M9100 34t.
Rear derailleur: Shimano XTR M9100 SGS Shadow Plus.
Cassette: Shimano XTR M9100 10-51t 12-Speed.
Chain: Shimano CN-9100.
Brakes: Shimano XTR M9100.
Wheels: OQUO Mountain Performance MP30TEAM Carbon.
Tyres: Maxxis Rekon Race 2.40" WT 120 TPI Exo TLR.
Handlebar: OC MP10 Mountain Performance Carbon.
Stem: OC Mountain Performance MP10 Alu SL, -10º
Seat post: Fox Transfer SL Factory Kashima.
Saddle: Selle Italia SLR Boost Fill
Weight: 9,98 kg
Price: 7.999 €
The new Oiz models will be available at the end of the year, but reservations can already be made through Orbea's availability service, Rider Connect.