Shimano creates the ULTREAD XC outsole for its XC9, XC7 and XC5 Cross Country footwear
Shimano has developed a new racing outsole for its high-end XCO footwear. It's called SHIMANO ULTREAD XC and we've already seen it on the new S-Phyre XC9 shoes worn by riders like Mathieu van der Poel in the last races he competed in this season, but here we see some more details of this sole and three models that mount it.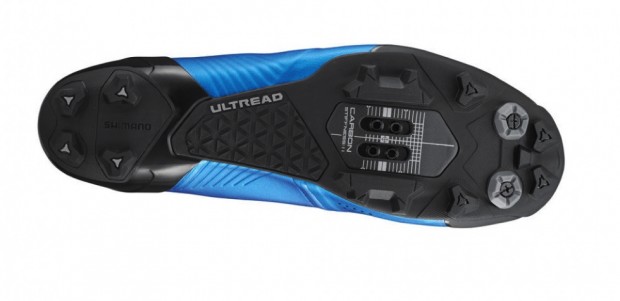 The new SHIMANO ULTREAD XC outsole in the XC9, XC7 and XC5
Unlike other brands that are committed to teaming up with third-party rubber sole manufacturers, Shimano has decided to create its own. It is called Ultread and promises great grip in any situation encountered by competitive MTB and cyclocross riders.
S-PHYRE XC9
The S-PHYRE XC9 shoes are the brand's top-of-the-range model for cross-country and cyclocross racing. They feature the lightest construction in the catalogue and combine it with the patented SHIMANO ULTREAD XC rubber outsole. The sole tread pattern in the contact area and the option to mount metal studs in the toe cap (studs are included with the shoes) maximise traction and grip in competition.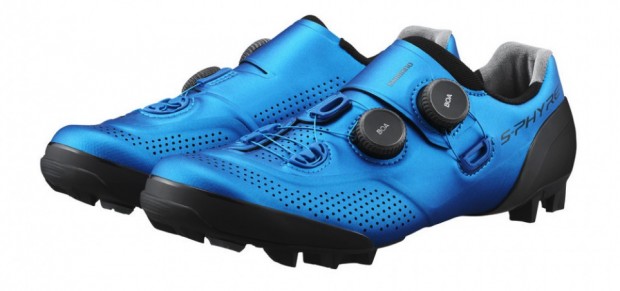 The shoe features two low-profile BOA® Li2 dials for quick and precise micro-adjustment, and an adjustable lace guide mechanism to hold the foot securely without pressing on the points where the foot exerts the most pressure when pedalling. In addition, the microfibre upper wraps the foot tightly and perforations ensure good ventilation.
Additional features include a carbon sole, reinforced external heel cups, a hardened SPD contact zone for improved power transfer, and Shimano's Silvadur antibacterial treatment - silver ions activated by sweat - in the insole to prevent odours. 
New Shimano XC7 and XC5
The new Shimano XC7 (SH-XC702) is a competition model that takes its DNA from its big brother, the S-PHYRE SH-XC902, while the XC5 (SH-XC502) can be categorised as a more versatile performance shoe.
The XC7 features the same wraparound upper as the XC9, made from synthetic leather and a lightweight mesh/TPU combination. The double BOA L6 dial provides support and micro-adjustment of the laces.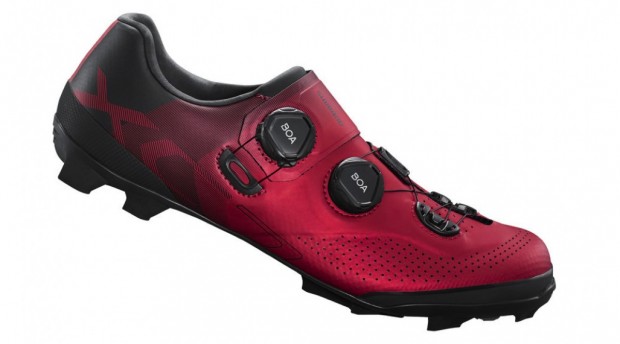 Again we see the patented ULTREAD XC rubber outsole, with optional spikes also included, and a carbon midsole, although in this case the stiffness is not as high as in the S-PHYRE XC9, staying at 9 out of 12. The heel also differs from the XC9 by including an internal stabilizer.
The new Shimano XC7 has a declared weight of 320 g in size 42 and is available in red, black or white with standard last (sizes 38-50, half sizes 39-47) or in a wide last version (sizes 38-50, half sizes 39-47).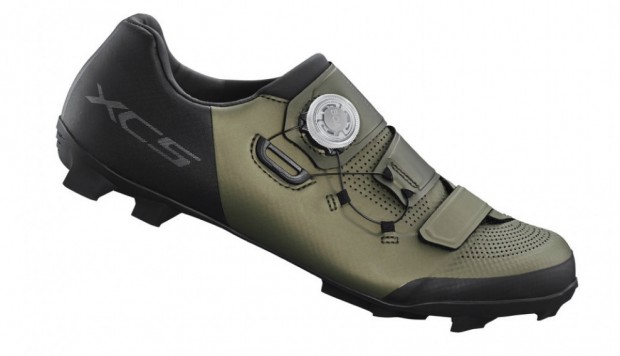 The Shimano XC5 also features the ULTREAD XC outsole with optional spikes (not included), but this time the upper closure includes only a BOA L6 dial plus a lower Velcro instep strap. The fibreglass midsole has a stiffness rating of 7 out of 12, and in this case there is no heel stabiliser, which helps the XC5 maintain a weight of just 300g in size 42.
The new XC5 is available in moss green, black or blue in standard last version (sizes 38-50) or wide last (sizes 38-50). There is also a women's specific version in grey and sea green (sizes 36-44).
All XC shoes are compatible with Shimano's SPD pedals, such as PD-M9100 or PD-M8100 and are expected to be available in shops by winter 2021. More information on these and other models in the range can be found here on the official Shimano website.