SCOTT Scale Gravel, the latest genius creation by Dangerholm
Gravel bikes have become very popular, but here we already asked ourselves the question if a hardtail MTB is a better option than one of these "new" gravel bikes. Dangerholm might just answer the question with the incredible SCOTT Scale Gravel that has just been presented. Another of his exquisite creations that will leave no one indifferent.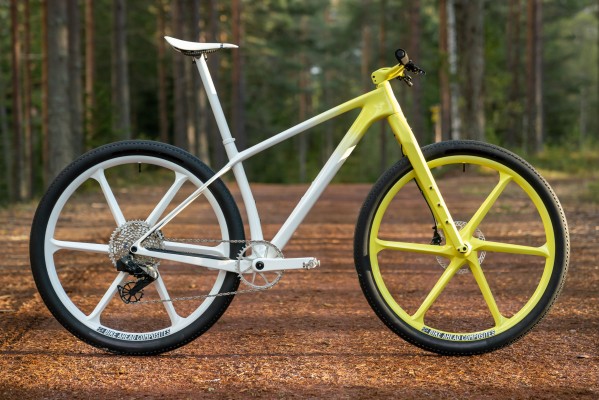 SCOTT Scale becomes a very unique gravel bike in Dangerholm's hands 
Like many mountain bike enthusiasts, Gustav Gullholm was tempted to try gravel, but coming from the mountains he was used to riding flat handlebars and wide tires instead of the road handlebars that gravel bikes usually come with. In his own words, this whole project was really born with a crankset leftover from another build, and the ideas quickly swirled around in his head until it turned into this current SCOTT Scale Gravel.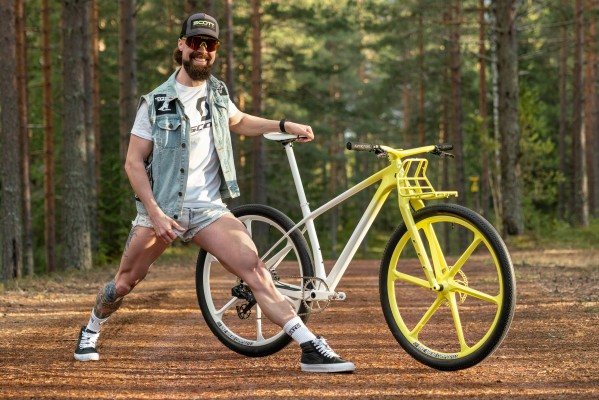 In addition to going for a fast and fun riding bike, Gullholm also wanted the look to be outstanding, and it shows in details like the integrated brake hoses, the completely modified AXS controller setup or the paint job.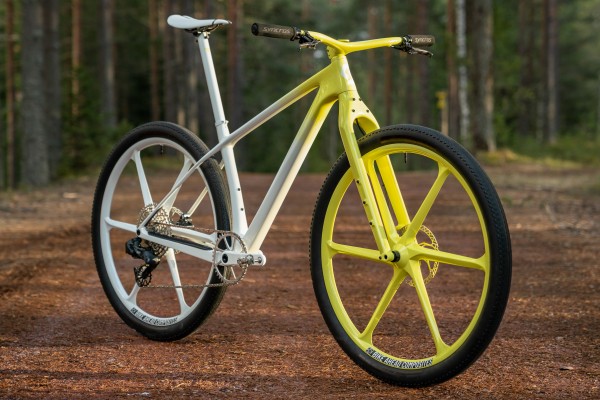 In terms of looks, Gustav says that the rigid fork allowed him to take the integration of the assembly and the paint to another level. This fork, for example, offers a very smooth transition between the fork crown and the headtube and facilitated the front brake hose routing.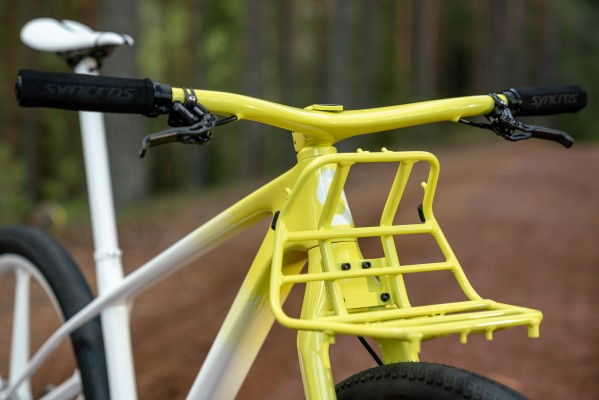 The yellow color chosen for the paint gives a great personality to this SCOTT Scale Gravel that changes a lot depending on the light. Gustav confesses that it was a difficult decision to also paint the unique, lightweight and expensive Bike Ahead Composites wheels but confirms that he is very happy with the result.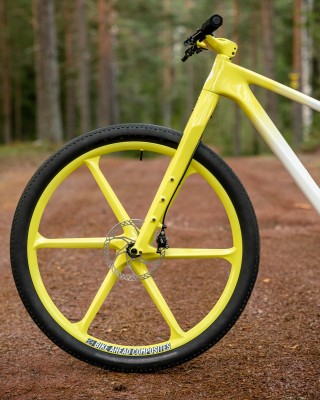 9 highlights of this SCOTT Scale Gravel
Brake integration
The Syncros Fraser iC SL bars has been modified and reinforced to allow internal routing together with Trickstuff Piccola Carbon brakes with banjo couplings. Along with the custom steerer tube and steering stopm the hoses continue to the brake calipers.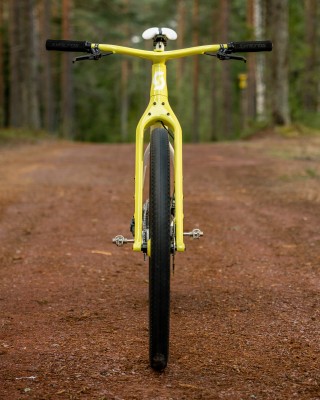 Stealth AXS controllers
This is not the first time Gustav has used the Zirbel Twister WE01 controllers as a base, a mix between triggers and gripshift, with a "shifter ring" that rotates in either direction to operate the derailleur or dropper. For Dangerholm they are the best and most ergonomic shiftert solution on flat handlebars.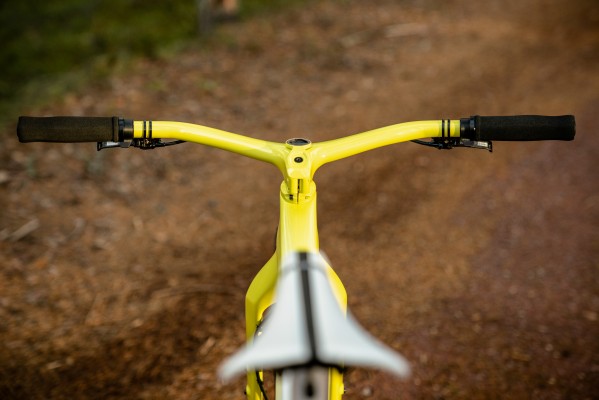 Stealth electronics
The AXS circuit boards have been hidden inside the handlebars, and with a battery expected to last 5 to 8 years. To pair/adjust the components you would only have to remove the bar end plug, pull the board out and hit the button. But once setup it shouldn't have to be touched for a long time.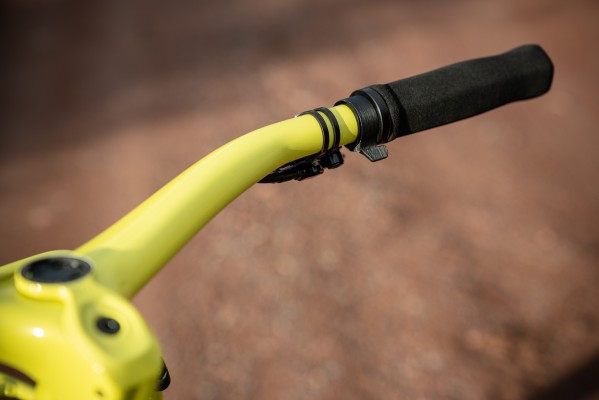 Scott Scale 910
The frame is a Scott Scale 910, an entry level model but a good value option. As standard this frame comes with a front derailleur mount and plenty of cable ports, all of which were removed/reinforced/refinished to get a perfectly clean frame.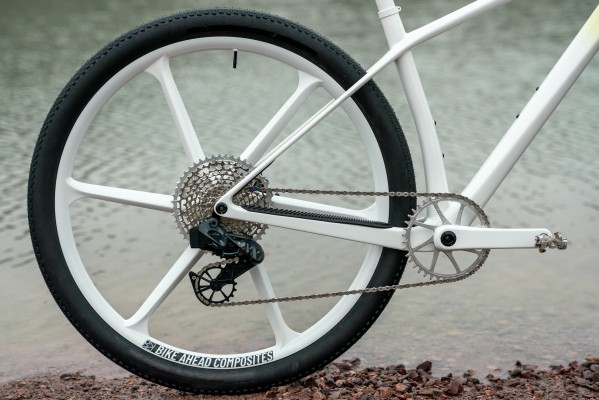 Dual seat combos
For maximum lightweight and cool looks, there's a custom painted Schmolke Carbon TLO seat post with a matching Tune Speedneedle Twenty20. But doing manuals down high speed gravel descents is simply a lot of fun, so there's an optional RockShox Reverb AXS dropper with a Berk Composites seat. With the controller so well hidden, it stays on the bike no matter what combo is used.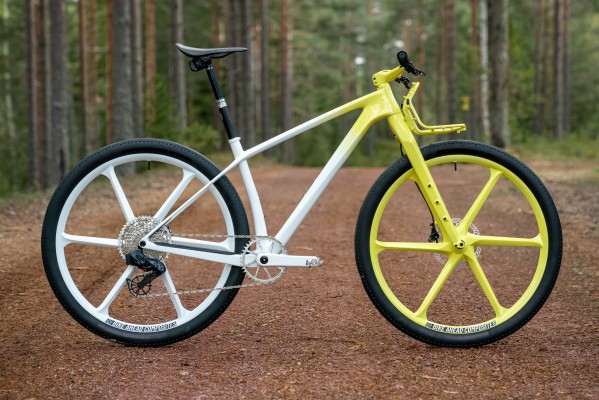 One fast drivetrain
The chainring is a 40T Garbaruk paired to one of their 12-speed cassettes, so you're well prepared for most scenarios. To squeeze a little extra speed from the bike everything runs on ceramic bearings from Kogel. This includes the Kolossos rear derailleur cage, with its oversized pulley wheels.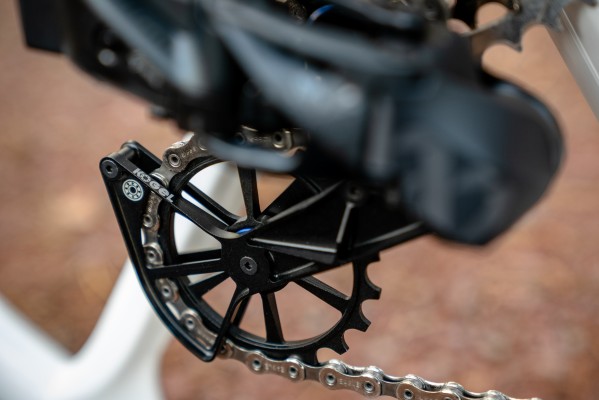 Kogel is also present in the preload adjuster of the cranks.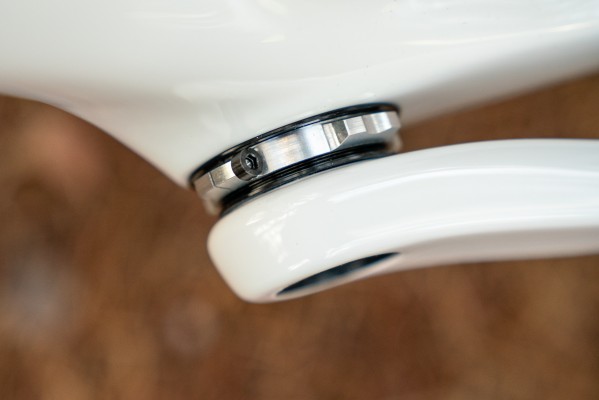 Wheels
Special enough to be highlighted on their own are the Bike Ahead Composites Biturbo RS wheels. The 6-spoke carbon design is probably one of the most iconic on the market today. Lightweight at 1250g (before all that heavy paint) and extremely responsive, not just thanks to the low weight but to the design itself. Handmade in Germany.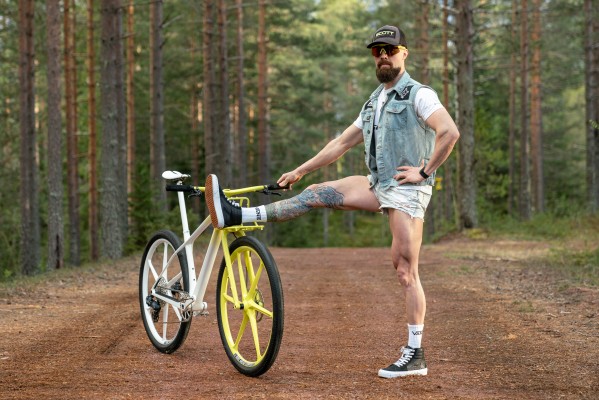 Tires
The tires chosen have been the Continental SpeedKing RS. A very special tire with "Race Sport" casing which is super supple but very thin, making them difficult to run tubeless. So they're set up with Tubolito tubes. A very fast set for gravel.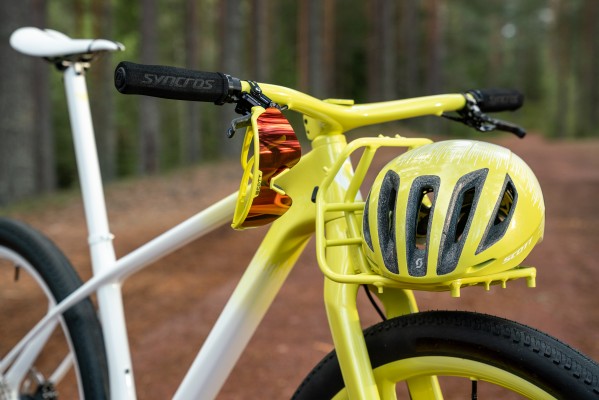 Extras
The rigid fork chosen was a Trek 1120 with front rack, an option that we have already seen on other "adventurous" Trek models and that allows to put or remove the luggage rack with a few screws. Obviously for this project everything has been customized, including a Scott Cadence helmet and Sport Shield sunglasses to match.
Full specifications of the SCOTT Scale Gravel
Frame: Scott Scale 910 Size Medium, no cable ports, no FD mount
Fork: Trek 1120 with optional front rack
Headset: First/Syncros semi custom setup
Handlebars: Syncros Fraser iC SL 90mm x 720mm, custom routing/reinforcement
Grips: Syncros Foam
Brakes: Trickstuff Piccola Carbon
Discs: Trickstuff Dächle UL 160mm/180mm
Adapters: Bike Ahead Composites THE FIXER Centerlock Adapters
Seat: Tune Speedneedle Twenty20 alternatively Berk Composites
Seat post: Schmolke Carbon TLO 400mm alternatively Rockshox Reverb AXS 125mm
Seat clamp: BikeYoke Squeezy
Cranks: SRAM XX1 Eagle DUB with Kogel preload adjuster
Bottom bracket: Kogel Ceramic
Chainring: Garbaruk 40T
Chain: SRAM XX1 Eagle
Casette: Garbaruk 12-speed 10-48T
Controllers: Zirbel Twister WE01 custom setup
Rear derailleur: SRAM XX1 AXS with Kogel Kolossos ceramic oversize pulley wheel system
Pedals. Xpedo M-Force 8Ti
Wheels: Bike Ahead Composites Biturbo RS
Thru axles: Syncros rear, Extralite front
Tires: Continental SpeedKing RS 2.2"
Tubes: Tubolito
Other: Scott Ransom ribbed chainstay guard cut to fit