Van Aert wins in Dublin against everything against him
Van Aert gets his first CX World Cup victory in a hard-fought race in which he has had many contenders and in which things have gone wrong several times. The Belgian is made of different material and not even a piece of advertising tangled in his chain has made him lower his arms. Sweek, second, is the overall leader, while Pidcock closes the podium after a great performance.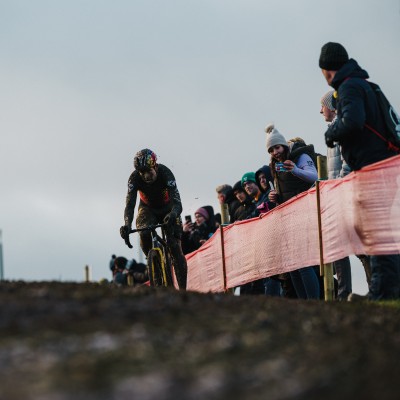 Van Aert: resist, fight and draw on talent
The race started with Van der Haar winning the battle in the first metres and the two favourites dropping a lot of positions. As in Antwerp, Pidcock lost several places and was eleventh, while Van Aert was thirteenth.
But the comeback of both riders was not long in coming, and little by little they have been recovering positions and getting closer to the top places. Pidcock was able to move better and hardly lost any time; Van Aert lost a bit more and finished the first lap 8 seconds behind the leader.
At the front there was a large group almost all the time. Iserbyt, Sweek, Vanthourenhout, Van der Haar and even Ronhaar took the leading positions at the start of the second lap. Although there were a few changes of leader, it was Iserbyt who took the initiative and moved into the first place.
Despite the attempt by a small group of riders to open up a gap at the front, at the start of the third lap the men at the front formed a large, single group. This could indicate two things: either they all had a very similar pace or there was someone who was holding something back in his pocket.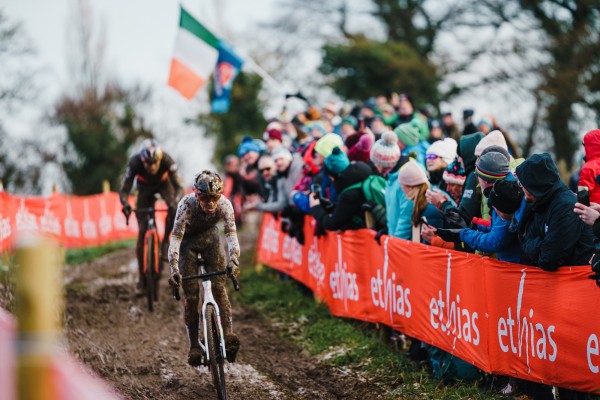 Van Aert's first problem came when he crashed into a tree after his wheel slipped. He hardly lost any time, but it cost him several positions. Pidcock took over the lead of the race and stayed in front for a while. With a fresh rhythm, he pulled the rest and set a pace that at times seemed to be dropping some of the riders.
Van Aert was waiting his moment and when he left the boxes on the right a piece of advertising got tangled in his chain. He had no choice but to get off his bike, throw it over his shoulder and run backwards to the pit entrance, change his bike and continue. A manoeuvre that cost him 18 seconds.
With less than two laps to go, few riders would have been able to keep up with the front. Van Aert took very little time to cut those seconds. A comeback worthy of the best. An explosive pace to close the gap. 4 seconds at the end of the sixth lap.
There was only one lap to go and Van Aert was giving his legs no respite. He squeezed out all his energy and kept going until he overtook Iserbyt, then first, and took off. Without giving himself time to recover. He just came and left, under the gaze of the others, who were beginning to fight among themselves.
Sweek was the only one to get a little more than the rest and opened a small gap. Iserbyt faded a bit at the end and dropped important points in the overall standings. Pidcock, who had lost several positions in the closing stages, made his rainbow count and finished third.
Cyclocross World Cup Dublin - Elite Men's
Wout Van Aert 59:36"
Laurens Sweeck (Crelan-Fristads) +14''
Thomas Pidcock +17"
Lars Van der Haar (Baloise Trek Lions) +19"
Michael Vanthourenhout (Pauwels Sauzen-Bingoal) +22"
Jens Adams (Chocovit Cycling Team) 33"
Eli Iserbyt (Pauwels Sauzen-Bingoal) +35''
Pim Ronhaar (Baloise Trek Lions) +37"
Corné van Kessel (Tormans Cyclo Cross Team) +46"
Cameron Mason (Trinity Racing Cross) +58"
Cyclo-cross World Cup overall standings
Laurens Sweeck (Crelan-Fristads) 266 points
Eli Iserbyt (Pauwels Sauzen-Bingoal) 249 points
Michael Vanthourenhout (Pauwels Sauzen-Bingoal) 225 points
Lars Van der Haar (Baloise Trek Lions) 205 points
Niels Vandeputte (Alpecin-Deceuninck) 148 points
Jens Adams (Chocovit Cycling Team) 128 points
Toon Vandebosch (Alpecin-Deceuninck) 110 points
Kevin Kuhn (Tormans Cyclo Cross Team) 109 points
Joris Nieuwenhuis (Baloise Trek Lions) 93 points
Vincent Baestaens 86 points
Van Empel wins a tight duel with Pieterse
Pieterse and Van Empel took all the attention of the race in a new duel that showed that on days like today they have no rival on the mud. It was a head to head battle that lasted until the end, with only two seconds separating them at the finish line.
The race started off bumpy for Pieterse as she fell on the planks and lost a few seconds while she was getting her bike back up to speed. She was the only rider among the front pack who opted to skip the planks every time. Once through the pits she had lost 16 seconds. In first place was Schreider, who was in that position from the first metres, and second was Van Empel.
Pieterse's comeback was quick and precise. It took her no time at all to reach the small group at the top. Van Empel took the lead, but the time indicated that Pieterse was getting closer and closer. 12 seconds. 9. 4. By the time they crossed the finish line to start the third lap she was already on his wheel.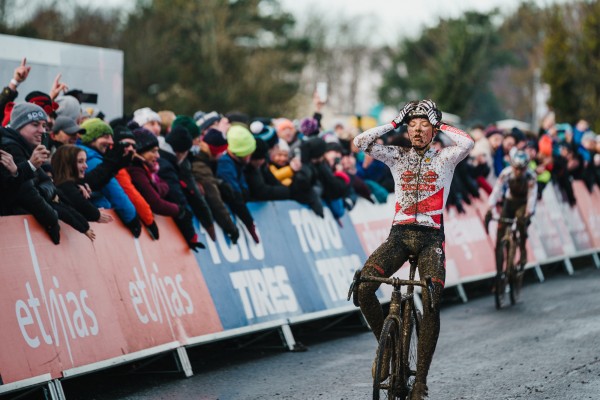 And that's when the duel between these two beasts really began. Behind, Betsema settled into third position and managed to open a gap on anyone who might threaten her podium chances. Van der Heijden and Schreiber followed in the distance, while Ferrand-Prevot tried to get her first big result in CX this season.
Van Empel-Pieterse set a pace that no one could replicate. The gap to the rest was getting bigger and bigger, although both were aware that their fight was going to be between them. On the third lap, Pieterse took advantage of a bike change by Van Empel to push the pace and open a small gap of 4 seconds, which the Pauwels Sauzen-Bingoal rider managed to close.
From then on, the two were very evenly matched as they studied each other in search of the best moment to launch the final attack. Van Empel changed bikes almost every lap (on some laps she changed bikes twice), although Pieterse also did the same on several occasions.
In fact, on the last lap both riders went through the pit lane. Pieterse put on an extra gear and opened a small gap. Van Empel reacted and matched the bet: she closed the gap again. It looked like it was going to wait until the last part of the lap to see the outcome.
The first blow in this beautiful duel came from Van Empel. Pieterse was able to stay close to the wheel, but in the last few laps her strength was running out and Van Empel entered the final straight with a few metres of advantage. All that was left was to hold on. She sprinted and raised her arms for the sixth time this season in the CX World Cup.
Pieterse was two seconds behind. Third was Betsema and Ferrand-Prevot finished in a solid seventh position, which helps her to keep growing little by little.
Cyclocross World Cup Dublin - Elite Women's
Fem Van Empel (Pauwels Sauzen-Bingoal) 47'13"
Puck Pieterse (Alpecin-Deceuninck) +2"
Denise Betsema (Pauwels Sauzen - Bingoal) +1'37"
Inge Van de Heijden (777) +2'26"
Marie Schreiber +2,27"
Manon Bakker (Crelan - Fristads) +3'39"
Pauline Ferrand-Prevot 4'39"
Sidney McGill 4'50"
Millie Couzens (Crelan-Fristads) 4'53"
Fleur Moors 5'22"
Cyclo-cross World Cup overall standings
Fem Van Empel (Pauwels Sauzen-Bingoal) 330 points
Puck Pieterse (Alpecin-Deceuninck) 225 puntos
Denise Betsema (Pauwels Sauzen-Bingoal) 181 points
Inge Van de Heijden (777) 171 points
Shirin Van Anrooij (Baloise Trek Lions) 159 points
Ceylin del Carmen Alvarado (Alpecin-Deceuninck) 152 points
Lucinda Brand (Baloise Trek Lions) 117 points
Marie Schreiber 112 points
Manon Bakker (Crelan-Fristads) 101 points
Aniek Van Alphen (777) 101 points