The signing of Pauline Ferrand-Prevot by the INEOS team could be a done deal
A few weeks ago we echoed rumours that Pauline Ferrand-Prevot would join a new team for 2023. Now it seems to be confirmed that the current World Champion in XCO, XCC and XCM will be part of the new INEOS Grenadier mountain bike squad.
Pauline Ferrand-Prevot will take her rainbow jerseys to the INEOS Grenadier team
With Thomas Pidcock in the team, INEOS Grenadier had to adapt its road squad to support the British rider in cyclo-cross and XCO races. This situation even forced bike manufacturer Pinarello to present a competitive CX model in record time and to develop a MTB bike as soon as possible.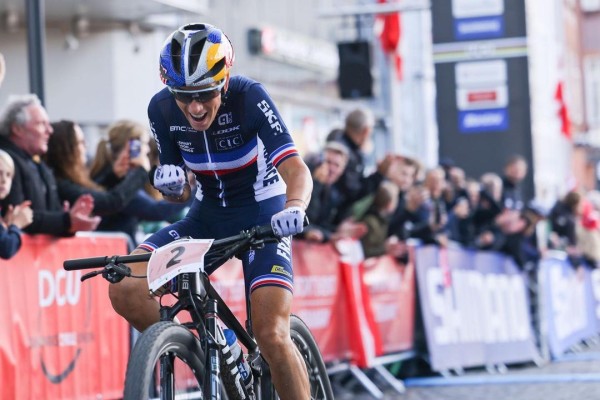 For 2023, the team looks to be making a definitive leap into other modalities with the creation of a specific MTB squad in which we will see big names from the XCO as Tom Pidcock's teammates. And although nothing has yet been officially confirmed by INEOS, rumours suggested that Pauline Ferrand-Prevot would be their star signing. Something that the media Velonews has been able to confirm with sources close to the team and assures that "Prévot has signed as the first rider of Ineos".
The French rider, currently a member of the BMC MTB team, did not have a good start to the 2022 season, but the truth is that she is finishing on a brilliant level and after finishing second in the European XCO, due to a mechanical problem, she managed to win the Shor Track and XCO World Championships on the same weekend and a few days later she won the XCM World Championships. She will also compete in the Gravel World Championship, where she will start as one of the favourites. 
With this move, INEOS will ensure that its new team will wear at least three rainbow jerseys in 2023 with just one signing.