A homemade anti-mud invention at the World Cup
In the men's race of the 2021 Les Gets XCO World Cup, mud and rain have been the main protagonists throughout the race. Something that both cyclists and mechanics expected and allowed them to make some modifications in the assembly of the bikes, as this curious anti-mud solution that we saw in the Scott Spark of Schurter, the Cannondale Scalpel of Simon Andreassen or the Thomus Ligthrider of Fluckiger.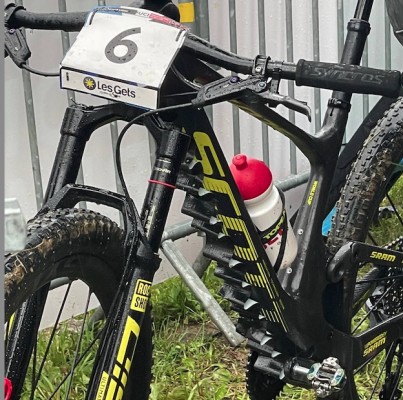 A lightweight, minimalist and inexpensive invention against mud
As you can see, at no time can we call this invention that has become popular among World Cup racers a mudguard, because its function is not to prevent mud from reaching the rider, but rather to remove it from the bike when it accumulates excessively under the horizontal section, adding a lot of weight to the bike.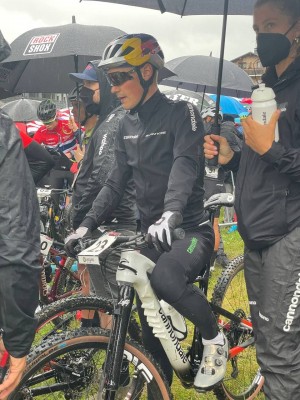 As you can see in the photo, it is a strip of adhesive duct tape arranged in a wavy pattern along the bottom of the horizontal tube. This ensures that the mud does not accumulate as quickly as if it were not there and then allows the rider to get rid of all the mud with a simple pull and the resulting extra weight. At the XCO World Cup in Les Gets we have seen this invention on bikes from the Scott SRAM team, Cannondale Factory Racing or on the winner's own bike, Mathias Flueckiger. 
But luckily in Les Gets the rain didn't stop and that allowed the mud not to consolidate and to be very liquid, which helped it not to accumulate in the tube in the same way as if it had been more compact. So in the end the cyclists did not have to make use of this tape.
Although this is a homemade solution that has become popular in the World Cup paddock, the truth is that it seems to fulfill its function well, being very light and minimalist.