This cyclist suffered a serious injury in Paris Roubaix U-23 because of a disc rotor
Last Sunday ( June 2nd 2019), the race that is known as the little sister of the Paris Roubaix, the Paris-Roubaix Espoirs (Under-23) was held. During his course, the young cyclist Matteo Jorgenson was involved in a fall that caused him a serious and deep injury in his leg, he claims that a disc rotor was produced. With this accident, the debate about the use of disc rotor in competition is reopened.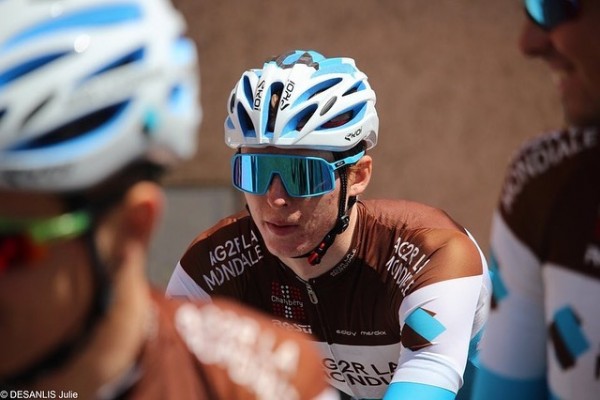 Matteo Jorgenson suffered a serious injury caused by a disc rotor



The young cyclist Matteo Jorgeson is 19 years old and currently competes with the AG2R team La Mondiale. He needed surgery to close the terrible injury of his leg, Matteo took several images of his wound and he commented the following on his social networks: "I didn't believe they could do this until it happened to me. Thankful for my parents being here."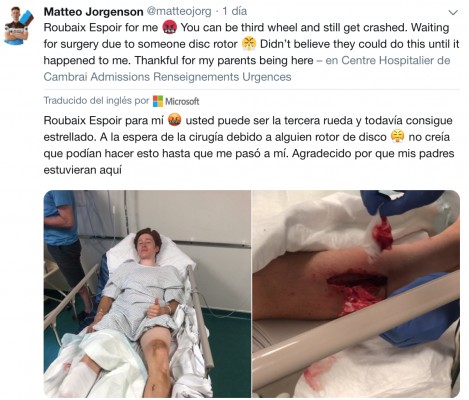 A comment in that same publication asked Matteo how he could have the certainty that it was the rotor disc that produced the cut. Jorgeson replied: "When I got up I saw the rear disc (of the other cyclist involved in the fall ) and my shoe soaked with blood, nothing else could have caused me a clean cut 4 centimeters deep. "
The debate about the use or not of disc rotor in road cycling competition seemed to have been overcome since the UCI approved its use in 2017. Still, it continues to cause some rejection in some cyclists of the peloton. This accident reopens the controversy but we doubt that it will change anything, at the moment it seems that they will continue to be seen in the great races.