These are the Maxxis tires that Nino Schurter tested in Nove Mesto
They have been called Maxxis Aspen although they are not currently in the catalog. We could see them in Nino's Scott Spark last weekend. It is a prototype in the evolution and testing phase, so it will be available soon. We hunt them in several images in the Nové M?sto World Cup this past weekend where Nino Schurter finished in the second position.
Maxxis Aspen's prototype in the Scott bike by Nino Schurter
The most striking detail at a glance of these new Maxxis Aspen tires are those strips in the center tread section. A kind of transition zones with a tiny cleats mesh. Undoubtedly, the idea is to seek greater speed, creating small frictions but losing the minimum grip.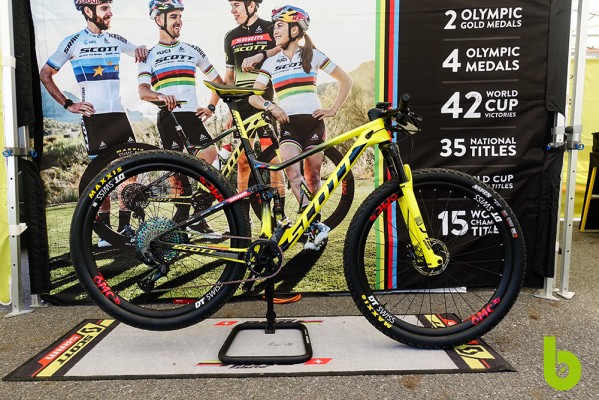 The number of drawings of the Maxxis Aspen tires does not surprise us at all. They do not stop looking for the small difference that involves the big difference. The American manufacturer would incorporate the Maxxis Aspen to its rubber line for dry terrain. We did not see them in the first round of the World Cup for logical reasons: the hard rain.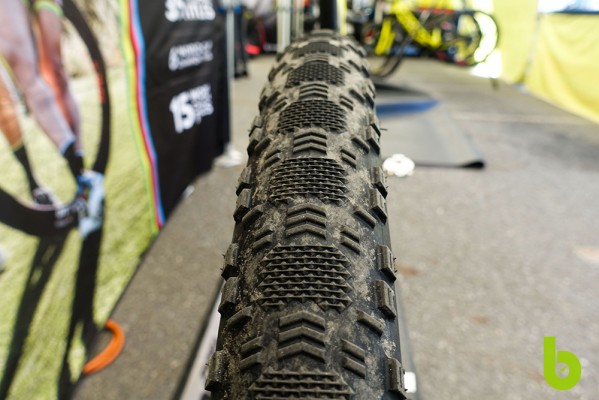 The tacking engineering has not yet been baptized, neither the tire, which does continue maintaining the side friction bands and the parallel cleats for the turns. The big change is the center tread section that we have already discussed.
That and the pressure. Because in the abrupt changes of slope during the race, you could see bulges that are commensurate with slightly lower pressures in a 2.4 ", maybe even up to 20psi. It is a fact that, of course, the Scott SRAM or Nino Schurter do not facilitate, but the intuition seemed to go that way. It is confidential information, also the new model that Kate Courtney tried. We will have to wait a little longer.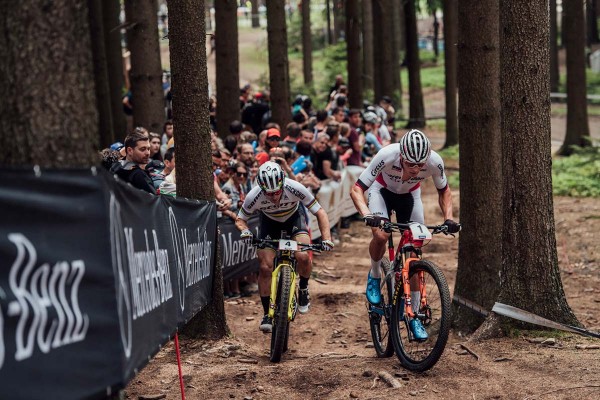 In Nové M?sto only an amazing Van der Poel could beat Nino Schurter, despite these Maxxis Aspen tires.
The improvements that the Maxxis Aspen tires can bring
Maxxis has been testing rubber drawings for a few years now. Apparently, its engineers do not stop looking for the most suitable tread for competition in a constant search for superior performance. The Maxxis tires are already the highest quality, and the Maxxis Aspen are looking for one more extra point.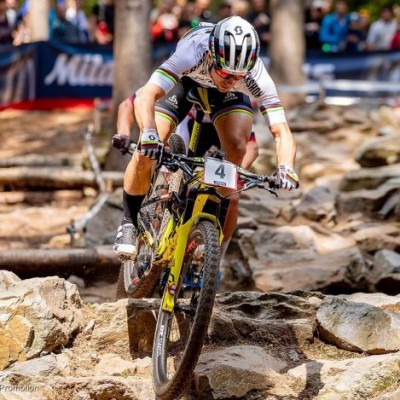 With these tread sections they improve the speed in that combination as complicated and subtle as traction-friction, which grip well but then roll very fast. Nino did it with the Ardent model, then he did it with the special treatment to the Rekon and now it is the turn of the Maxxis Aspen. Nino Schurter did not hesitate to put them to the limit in Nové M?sto.
We will continue paying attention to see the evolution of these tires and catch some more images.