We interviewed Yanick-The-Mechanic "We are behind a new Scott Spark"
There is no doubt that with the World Champions Kate Courtney and Nino Schurter in their ranks, the Scott SRAM is the best XCO MTB team of the moment. Yanick is the head mechanic of the Scott SRAM and over the years his good work has gained prominence. So much that now he is a figure of the paddock and fans are looking to meet him and take pictures with him.
Yanick The Mechanic has been kind enough to answer some of our questions just before the begin of the Vallnord 2019 World Cup.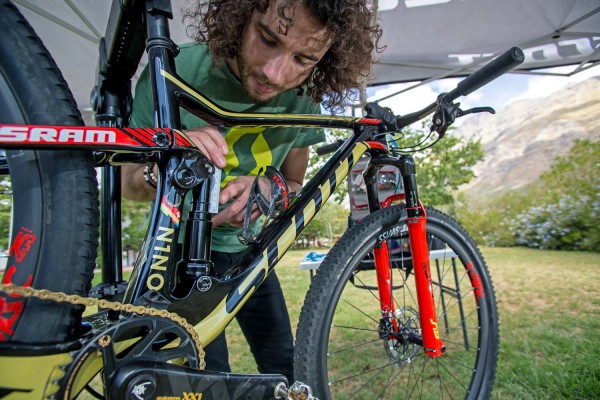 An interview with Yanick-The-Mechanic
How do you become the mechanic of the best XCO mountain bike team of the moment? Was this your goal?
So I was actually still in Switzerland as bike mechanic in a store and my best friend was in this team (Scott) and one day I could join cleaning bikes and giving some help but I was still a kid. I was very young. I was 15 or 16 years old. Frischi (Thomas Frichknecht) and Erwin (Erwin Wildhaber), the mechanic before me were very happy with what I did. Each year I did more races like the Swiss Cup, World Cups…
To be a professional mechanic for a race team was my children dream 
In 2012, after London Olympics, Erwin passed away on a hiking accident and Frischie asked me if I want to do the full job and I accepted. To be a professional mechanic for a race team was my children dream. Since January 2013 I am the head mechanic of Scott SRAM.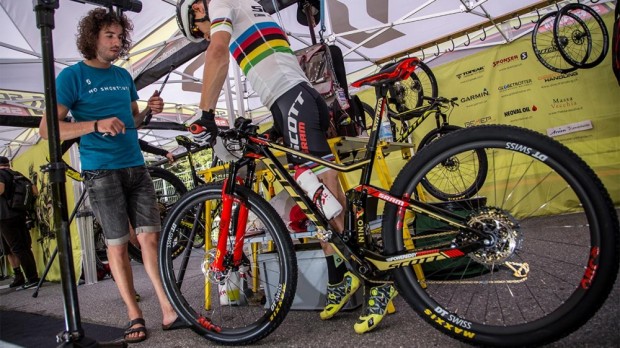 We see you a lot fixing bikes but rarely riding, do you like to ride a bike? MTB or road?
When I am around the World Cups for me it is important to get the job done. I am there for the athletes, for the team and to make sure my job 100% done and not to enjoy riding bicycles. Where the work is done I could go for a bike ride, for sure.
Sometimes I need to escape from the bikes and do something different 
Back home I like mountain bike, road bike, fixed bike, enduro…. basically everything, but sometimes is just too much bicycle, I also need a break for my brain. To escape from the bikes and do something different but I would say that I go out with my bike twice or three times a week.
You have experienced the evolution of mountain bike materials in recent years. What do you think has been the most significant change? 
For sure one of the most significant changes happened with the dropper seatpost.
In my opinion one of the most significant changes was the arrival of the dropper seatpost.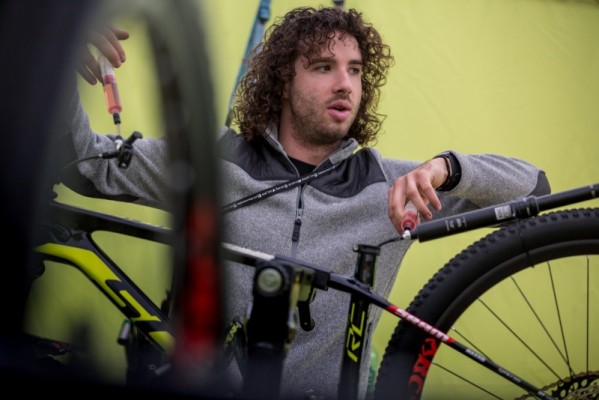 Dropper seatpost, in my opinion, not for racing but for all the customers was the best innovation in the past five years because going downhill for technical skills, for more safety, yeah, it's just great.
What is the most common failure among Scott SRAM bikers? 
During the race, flat tires. That's always a big failure but that's kind of a rider issue. For sure we go always on the limit with the tire, with the weight of the tire, with the profile of the tire just to be as fast as possible but sometimes it's on the limit also with the tire pressure and then you gain some flats. And that's most likely a rider mistake, not the mechanic mistake.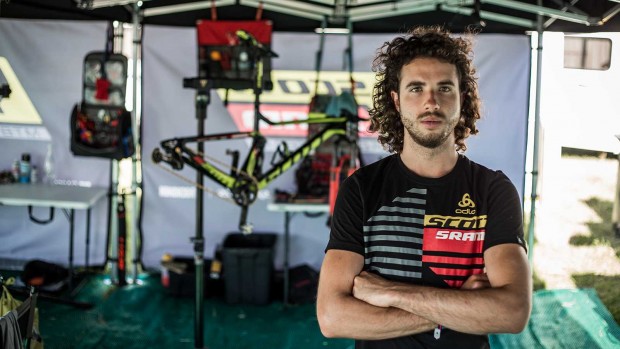 What is in your opinion the most difficult thing of being a World Cup mechanic? 
The most difficult thing on my job is to drive the cars. That's what I really don't like, to travel so far but all the rest I pretty like and enjoy and It's super cool to work with the athletes together. It's not always easy but it's great.
What does Yanick-The-Mechanic do when there are no competitions?
When there are no competitions but between races all it's cleaning the cars, cleaning the bikes and prepare everything for the next race. After the race is before the race, so a lot of things are going on. We make sure all the bikes are ready for the next race and also I try to take some time off for myself to go along on my hobbies. For example, driving classic cars is a big hobby, wake surfing behind the boat in Lake Zürich with friends, going on the bike. My week between races is like a normal job, Monday to Friday, from 8 to 5 or 6, and then I do whatever the team needs from me
Surely you can not talk about this, but we have to try it... will we see a new Scott Spark model soon?
Well, that's a good question, I mean... we are behind one. Someday Scott will show you and the world a new Scott Spark but I just say stay tuned, you will see it.
Where do you see yourself in 10 years? 
Wow, In ten years I'm retired and probably I'm an astronaut (laughs). No, I don't know. For sure I'm working, but definitely in 10 years I have no clue where I will be. Hopefully still in the cycling industry, I will be a mechanic for sure but where and how I don't know.
Thanks Yanick for your time and best of luck for the rest of the season.