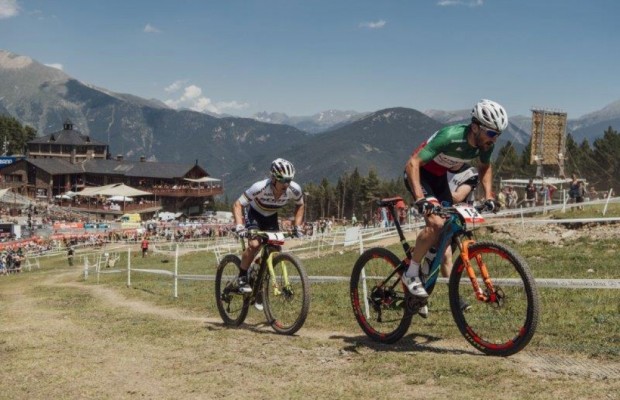 Vallnord 2019 World Cup: main favorites, schedules and where to watch it
After a few weeks of break, in which the best bikers on the planet have had time to rest and continue training, the MTB XCO World Cup of Vallnord will take place between July 4 to July 7, 2019. A competition very prone to surprises. It will not be, because of calendar, Mathieu Van der Poel. Nino Schurter arrives to Andorra looking for rematch and Kate Courtney has the difficult task to continue surprising.
Who won the Vallnord World Cup last year [2018]?
A few weeks ago we saw how Van der Poel won Nino Schurter with a good lead, but the fact is that Schurter had already suffered some defeat of this type last year. Without going any further, last year in Vallnord he was defeat by Gerhard Kerschbaumer.
The Italian Gerhard Kerschbaumer won the Vallnord 2018 World Cup with more than 1 minute ahead of Nino Schurter, who was second. In third position, and 2 minutes from the winner, Mathieu Van der Poel arrived.
In women category, the Norwegian Gunn Rita Dahle marked her name in the history of MTB when she won the Vallnord World Cup 2018. She did it with 45 years and after having thought about retiring before the season began. Jolanda Neff was second 20 seconds away from the winner and Emily Batty was third.
Main favorites for the victory in the XCO World Cup of Vallnord 2019
After the Schurter-Van der Poel duel in Nove Mesto, a large part of the fans were looking forward to seeing the two bikers compete again. But the truth is that the Van der Poel calendar is studied to combine Road and MTB and he will not be in Vallnord.
Even with Mathieu Van der Poel discarded, there are quite a lot favorites to win in Vallnord. Obviously Nino Schurter is the top favorite but Gerhard Kerschbaumer, Lars Forster, Henrique Avancini and Jordan Sarrou can also achieve victory in Andorra.
Regarding women, the World Champion Kate Courtney has won the first two races and she is the main favorite to win the third one. It will not be easy with competitors such as the Dutch Anne Tauber, one of the strongest cyclist nowadays. Also, Vallnord is a great circuit for Emily Batty and she will be able to fight for the podium. Last but not least, Jolanda Neff will also fight for the first position as in every race.
Where to watch the Vallnord 2019 World Cup
The Vallnord 2019 World Cup can be watched online, free of charge, from the RedBull TV website. Clicking on the image will take you to the RedBull website where you can see both Friday's Short Track (women and men) and Sunday's race.
Schedule XCO Vallnord 2019 World Cup
Friday 5 July 2019
17:30 Women's XC Short Track 
18:15 Men's XC Short Track
Sunday 7 July 2019
08:30 Women's XCO Final U23 
10:15 Men's XCO Final U23
12:20 Women's XCO Finals 
14:50 Men's XCO Finals