Interview with Loana Lecomte: "everything is reset before each start. I just want to have fun"
French rider Loana Lecomte arrived in 2020 in the elite category and did it in style by winning the XCO World Cup in Nove Mesto. Since then her hegemony has only consolidated and she is currently number 1 in the UCI ranking.
Lecomte is currently the favorite to win the next World Cup and Olympic Games, and we were able to talk to her before the Tokyo event.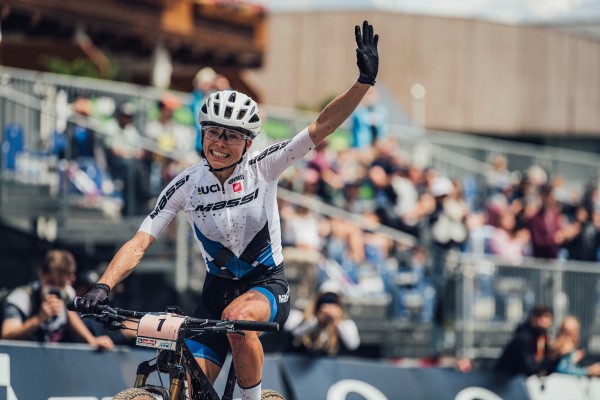 Interview with Loana Lecomte: "I watched the London Olympics and cried with Julie Bresset's victory"
Since you won your first elite World Cup in 2020, your performance and results seem to have no limits. In 2021 you have won 8 of the 11 races you have competed in, including 3 World Cup races, were you confident that these great results would come so quickly?
I've been working with the same coach for several years, he allows me to reach new levels every year and I really work with him in confidence, he knows me very well. I never thought I would win a World Cup while I was still in U-23, but I'm enjoying the moment.
Now that you start as favourite in every race, do you feel pressure or do you still enjoy it?
I don't see it that way. There are a lot of women who can win races and everything is reset before each start. I just want to have fun. 
Has your preparation changed at all from last season to this one, where the Olympics will be the big goal?
I had to get selected first, which was not the case at the beginning of the year. Once I was selected, it's clear that this is my big goal. It's my childhood dream to go to the Olympics, I want to do the best I can.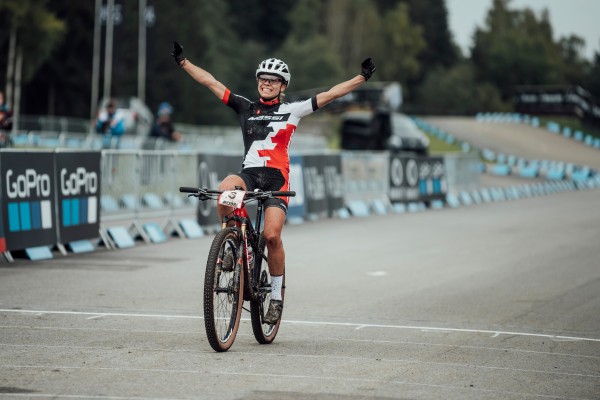 We've seen you compete with the full suspension MTB, Massi Aire SL, and without a dropper seatpost in all the World Cup events while other riders have alternated between hardtail and full suspension options. Would you rather sacrifice a bit of weight for full suspension, or do you just not like to change bikes?
I like my full suspension, I feel good with it and I really enjoy it. I prefer to keep this bike on all races and have more fun in the technical parts. 
Speaking of the Olympics, you came eighth in the Olympic test event, how did you find the circuit and what is your goal for Tokyo?
I love the course, for me it's the best course I've ever ridden. I'm really looking forward to going back there. 
The French national team is currently the strongest in the world. What do you think is the secret behind the fact that you have so many stars in MTB? 
There have been many champions, men and women, for several years. For my part, careers like the ones of Julie Bresset and Pauline Ferrand Prevot have been very inspiring. It pushes us to improve ourselves and to imitate them.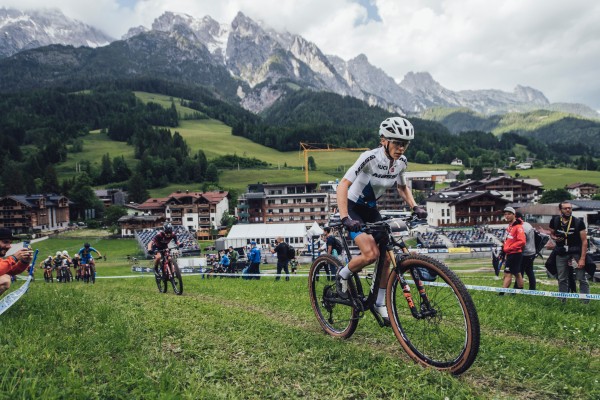 Now we would like to take a closer look at your preparation. How does a training week for Loana Lecomte usually go? Do you cycle a lot of kilometres on the road bike? How many gym sessions do you do?
I alternate the sessions, road but also mountain bike. I live in the Alps in Haute-Savoie and it is the best training ground in the world! I also have muscle training sessions with a physical trainer. I like to alternate training sessions. 
Do you take a lot of care with your diet or do you just eat what you feel like every day?
I'm very interested in diet. It's our fuel for sports. I even want to specialize in it later. I'm careful about what I eat but it's also important to have a treat once in a while.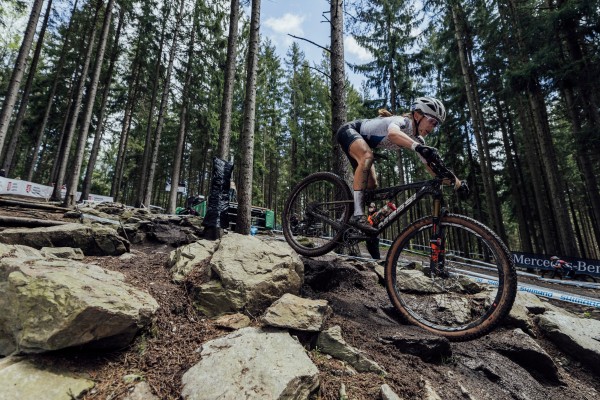 And in terms of mechanics, do you like to check and make some adjustments yourself or do you prefer to leave it to the team mechanics?
I trust my mechanic Thibault, he knows me for a long time and he knows what I want. I start the races with him in complete confidence. 
Finally, we wanted to ask you who were your references in this sport when you started competing a few years ago.
I watched the London Olympics and cried when Julie Bresset won. That day, I told my parents that this was what I wanted to do.